/
A Crafter Gift Guide // Gift Ideas for DIYers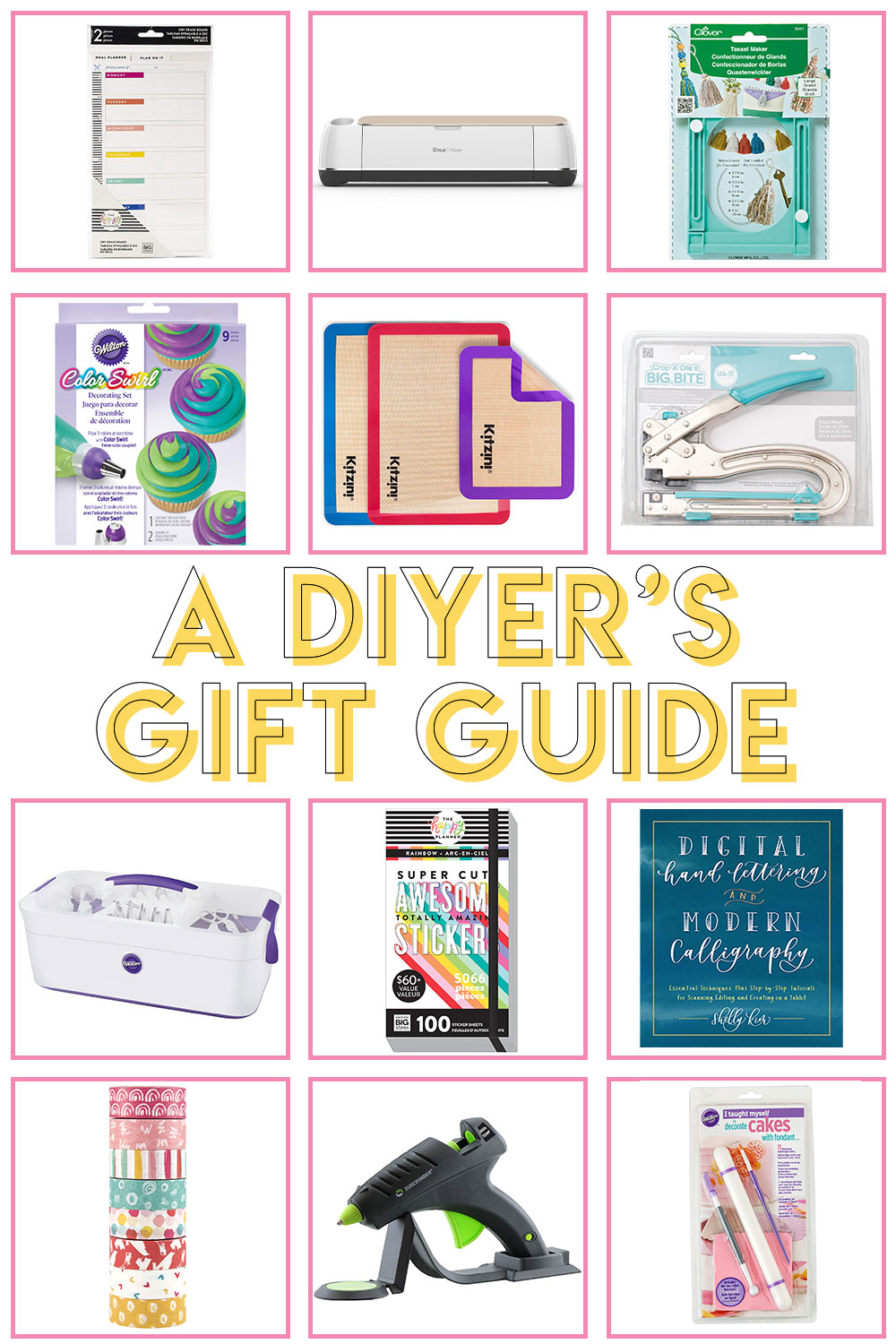 How on Earth is Christmas next week?! In case you're scrambling to find gift ideas for DIYers this week, I wanted to roundup my favorite supplies in a crafter gift guide! There are tons of new crafting supplies released every year, so why not gift your favorite DIYer something new to play with. I scoured JOANN and Amazon for suggestions, and I'm confident these gift ideas for DIYers will help you shop at different price points. As a JOANN partner, I obviously love and shop at JOANN regularly, but this post is not sponsored. Because we're so close to Christmas now, I highly recommend choosing the in-store pickup option for your JOANN purchases, and don't forget to use coupons! PLUS, when you do shop in-store, you can stack applicable coupons. Keep reading for the full crafter gift guide.
Gift Ideas for Crafters Under $30
Happy Planner: There's nothing like starting off the new year with a new planner! If you know someone (not just crafters) who enjoy planning out their weeks on physical paper, consider surprising them with a Happy Planner. There are Happy Planner kits for different lifestyles and a variety of useful add-ons, like washi tape, pens, dividers, stickers, recipes and stamps. Check out my article on how to get started with a Happy Planner for more details. My personal choice is the new Miss Hostess Happy Planner. I've also shared an upcycling DIY for how to make a divider for your planner. I also have the Happy Planner storage case to easily keep my favorite supplies together. You can truly do ANYTHING with a Happy Planner!
These are a few of my favorite Happy Planner supplies:
Hand Lettering Book: I always hear people say that they want to learn handlettering or calligraphy, including myself. More and more makers are digitizing their work, so I personally love the book Digital Hand Lettering and Modern Calligraphy by my friend Shelly Kim. It teaches you basic hand lettering as well as lettering on a tablet or digitizing your work. Also consider gifting them a few basic hand lettering supplies, like dual tip pens and a workbook.
Cordless Glue Gun: Anyone who doesn't have a cordless glue gun NEEDS one! My personal favorite is the Surebonder Cordless Glue Gun. It will make crafting a whole lot easier.
Embroidery Patterns & Kits: Beginners and pros will love to receive a new embroidery or cross stitch pattern to try. You can find hundreds of patterns and kits on Etsy. My friend Jillian also sells a wide variety of cross stitch patterns.
Tassel and Pom Pom Makers: Tassels never go out of style! One of these large tassel makers will be a fun gift for any maker. Similarly, a pom pom maker is just as important.
Gift Ideas for Makers Under $50
Cake Decorating Kit: Know someone who loves decorating cakes? Maybe they're practicing their cookie piping skills? Gift items like a Wilton cake decorating course or a full cake decorating kit complete with a turntable. A decorating tool caddy by Wilton is also a great way to help them corral all of their supplies. Some other cake decorating supplies crafters may enjoy:
Crop-A-Dile: Paper and leather crafters will love a Crop-A-Dile by We R Memory Keepers! This amazing punch tool will help you punch holes in almost anything, including paper, leather, fabric, plastic, thin tin and chipboard, as well as set eyelets and snaps. It's the perfect gift idea for DIYers of all types.
Splurge Gift Ideas for DIYers
Cricut Machine: I couldn't possibly share a real crafter gift guide without including Cricut. Choose from the Cricut Explore Air 2 or Cricut Maker to "win" Christmas this year. To this day, it's still the best gift I've received! Currently, I use the Cricut Explore Air 2 (Cobalt). If you're not familiar with them, Cricut machines are the original electrical cutting machine that cuts almost anything. Browse through my Cricut DIY projects to see how many amazing things you can do with Cricut. Don't forget, if your crafter already has a Cricut, they'll also love the wide array of Cricut accessories. You can never have too many Cricut Cutting Mats either!
Sewing Machine: Honestly, I had no idea what new sewing machines could DO until I received a new Singer machine last year! Similarly, an embroidery machine is an amazing splurge gift for the crafter who seems to have everything. This crafter gift guide may be focused on adults, but there are also kids sewing machines to help them learn basic stitches and start sewing small projects. My niece has one and has been learning to sew with my mom!
These are all my favorite go-to supplies that I'm sure will make great gift ideas for DIYers! Have any other ideas for this crafter gift guide? Let me know below!
Please note this post contains affiliate links from which I may collect a small profit should you choose to make a purchase. I only link to products I personally use or recommend.