/
Happy Planner Ideas: How to Start Using a Planner this Year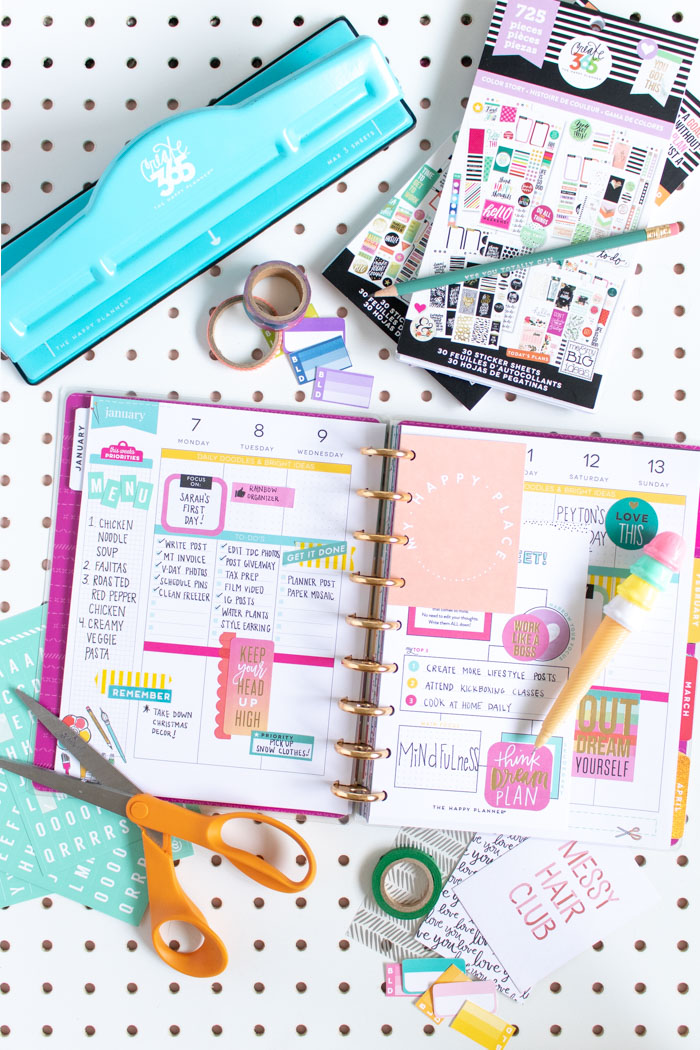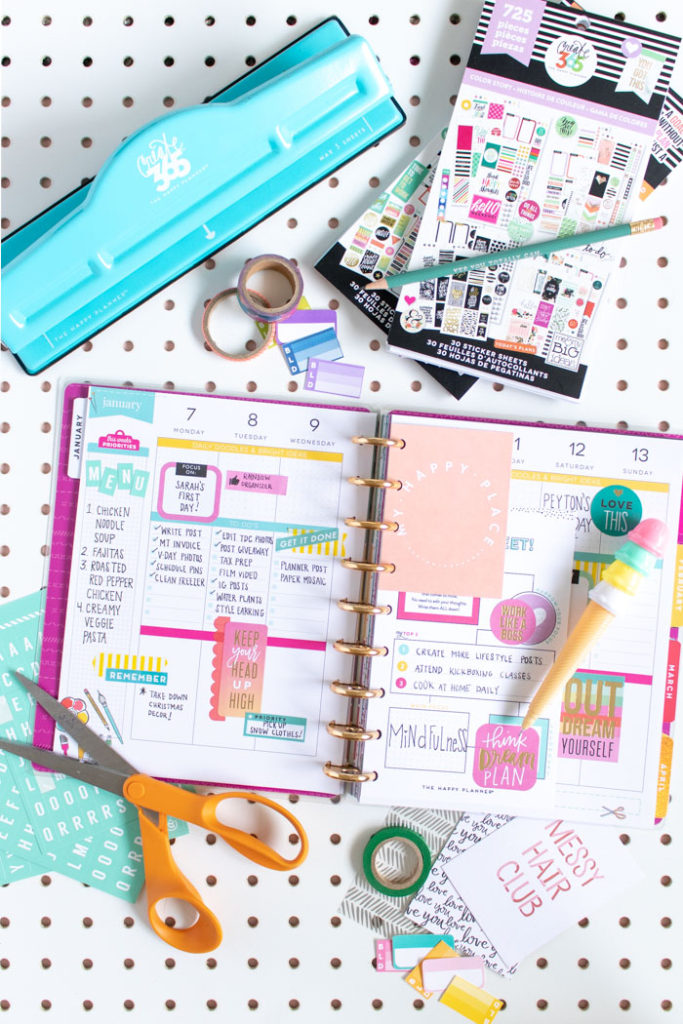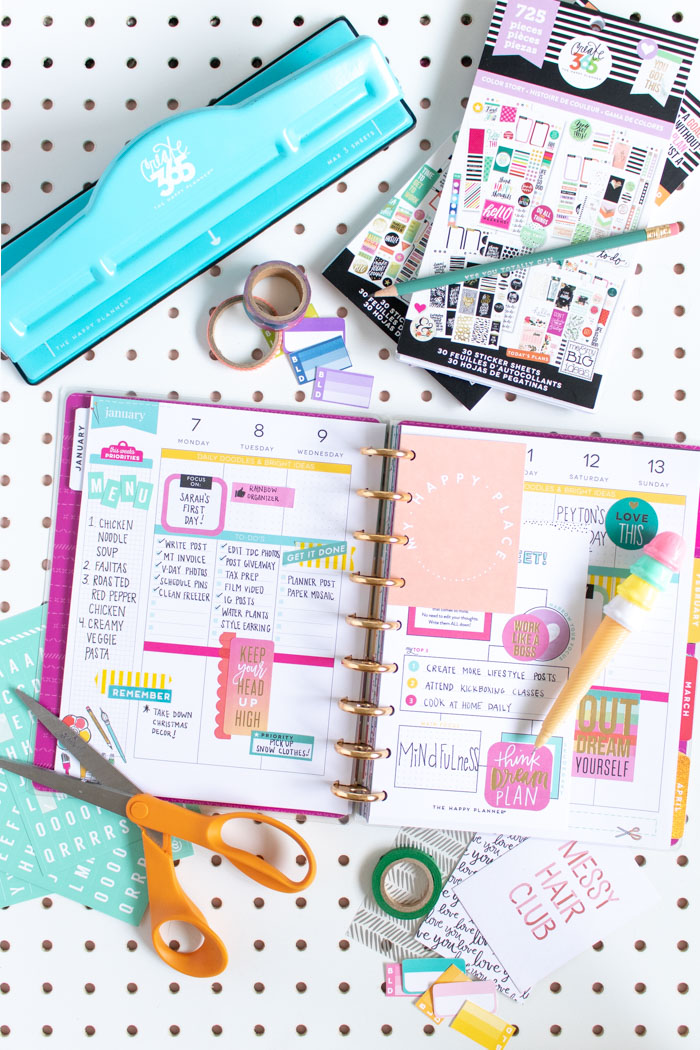 You know what the best thing about a new year is? A new planner! Obvi.
I just began using my The Happy Planner – Miss Maker edition gifted to me from JOANN at the start of the year and I LOVE it more than any other planner I've used so far. I've been a Happy Planner user for at least two years now, and I'm here to tell you about the wonders of planning (in case you don't already know). Sure, planning is a "craze" right now, but for crafty people like us, planning can be a creative outlet similar to scrapbooking. It's absolutely worth your time as a hobby! Here's how to start using a planner this year to not only stay organized but keep those creative juices flowing: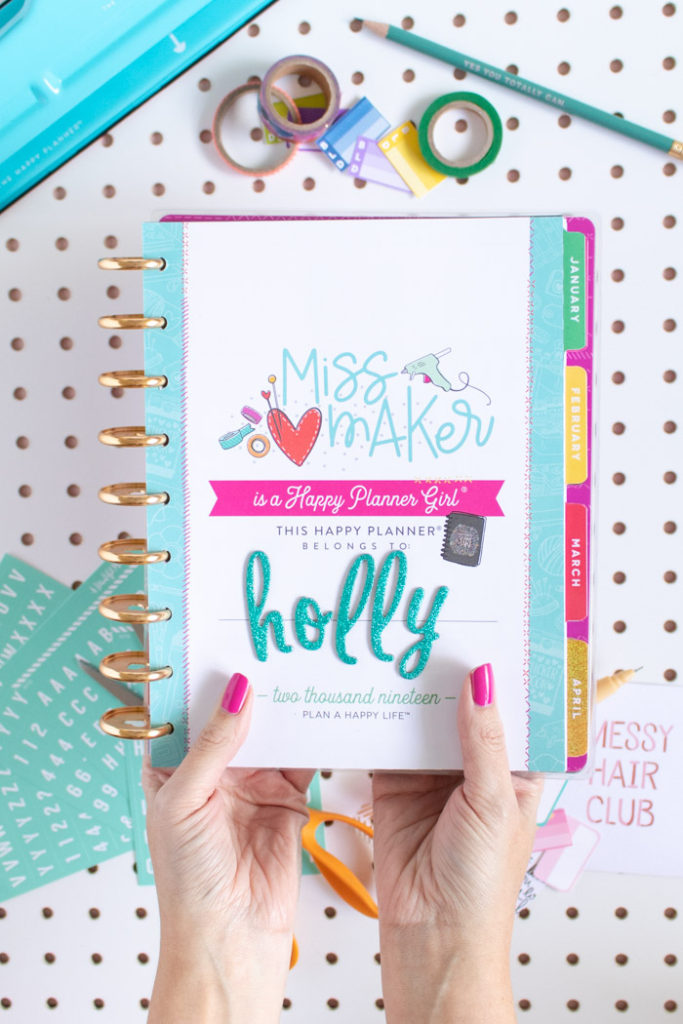 It's not difficult to start using a planner…it's difficult to KEEP using a planner. I will sometimes find myself in a "funk" and don't feel like pulling out my supplies, but then I'm so happy when I do because it brings some of that creativity back to life for me. Planning with a planner is different for everyone – you can try memory keeping, list-making, basic day planning or anything else you can image. You can even use one exclusively for menu planning or tracking your workouts. If you can dream it, you can make it!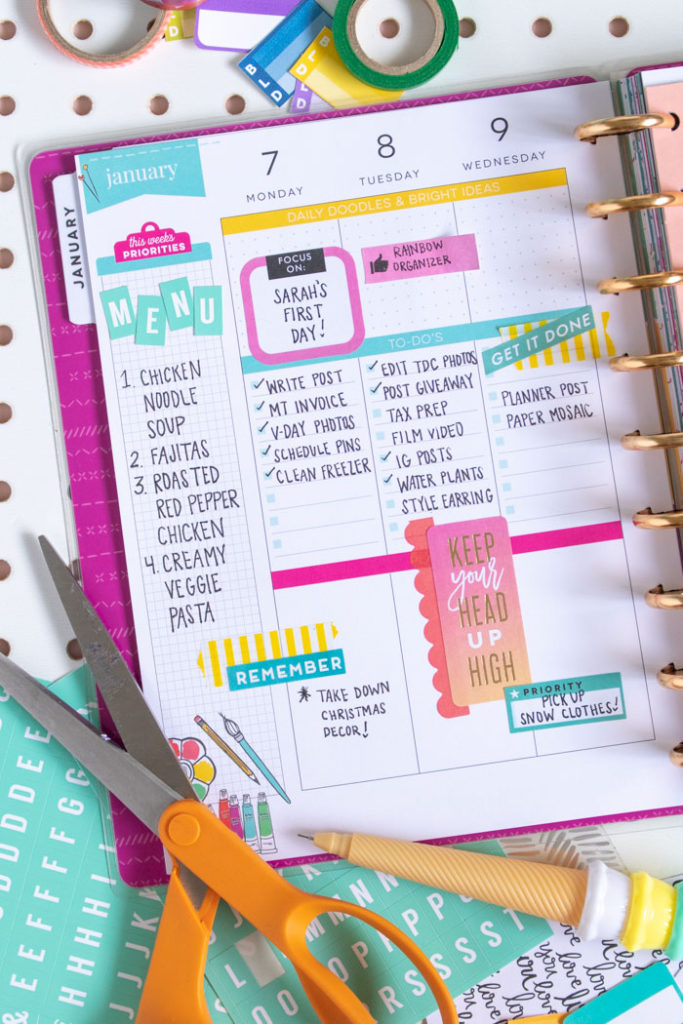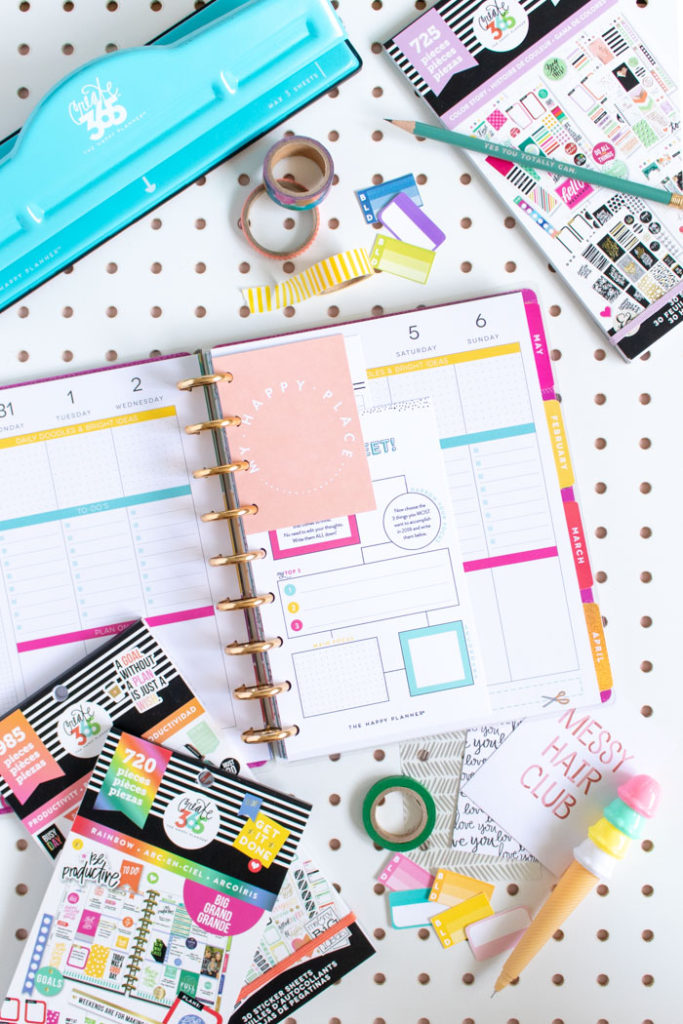 I chose the Miss Maker Happy Planner because, as you may guess by the name, it's designed for makers like me! The weekly pages are pre-set with list sections, which helps me keep my tasks organized since I'm a list-maker type of person. It also has cute monthly designs for creators/makers, like "been there, pinned that." So fitting! Planners come in all shapes and sizes, including mini and extra large, so you should be able to find a planner that fits your needs.
Let's be honest – I'm a form over function kind of girl. I like pretty things, BUT a planner can be BOTH functional and beautiful.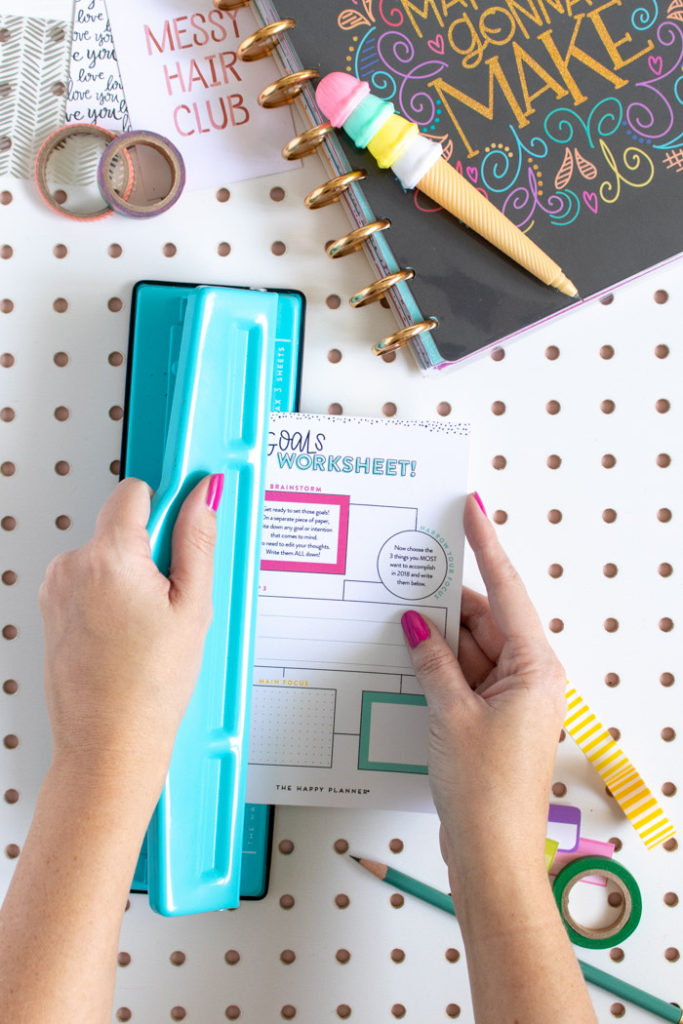 How to Effectively Use your Planner
Invest in a Puncher – Because my planner uses a disc system, I purchased a Happy Planner paper punch for adding additional pages, homemade folders (more on that below) and inspirational cards. You can punch any paper product with a Happy Planner or other planner punch to add things like free printables to get started with your planner!
Use Washi Tape for Multiple-Day Events – Going on a trip? Have an all-day event? Washi tape. Spread it across several days or the length of a page to help mark out longer events and look stylish. These botanical washi tape and tropical washi tape sets are some of my favorites! My washi tape collection is getting out of hand!
Add a Menu Sidebar – I like to use the sidebar of the first page of my week to plan out the meals I want to plan. From there, I can add specific meal plans to my days of the week with additional stickers and more details. This works for me, but you can also make an insert with your planner punch!
Use Sticky Notes for Flexible Events – Not sure if an event might move or change? Sticky notes to the rescue! I use cute mini sticky notes for all of my blog deadlines because I know how quickly things change, and I can move them to another day as needed. These Happy Planner sticky notes and these are my most-used by I also have tried mixing in other brands.
Layer Stickers – This might be a personal preference, but I layer my stickers a lot in order to get all of the beauty of the stickers and still have some white space and room to write. A planner obviously needs to be functional, so start with a couple stickers, see how your text is fitting in and then add as many stickers as your heart desires! I like the productivity sticker sets and watercolor sets, but Happy Planner also has specific sets designed for moms, students, teachers, travel, exercise, and more.
Add Homemade Planner Folders – Below is a quick tutorial for making your own folders (or you can buy cute folders like these ones that match the Miss Maker planner) to hold stickers, sticky notes, notes or other embellishments. I use mine to help organize weekly receipts as well.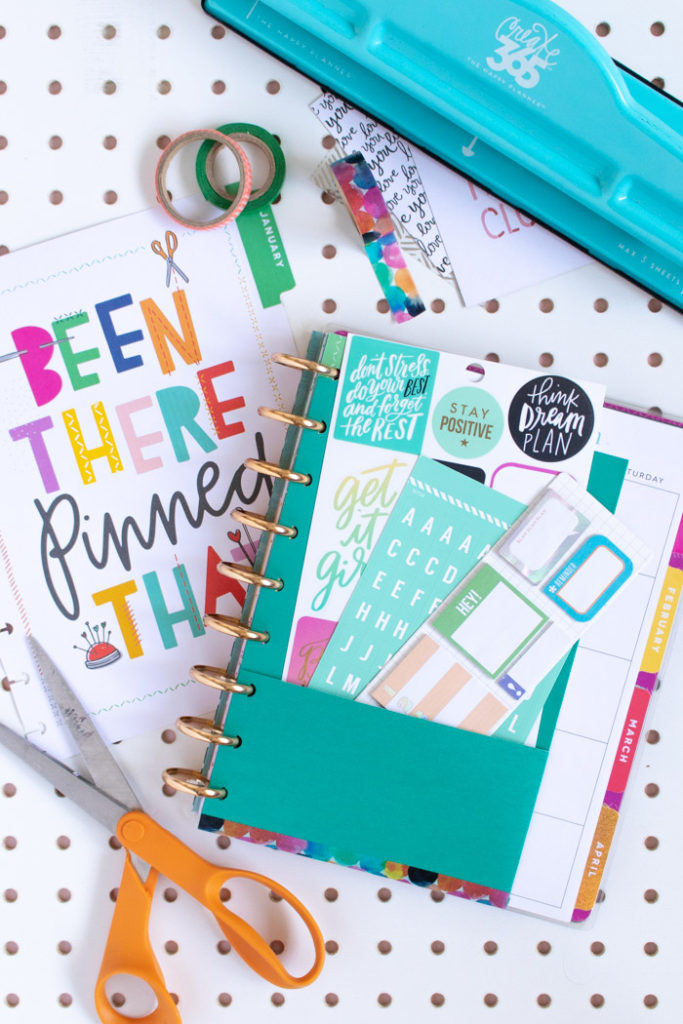 How to Make your Own Planner Folders
Supplies:
Colored cardstock, double sided
Washi tape
Planner punch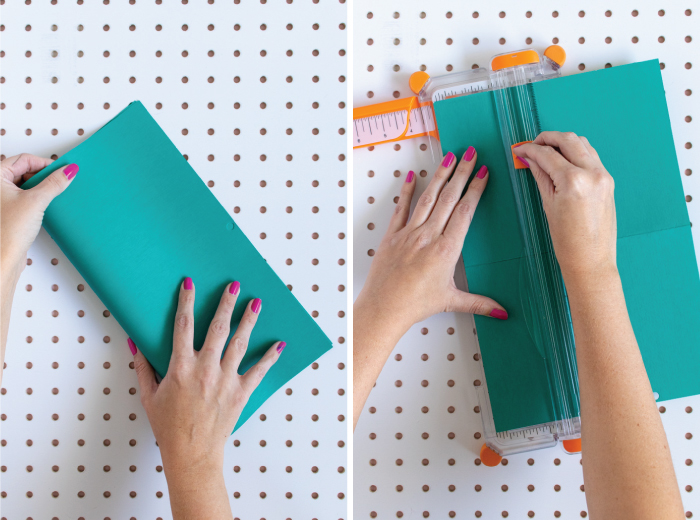 Step 1: Fold a piece of cardstock in half and cut to the height of your planner. Unfold.
Step 2: With the paper unfolded, cut the pocket on the left side of the paper. Cut a 4-inch flap, stopping when you reach the fold.
Step 3: Move the paper and cut along the folded line to remove the excess paper, creating a pocket shape.
Step 4: Stick washi tape along the bottom to hold it together. Then punch along the open edge and insert anywhere in your planner!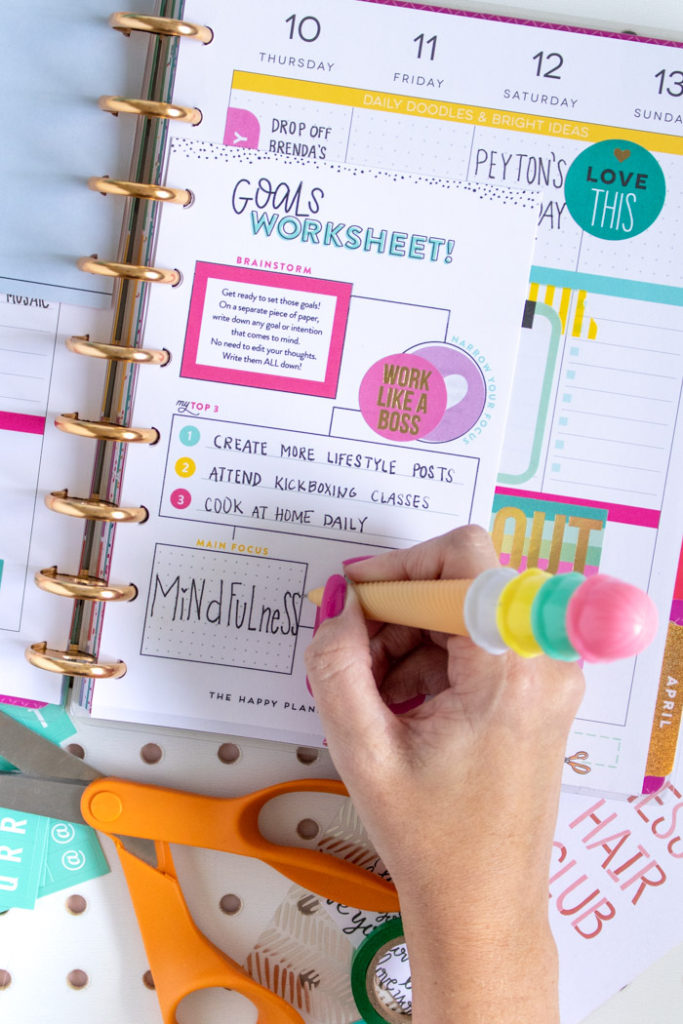 Use Happy Planner Printables to Customize your Planner
The beauty of planners these days is you can find printables to customize your planner no matter what brand you use! If you use The Happy Planner, then there are a lot of specific Happy Planner printables available with a quick Pinterest search, but here are a few of my favorite printable resources: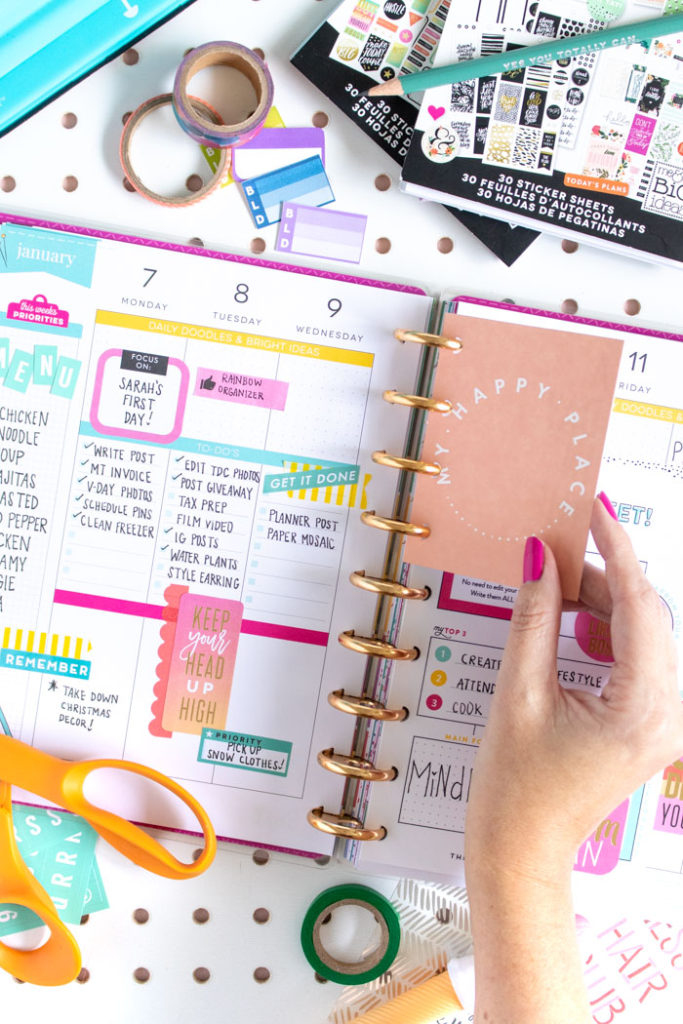 No matter your planning style, you can absolutely start using a planner this year! Find a coupon or utilize one of the many sales available, buy some supplies and start MAKING. If you enjoy paper crafting, journaling or scrapbooking, your planner is sure to be your new BFF this year!!