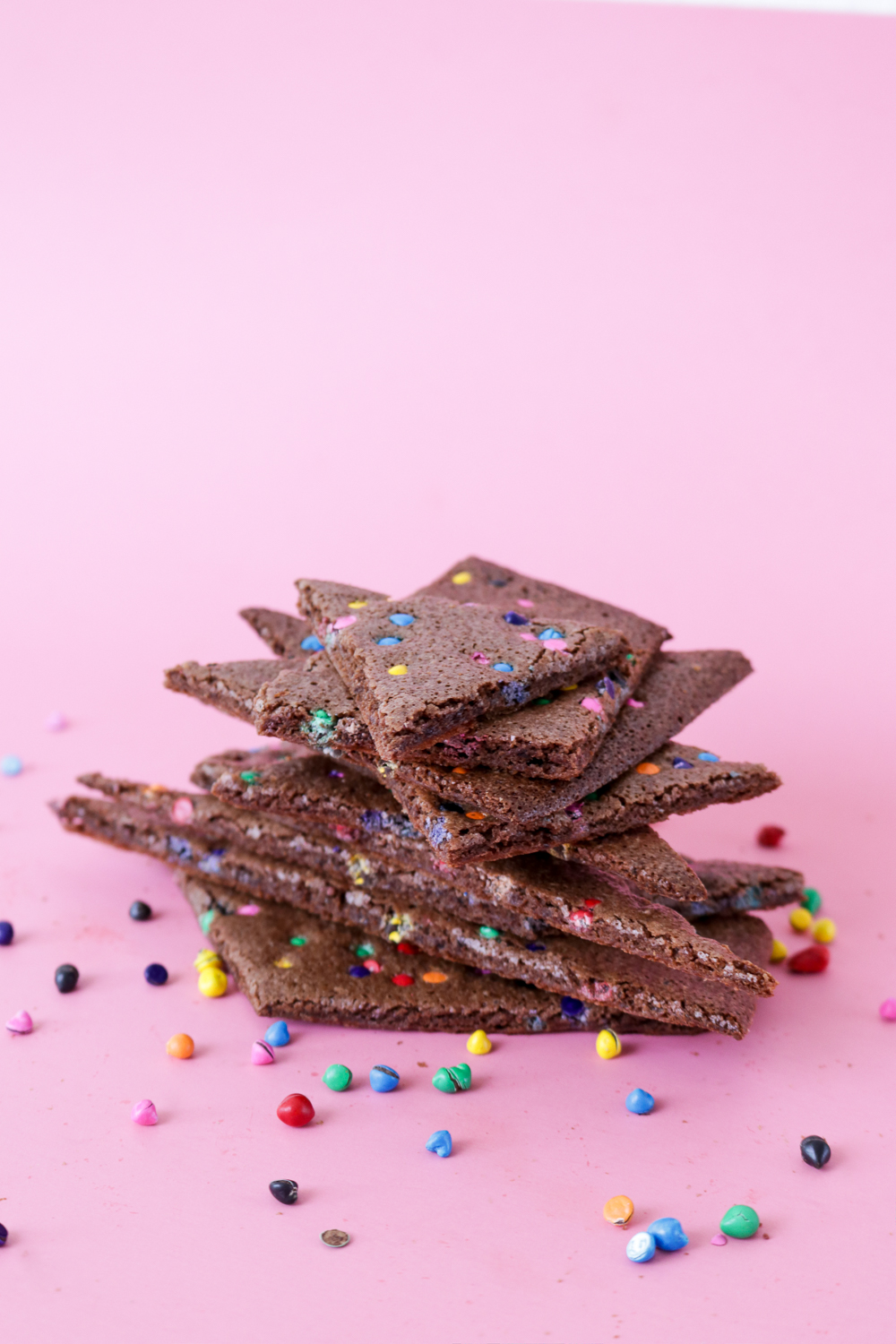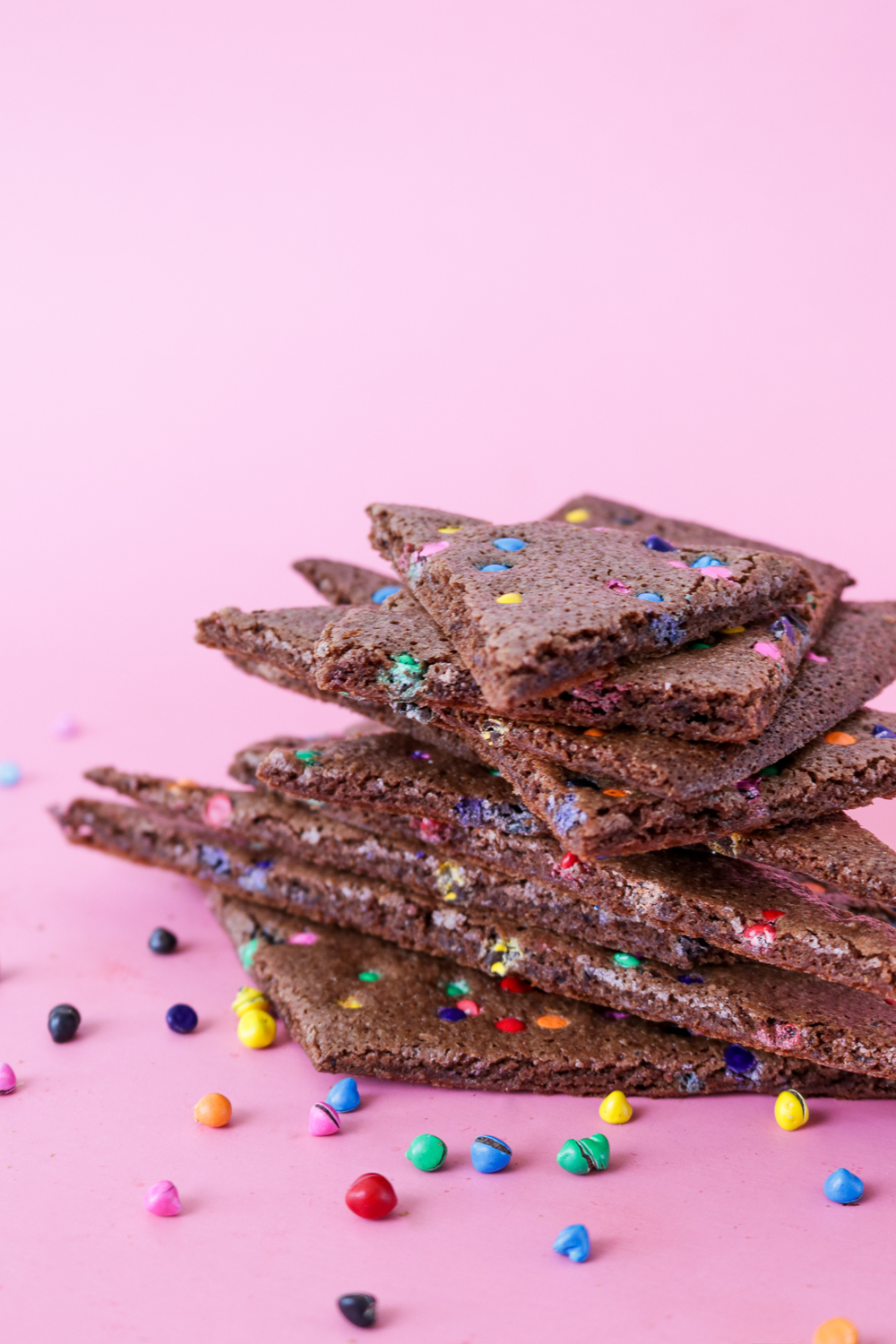 I've noticed that Little Debbie's Cosmic Brownies have made quite the comeback lately, and it's clear why – they're delicious. I mean, it's a brownie, so how could it not, right? A couple years ago I became a little obsessed with Brownie Bark when it first appeared on shelves, so today I'm combining two favorites into one delicious, crunchy dessert to make this cosmic brownie bark!
Much like the original Cosmic Brownies, this is made with colorful chocolate chips and has a very rich chocolate taste, but it's combined with the thin crunchiness of brownie bark. I've tried to make brownie bark a few times over the last few year and it took me a couple tries to get it right. Basically, to make the brownie bark bake properly with the batter so thin without puffing up too much, you use milk powder and baking powder (two ingredients not normally used in brownies). Together, it creates the perfect brownie bark texture.
I loved making it because it's so (dangerously) easy to munch on throughout the day, but at least it's easier to eat smaller amounts, compared to eating an entire brownie! OK, now brace yourself…
Scroll down for the full recipe card! ??
2 egg whites
⅔ cup granulated sugar
2 tbsp + 1 tsp unsweetened cocoa powder
¼ cup vegetable oil
¼ tsp vanilla extract
½ cup flour
Pinch salt
¼ tsp baking powder
1 tbsp non-fat dry milk powder
1 cup mini colored chips
Preheat the oven to 350 degrees and line a baking sheet with parchment or a silicone mat.
In the bowl of your mixer fitted with a whisk attachment, mix the egg whites on low speed util they begin to foam (about 30 seconds). Add the sugar and cocoa powder, followed by the oil and vanilla and scrape the bowl down. Slowly add the dry ingredients until barely mixed and a little white remains. Pour the batter onto the prepared sheet and spread thin with a spatula. Sprinkle generously with the colorful chocolate chips.
Bake the brownie bark for 15 minutes and remove from the oven. Use a pizza cutter to cut the large piece into shards and return to the oven for another 5 minutes. This makes sure the middle pieces bake as much as the rest of the batter.
Let cool completely before breaking apart the shards, and package in cute bags or boxes, so store in an airtight container for up to 10 days. Everyone will love this unique treat with a little extra crunch to it!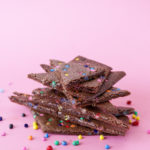 Cosmic Brownie Bark
2016-10-17 15:37:51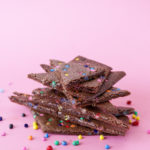 A unique take on thin brownie cookies that combine with colorful chips to make crispy, sweet cosmic brownie bark
Ingredients
2 egg whites
⅔ cup granulated sugar
2 tbsp + 1 tsp unsweetened cocoa powder
¼ cup vegetable oil
¼ tsp vanilla extract
½ cup flour
Pinch salt
¼ tsp baking powder
1 tbsp non-fat dry milk powder
1 cup mini colored chips
Instructions
Preheat the oven to 350 degrees and line a baking sheet with parchment or a silicone mat
In the bowl of your mixer fitted with a whisk attachment, whisk the egg whites on low speed until they begin to foam
Mix in the sugar and cocoa powder until smooth, followed by the vanilla and oil
Slowly add the flour, salt, baking powder and milk powder, scraping the bowl in between, until just combined (do not overmix)
Spread the batter onto the prepared baking sheet with a spatula until it is very thin
Sprinkle heavily with mini colorful chocolate chips
Bake for about 15 minutes, remove and use a pizza cutter or sharp knife to cut into shards, continue baking for 5 minutes
Remove and let cool completely before breaking off the pieces
Notes
The thinner the batter is on the baking sheet, the crunchier it will be (which is intended)
Club Crafted https://www.clubcrafted.com/