/
Simple Mercury Glass Tablescape for Holiday Gatherings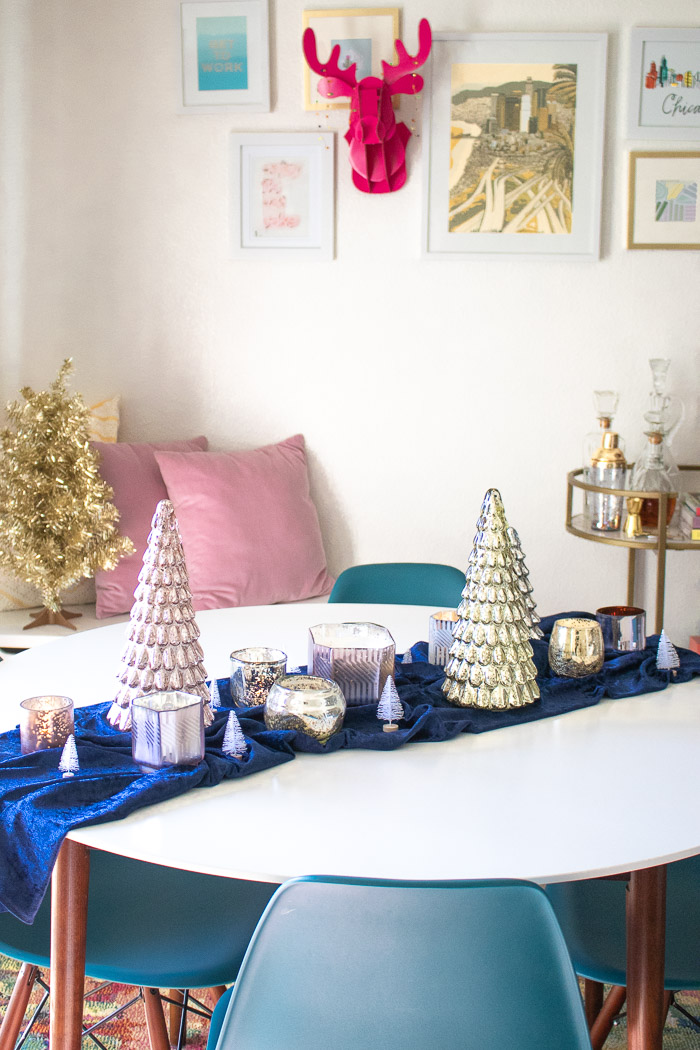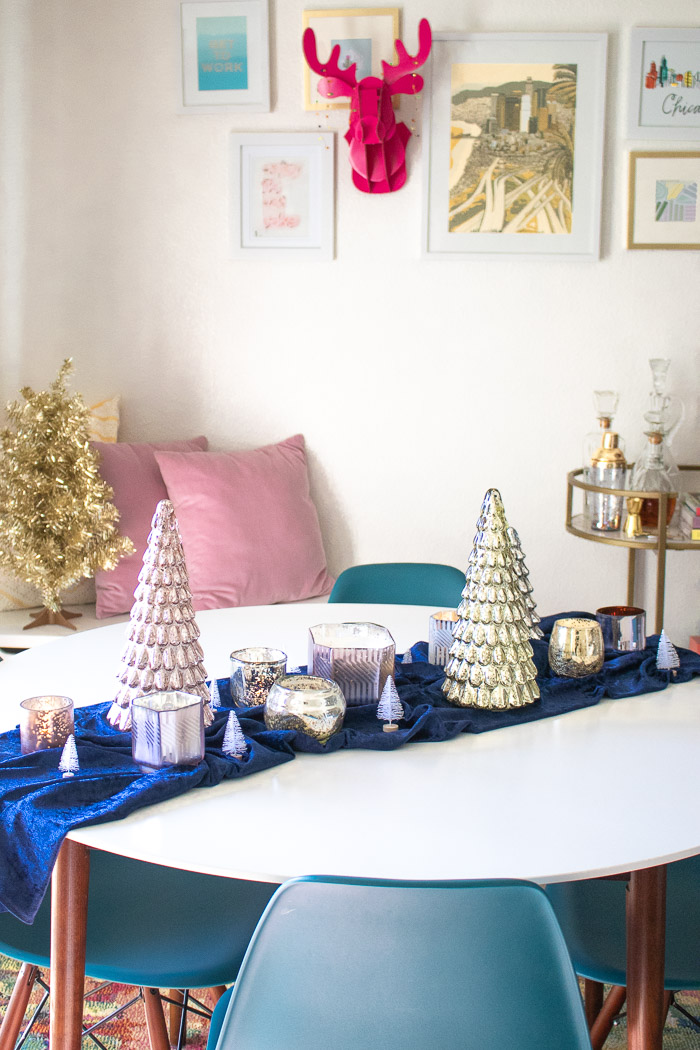 OK, I'm jumping head first into Christmas whether anyone is ready for it or not! I'm struggling to believe that Thanksgiving is next week, so that means the hustle is ON to share all of my 9351835472 Christmas ideas with you guys before the big day. After sharing my balloon centerpiece for Thanksgiving last week, I started finding more tablescape inspiration and quickly fell in love with West Elm's collection of metallic and mercury glass candles. Combined with velvet, my favorite winter fabric, I made this simple mercury glass tablescape perfect for holiday gatherings like Christmas (or you can adapt it for a winter-themed Thanksgiving)! Along with the West Elm candles and candleholders, I found several metallic mercury glass-looking trees at Target that fit perfectly with my table decor (sources linked below).
You'll see this mercury glass centerpiece make another appearance in a future campaign I'm working on, but I wanted to give you a full rundown on the products I used in case you want to try making this simple tablescape for your holiday parties!
This dining room shoot was also a great excuse for me to use my newest camera lens, which is great for capturing the beautiful details of these mercury glass candles. To make this simple mercury glass centerpiece, I used a piece of crushed velvet fabric cut into a long strip (about 1 yard) to drape across the length of my small round table. It's just a scrap piece – no sewed edges! I folded the raw edges underneath and scrunched the fabric together while making sure it still covered the length of the table.
Then I added multiple styles and sizes of mercury glass candles and metallic candle holders down the middle of the velvet table runner. Leaving space in between, I added three variations of metallic tree decorations scattered across the table. Lastly, I added a few mini bottle brush trees in white. Event though it's SO easy to put together, I felt like this mercury glass tablescape created the elegant holiday party look I was going for.
Click to shop the small and large mercury glass tree figurines. Here are all of the mercury candle sources so you can shop the look for this holiday decor!
I can't wait to share even more photos as the backdrop of a shoot coming post-Thanksgiving, so stay tuned!
Please note this post contains affiliate links from which I may collect a small profit should you choose to make a purchase. I only link to products I personally use or recommend.