/
My Colorful Vintage Christmas Tree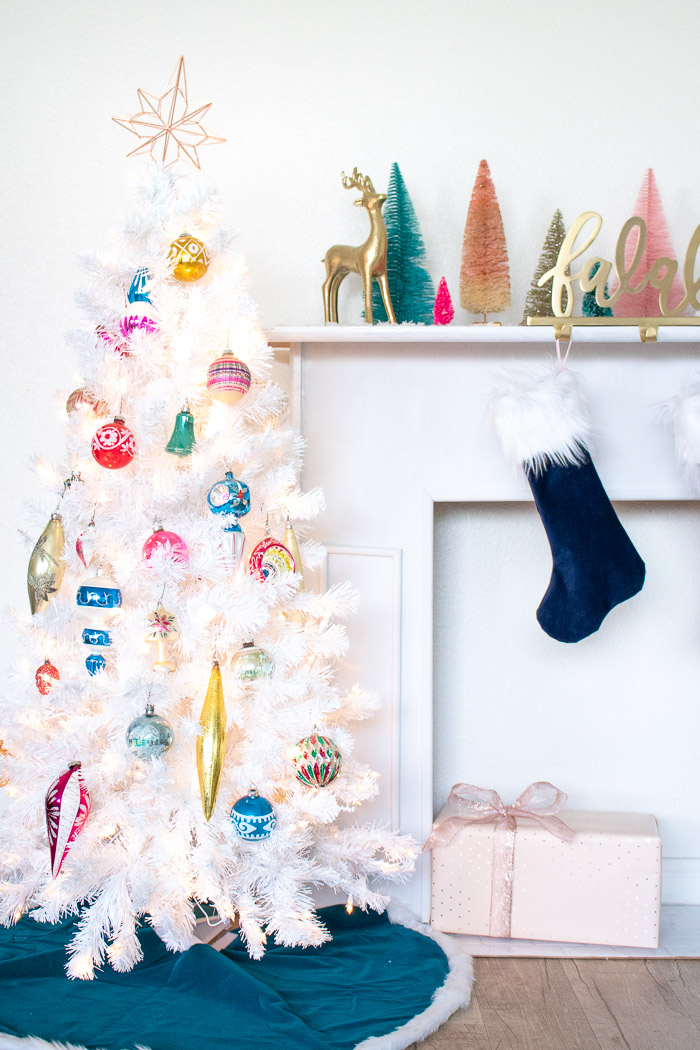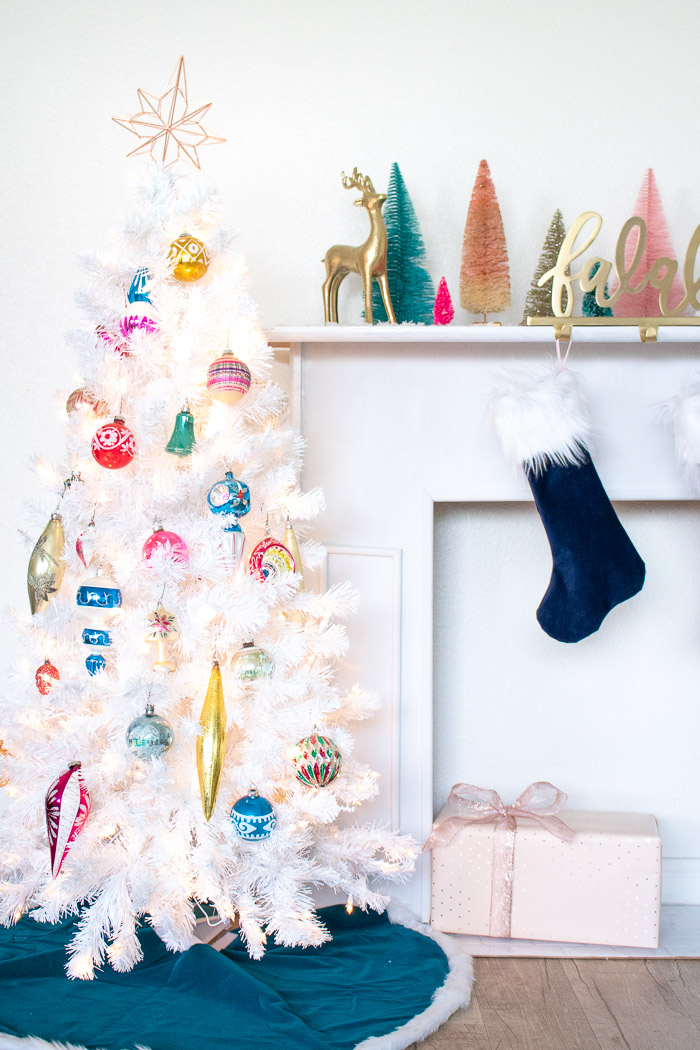 Happy Friday, everyone! Today I'm excited to be part of the My Home Style Blog Hop: Christmas Tree Edition with an amazing group of bloggers! All week, we have all been sharing our unique Christmas tree decor ideas, and today it's my turn…so here's my colorful vintage Christmas tree, featuring a selection of vintage ornaments from my grandparents. If you follow me on Instagram, you've probably also seen me gushing about this fireplace mantel for WEEKS, so I'm thrilled to finally get to share it in all its glory alongside my vintage tree and other Christmas decor in my living room. I incorporated a DIY velvet and fur tree skirt and DIY corduroy and fur stockings for cozy elements, and my mantel is covered with bottle brush trees in all shapes and colors.
Click through for LOTS more photos of my vintage ornaments!
Obviously, midcentury modern decor is really trendy right now, but I love the style and continue to incorporate a mix of new midcentury decor, vintage pieces and modern ideas into my decor to satisfy both my style and Andrew's (he has to live here too after all, ha). On the other side of the room, I set up our traditional green Christmas tree with all of the ornaments we've collected over the years, and I feel like that tree is US. It's all of the ornaments that our family has bought for us throughout our lives and represents all of our interests.
However, the blogger in me wanted MORE, so last year I bought a small white tree to satisfy my love of color and bright decor. I can easily move it around (since our apartment is not very large) and this year, it's decorated with true vintage ornaments from the 50s and 60s that were passed down from my dad's mom as well as a couple from my mom's mom. I like combining modern and vintage items, and because I come from a family of antique collectors, I can't help but LOVE antique pieces, especially when they are passed down through my own family. Unfortunately, I have to give these ornaments back to my mom soon since she's not willing to part with them completely, but I've enjoyed having them in my home for the last few weeks. So much history here!
White and metallic aluminum Christmas trees were first manufactured some time around the 1950s and were very popular as "modern" or futuristic decor. The white tree seemed like the perfect fit for this style, and I love that it makes the colorful vintage ornaments really pop!
The topper is actually a modern ornament that I turned upside down to use as the topper, wedging it between the tree's branches.
Make sure you go through the blog hop below for more beautiful Christmas tree ideas! There are 25 posts total, and each one will give you that dose of inspiration you need to decorate your own unique Christmas tree this year!
Monday:
Casa Watkins Living // Up To Date Interiors // Monica Wants It // Iris Nacole // French and French Interiors
Tuesday:
Domicile 37 // Thou Swell // Designs by Tamara Lee // The Homes I Create // Not Just A Housewife
Wednesday:
Designer Trapped In A Lawyer's Body // Lovely Etc. // Delineate Your Dwelling // Persia Lou // Taryn Whiteaker Designs
Thursday:
House Homemade // Two Twenty One // Tag and Tibby // Jeweled Interiors // My Sweet Savannah
Friday:
PMQ For Two // Made In A Day // Club Crafted // Daly Digs // Jennifer Perkins
Are you in the Christmas spirit after all that?! If anyone needs me, I'll just be admiring this mantel from my couch whilst sipping my spiked eggnog and watching The Great British Baking Show…