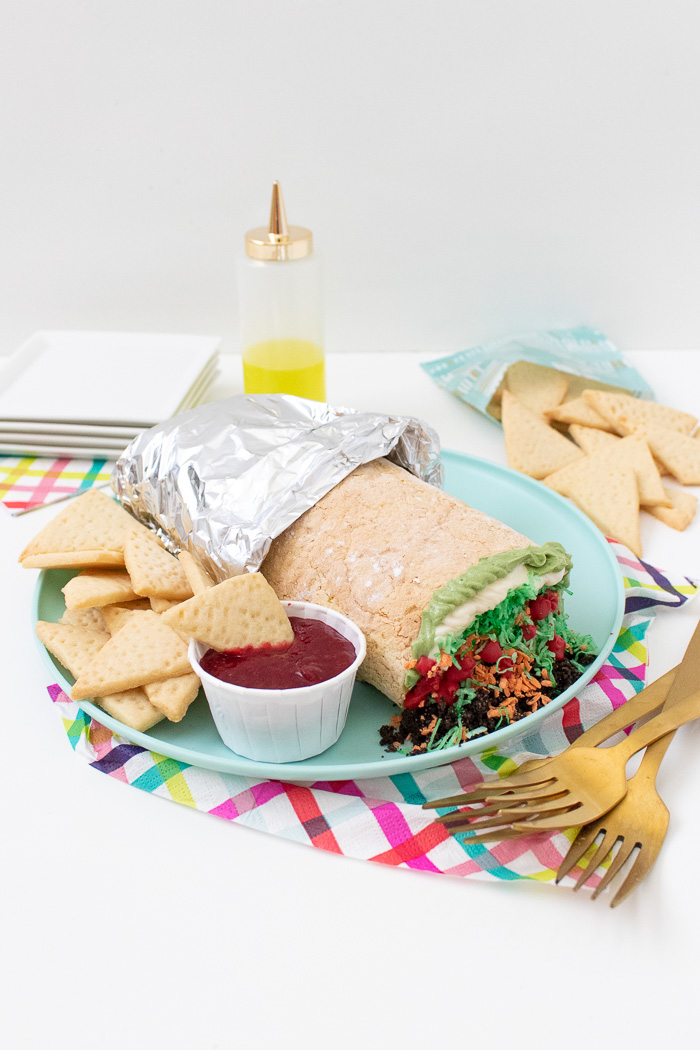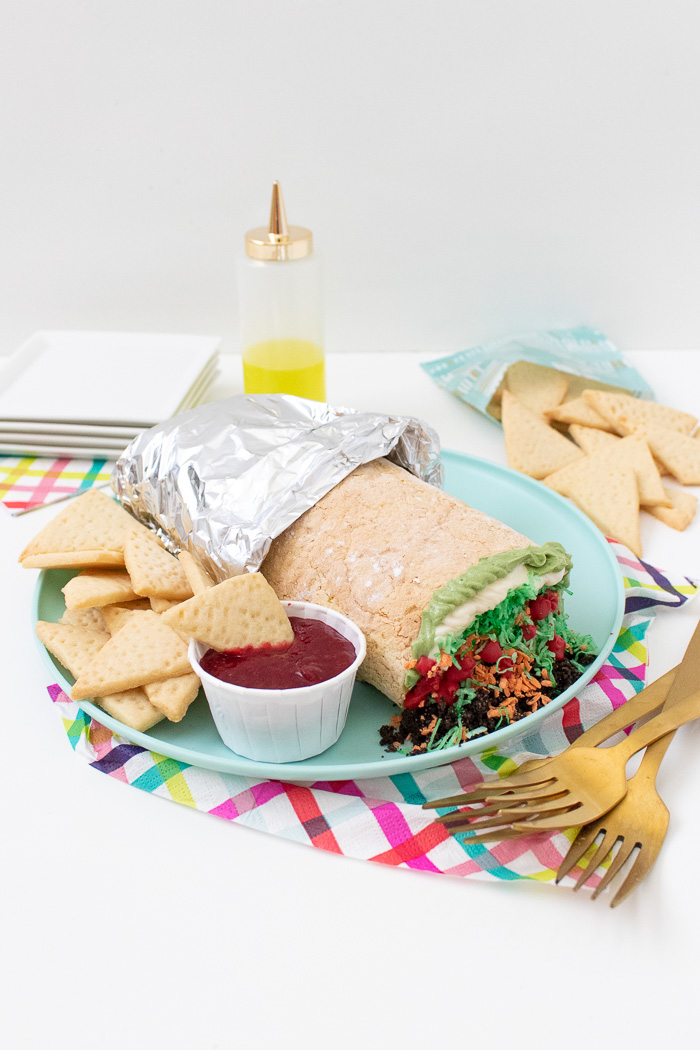 Forget Taco Tuesday. I'm making today Burrito Wednesday?!
If I'm being honest, I'm more of a taco person. That is, unless it's this BURRITO CAKE ROLL! Yes, I went there, and it certainly rivals my taco cake for a spot in my favorite food projects. Of course, every entree needs a side, so the meal wouldn't be complete with a side of cookie chips and strawberry "salsa" for dipping. This simple cake roll is fitted with a bit of foil and overflowing with sweet fillings to truly look like a burrito! Of all the burrito cakes I've come across, I hadn't seen a burrito cake ROLL, and clearly this is what the internet was missing.
Much like my Lisa Frank-inspired cake roll that channels my love of all things 90s, this burrito cake roll is rolled warm and filled with a simple homemade whipped cream once cool. I did swap out the recipe I used to make the cake roll and ultimately preferred this vanilla cake roll recipe even though it was a little more work. Once rolled up, I wrapped the bottom half in foil and piped or added all of the tasty fillings to the other side. I don't know about you, but I can't eat a burrito (or literally anything) without making a giant mess, so it seemed fitting to just let the fillings pour out.
Scroll down for the full recipe and how-to! 👇🏼
Now let's talk fillings. The cake itself is a basic vanilla cake, and it's filled with simple whipped cream and crushed Oreo cookies for texture. As for the burrito fillings, I used frosting for the sour cream and guac (it wouldn't be right to have a burrito without it!), crushed Oreos for the "meat," red candy melts for the "tomato," green coconut for the "lettuce" and shredded candy melts for the "cheese."
No, my burrito has no beans. That's because I dislike them but also because I didn't know what to use, ha! I stuck with fillings I could replicate at home with sweets. You've seen me use this green coconut trick as well as my berry sauce when I made donut burgers with cookie fries last year! It looks just like shredded lettuce. This time, I also made shredded cheese by shredding blocks of orange candy melts with a small cheese grater. Weird? Maybe…but it worked! Just looking at this burrito cake makes me want to make a lunch run for Mexican food.
Of course, it wouldn't be complete without the cookie chips! This is my favorite sugar cookie recipe, which I've used for my cookie fries as well these marbled sugar cookies. It's easy, versatile and (duh) delicious! I used a fork to create a texture to make them look more like chips rather than just triangular cookies.
Together, this is burrito cake with cookie tortilla chips is the mother of all desserts! Cut into slices and serve fresh after a meal of burritos, tacos or enchiladas…OK, I'm hungry now.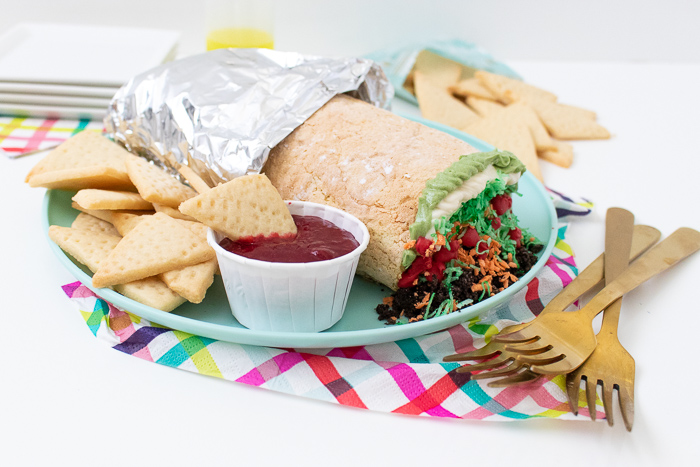 ---
Burrito Cake Roll Recipe
A simple vanilla cake roll decorated to look like a burrito, served with cookie chips and strawberry "salsa"
Find the cookie and "salsa" recipe here.
Ingredients:
FOR THE CAKE ROLL:
4 eggs, separated, room temperature
1/2 cup all-purpose flour
1 tsp baking powder
1 tsp vanilla
1/3 + 1/2 cup granulated sugar, divided
FOR THE FILLING AND DECORATION:
1 pint heavy whipping cream
1/4 cup powdered sugar
Oreo cookies, crushed
Buttercream frosting
Green food coloring
Shredded coconut
Red candy melts
Orange candy melts
Instructions:
FOR THE CAKE ROLL:
Separate the eggs, with egg whites in one mixing bowl and yolks in another
In another bowl, sift together the flour and baking powder
Line a large, lipped baking sheet about 10×15 in with parchment paper and light coat with cooking spray. Preheat the oven to 375 degrees F
Beat the egg yolks on medium speed for about 5 minutes until thick and lighter in color. Add 1/3 cup sugar and vanilla, and mix until sugar is almost completely dissolved. Set aside
With clean beaters, beat the egg whites on med-high speed until soft peaks form. Gradually mix in the 1/2 cup of sugar, beating on high speed until stiff peaks form
Use a spatula to gently fold the yolk mixture into the egg whites
Fold flour in batches, folding until just combined
Spread batter into prepared cake pan and level the top. Bake for 12-15 minutes until the top feels lightly springy
Remove from the oven, run a knife around the edges and immediately turn the cake out onto a powdered sugar-covered towel. Peel away the parchment
While hot, roll the cake into the towel and set aside to cool completely
FOR THE FILLING AND DECORATION:
In a clean mixing bowl, whip the cream and powdered sugar on high speed until soft peaks form
Unroll the cooled cake and spread whipped cream almost to the edges (make sure to get the curled parts) and sprinkle generously with Oreo cookie crumbs
Carefully roll the cake back up but not too tightly or you risk the filling coming out. Cut each side to reveal the swirl
Move to a plate. Wrap one half of the cake roll in foil
At the other end, spread a little buttercream onto the edge of the cake for the fillings to stick to. Press cookie crumbs to the bottom portion, letting excess fall to the plate
To make the "cheese," melt the orange candy melts into blocks so they are easy to hold. Grate the hardened candy melts with a small cheese grater
To make the "lettuce," combine shredded coconut and green food coloring in a small container with a lid. Shake until color is distributed
Stack shredded orange candy melts and green coconut on top of the cookie layer, letting some spill out. Make sure it is sticking to the end of the cake to cover it
Melt red candy melts and move to a small ziplock bag with the tip cut off. Pipe red "tomatoes" over the lettuce layer
Lastly, pipe a little white buttercream near the top, then green buttercream to make "sour cream" and "guacamole"
Fill in any missing sections with additional fillings and refrigerate until ready to cut and eat.
FOR THE COOKIE CHIPS:
Use this recipe to make chilled sugar cookie dough. Roll and cut into randomly sizes triangles with a pizza cutter. Use a fork to gently poke the tops of the cookies for texture
Chill for at least 30 minutes before baking according to recipe instructions