/
Bourbon Walnut Brownies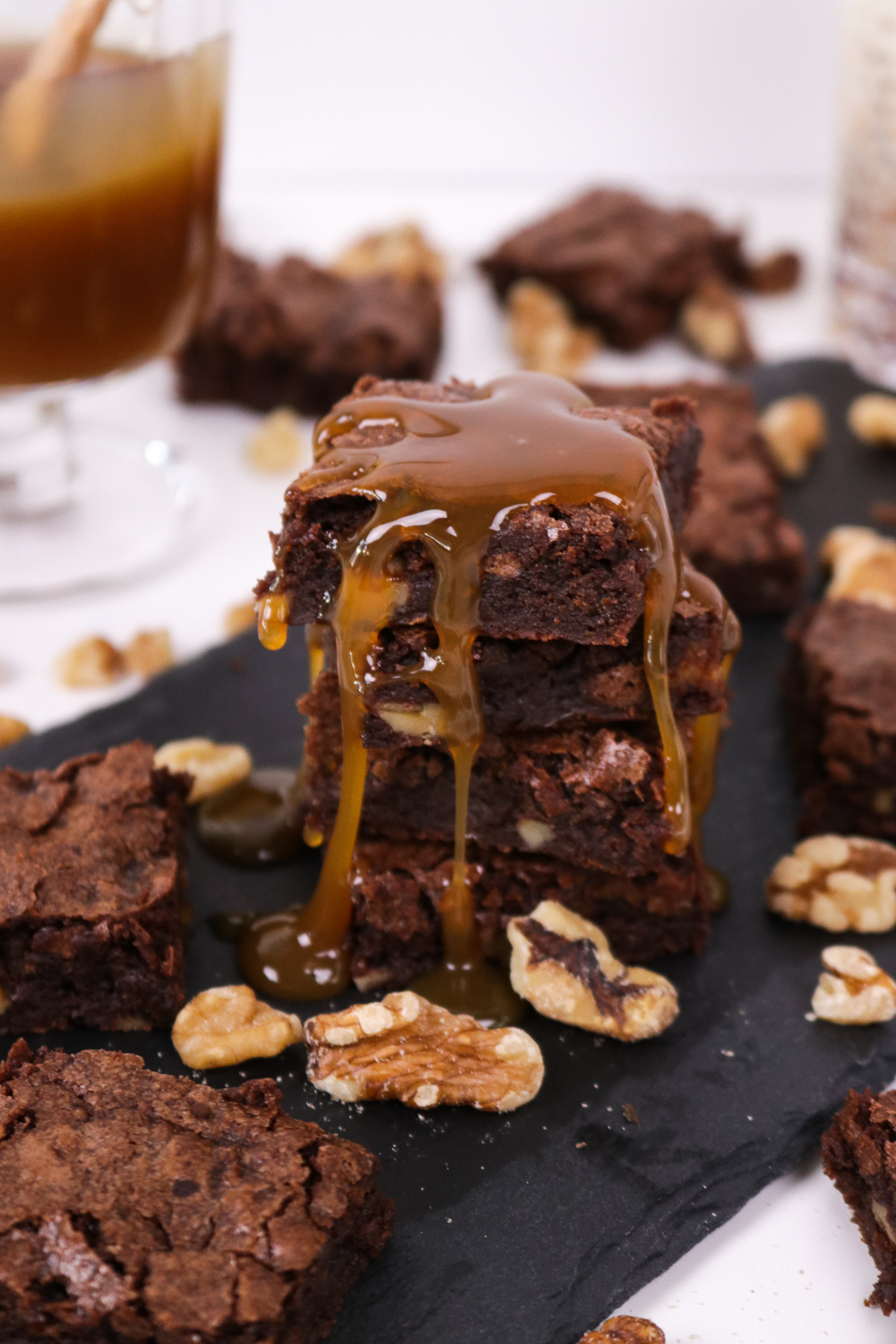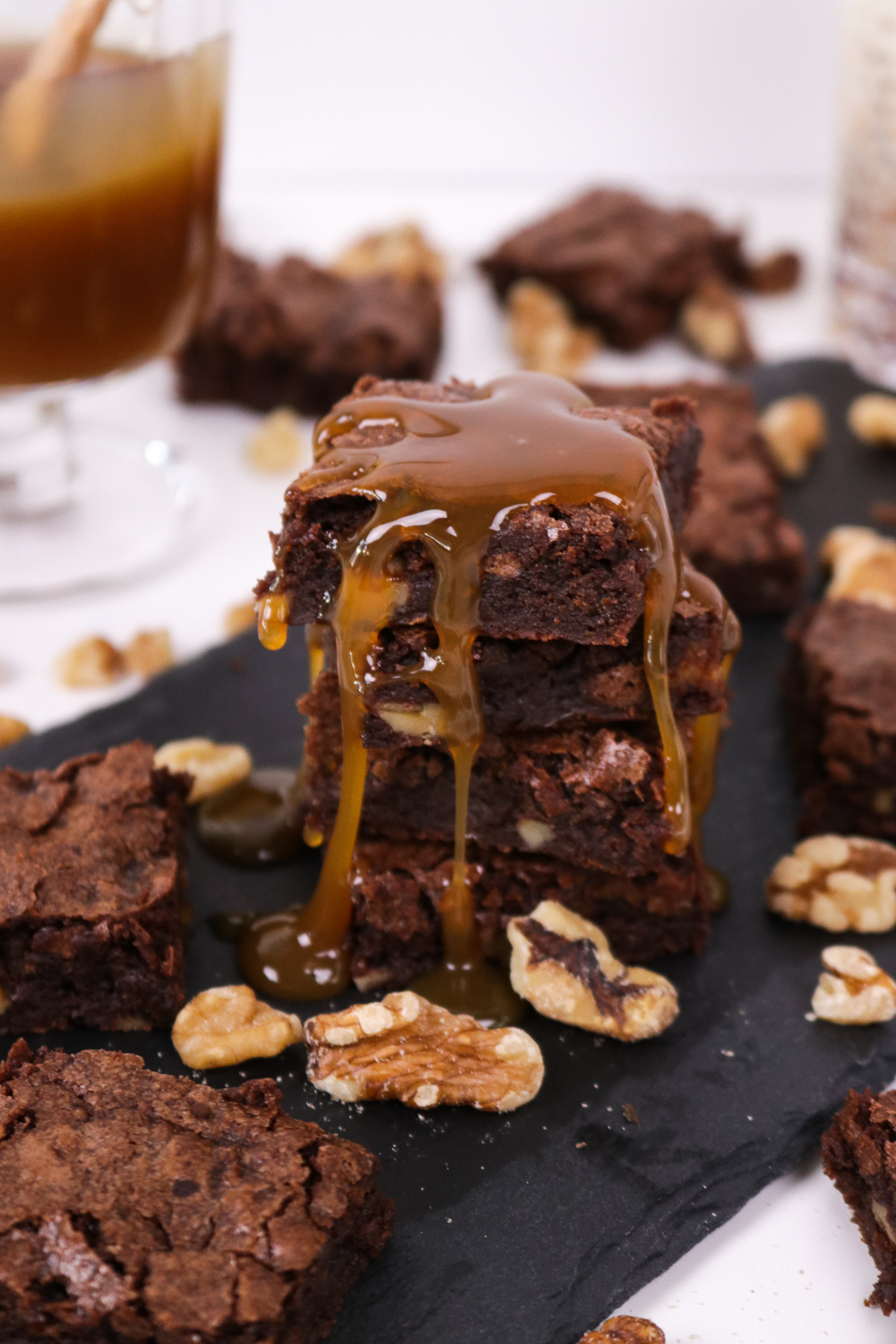 If there ever was a way to make brownies even better than they already are, I think I found it…bourbon. I added some shots of bourbon to an already gooey brownie recipe along with some chopped nuts and created the most delicious fudgey, gooey bourbon walnut brownies. OK, I'm a little bias, but I'm pretty confident this is one of the best brownie recipes I've ever made!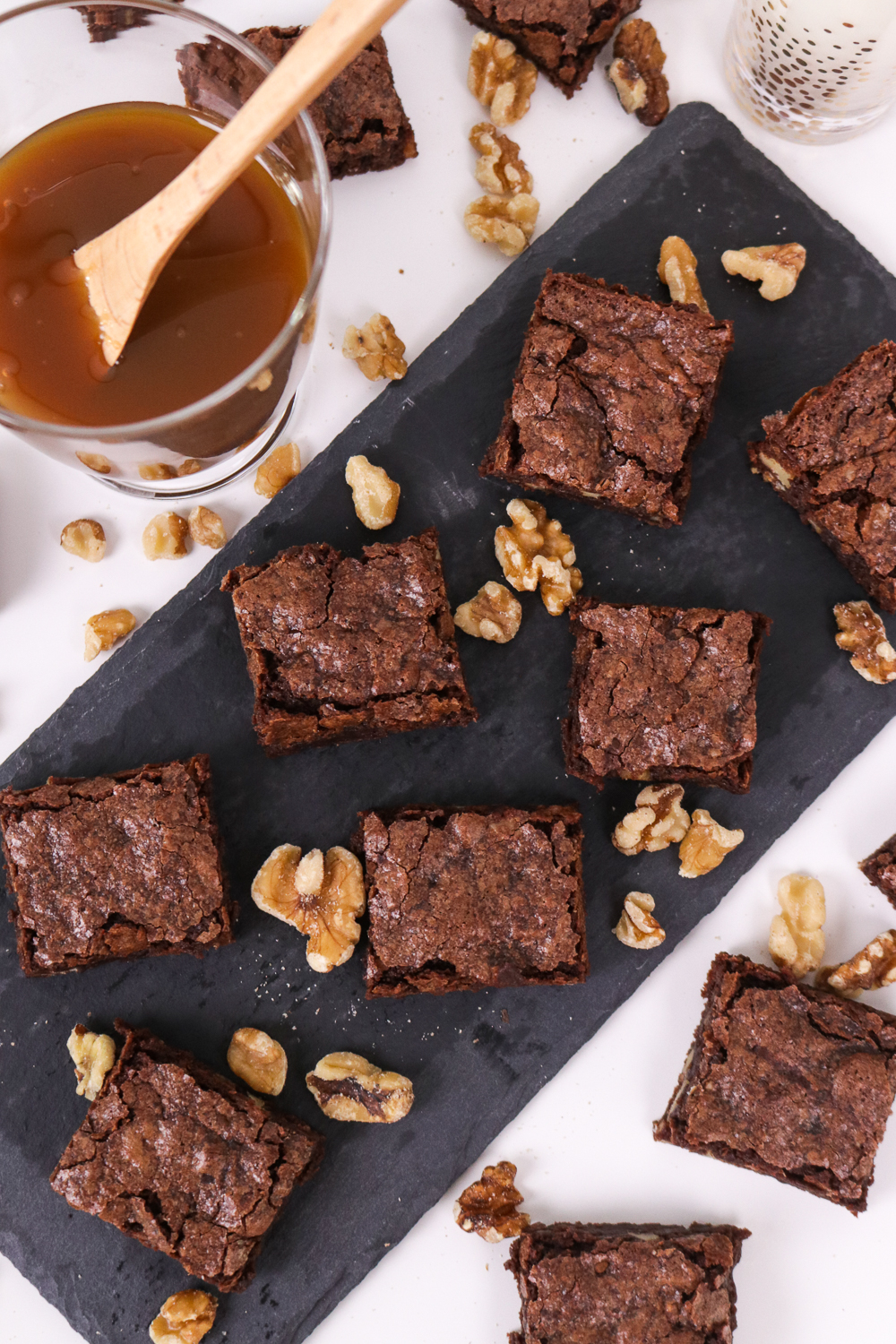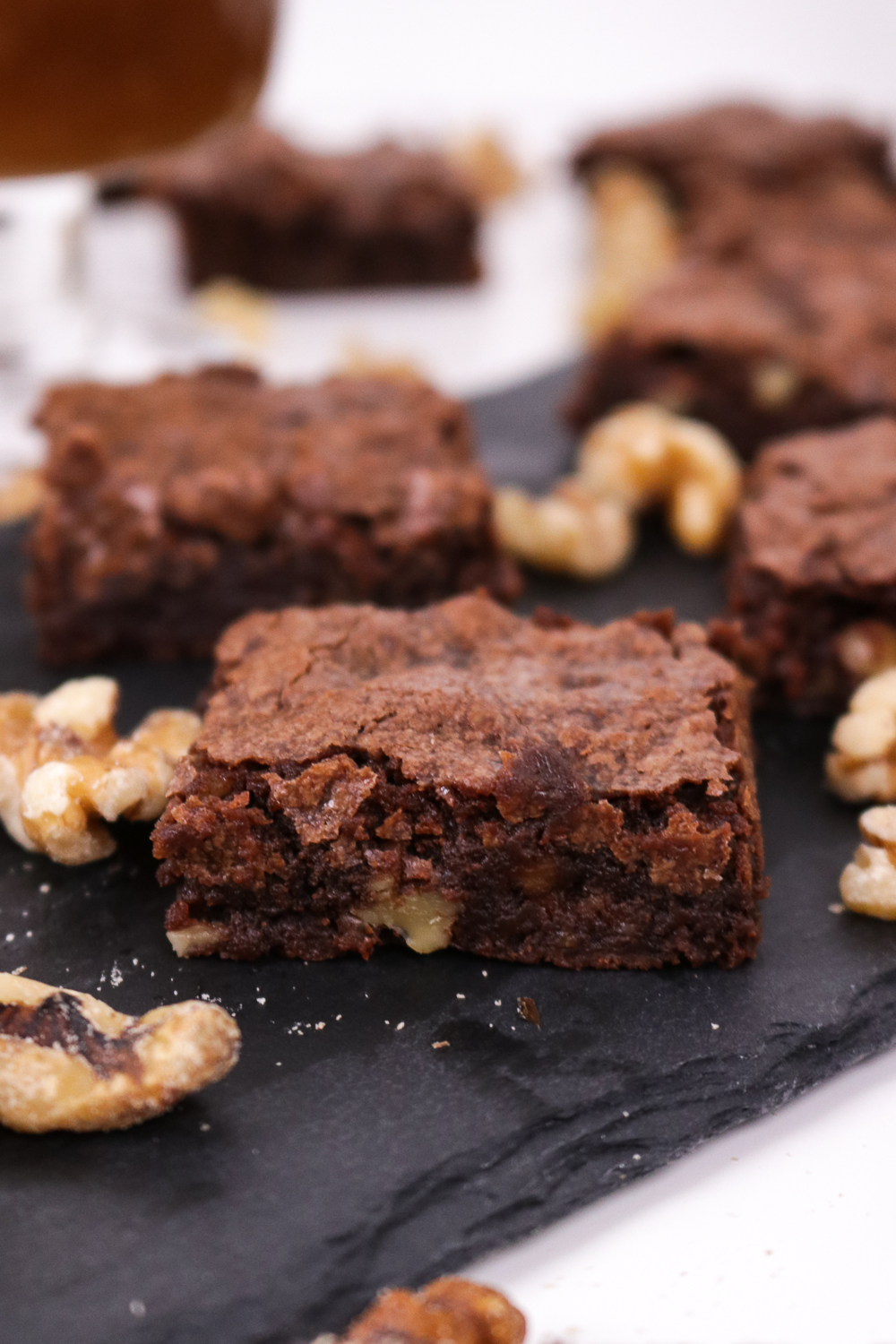 I'm no stranger to adding bourbon to my recipes, and although the flavor of alcohol often doesn't come through baked goods (especially something as rich as a brownie), the bourbon does lend a richer, slightly malty flavor that takes them one step over the top. And as if they needed to be more decadent, I dripped some caramel over them once cut and cooled and they were even better.
Note, the size of pan you use can make a difference in the way the brownies bake. I use a 9×9 inch pan, which yields thinner but fudgey brownies, whereas a smaller pan will yield thicker brownies and may require longer baking times.
Scroll down for the full recipe card! ??
1/2 cup butter, melted
4 oz bittersweet chocolate, chopped
1 cup granulated sugar
2 eggs
4 tbsp bourbon whiskey
1 tsp vanilla extract
1/4 tsp salt
1/2 cup flour
1/4 cup natural unsweetened cocoa powder
1 cup walnuts, chopped
Preheat your oven to 350 degrees and line a square baking pan with parchment paper. Lightly spray with cooking spray and set aside.
In one bowl, whisk together the flour, cocoa powder and salt and set aside.
In a small saucepan over medium heat, melt the butter. Add the chopped chocolate and stir until melted. Pour into mixing bowl to cool for about 2 minutes. Fitted with a paddle attachment, mix in the sugar and beat for about one minute until it cools.
Mix in each egg, followed by the vanilla extract and whiskey. Fold in the dry ingredients with a spatula until a small amount of white remains. Mix in the chopped walnuts and pour the batter into the prepared pan.
Bake the brownies for 30 minutes until an inserted toothpick comes mostly clean (no batter, only crumbs). Allow brownies to cool completely before removing from pan.
If you really want to take them over the top, drizzle caramel on them before serving. Although they certainly don't need it, the caramel is extra delicious! Enjoy!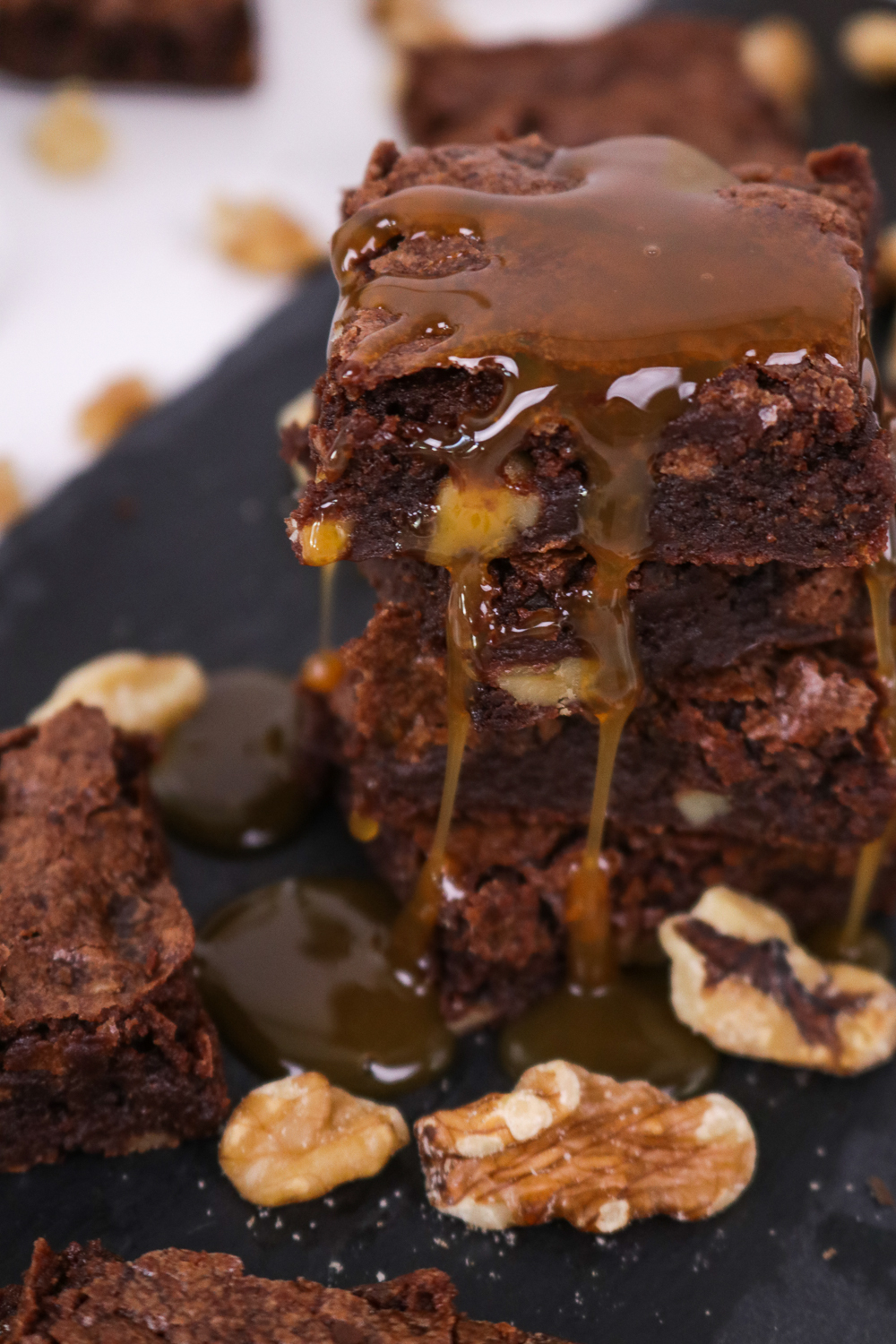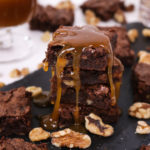 Bourbon Walnut Brownies
2016-12-18 15:12:14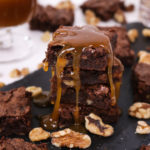 Rich, gooey brownies made with bourbon and chopped walnuts for rich, nutty flavor
Ingredients
1/2 cup butter, melted
4 oz bittersweet chocolate, chopped
1 cup granulated sugar
2 eggs
4 tbsp bourbon whiskey
1 tsp vanilla extract
1/4 tsp salt
1/2 cup flour
1/4 cup natural unsweetened cocoa powder
1 cup walnuts, chopped
Instructions
Preheat your oven to 350 degrees and line a square baking pan with parchment paper. Lightly spray with cooking spray and set aside
In one bowl, whisk together the flour, cocoa powder and salt and set aside
In a small saucepan over medium heat, melt the butter. Add the chopped chocolate and stir until melted
Pour into mixing bowl to cool for about 2 minutes
Fitted with a paddle attachment, mix in the sugar and beat for about one minute until it cools
Mix in each egg, followed by the vanilla extract and whiskey
Fold in the dry ingredients with a spatula until only a small amount of white remains. Mix in the chopped walnuts and pour the batter into the prepared pan
Bake the brownies for 30 minutes until an inserted toothpick comes mostly clean (no batter, only crumbs)
Allow brownies to cool completely before removing from pan
Club Crafted https://www.clubcrafted.com/