/
Apartment Living: Outdoor Entertaining in Small Spaces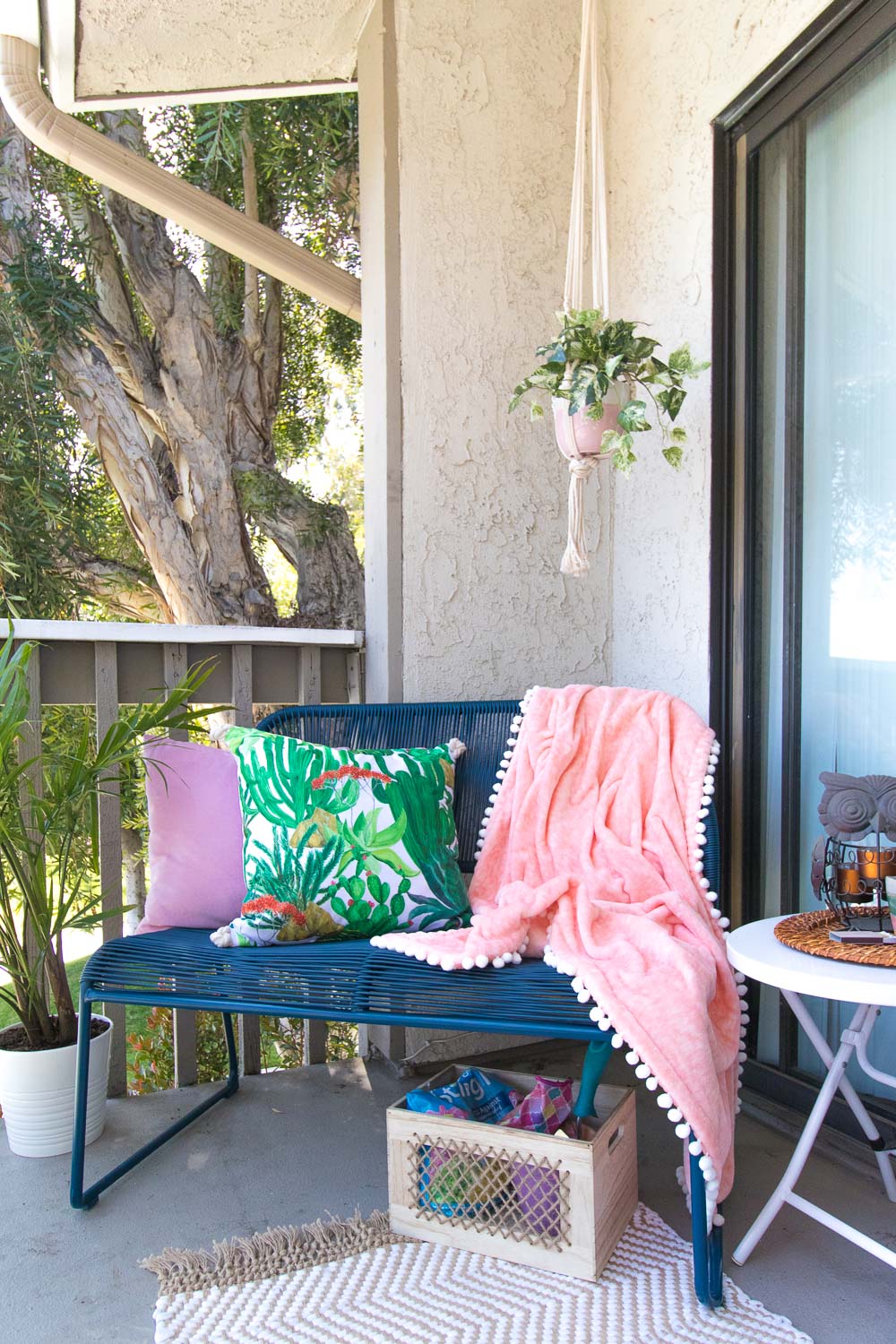 The following post is sponsored by Tuesday Morning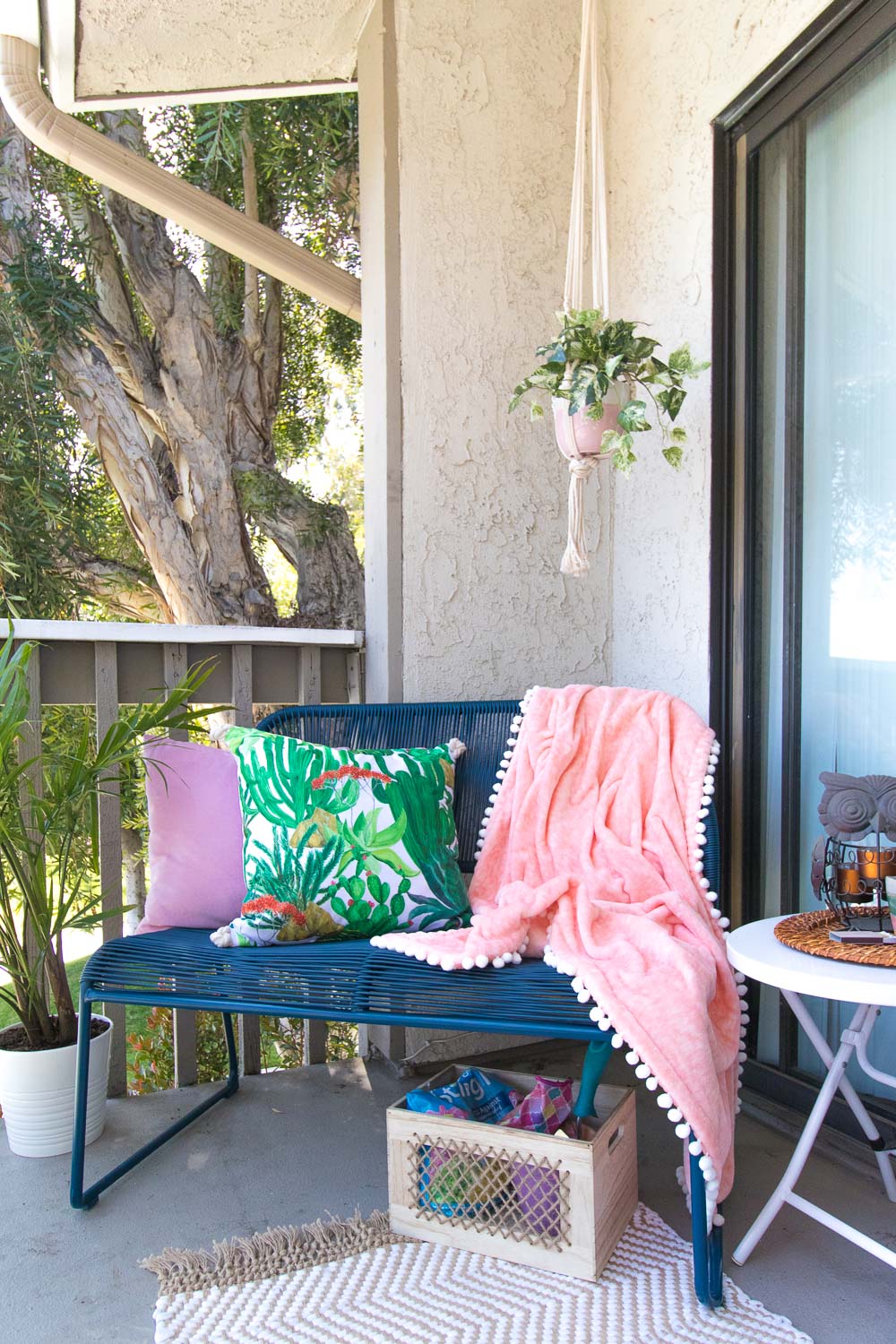 Has spring finally sprung in your part of the world?! It's been really comfortable here in SoCal, and with Andrew's law school graduation coming up next month (YAY!) we're excited to have a lot of people around and start entertaining more people at our apartment. Apartment living isn't ideal, but it's what we've got, so I'm always learning new ways to entertain in a small space and make the most of the spaces we have. When Tuesday Morning approached me to give my outdoor space an update for spring and summer outdoor entertaining, I was so excited to make our porch the ideal outdoor entertaining space! I found so many exciting pieces to add to our decor, and now it's looking better than ever, so I can pass on a few of my favorite tips for entertaining in small spaces. Trust me, it's possible!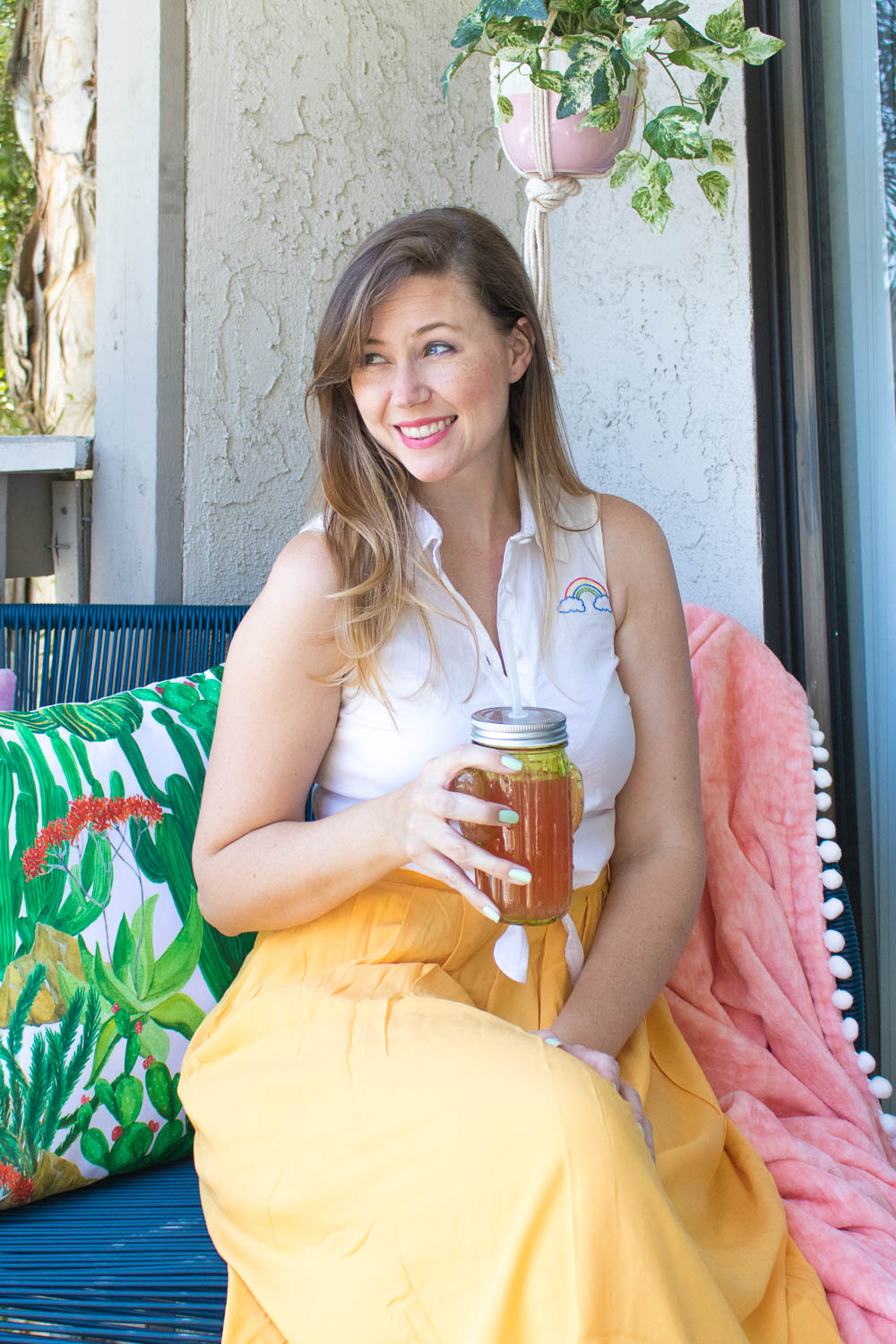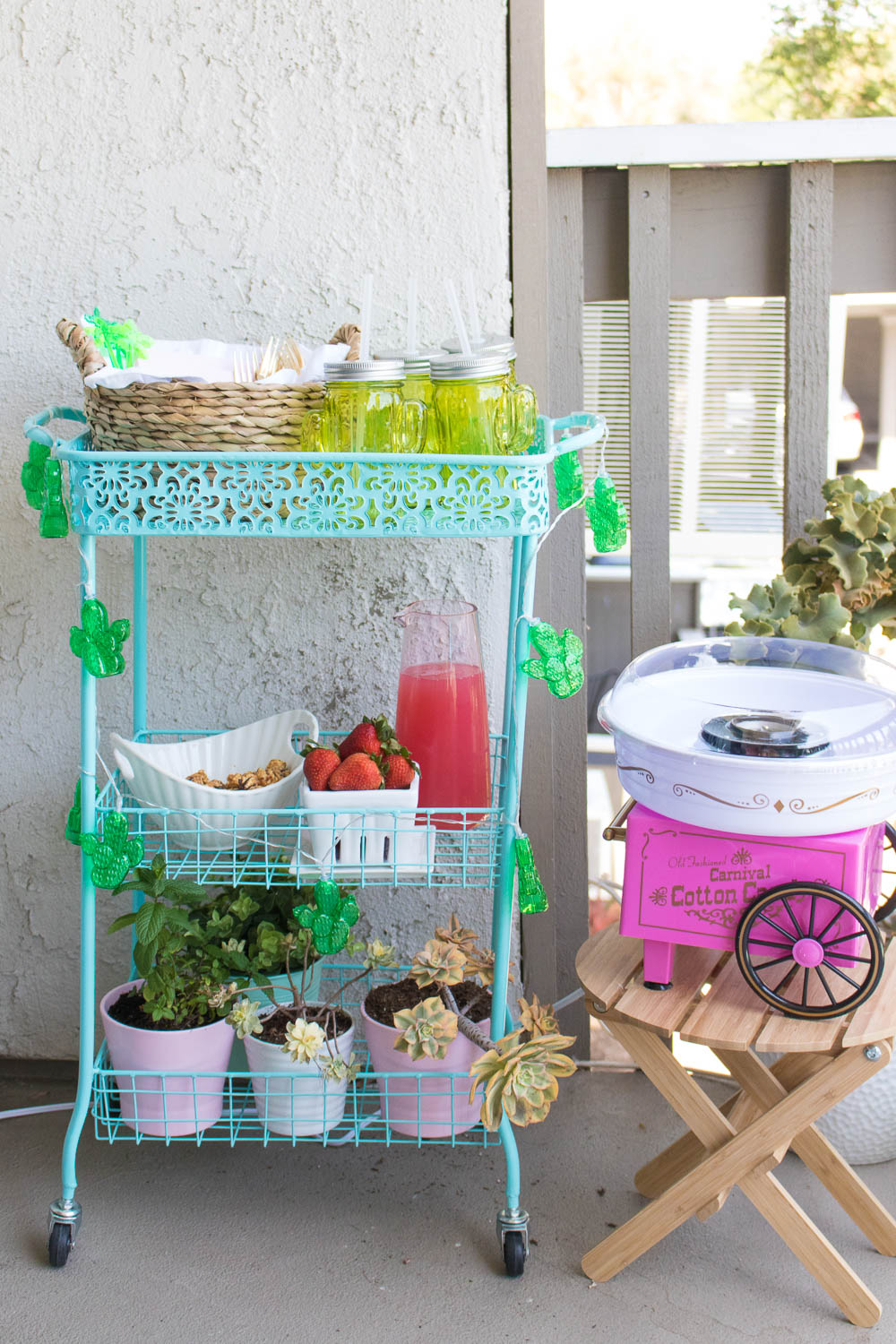 Tuesday Morning has a huge selection of outdoor decor right now as well as everything you need to entertain indoors or outdoors, including quality brands and designers, so I stocked up on all of the decor pieces I needed to make our porch look like a desert getaway that guests would feel comfortable in. I wish I had a before picture to show you, but to be honest, I'd be too embarrassed to show it, haha!
The best tip I can give you for outdoor entertaining in a small space is to use transitional pieces! I found this three tier colorful cart at Tuesday Morning that I fashioned into a drink and snack station, moving small plants to the bottom layer of the cart. This gave me two rows to add drinks, snacks, utensils, etc. and the cart can easily move around wherever we need it (even inside). When I don't need to use it for snack storage, I can simply move the plants back to the top for maximum light exposure.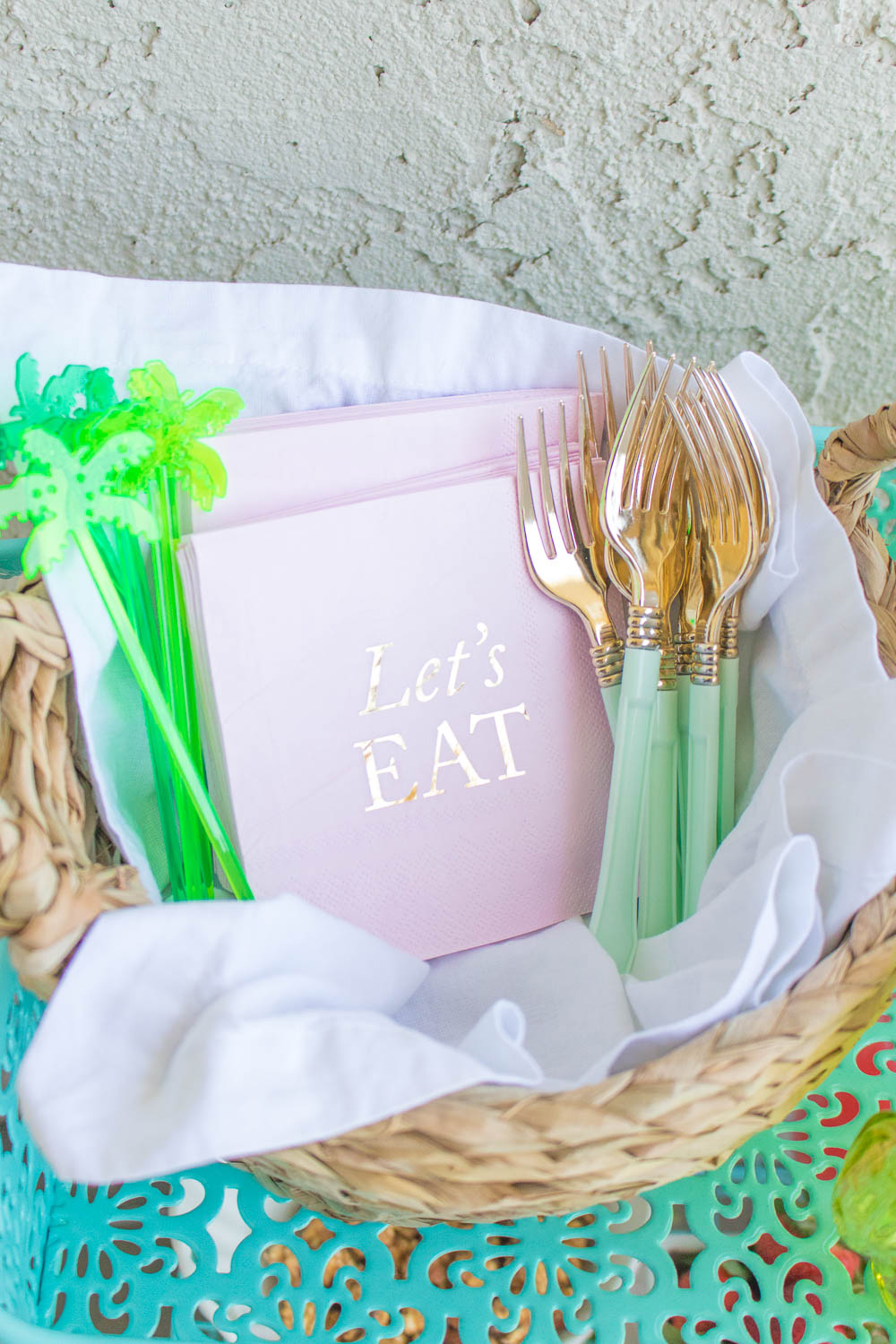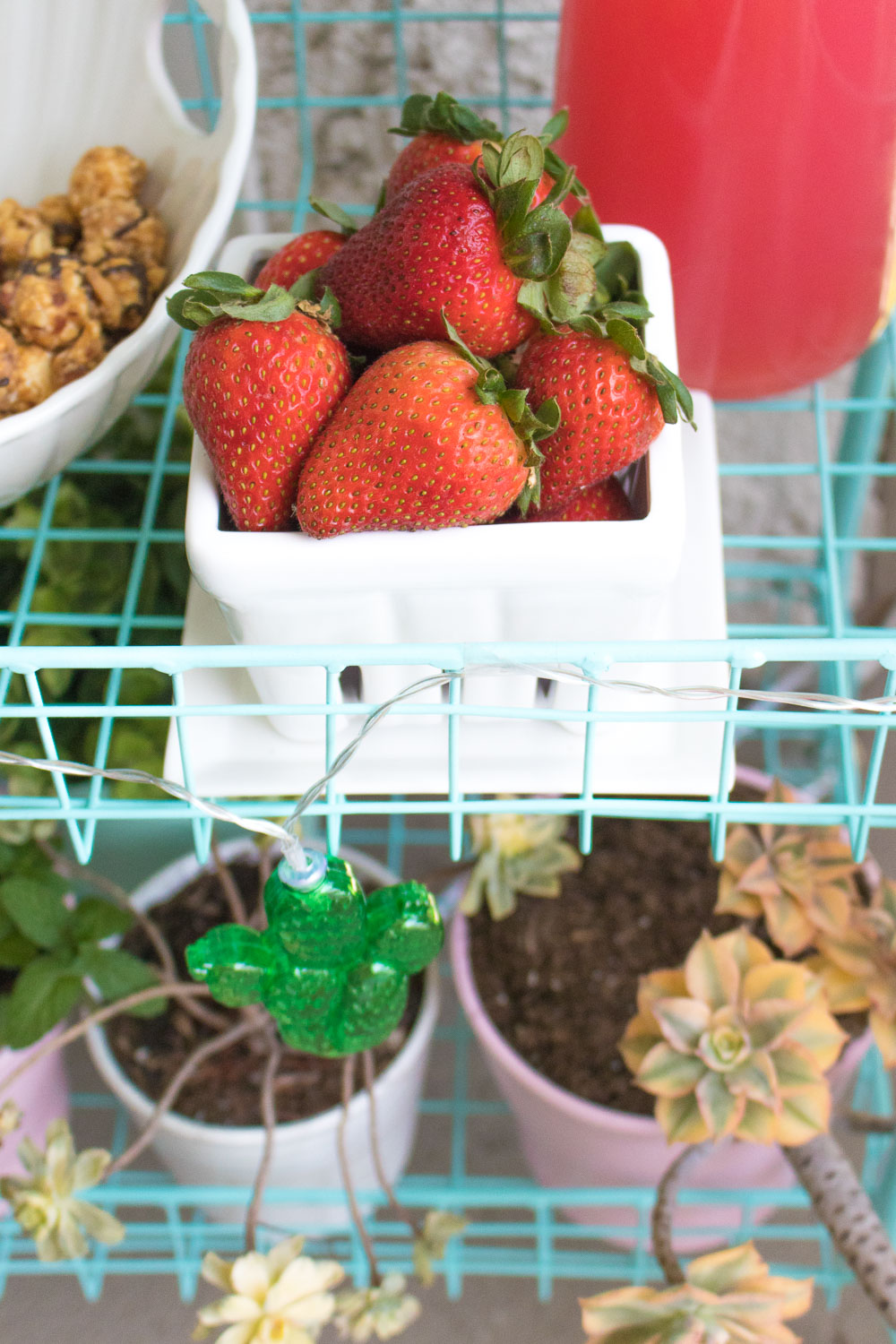 Tuesday Morning literally had an aisle full of various napkins, so my blogger brain snatched up a million cute options! I contained napkins, utensils and drink stirrers in a woven basket that perfectly fit the "natural" look I was going for on the porch with a few pops of color. I was SO excited to find a set of cactus sippers to drink out of as well as cactus string lights to decorate the cart. As the sun goes down, it makes our little SoCal balcony feel like a luxurious desert getaway.
Because you get savings and quality when you shop at Tuesday Morning, the products I bought felt like an incredible bargain. I went back several times to two different stores to make sure I found everything I wanted for our outdoor entertaining project, and each time I came home with new deals that added color and a unique aesthetic to our home.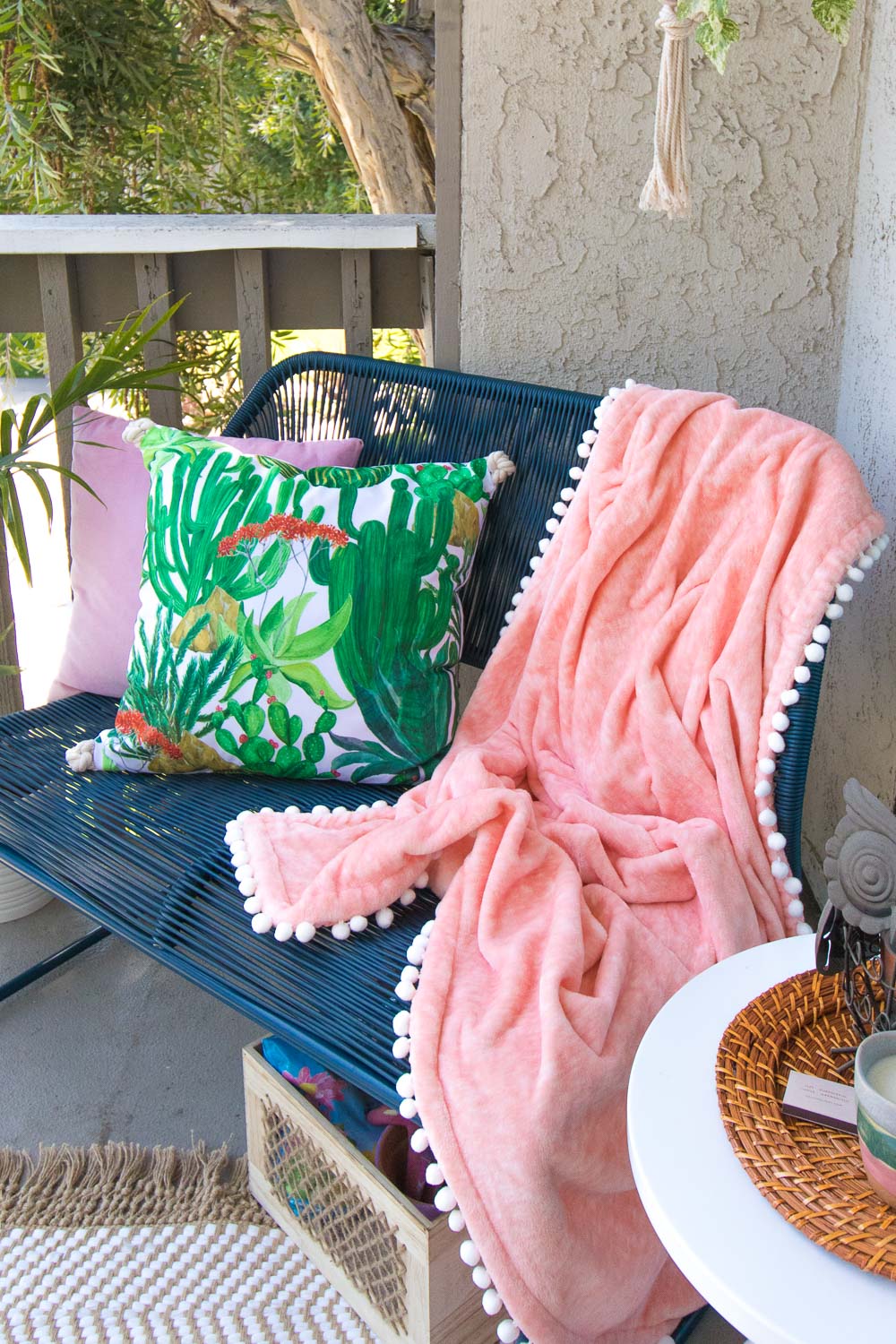 To maximize space, I moved our patio bench to one side and hid unneeded items, like my gardening tools, in a storage box underneath it so that they're out of sight from guests but still easily accessible. Then I repotted several of my plants and moved them to the opposite corner. I'm really trying to keep them all alive, but my brown thumb makes it so hard!
As a pillow addict (seriously, it's becoming a problem), I added a couple pillows to make the bench more comfortable. How cute is that cactus print pillow from Tuesday Morning?! It was the perfect fit for this space. Then I added that pom pom blanket to make it feel extra cozy. It still gets chilly in the evenings, and I feel like throws just make spaces feel more homey. You'll see I also added a rug, and although it's perfect for outdoors, it still feels nice and soft under bare feet.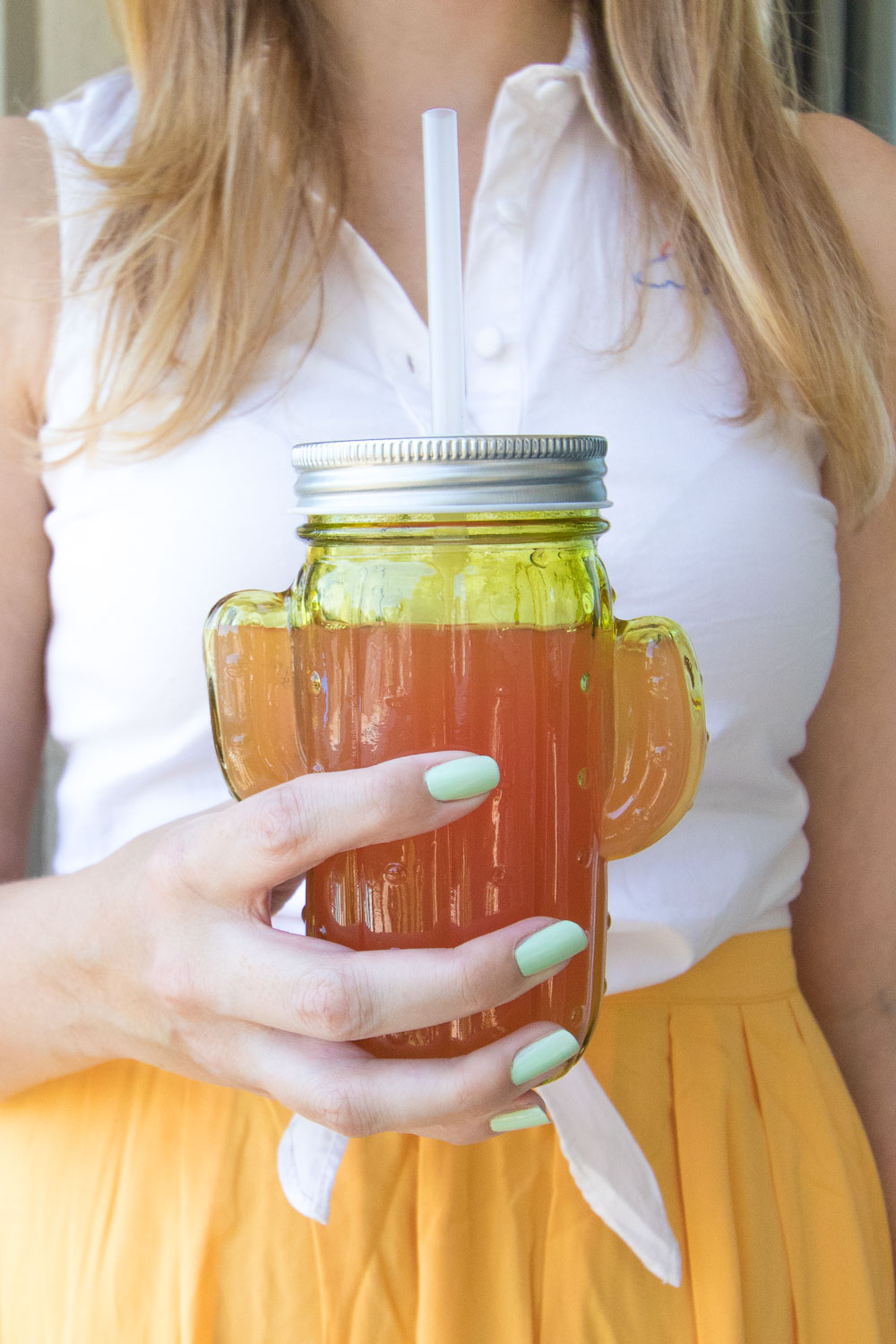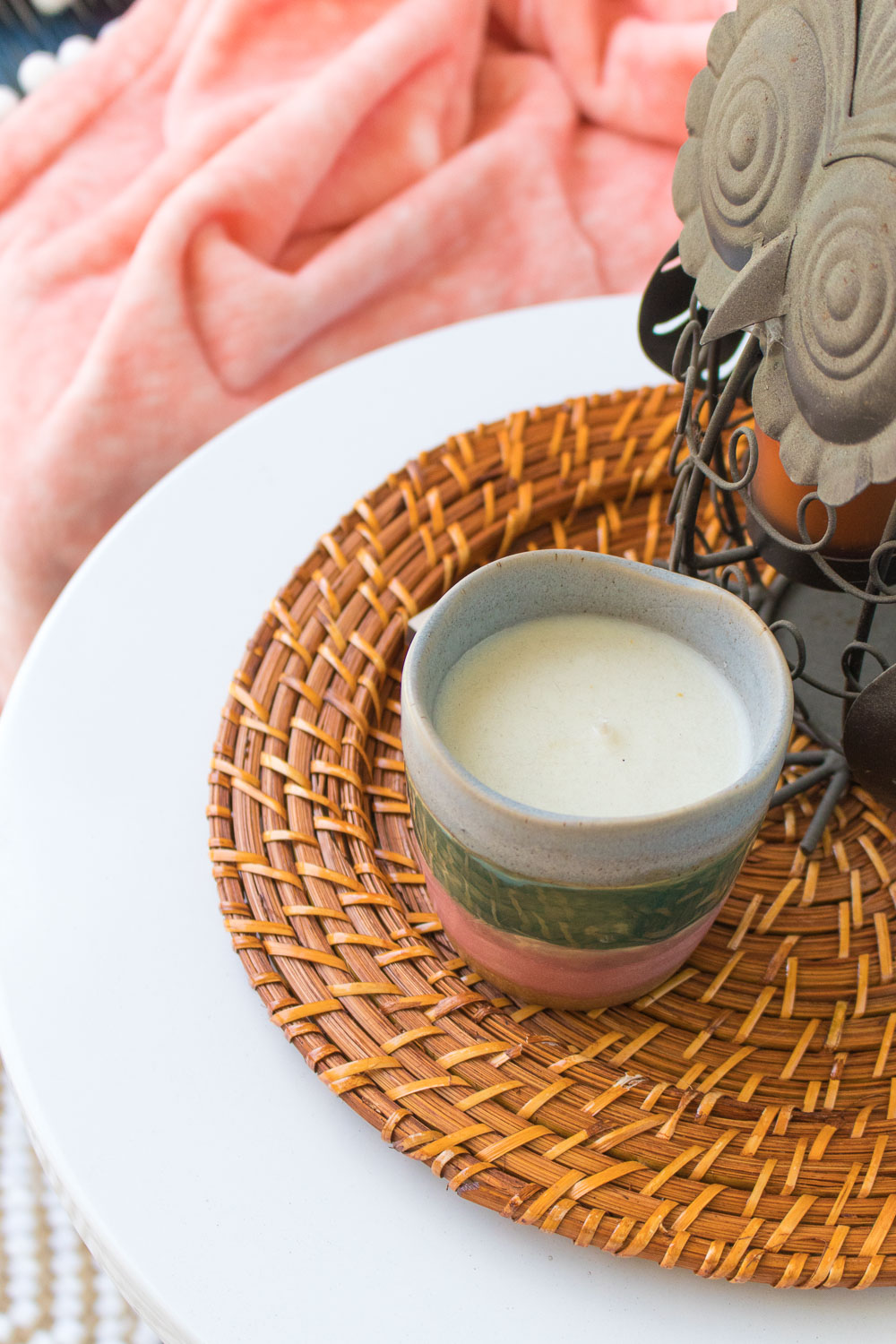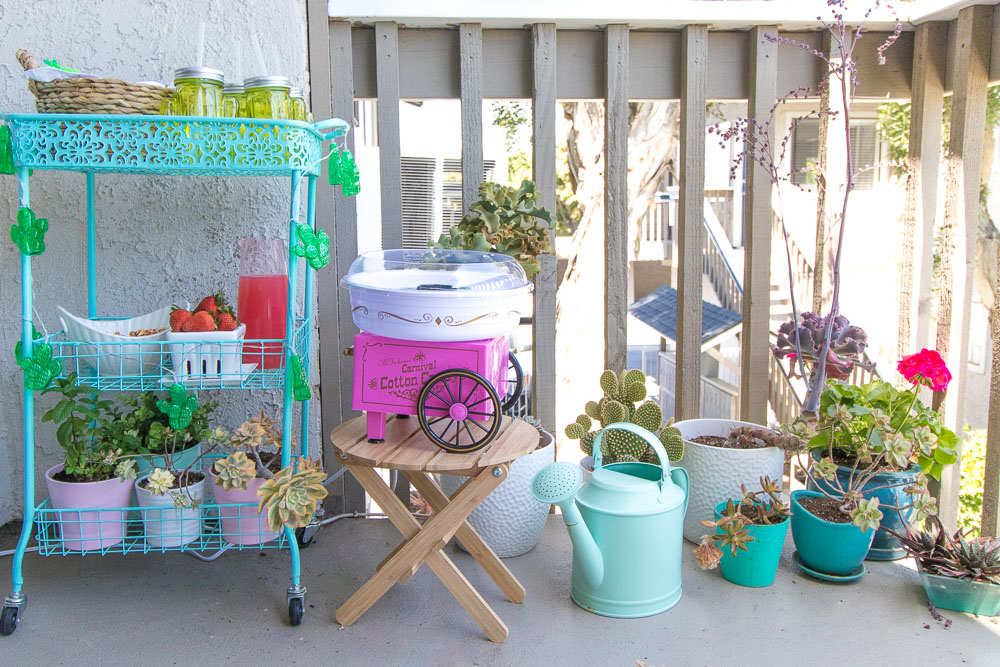 Now let me tell you about my favorite find at Tuesday Morning…can you guess what it is? It's a cotton candy machine! Yes, that was in my cart as fast as my arms could move. We're going to be eating so. much. sugar. this summer, and I can't wait to use it whenever we have guests over. I mean, cotton candy just brings back so many childhood memories! I placed it on a plant stand (see what I mean about transitional pieces?) next to the cart so that I can make cotton candy for guests.
I can't wait to host more guests in the coming months! I feel confident we can entertain several people in our home now and feel proud of our cozy little porch. Find your local Tuesday Morning store and see what amazing treasures you can find!
Thank you to Tuesday Morning for sponsoring this post. All opinions are my own. Thanks for supporting the brands that keep Club Crafted crafting!