/
Easy Watercolor Artwork Hack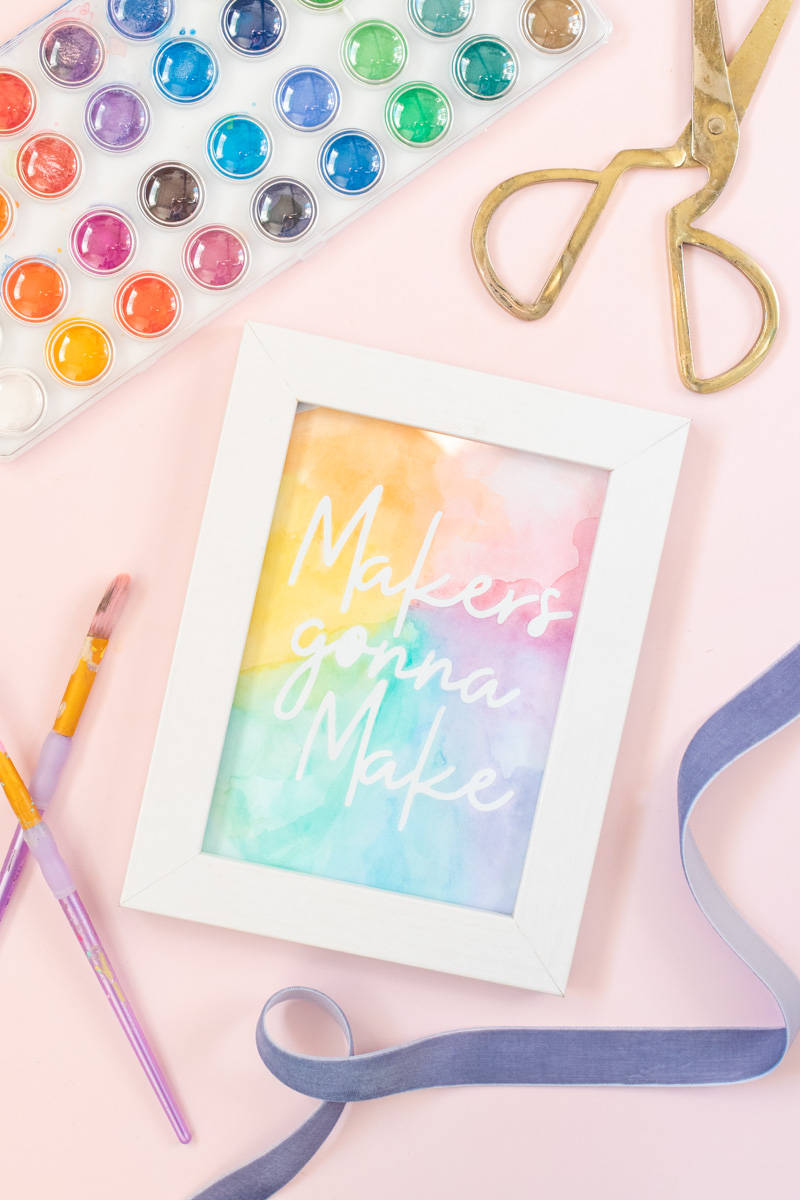 Let's talk about Cricut today (since it's been a minute). I was experiencing some creative block last week, so when I had a spur-of-the-moment idea to make some easy watercolor artwork, I ran with it. Watercolors are so beautiful to me. In fact, I'm incorporating a lot of watercolor and brushstroke elements into our wedding. Unfortunately, I am a TERRIBLE painter. It's not a gift of mine, but that's why this easy watercolor artwork hack was perfect. Using my Cricut Explore Air 2 and a sheet of leftover vinyl, I made a stencil graphic to pair with a color-wheel inspired watercolor pattern. Here's how!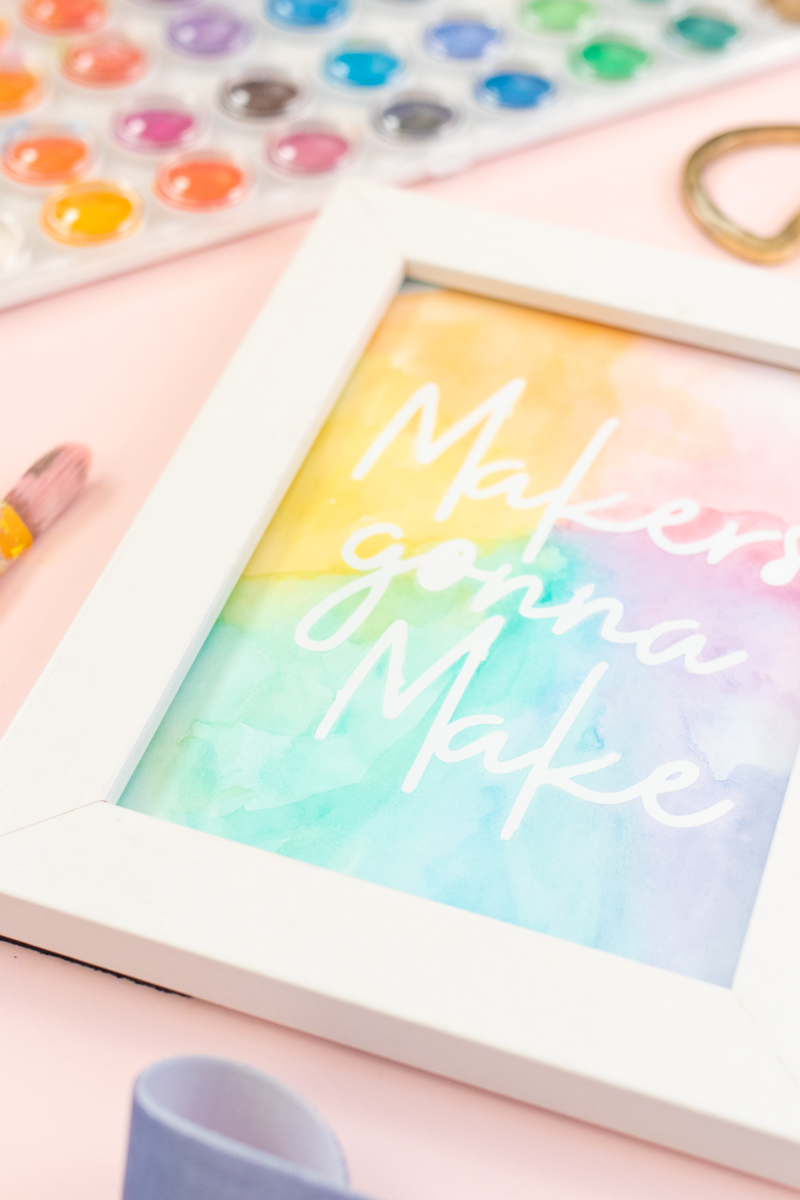 I love my Cricut, and I feel like I have so many ideas of new projects to try…only to find out that it's all been done. Perhaps that shouldn't stop me, but in the blog world, you want to try to be unique and only share ideas that seem NEW. Well, I don't know if this has already been done, but did you know you can use vinyl as a stencil on paper too? Cut out any design to make a stencil for this easy watercolor artwork.
Psst, remember when I also used watercolors to make these watercolor photo mats?! This is still one of my favorite projects.
Beginner-Friendly Watercolor Artwork Hack Idea
Supplies:
White cardstock
Watercolor palette
Paintbrushes
Removable vinyl
Clear vinyl transfer tape
Scissors
Cutting mat
Step 1: Made your graphic in the Cricut Design Center. Make sure your pieces are welded so that the final cut vinyl is correct. Cut out of any removable vinyl to make a stencil.
Step 2: Weed the vinyl. Then place a piece of transfer tape on top and smooth. Peel up the vinyl all in one piece and carefully position onto your paper. DO NOT press too hard onto the paper. Slowly peel away the transfer tape, leaving the vinyl graphic on your paper.
Note, you can pre-cut the paper to the size you want or trim it later.
Step 3: Prepare your watercolors and paint away! This part of the watercolor artwork hack is pretty hard to mess up, so just have fun with it! I chose a color wheel-like pattern.
If you're new to watercolors (as am I), make sure you blend your colors with a bit of extra water on your brush. Don't worry about messing up! If you try an abstract look, it's pretty impossible to mess up. Keep in mind that you do need to entirely cover the vinyl stencil with watercolors or your design won't be visible when you remove the vinyl.
Step 4: Let the watercolors dry completely. This is important, or you could tear the paper. Once dry, you can peel up the vinyl piece by piece with little to not tearing. If the paper is still damp, the watercolor artwork is more likely to tear.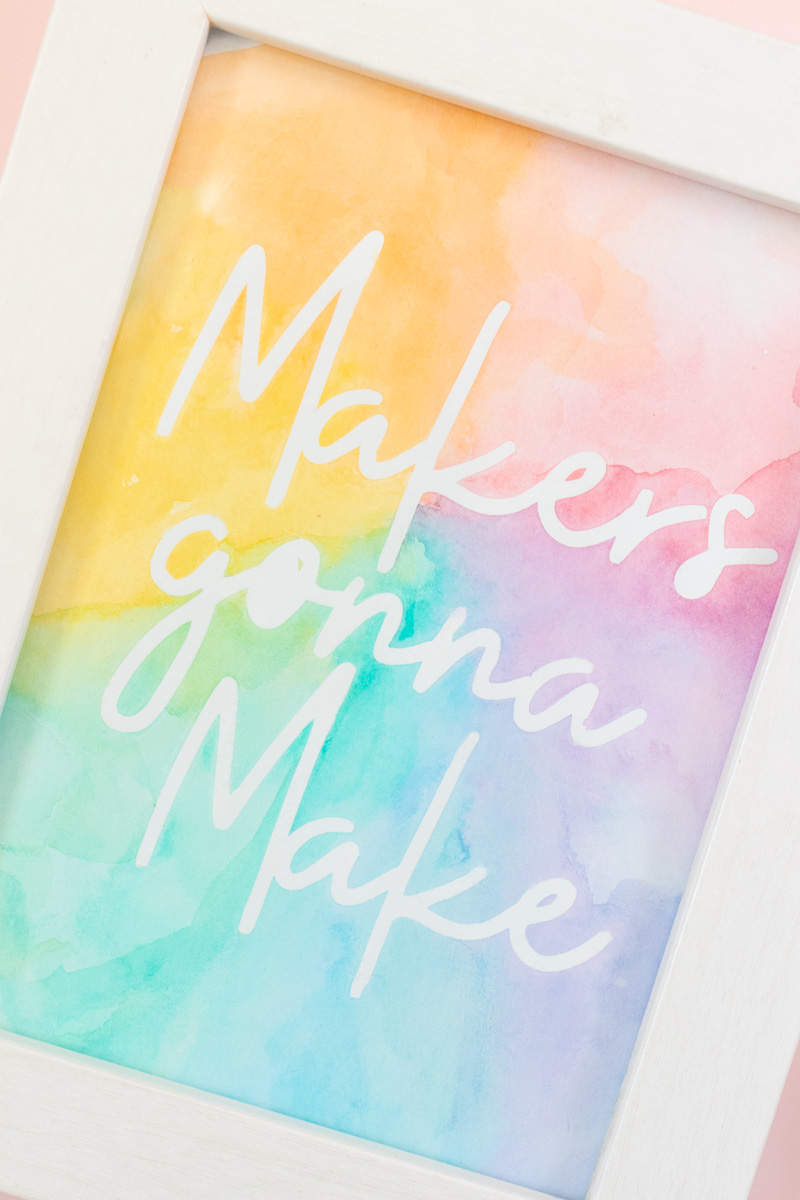 Now you have a pretty silhouette graphic using an easy watercolor artwork hack! I love having this to hang as artwork in my office. This style of watercolor artwork is SO easy to make again and again!
BTW, you can also follow along @clubcrafted on TikTok now for short recipes, DIYs and other colorful topics!