/
Homemade Spice Mix Gifts with Darice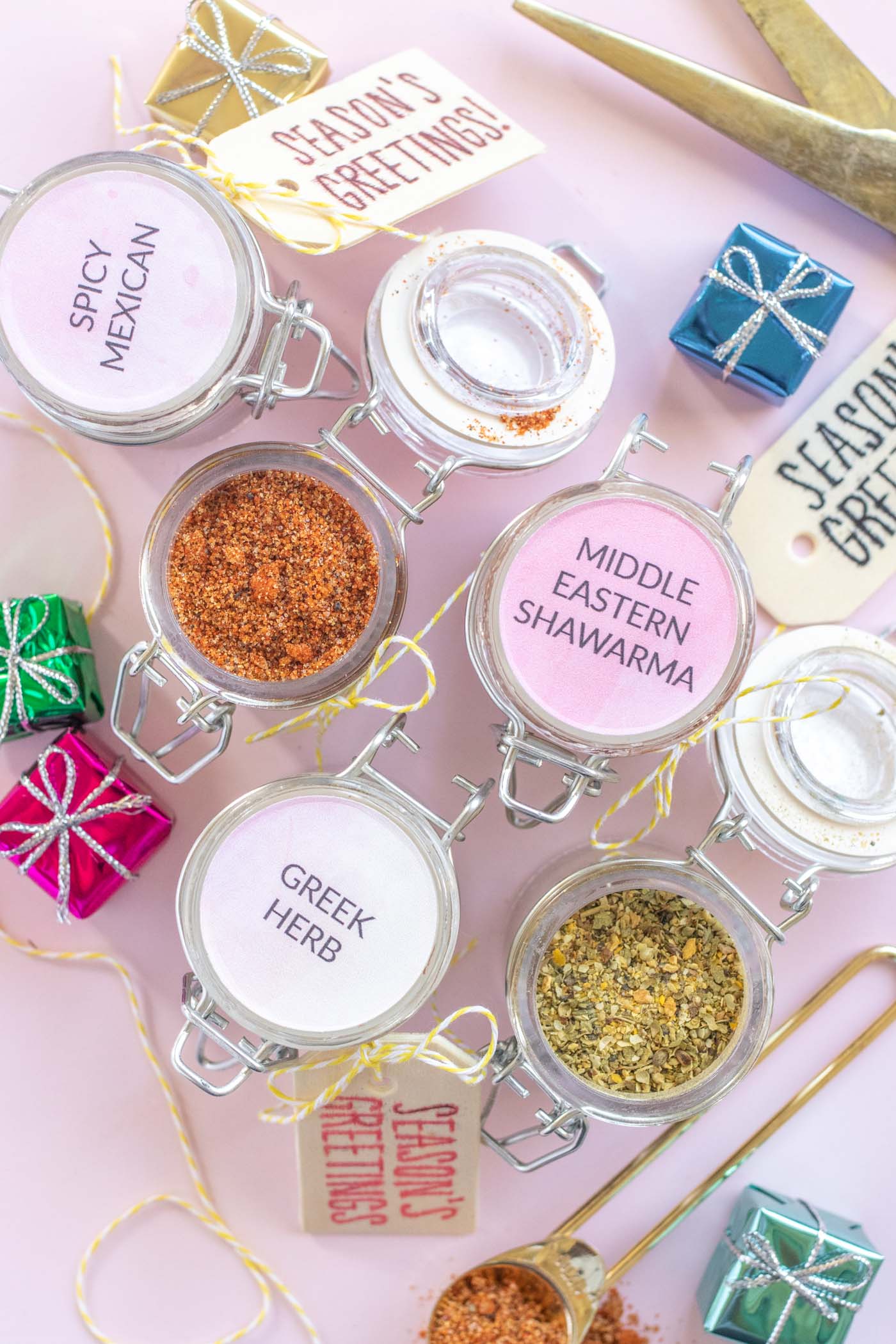 The following post is sponsored by Darice
Season's greetings! It's time to SPICE up your holiday gifting and give your coworkers, family and friends a little gift they'll actually USE. With Darice, it's easy to buy the bulk supplies you need to make these cute, easy spice mix gifts for the holidays! Whip a few variations of spice mixes, separate them into perfectly sized jars and top them with sticker labels and custom wooden tags for homemade gifts everyone will love. I loved making these in bulk so I have them ready to share with those hard-to-shop-for friends. We also gifted a whole set to Andrew's aunt to try out with her new smoker! Keep reading for the easy how-to and five spice mix recipes.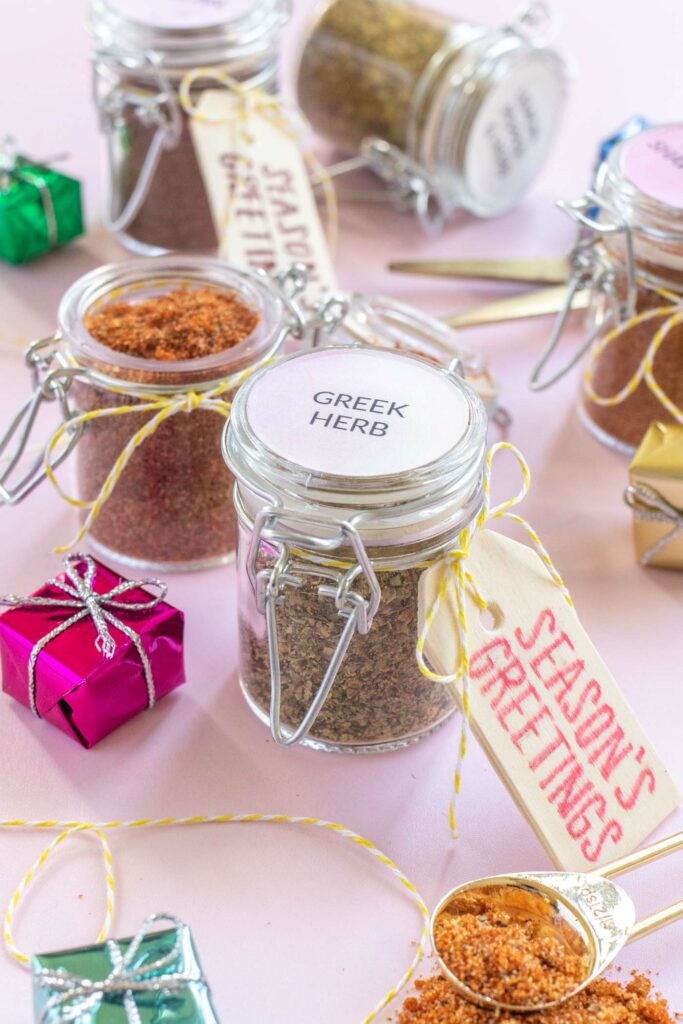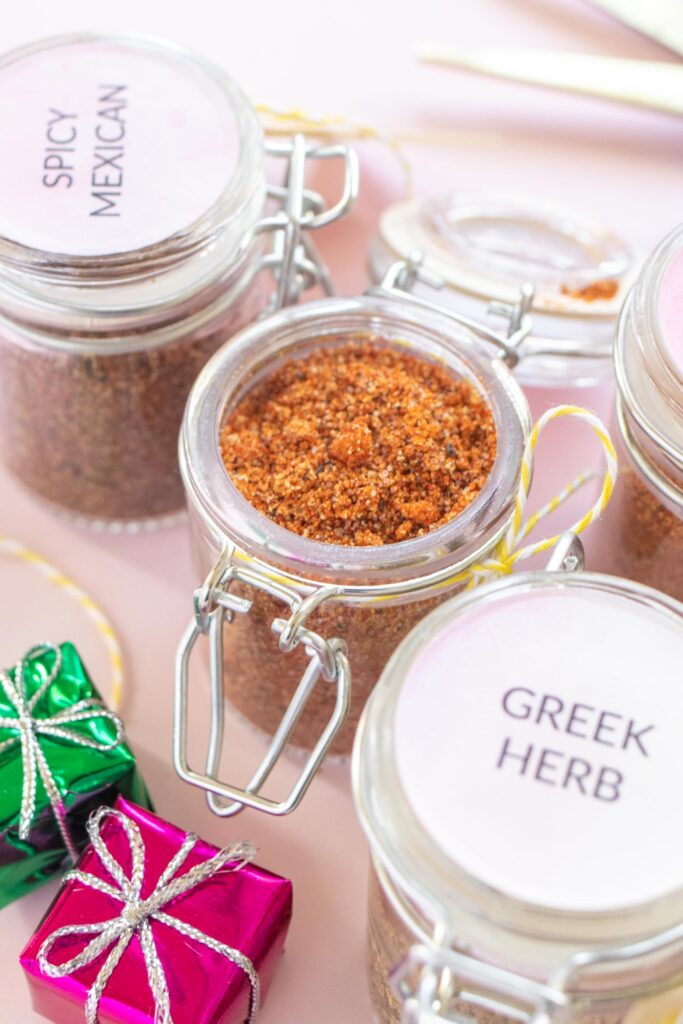 Pre-made spice mix gifts will come in handy for anyone who enjoys cooking. Honestly, even if they don't enjoy cooking, these spice mixes will make their dinner recipes easier! Shop for everything you need in bulk at Darice.com or in smaller quantities at ConsumerCrafts.com to make spice mix gifts this year. There are so many ways you can customize your homemade gifts with sticker paper labels, colored twine and hand-drawn tags. I like to believe that everyone appreciates a thoughtful homemade gift!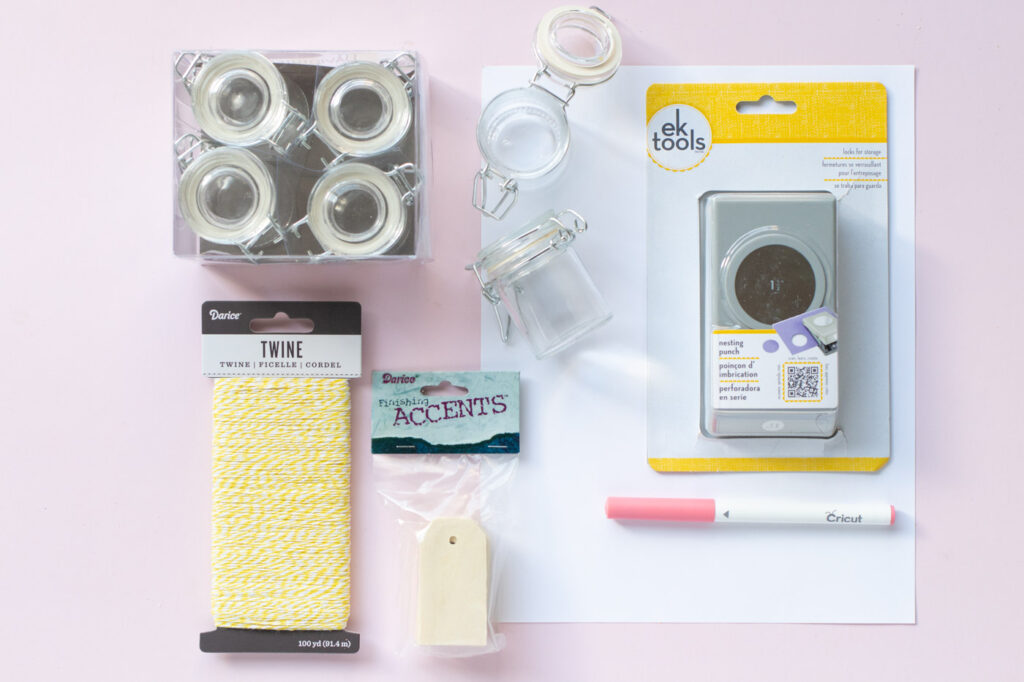 Supplies:
Step 1: Mix your spices! Scroll down for the recipe card featuring five homemade spice mix gifts that pair with almost anything. Once mixed, fill a clean jar with the spice mix.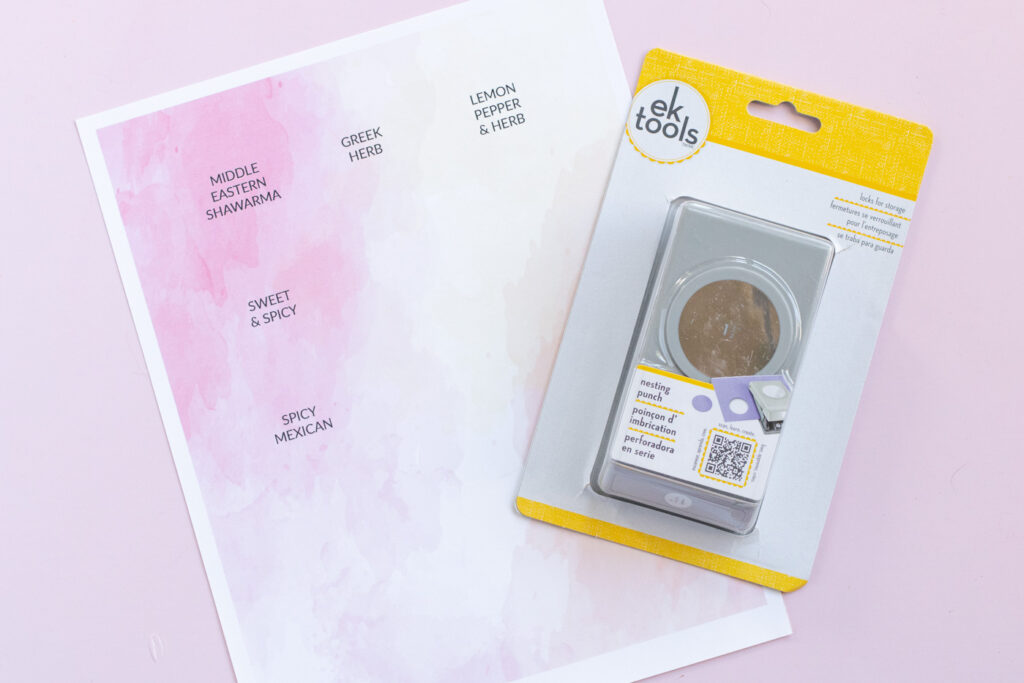 Step 2: Print out spice mix names on a piece of sticker paper. If desired, add a patterned background. Make sure they are small enough to fit on the 1.5-inch top of the jar.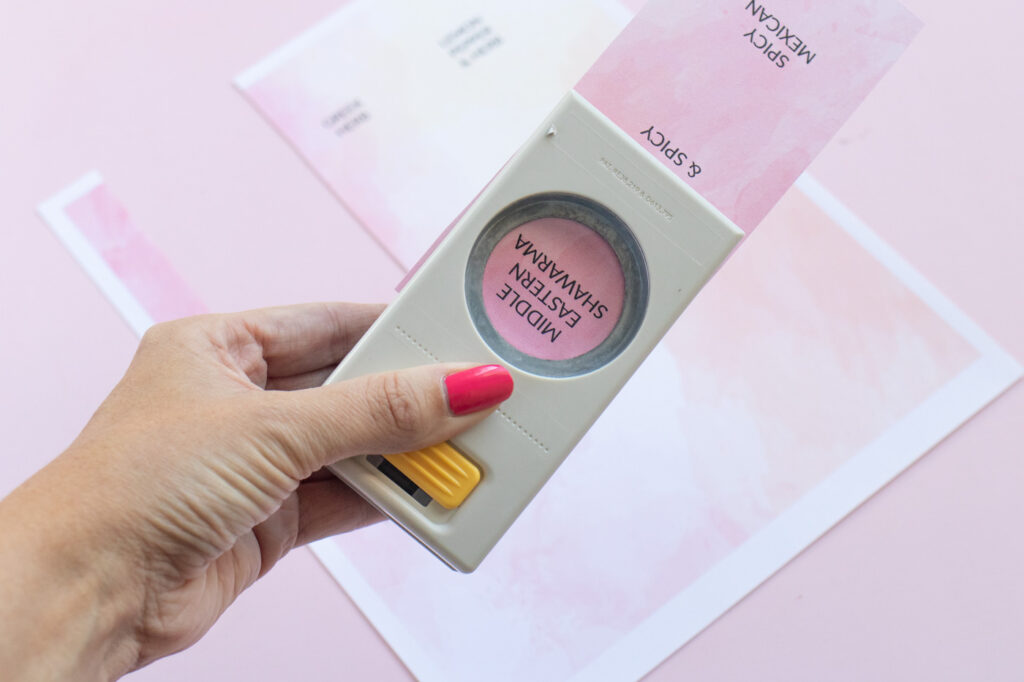 Step 3: Cut the paper into sections. Flip the 1.5-inch circle punch over so that you can see what you're cutting, and position the text in the middle. Punch out each spice mix label.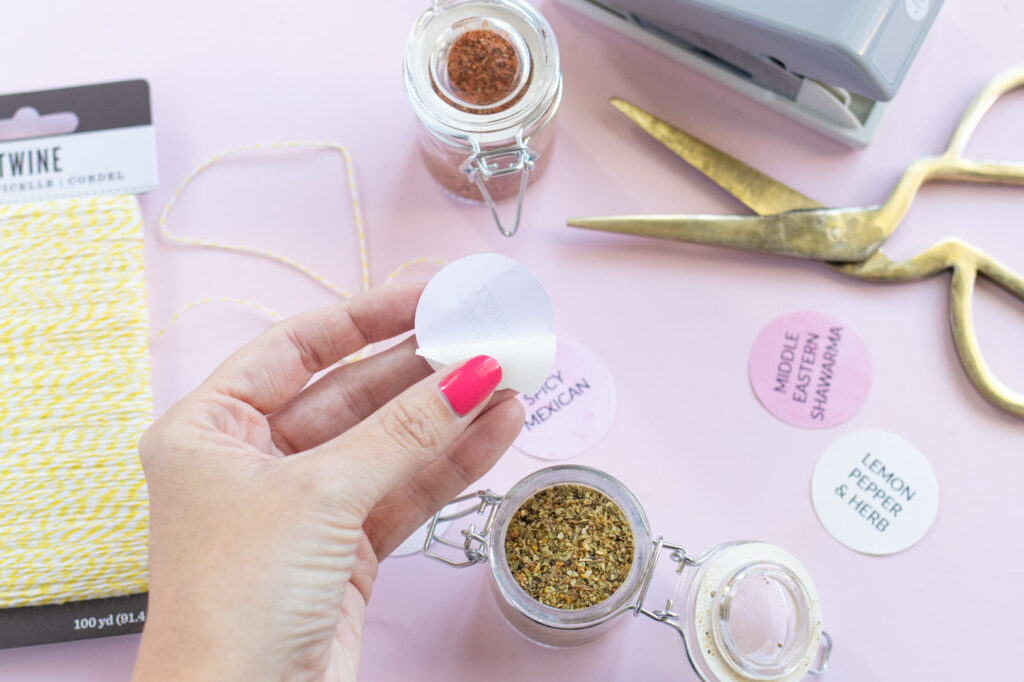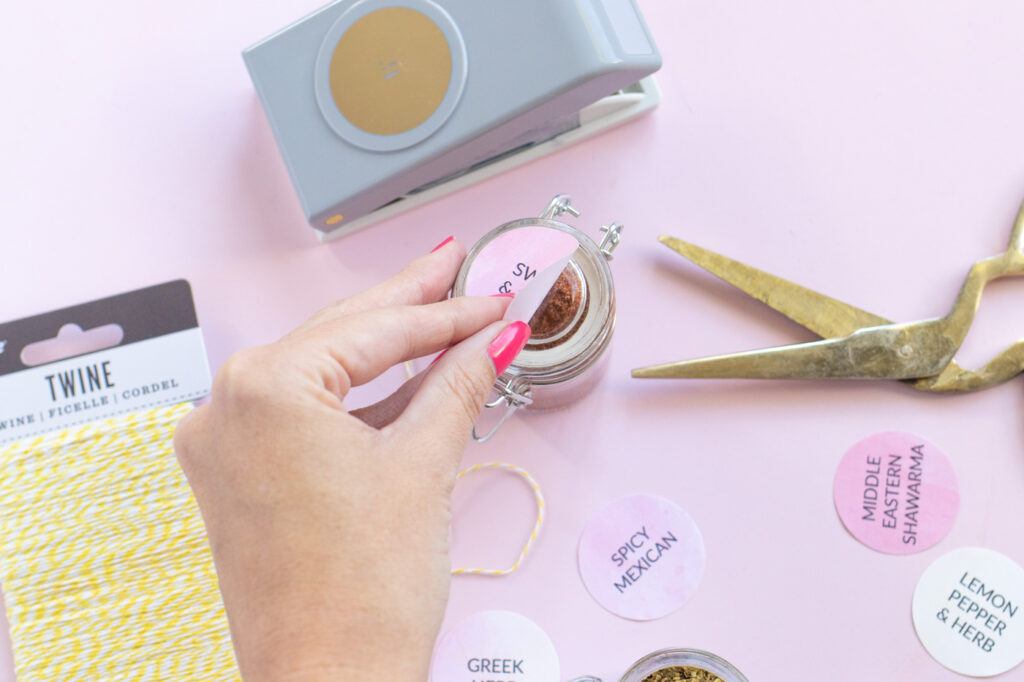 Step 4: Once punched, peel off the backing and stick to the top of each jar to label the spice mix gifts. Note, you can also use standard cardstock paper and an adhesive.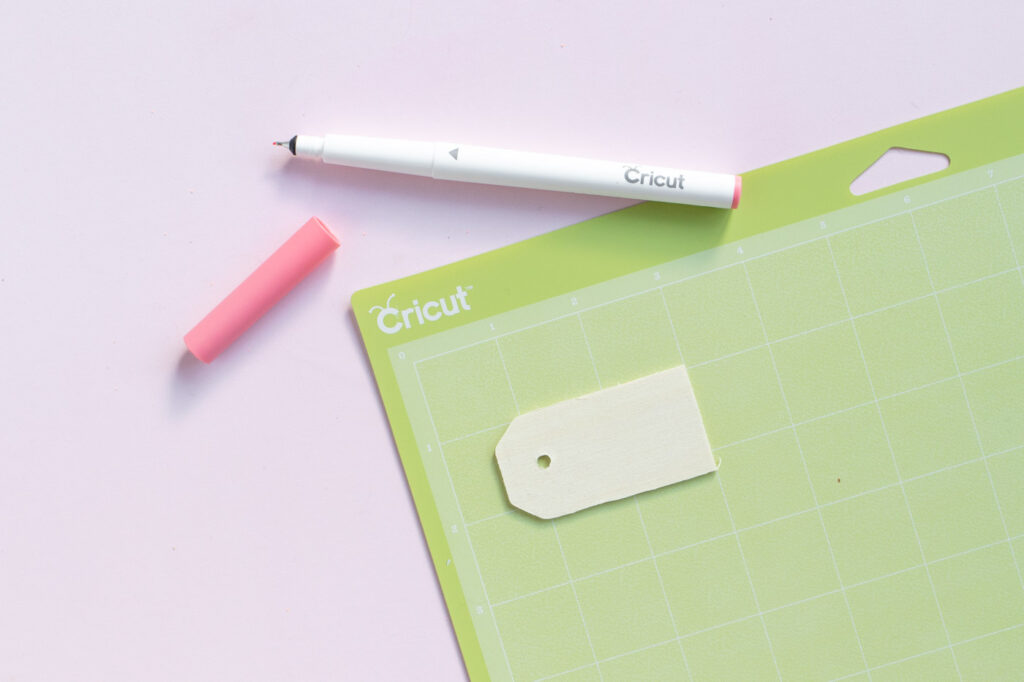 Step 5: Next, draw "Season's Greetings" on the wooden gift tags. You can use a Cricut machine and fine tip pen to draw on the tag or freehand your design.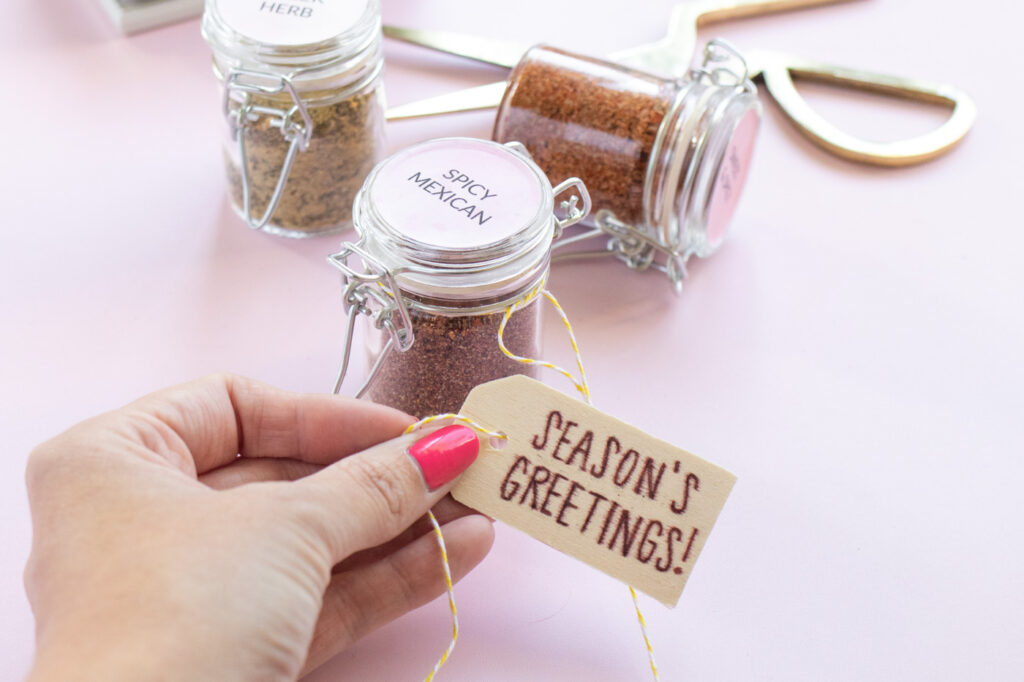 Step 6: Cut a piece of baker's twine about 8 inches long. Wrap it around the spice jar favor, pulling it under the metal hardware. Tie the wooden tag onto the twine and tie it into a bow.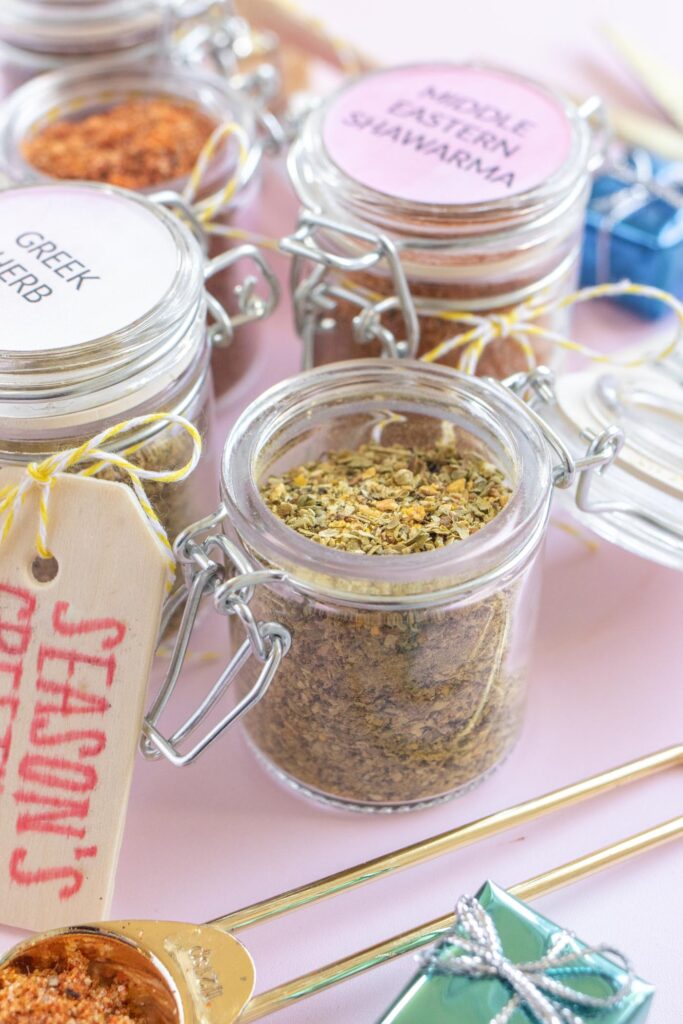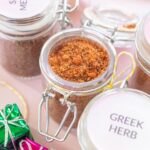 5 Spice Mix Gift Ideas
2019-12-03 11:09:56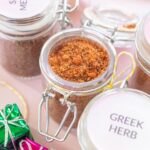 A selection of spice mixes for using as dry rubs or in marinades. Each recipe fills 3-4 1 oz. jars
MIDDLE EASTERN SHAWARMA
4 tsp smoked paprika
4 tsp cumin powder
1 tsp cinnamon
1 tsp turmeric
2 tsp red pepper flakes
4 tsp black pepper
2 tsp salt
LEMON PEPPER & HERB
2 tbsp lemon pepper
1/2 tsp salt
2 tsp basil
2 tsp oregano
1 tsp thyme
SPICY MEXICAN
2 tbsp packed brown sugar
1 tsp salt
2 tbsp chili powder
3. Tsp cumin
3 tsp paprika
1 tsp garlic powder
1 tsp onion powder
1/2 tsp cayenne pepper
GREEK HERB
2 tbsp oregano
1 tsp salt
2 tsp lemon pepper
4 tsp basil
1 tsp dill
4 tsp onion powder
4 tsp garlic powder
SWEET & SPICY
1/4 cup brown sugar
1/8 cup smoked paprika
1 tbsp salt
1 1/2 tsp chili powder
1 1/2 tsp onion powder
1 1/2 tsp garlic powder
1 1/2 tsp black pepper
1 1/2 tsp mustard powder
1 tbsp ground cumin
1/4 tsp cayenne pepper
Instructions
Mix each spice mix ingredients in a small bowl before transferring to a sealing jar
Club Crafted https://www.clubcrafted.com/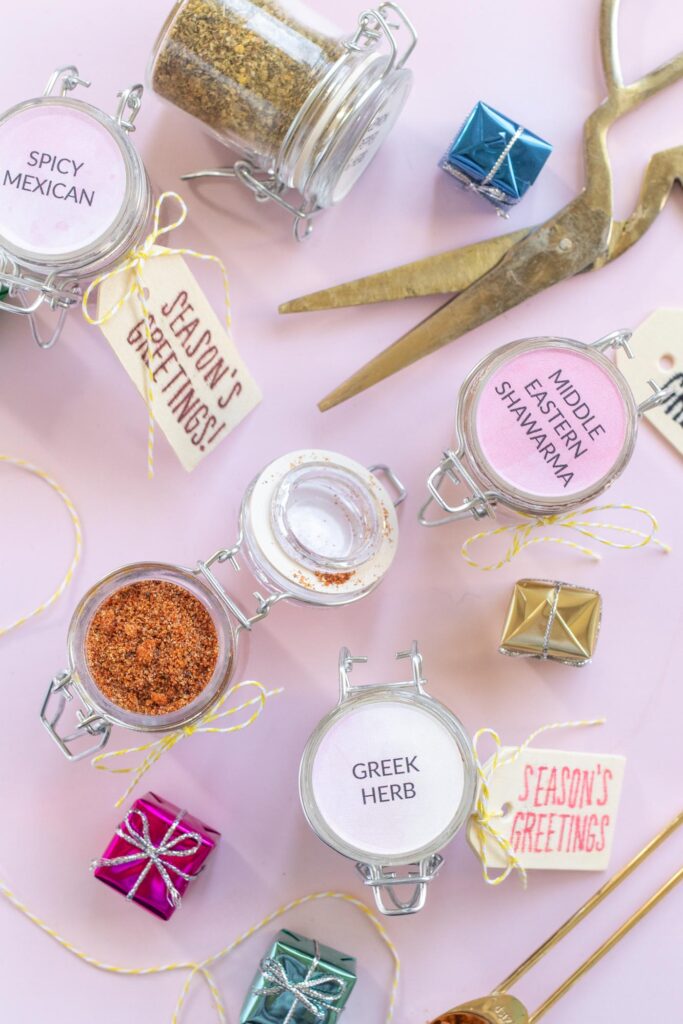 Repeat with each jar and make as many spice mix gifts as you want to hand out this year! Package a few different spice mixes together or hand them out one by one for an inexpensive, useful holiday favor.
Thank you to Darice for generously sponsoring this post. All opinions are my own. Thanks for supporting the brands that keep Club Crafted making!