/
How to Make Self Care Gift Baskets for Friends with Cricut Joy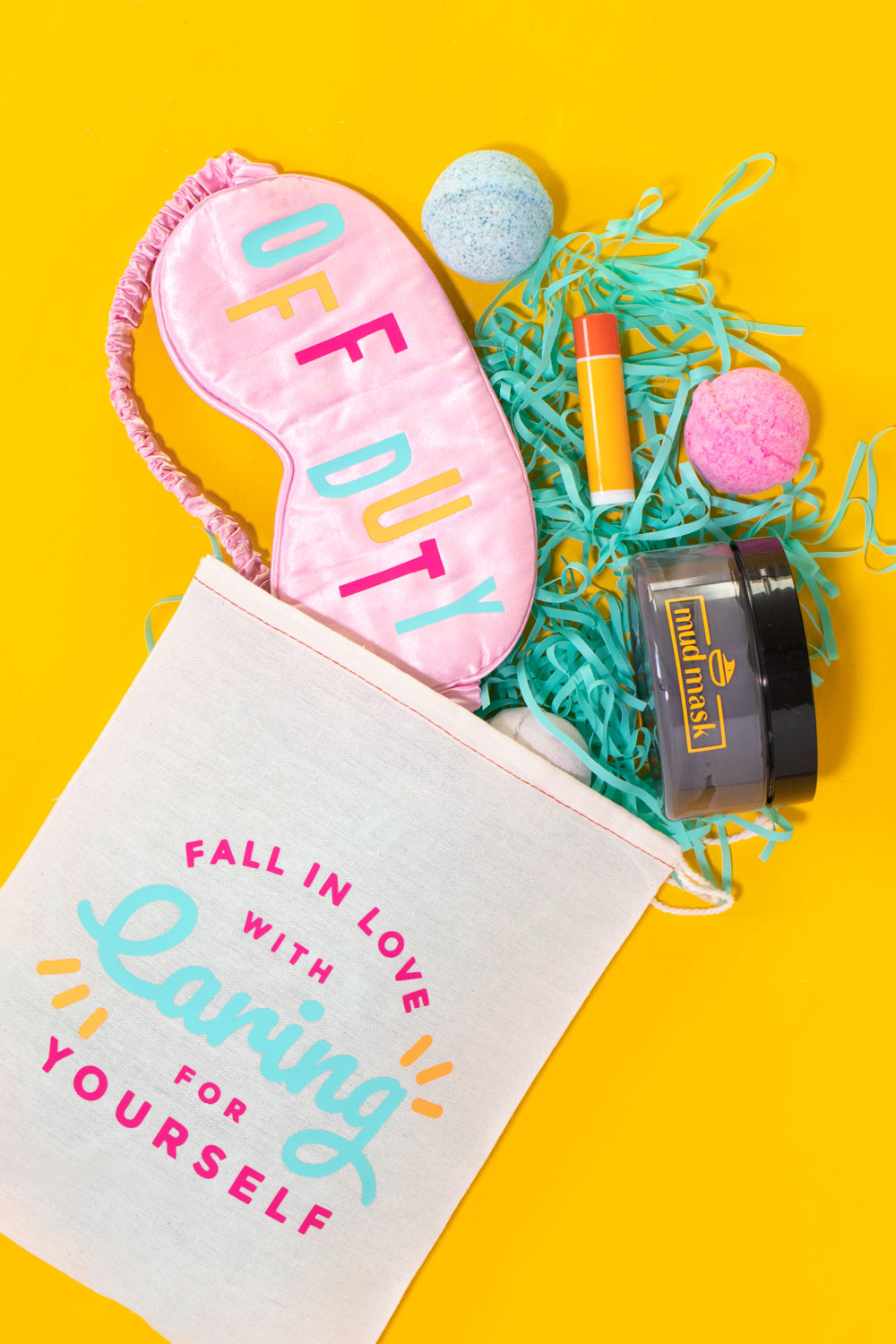 The following post is sponsored by Cricut
I'm sure we're all missing our old lives these days (I know I am) and missing our friends, so as we head toward Valentine's Day, why not send them a little DIY gift basket to let them know you care? One thing I've learned as a DIYer is that you don't have to spend a lot of money to give a thoughtful gift. Cricut makes it easy to personalize items and make something new and special to give! During a time when we all need to be taking care of ourselves, make these self care gift baskets with various beauty accessories inside to encourage a self care session.
While self care can mean many things, I interpreted this DIY gift basket as one that would inspire others to take time for themselves and enjoy items like a mud mask, bath bomb, lip balm and an eye mask. Mixed with messages of loving yourself using my Cricut Joy, I hope sending one of these self care gift baskets will inspire others to keep going during these tough times!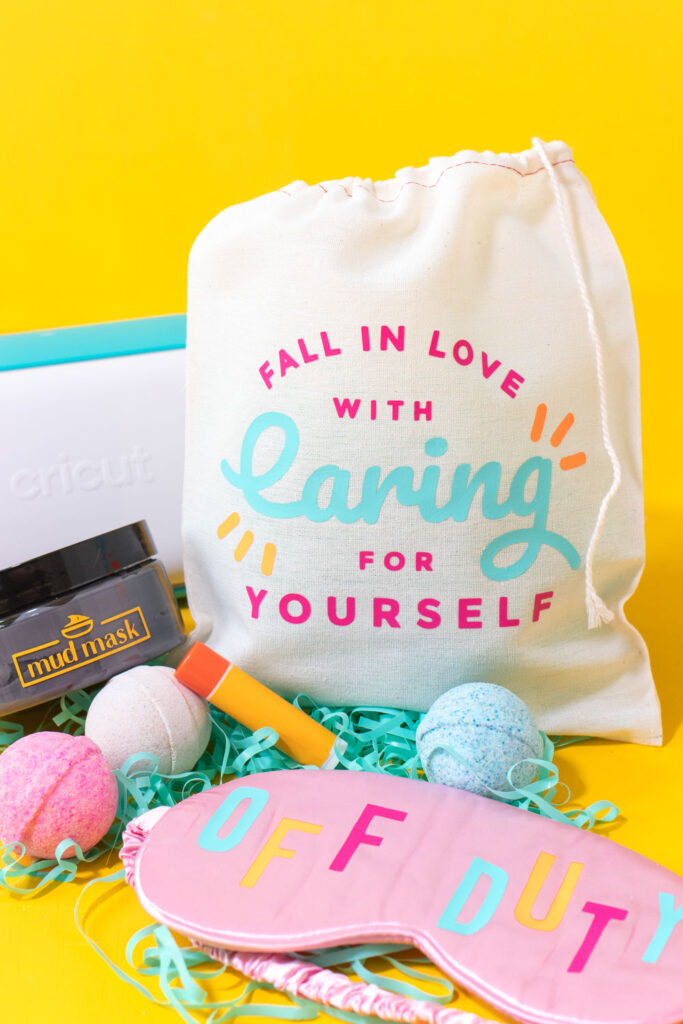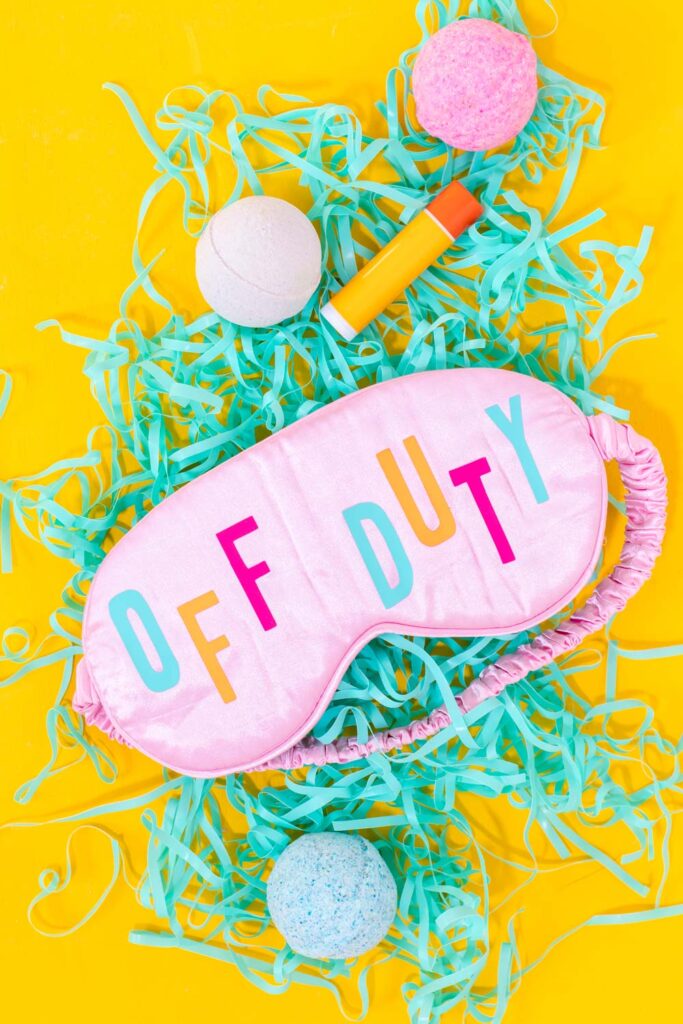 Do you recognize this bag from my Christmas gifting post? These muslin bags are the perfect size for gifts and they hold Cricut Iron-On Vinyl really well. When I was browsing Cricut Design Space for images to make my self care gift baskets, I immediately fell in love with this sweet saying: fall in love with caring for yourself. Using three different colors of vinyl cut on my Cricut Joy, it makes the perfect gift bag!
In addition to the DIY gift basket bag itself, I also used the iron-on vinyl to update a sleep mask with text and added a "mud mask" label to a jar. The links to these decals are in the list below, OR you can find more ideas on Cricut Design Space!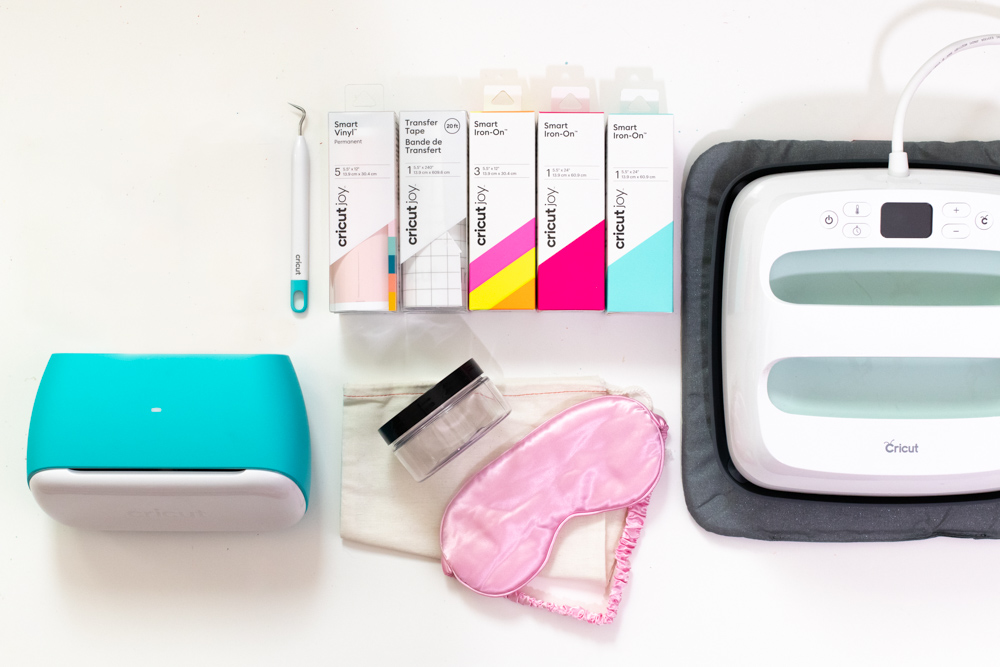 How to Make DIY Gift Baskets with Cricut Joy Smart Materials
Because of the size of the products here, I choose to use my Cricut Joy for quick and easy cutting. Using the Smart Materials, I don't even need a mat! However, you can make these DIYs with any Cricut machine.
Supplies:
Step 1: Use the link above to head to Cricut Design Space to create your images. If using the ones from my tutorial, simply resize as needed for your products. For ease of use, hide everything except for the product you're cutting first.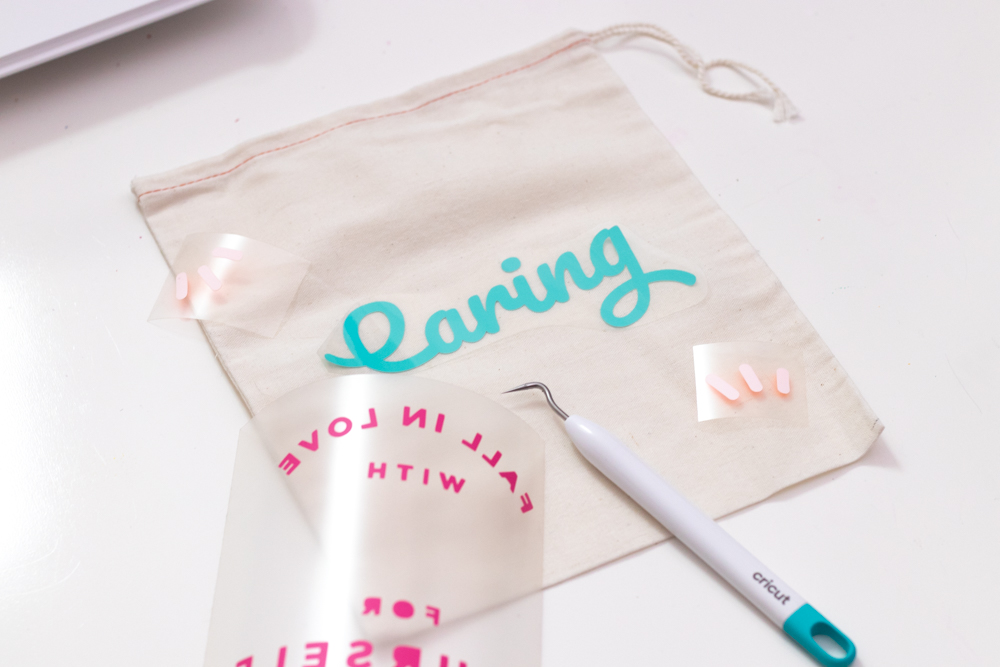 Cutting Vinyl for the DIY Gift Basket Bag
Step 2: Starting with the bag, move ahead to "Make It." Choose "Mirror ON" for all images. Follow the instructions to load the first iron-on vinyl color shiny side DOWN into the Cricut Joy. Then "Cut."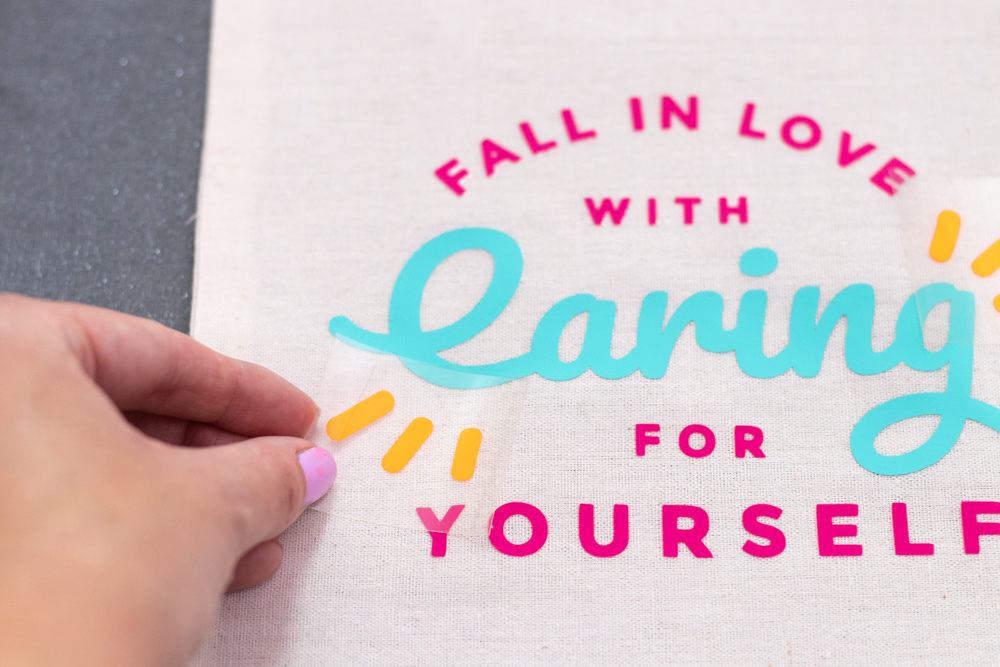 Step 3: Repeat with all three colors for the bag design. Then weed them so that only the text remains on the plastic backing. Arrange as desired on the bag. If items overlap on the self care gift baskets too much to iron together, keep them separate (as I did with the orange pieces).
Step 4: Then preheat the Cricut EasyPress to 315F for 30-45 seconds. When heated, press with even pressure for 30-45 seconds. Then flip and press the backside for 30 seconds.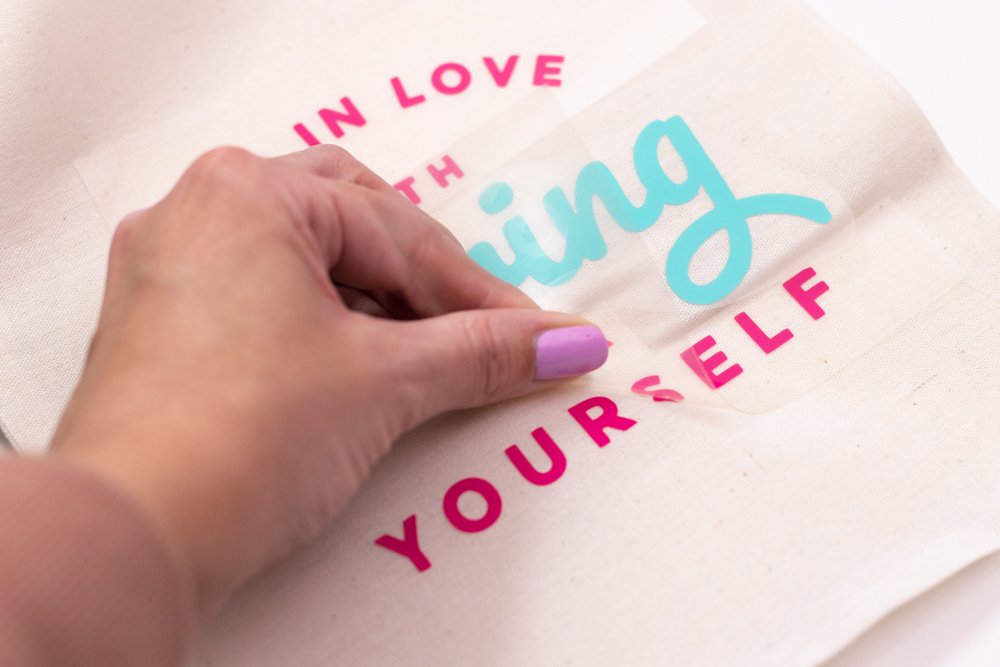 Step 5: Once cool, carefully peel away the plastic. Then add any other embellishments on top if needed and repeat. Now you have the base ready for your self care gift baskets!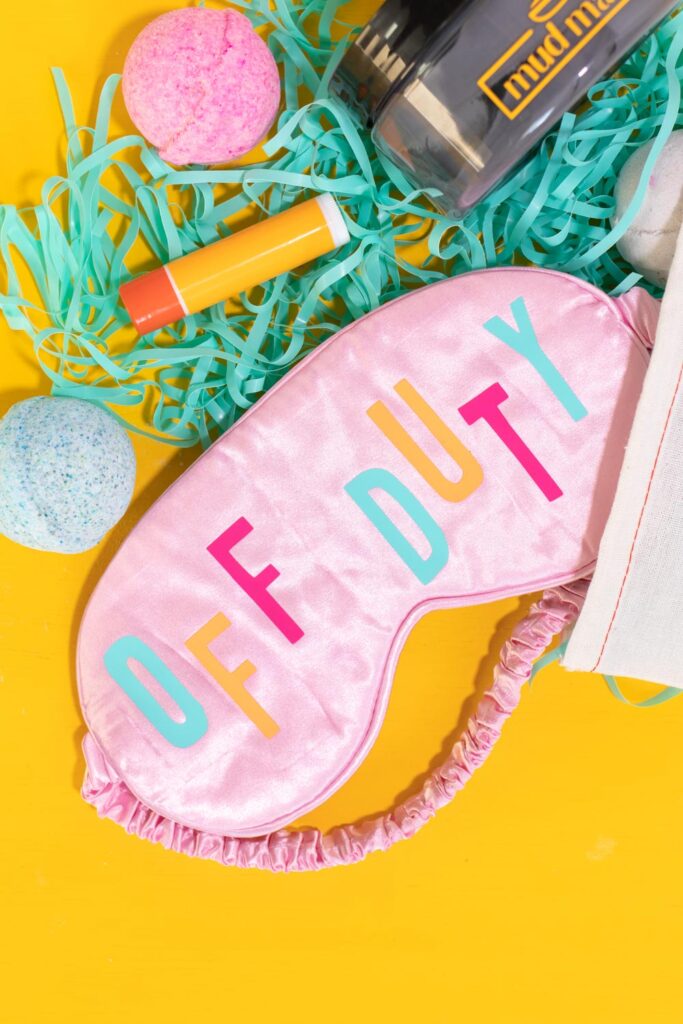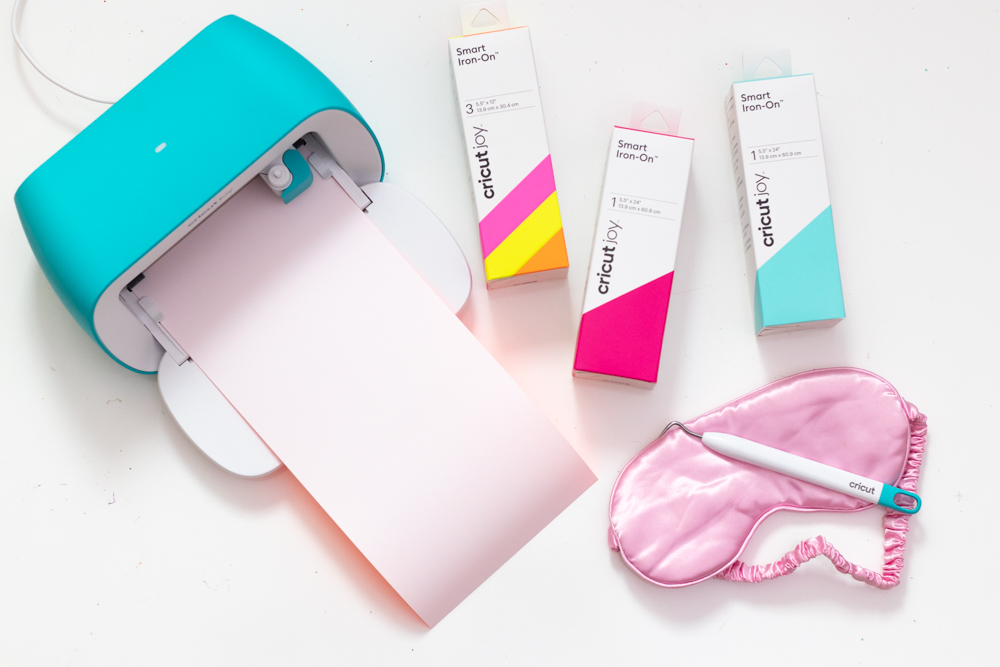 How to Use Iron-On Vinyl with Silk
Step 6: To make the DIY eye mask, click "Make It" when you've probably sized the image. If using three colors, make sure each is marked "Mirror ON." I used the same colors as the self care gift baskets.
Step 7: Load the first material shiny side DOWN and cut. Then repeat and weed the images. In this case, cut the letters apart so each is individual.
Step 8: Then arrange them in an up-down pattern across the mask. Try to make sure the tops of every other letter are aligned.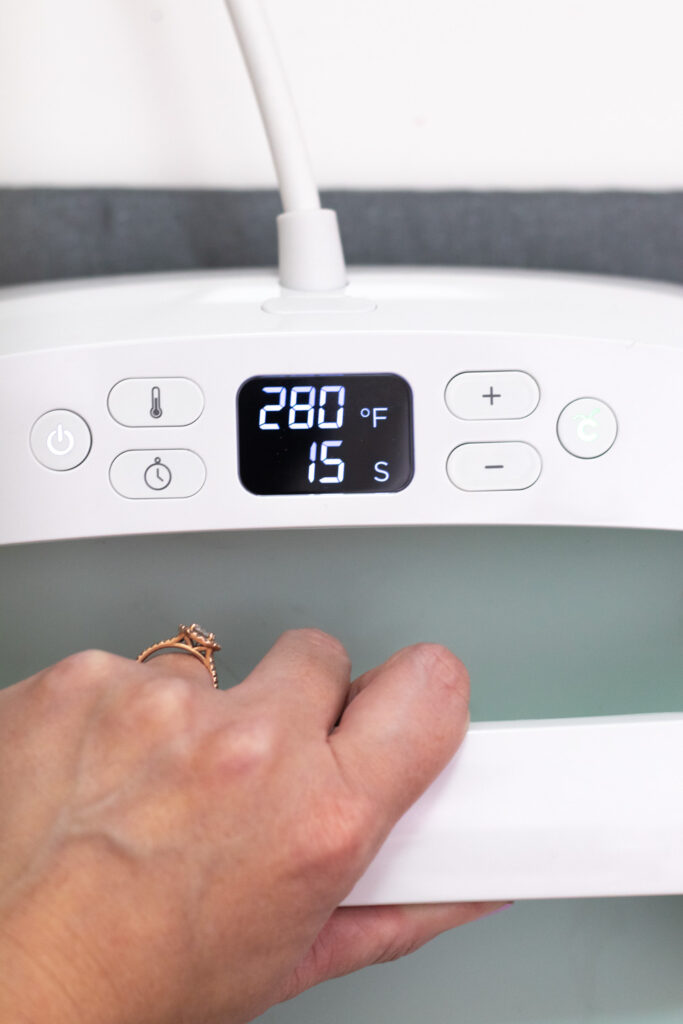 Step 9: Then preheat the Cricut EasyPress to 285F for 30 seconds. Once hot, press the vinyl eye mask for 30 seconds. Flip the mask and press for 15-30 seconds more.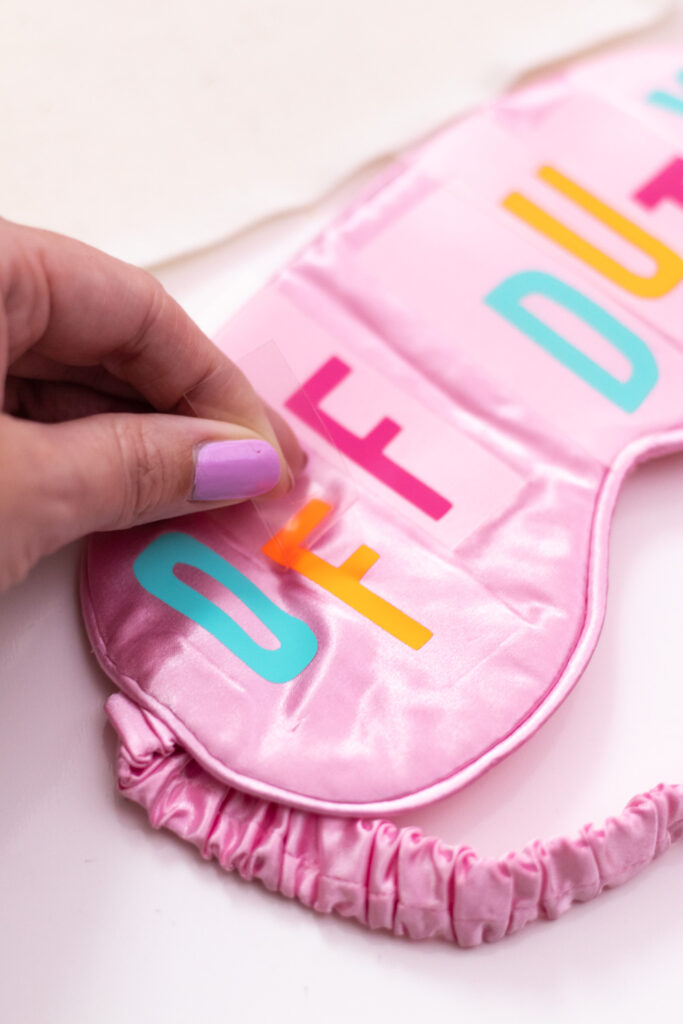 Step 10: Allow the vinyl eye mask to cool before peeling away the plastic backing. Now it's ready to add to your self care gift baskets!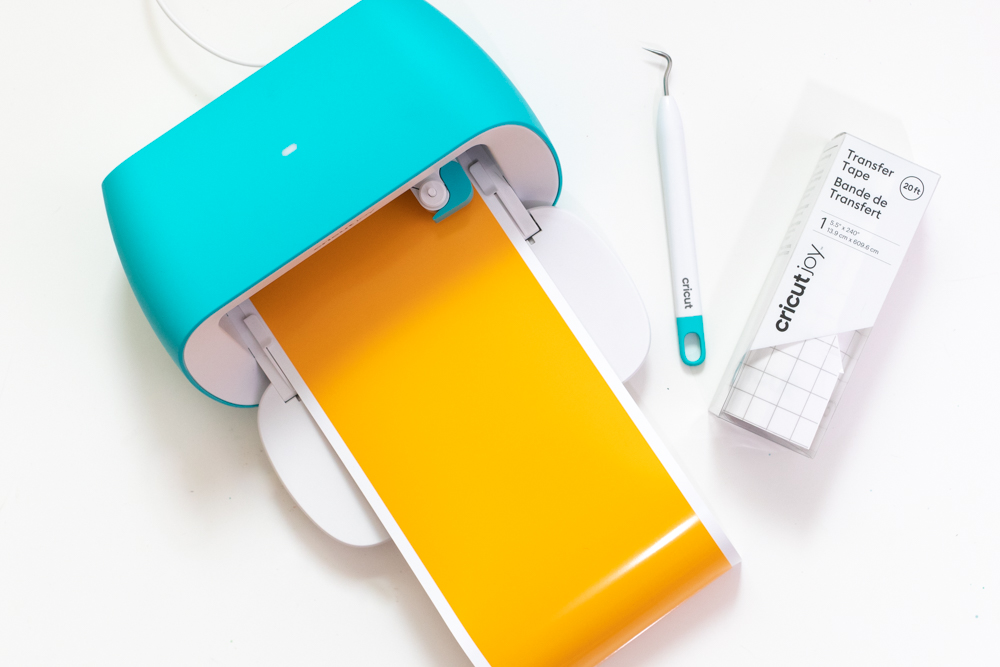 How to Make Vinyl Decals for Self Care Gift Baskets
Step 11: Moving on to the face mask decal, press "Make It" when adjusted to the size of your desired container. In the template above, you can edit the name that appears on your label. Then load the material vinyl side up into the Cricut Joy and cut.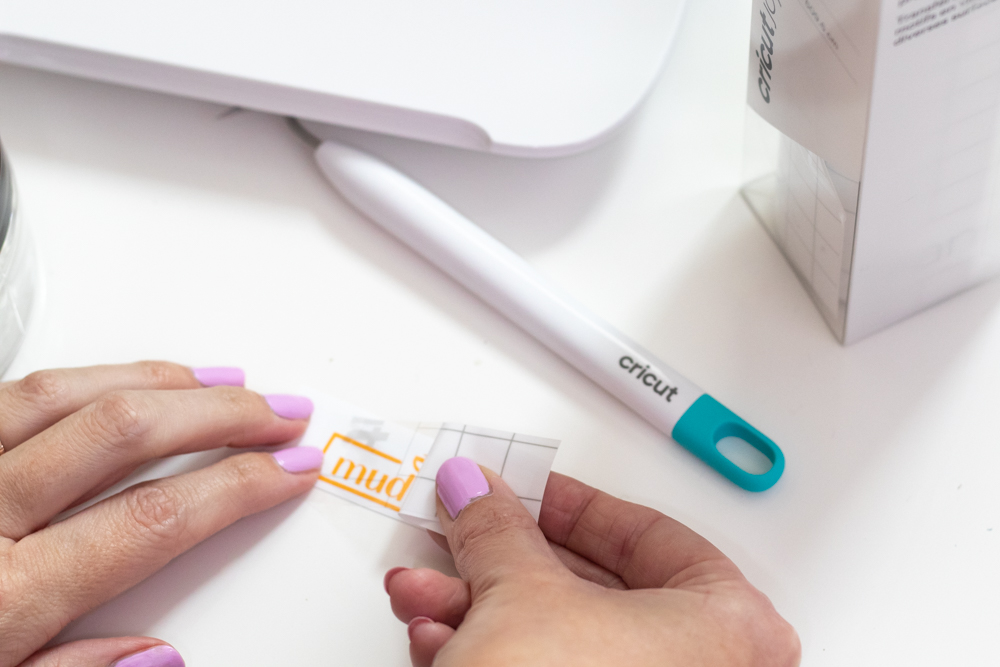 Step 12: Unload the material, carefully cut it out and weed around the design. Then apply a similar sized piece of Cricut Joy Transfer Tape over the vinyl. Press firmly and smooth out the tape.
Step 13: Then peel away the tape, taking the decal with it. Carefully apply it to your desired container and add it to the self care baskets!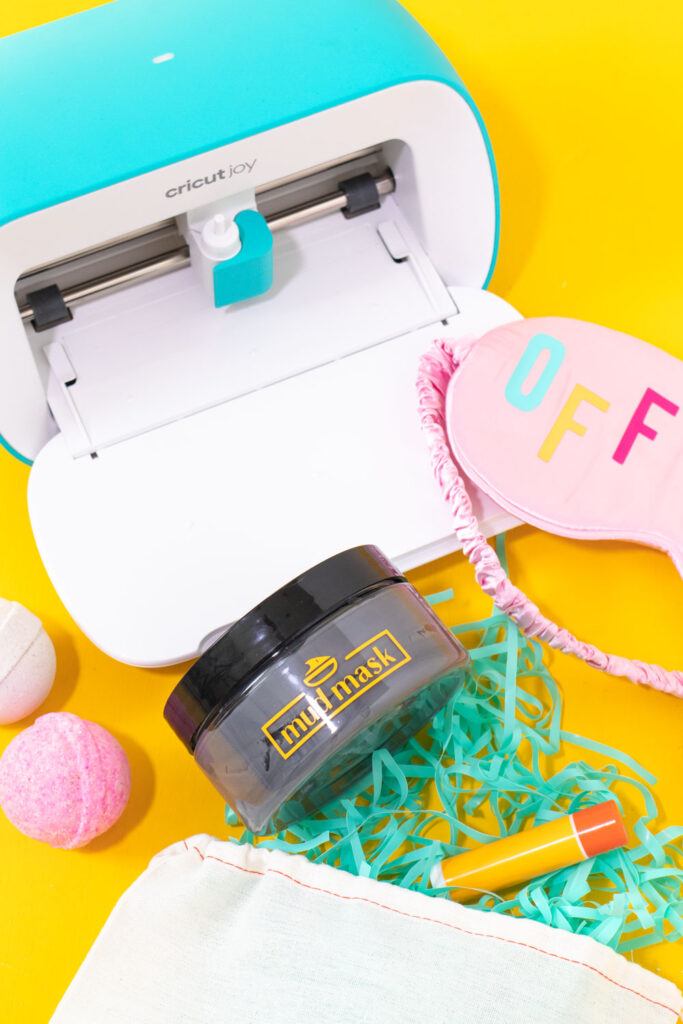 Finally, gather any other supplies for including in the self care gift baskets, like bath bombs, lip balm, scrubs, fuzzy socks, etc! The possibilities are endless. Package it up and send it off to surprise your loved ones with a special gift! We could all use more self care these days, so don't forget to save some supplies to enjoy yourself.
Be sure to check out more projects to make with Cricut!
Thank you to Cricut for generously sponsoring this post. All opinions are my own. Please note this post contains affiliate links from which I may collect a small profit should you choose to make a purchase. I only link to products I personally use or recommend. Thanks for supporting the brands that keep Club Crafted making!