/
No-Bake Banana Split Cheesecake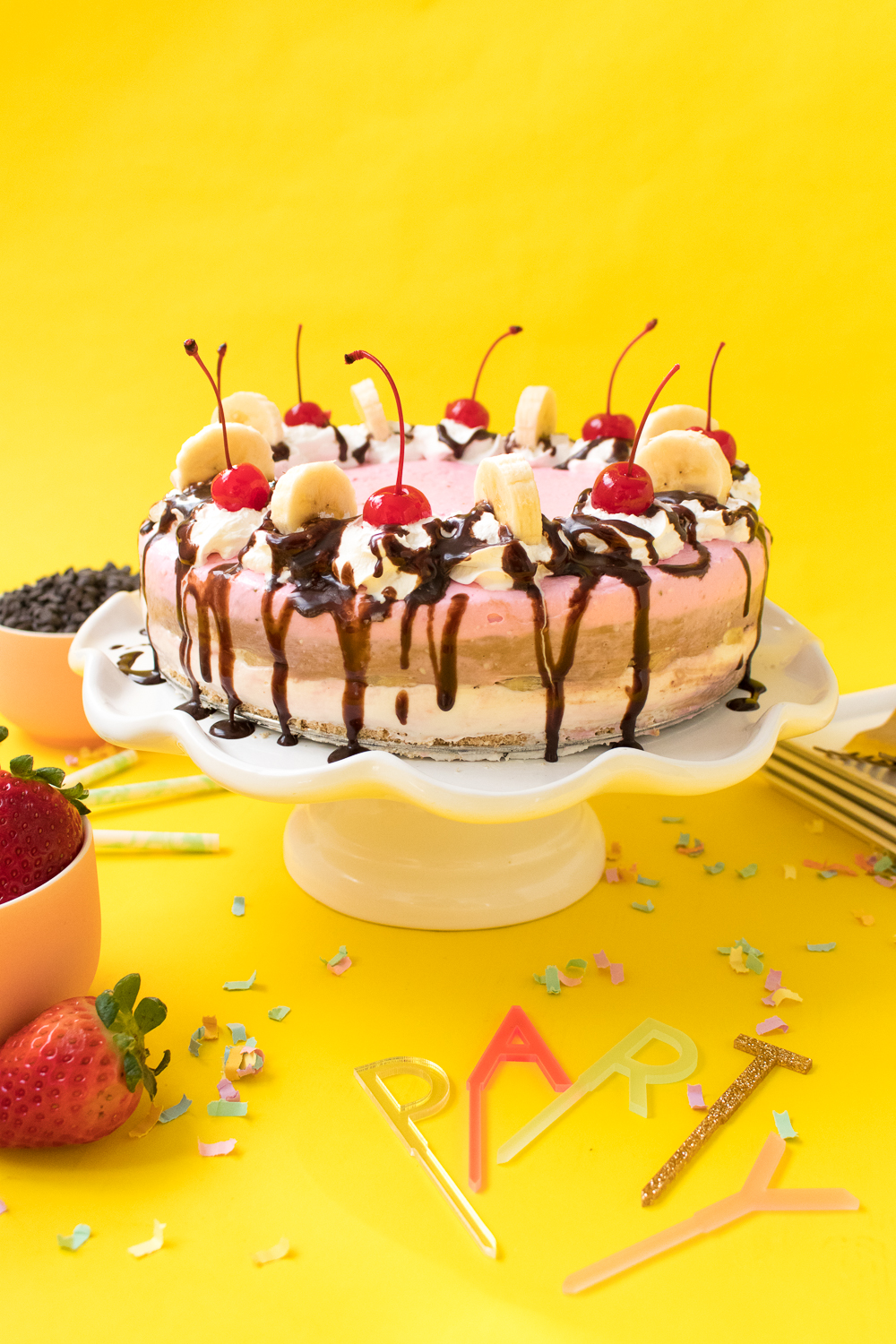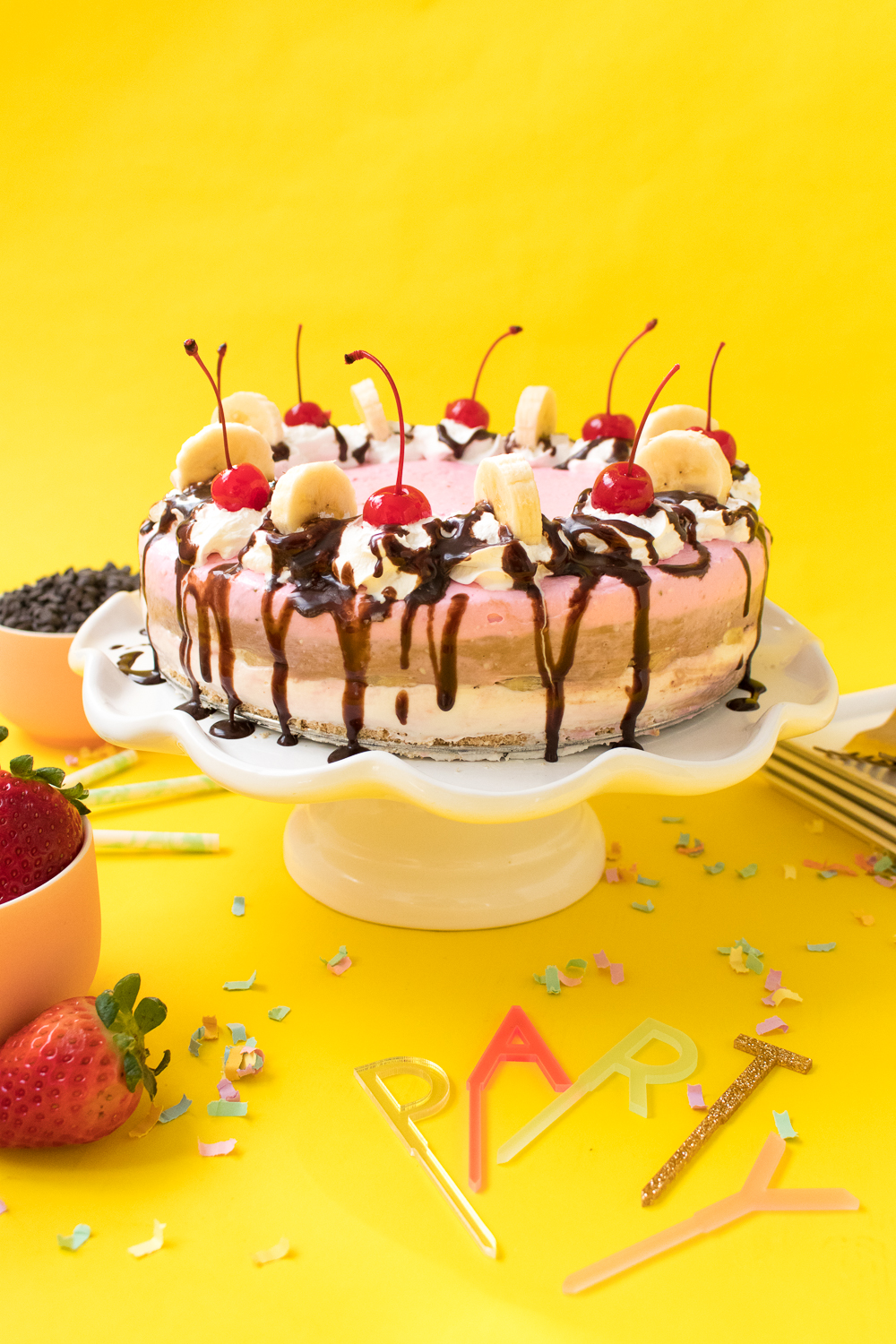 I'm a pretty big fan of ice cream no matter how you make it, serve it or top it, but it wasn't until I got older that I realized how much I LOVE banana splits! As a kid, I probably thought putting banana with ice cream was crazy. Now, I think the more, the merrier! This brings me to today's no-bake banana split cheesecake with three layers of vanilla, chocolate and strawberry cream cheese filling with bananas. Need I say more? This cheesecake recipe is easy and comes together in just a few hours with no baking necessary, so it's perfect for any time of the year.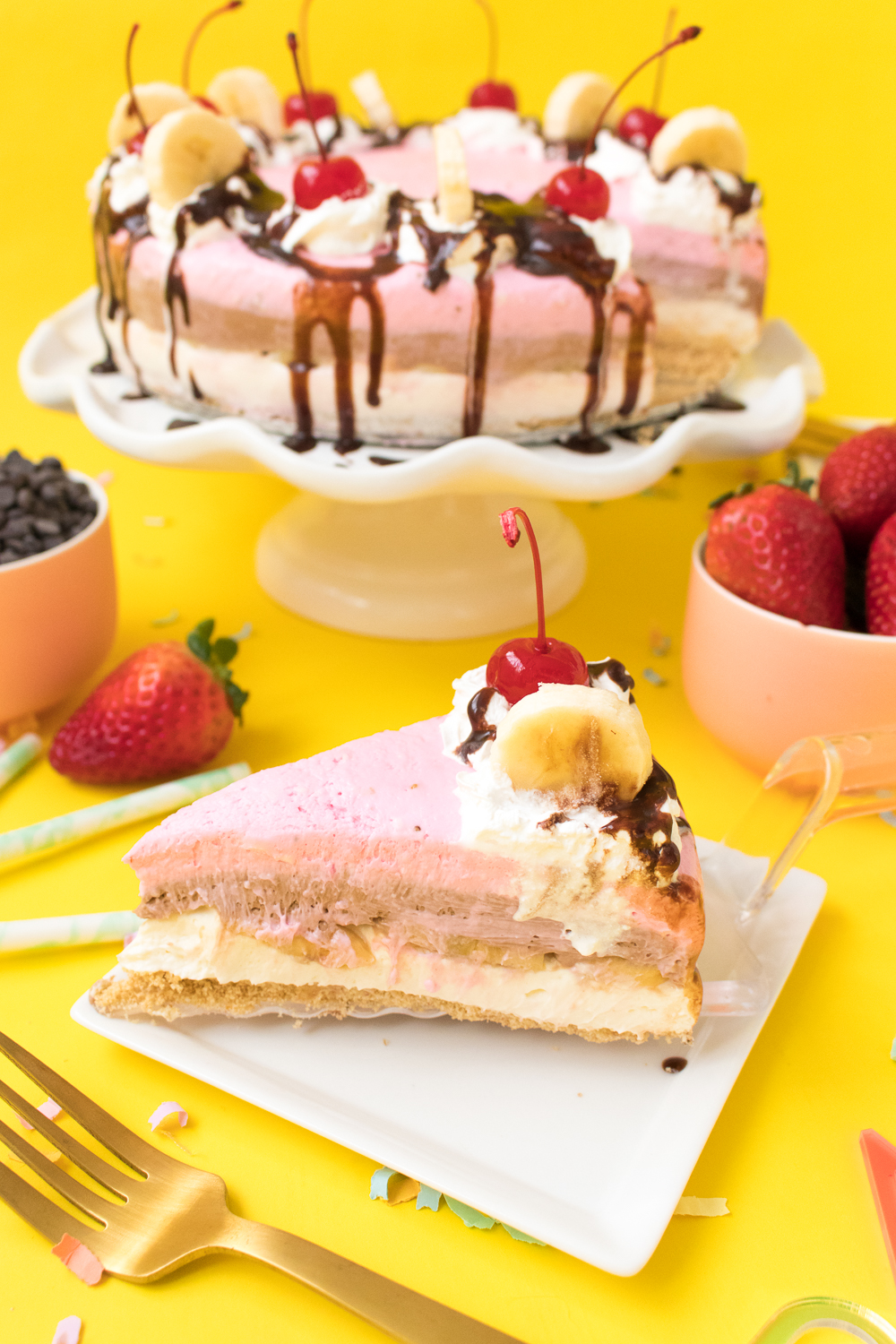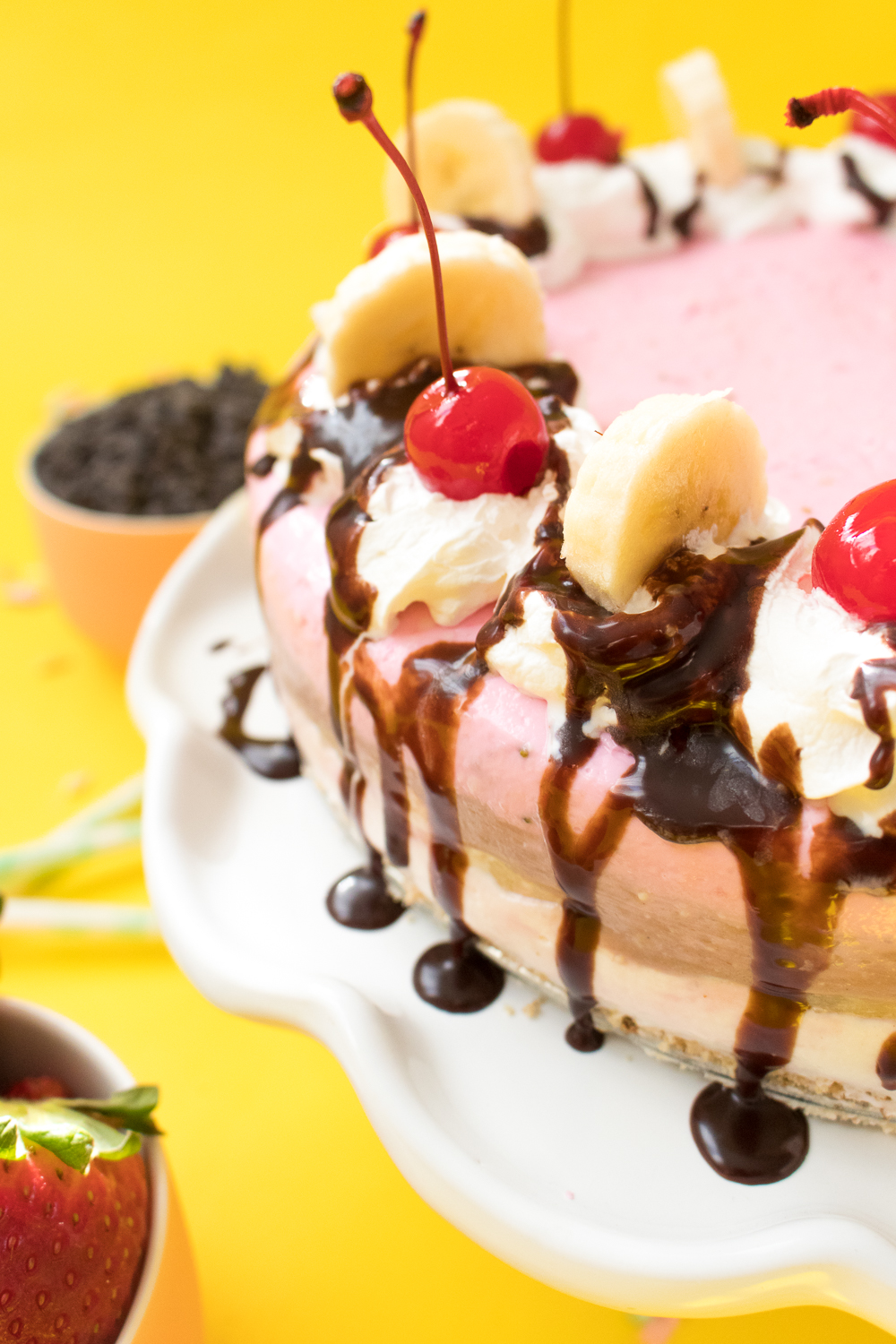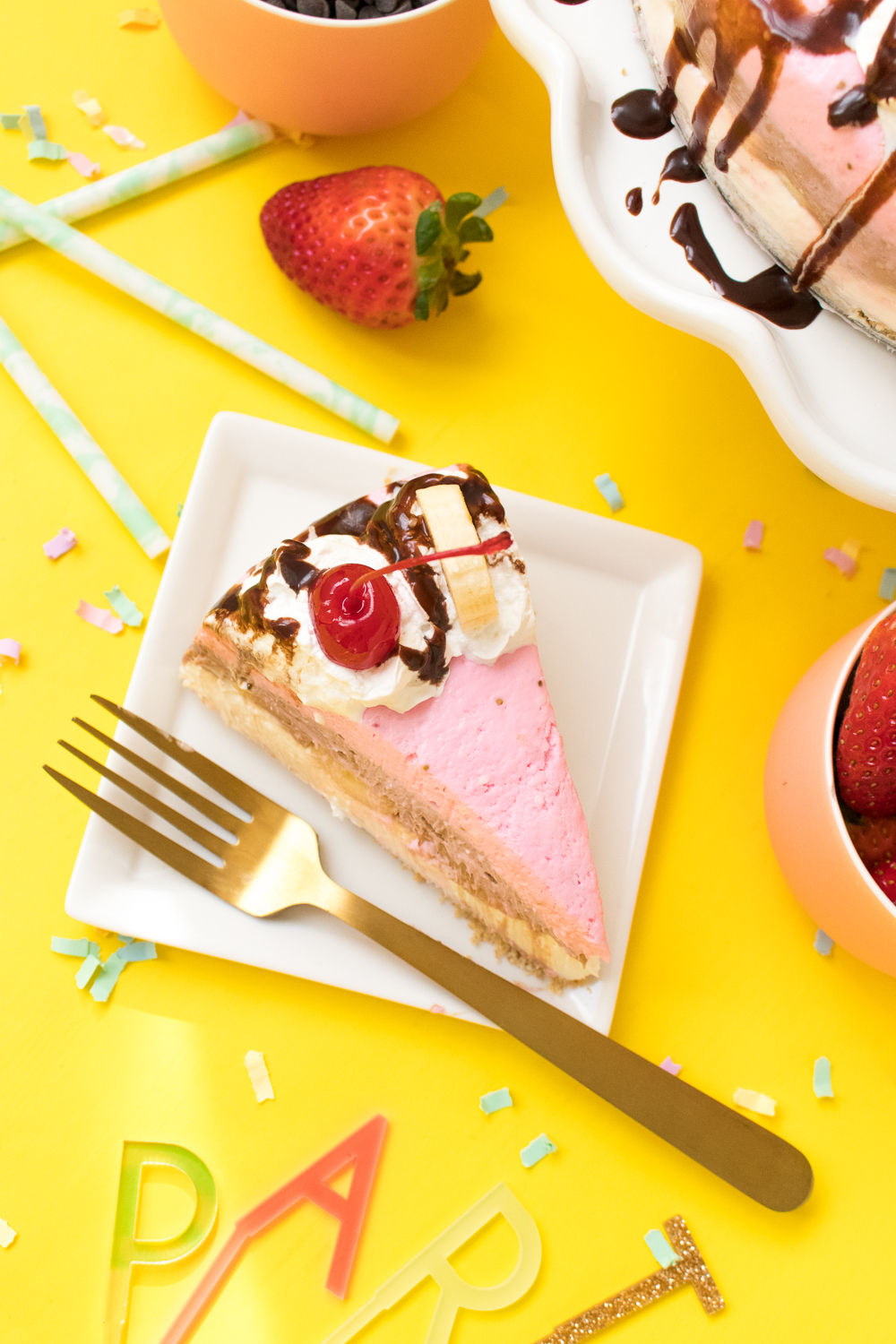 Let's talk about this amazing 3-layer cheesecake because I'm still eating bites as I write this…and it's been my breakfast for two days in a row.
Scroll down for the full recipe card! ??
To give make this banana split cheesecake taste like a real banana split, I combined three layers of simple no-bake cheesecake filling with a layer of sliced bananas and topped the cake with dollops of whipped cream, a generous drizzle of chocolate syrup and alternating pieces of cherries and bananas. Each layer has the same base but additional flavors added to make distinct vanilla, chocolate and strawberry layers for each scoop of ice cream in a banana split. I'm still obsessed with it, and that top strawberry layer is probably my favorite.
You get a bite of banana in every bite along with a little of each flavor, so every single bite taste like a classic banana split!
Oh, and I haven't even mentioned the graham cracker crust! OK, well, it's a regular cheesecake crust. I still thing that's noteworthy though because graham cracker crusts are a very important/amazing party of the cake. However, you could also make this recipe with a chocolate cookie crust, and I bet that would be equally delicious!
I think it's safe to say this is my favorite cheesecake recipe of all time, and I'm not sure anything I could make would top it! You can get the best of all the worlds with this combination of flavors.
What kind of cheesecake should I make next?!
No-Bake Banana Split Cheesecake
2018-01-18 15:43:20
Serves 10
A creamy 3-layer cheesecake with no baking required, topped with whipped cream, cherries and chocolate syrup
For the crust
12 graham crackers
2 tbsp butter, melted
For the cheesecake
5 8oz packages of cream cheese, room temperature
1 1/4 cups granulated sugar
2 1/2 cups Cool Whip
1 tbsp vanilla extract
2 bananas
5-7 strawberries, pureed
1/2 cup chocolate chips
Pink food coloring, optional
Whipped cream, optional (topping)
Chocolate syrup, optional (topping)
Cherries, optional (topping)
Instructions
In a food processor, blend the graham crackers until fine crumbs form. Add melted butter and puree again.
Press the graham cracker crumbs into the bottom of a large 8 or 10-inch springform pan and move to the fridge
In a large mixing bowl, beat the softened cream cheese with a paddle attachment until smooth
Mix in the sugar and vanilla, beating well so that no chunks remain
Fold in the Cool Whip with a spatula and then separate the cream cheese mixture into three bowls
Spread 1/3 of the vanilla cream cheese filling over the graham cracker crust and smooth out the top. Top with a layer of thin slices of banana.
Melt the chocolate chips in a small bowl and set aside to cool for several minutes. Once cool to the touch, fold into another 1/3 of the cream cheese and mix until no streaks remain.
Spread the chocolate cream cheese layer on top of the vanilla and bananas
Puree the strawberries until smooth and gently fold into another 1/3 of the mixture along with some pink food coloring to make the color POP
Spread the strawberry layer on top of the chocolate and move the pan to the fridge to set for 3-4 hours
Once ready to serve, carefully remove the cake from the springform pan and top with dollops of whipped cream, drizzles of chocolate syrup and alternating cherries and bananas
Notes
For best results, do not decorate until shortly before serving or the whipped cream may melt into the cream cheese
Club Crafted https://www.clubcrafted.com/