/
Marshmallow Bones + Bloody Red Velvet Hot Chocolate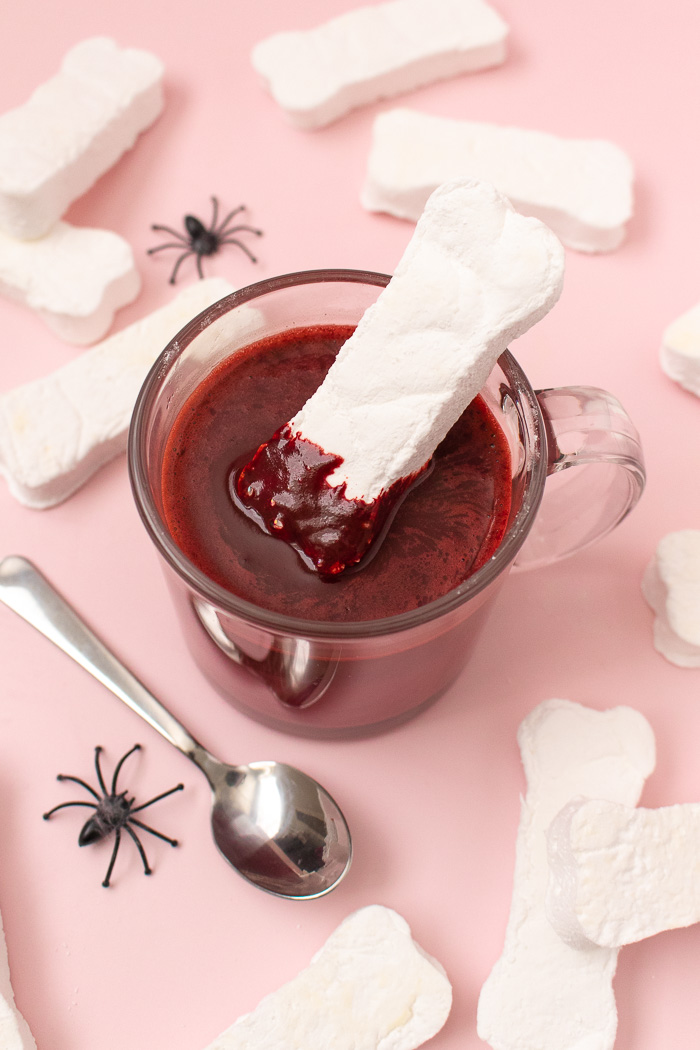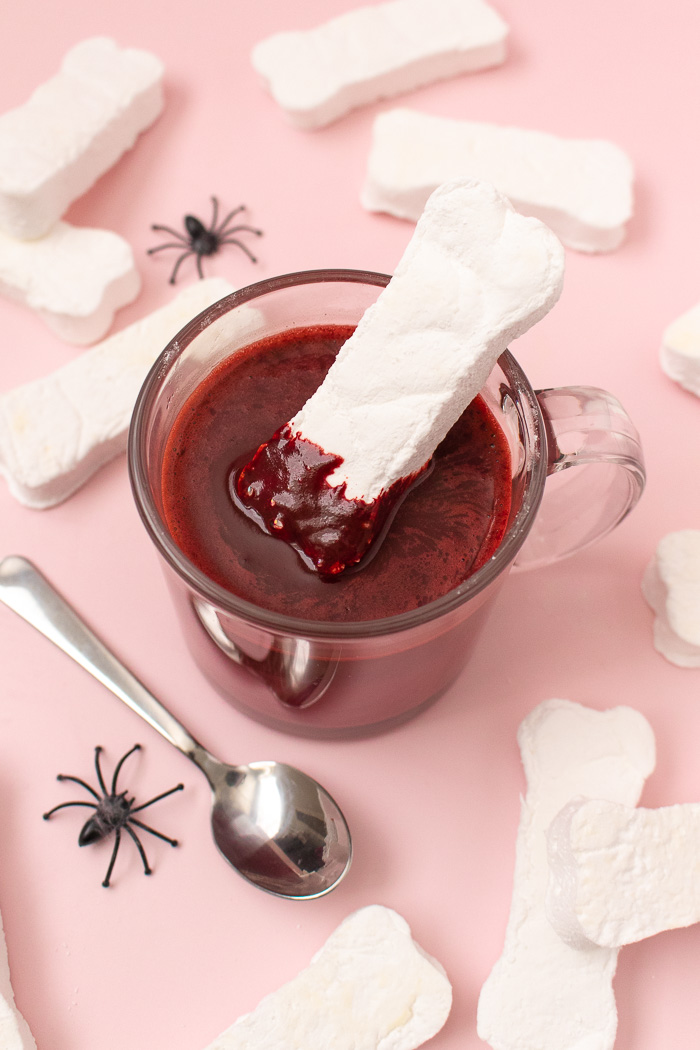 You know I'm not normally one for scary Halloween treats or decor BUT I couldn't resist trying out this idea for bite-sized marshmallow bones!! They probably wouldn't be creepy on their own, but when I paired marshmallow bones with my bloody red velvet hot chocolate, they became the perfect match for a creepy Halloween treat. We got a little rain in SoCal over the weekend, and homemade red velvet hot chocolate was the perfect hot drink for the occasion. Dip the marshmallow bones into the thick, velvety hot chocolate and enjoy! I swear, homemade marshmallows are a MILLION times better than store-bought. I won't eat store-bought marshmallows by themselves, but I ate several of these bone marshmallows in one sitting without even realizing it! Both recipes are tasty on their own but WAY better together.
I hope I don't disappoint you by saying that my bloody red velvet hot chocolate is basically regular hot chocolate with red food coloring…but that's just how it's made. Red velvet cake is made with a bit of vinegar, cocoa powder and buttermilk, but the taste isn't that different from classic chocolate cake, so neither is the hot chocolate version. However, it IS made with melted chocolate – no cocoa powder! – for an extra rich and velvety texture that gives it that creepy blood look. Any chocolate lover is going to need this recipe pinned for later!
Scroll down for BOTH full recipe cards! 👇🏼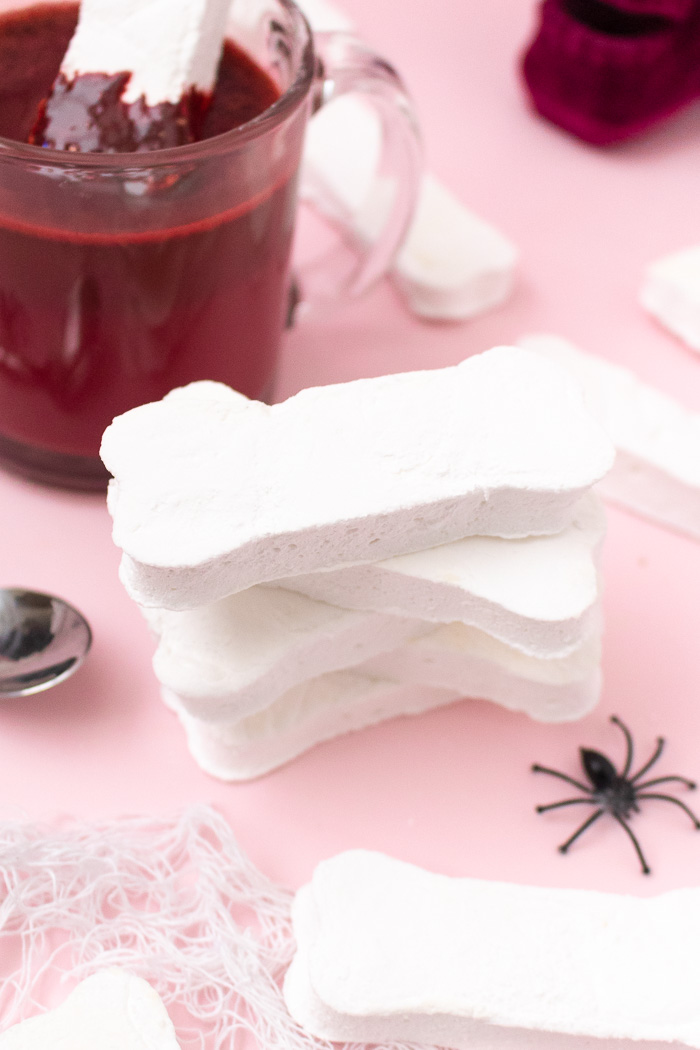 Now, let's talk marshmallows. I shared my recipe for Nutella marshmallows almost two years ago, and that's a larger batch that the one I'm sharing below, but the base recipe is the same. Truthfully, the Nutella makes them better though, ha! Last year, I also make mini gingerbread man marshmallows that are probably one of the best recipes I made in 2017. These marshmallow bones are made as a nice small batch, but you can use the Nutella version (sans Nutella obviously) for a larger batch if you use a lipped jelly roll pan instead of the 9×9-inch pan I recommend for this recipe.
I've been sending Andrew to his new job with batches of treats lately, and he comes home with empty containers! I love finally having a way to get rid of all this food I make, ha!
Now, here's how to make perfect hot chocolate at home to pair with your marshmallow bones this Halloween!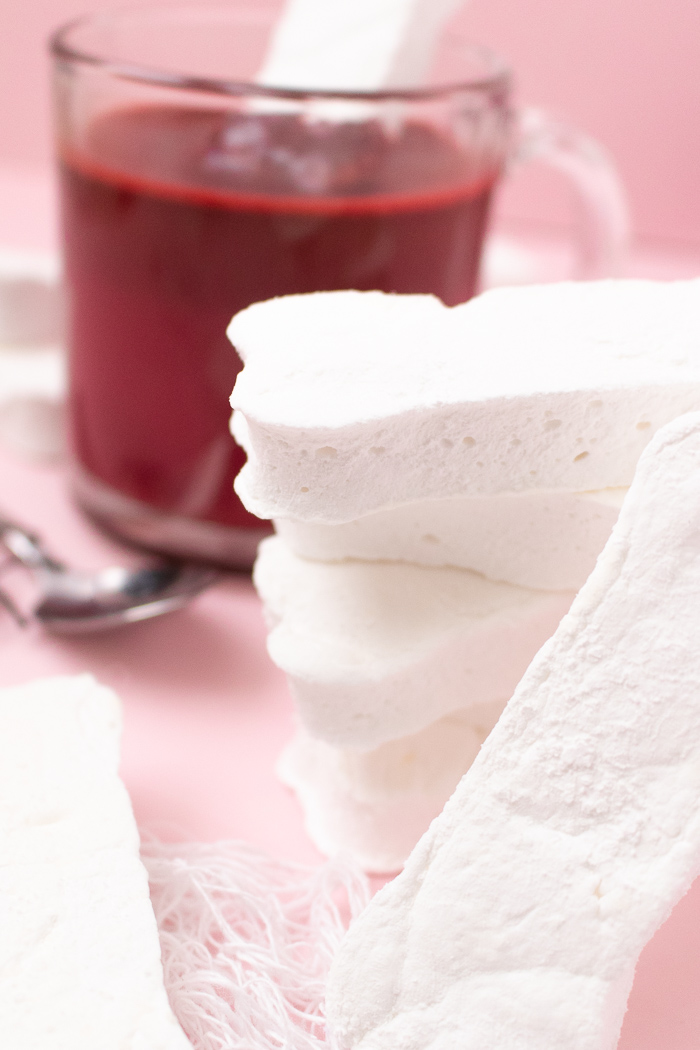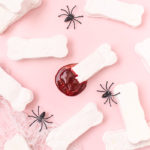 Marshmallow Bones
2018-10-16 09:38:44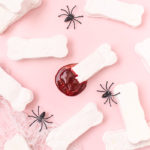 Serves 12
Small batch of delicious, fluffy homemade marshmallows shaped like bones for Halloween
Ingredients
2 tbsp unflavored gelatin (approx. 2 packets)
1/2 cup water, divided
3/4 cups granulated sugar
1/2 cup light corn syrup
1/2 tsp vanilla extract
Powdered sugar (for coating)
Small bone cookie cutter
Instructions
Place a piece of parchment or wax paper in a 9 x 9-inch pan and lightly spray with cooking spray. Use a sifter or sieve to sprinkle powdered sugar over the entire pan and set aside
In the stand of your electric mixer fitted with a whisk attachment, pour 1/4 cup of cold water and evenly sprinkle the gelatin over the water. Set aside
In a small saucepan on the stove fitted with a candy thermometer, bring the granulated sugar, corn syrup and remaining 1/4 cup water to a boil over medium/high heat and simmer until the temperature reaches about 230 degrees (softball stage) on the candy thermometer
Remove from heat and slowly stream the sugar mixture into the gelatin mixture, mixing on low speed. Increase the speed to high and whip for about 15 minutes until the mixture becomes very thick, white and sticky. Mix in the vanilla or other desired flavor
Pour the marshmallow mixture into the sugar coated pan and smooth the top. Sift additional powdered sugar over the top
Cover with foil and set aside to settle for several hours
Once the marshmallows have set, pull the mixture out of the pan by the parchment. Lightly coat a bone shaped cookie cutter in cooking spray. Cut bones from the marshmallow and coat sticky sides with additional powdered sugar
Serve with red velvet hot chocolate!
Notes
Store leftover marshmallows in an airtight container at room temperature for up to 5 days
Club Crafted https://www.clubcrafted.com/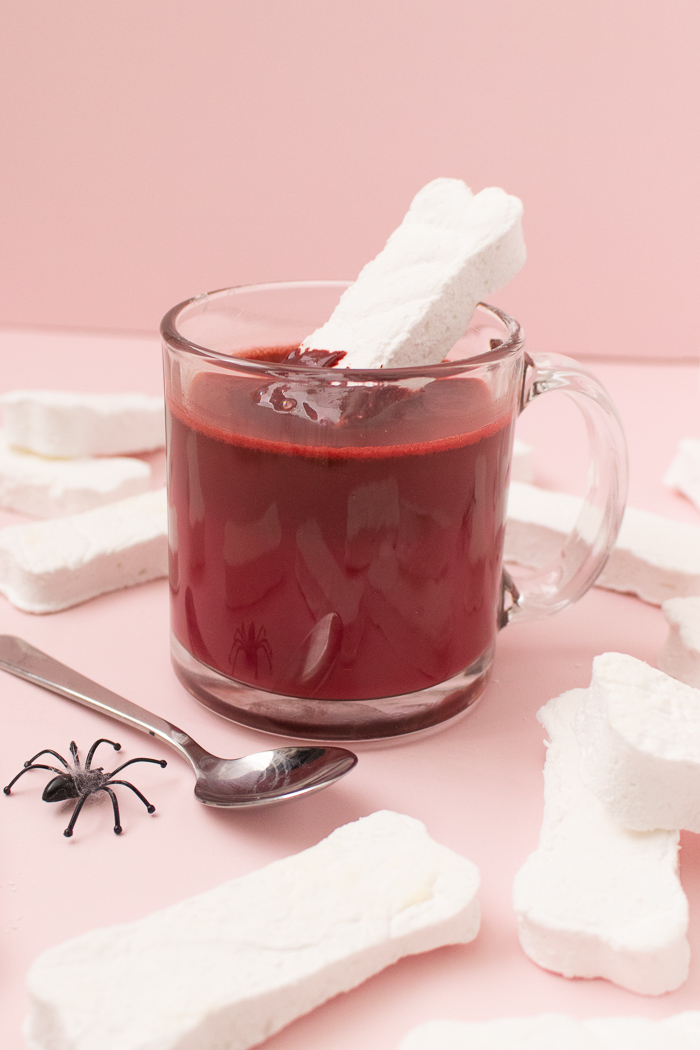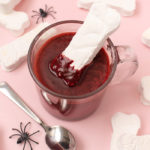 Bloody Red Velvet Hot Chocolate
2018-10-16 09:31:51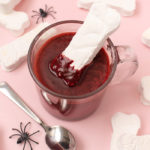 Serves 2
Rich, velvety bloody red velvet hot chocolate perfect for Halloween
Ingredients
2 cups milk of choice
3 tbsp granulated sugar
4 oz. semi-sweet chocolate, chopped
1/2 tsp vanilla extract
1-2 tsp red food coloring
Instructions
Chop the chocolate and set aside
In a small saucepan on the stove, heat the milk and sugar over medium heat, stirring occasionally until simmering
Remove from heat and whisk in the chopped chocolate and vanilla, whisking until completely melted
Add food coloring until desired color is reached
Serve hot and fresh with marshmallow bones!
Club Crafted https://www.clubcrafted.com/
Happy Halloween, friends!