/
DIY Easy Jack-O-Lantern Mug (+ Free Template!)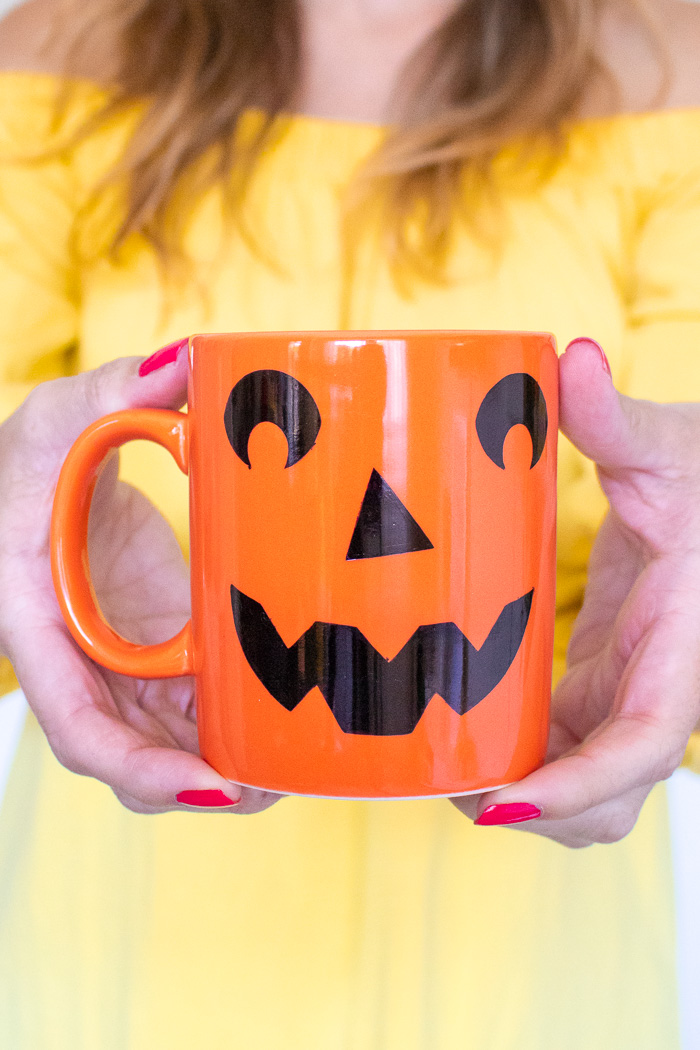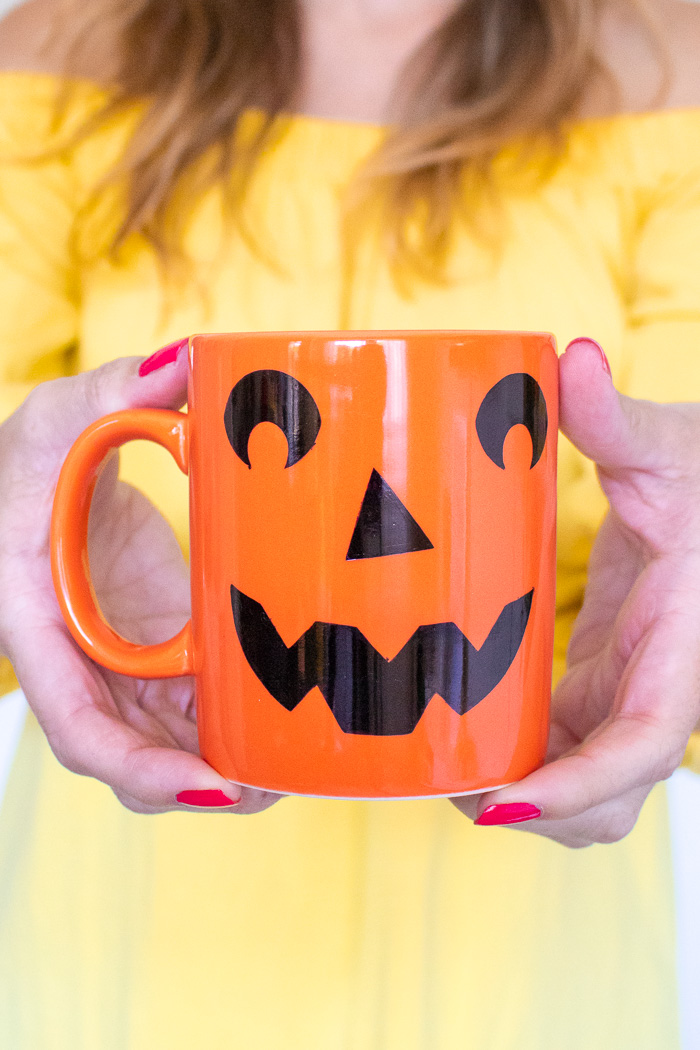 What's your favorite thing about Halloween? Carving pumpkins was always one of my favorites. Or the costumes, of course! Hmm, or maybe the candy…but I wanted to bring that pumpkin carving look to something else this Halloween. This easy jack-o-lantern mug makes a cute gift for Halloween or just something to sip your morning coffee from if you're really into the holiday! The best part is you don't need anything too fancy to make it – just ceramic markers! I used my Cricut Explore Air to cut the template, but it's a simple template that you can easily cut out with a craft knife instead. Let's get making!
You've probably caught on to the fact that I don't like very scary Halloween DIYs. I tend to go for the light, fun side of Halloween! Hence, projects like my cupcake pumpkins or goofy mummy cookies that are anything but scary. I wanted to make a jack-o-lantern mug with the least scary jack-o-lantern face possible! That's why his grin is paired with half-moon style eyes to try to make him look more fun that creepy…I hope?
This is a great 5-minute DIY gift idea for any Halloween lover! You know what I'll be drinking my coffee from this month!
Time: 5 minutes
Supplies:
Vinyl, any color
Orange ceramic mug
Black ceramic marker
Cutting machine or craft knife
Step 1: Either upload the above PNG jack-o-lantern template to the Cricut Design Center and adjust the size to about the size of your mug (leaving space at the top and bottom) or print out the template. Cut out the template on vinyl and remove the shapes so that you have a negative of the jack-o-lantern.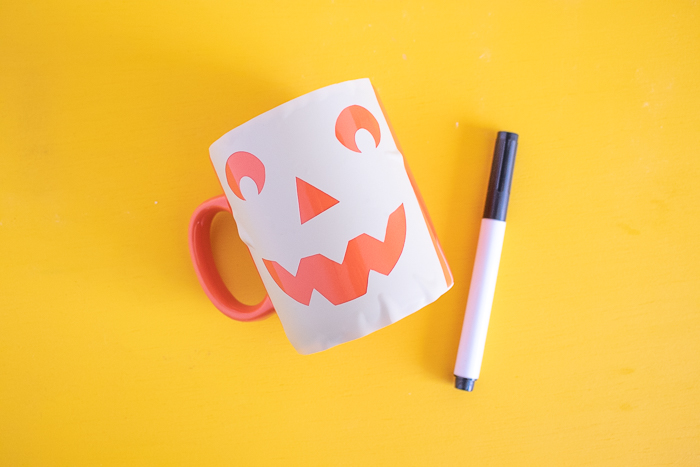 Step 2: Place the jack-o-lantern sticker on the front of your mug. It's OK if some areas are bubbled.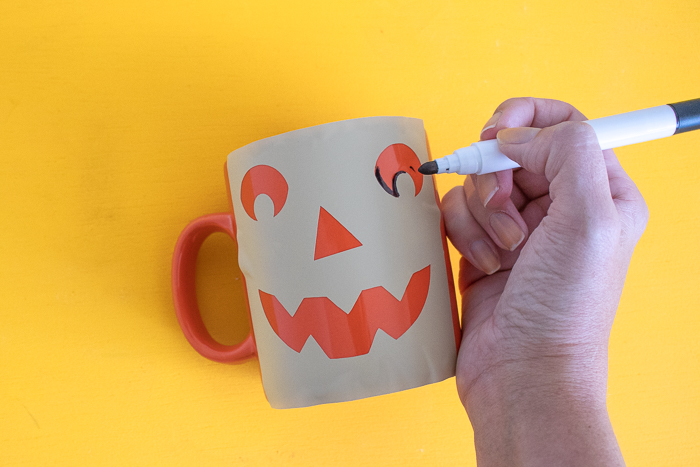 Step 3: Use the black ceramic marker to fill in the jack-o-lantern face.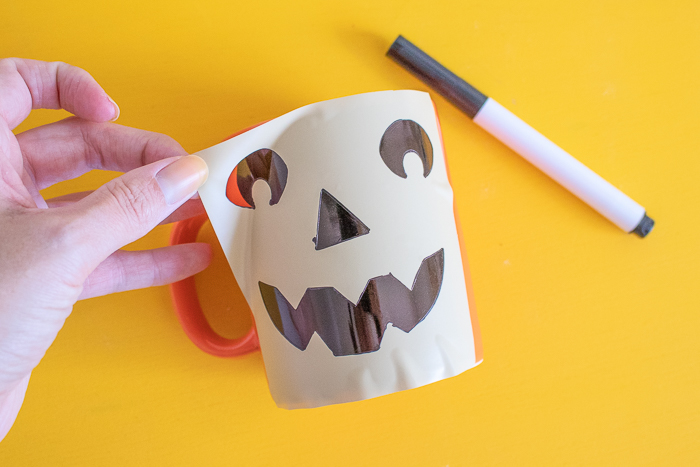 Step 4: Peel away the sticker to reveal the drawing! Let dry at least 5 minutes.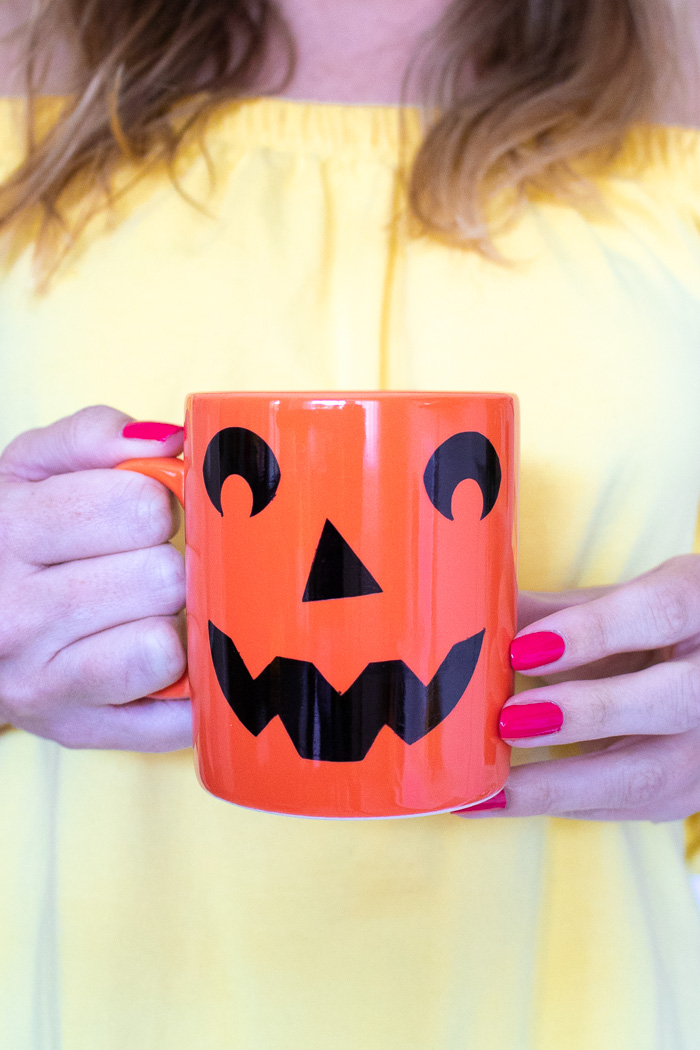 Now you have a fun Halloween mug to enjoy throughout October, or fill it with candies for a cute gift! Hand wash only to preserve the design. Happy Halloween, ghouls!