/
5-Minute DIY // Lavender Eye Mask for Anxiety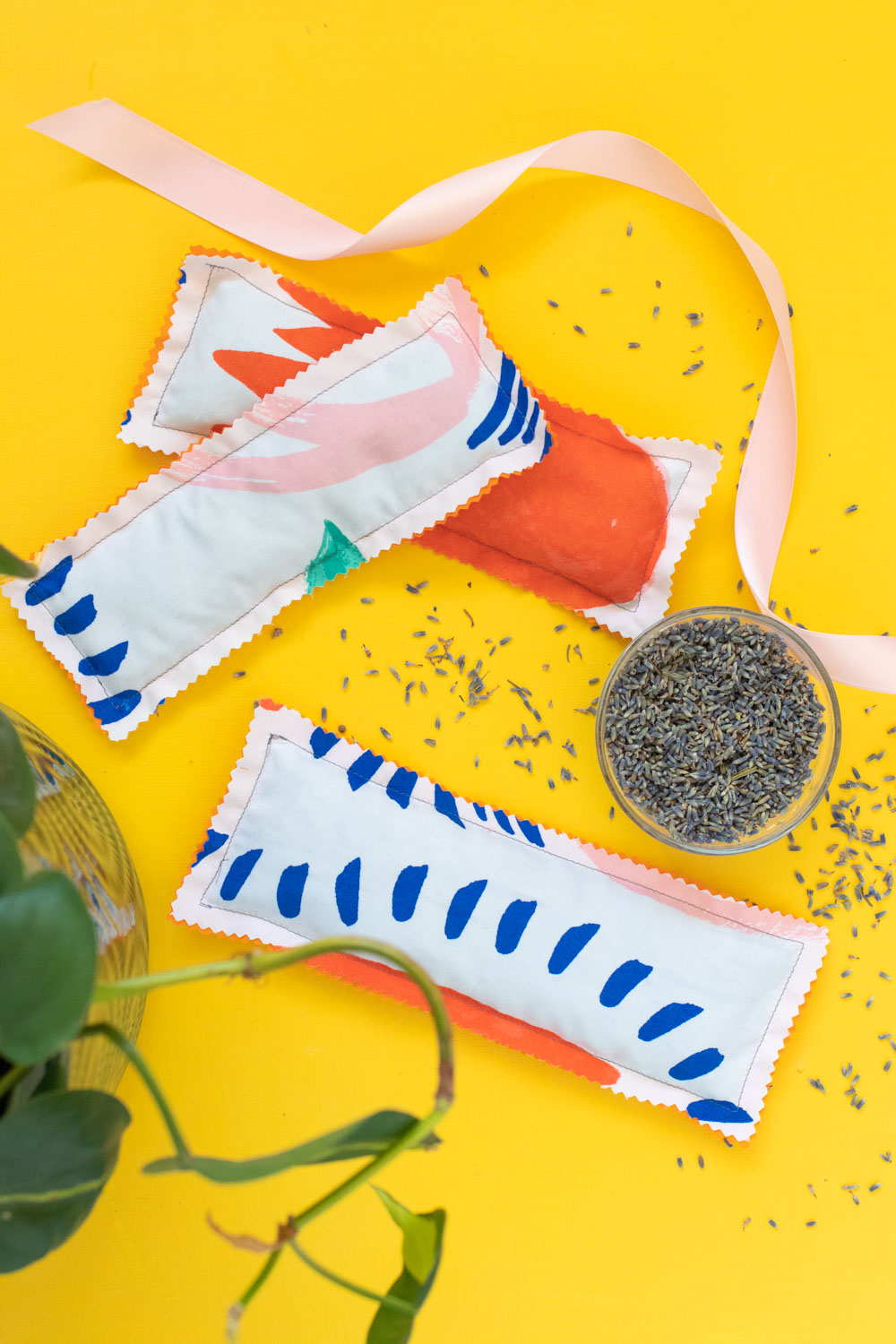 If you're anything like me and quarantine life is getting to you, let me share a simple remedy to help you manage some of that anxiety. Everyone's situation is unique right now, but I do find that lavender has a calming effect for me. Using some scrap fabric, you can make a DIY lavender eye mask for anxiety is just FIVE minutes! Lavender is proven to treat some anxiety. I normally diffuse it at night to help calm me before bed, but now I'm adding a lavender eye mask to my routine. Made with a mixture of lavender buds, rice and essential oil, the eye masks can be heated in your microwave or cooled in the fridge/freezer. Then the temperature sensation and the lavender come together (along with the weight, I think) to help calm you.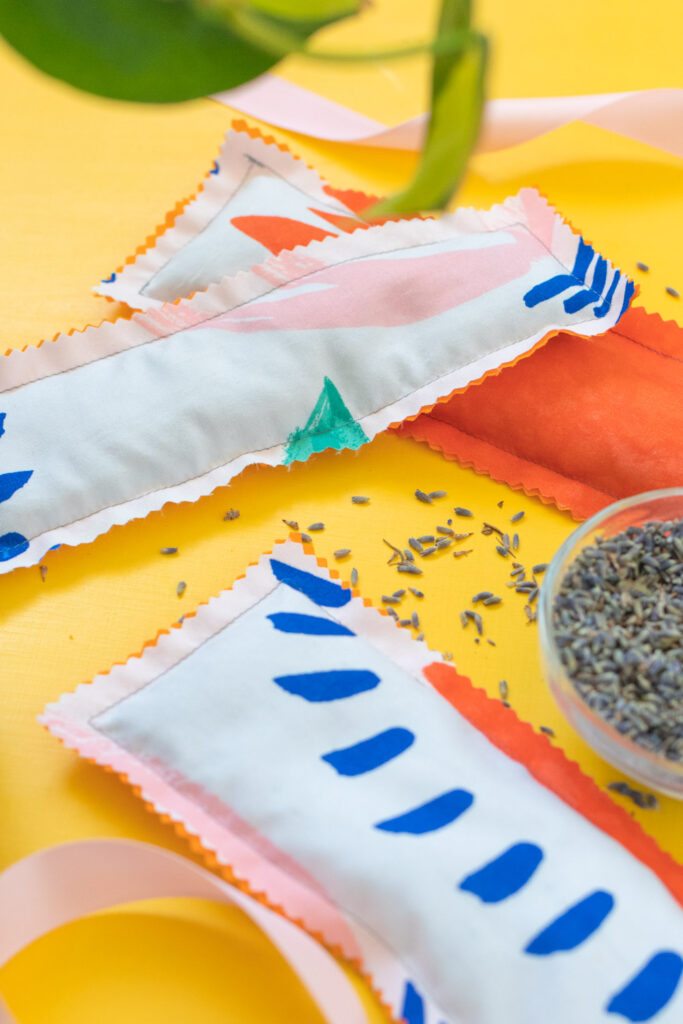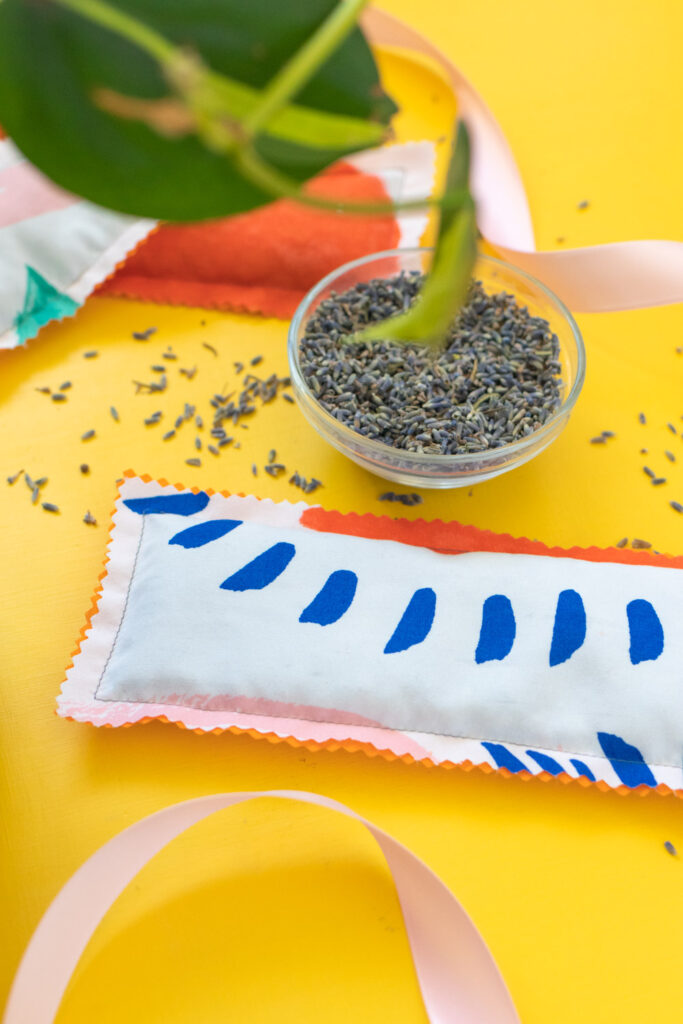 Everyone will react differently to lavender. My sister, for example, can't have anything lavender in her house because it causes her migraines. I, on the other hand, can't get enough of it. To each their own! If you've tried and enjoyed lavender treatments in the past, hopefully you'll find benefits in a lavender eye mask.
I've seen a lot versions of rice and lavender masks, but my goal was to make something beginner friendly. This low-sew project is ideal for a beginner sewer or just someone short on time. Grab some scrap fabric and you can simply cut the fabric and sew a few straight lines. No need to turn things inside out or cut fancy shapes! Pinking shears keep the fabric from fraying instead. This is a very no-fuss version of the lavender eye mask. Honestly, I'm a big fan of mine so far!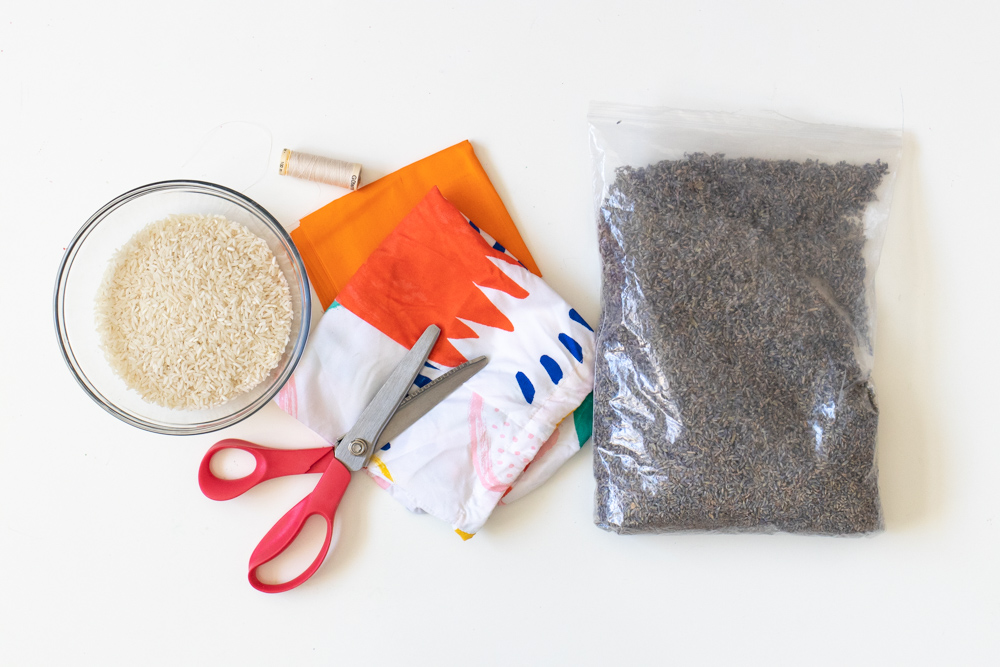 How to Make a Lavender Mask with Rice
Supplies:
1/4 yard cotton fabric (something soft for your eyes)
1/4 yard coordinating fabric
Pinking shears
Coordinating thread
Pinks
1/4 cup dry rice
1/8 cup dried lavender buds
2-4 drops lavender essential oil, optional
You will want to choose a soft, comfortable fabric for your lavender eye mask. Cotton is always a good choice. I would even recommend upcycling old sheets or t-shirts for this DIY. Ideally, you'll want a tightly-woven fabric so that the pinking shears keep the fabric from fraying. You can choose coordinating colors/patterns or keep them the same.
Step 1: Iron your fabric to remove creases. Layer the eye-facing fabric and the outward-facing fabric together. Using the pinking shears, cut a rectangle about 8 inches by 3 inches from both layers.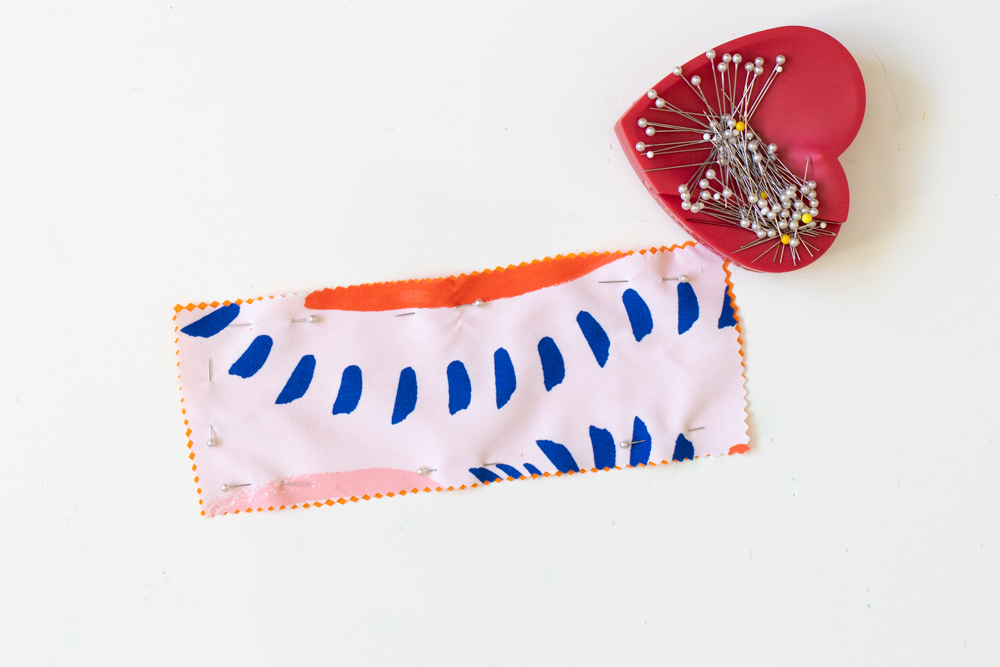 Step 2: Then pin the two long sides and one short side. Leave one side open for filling.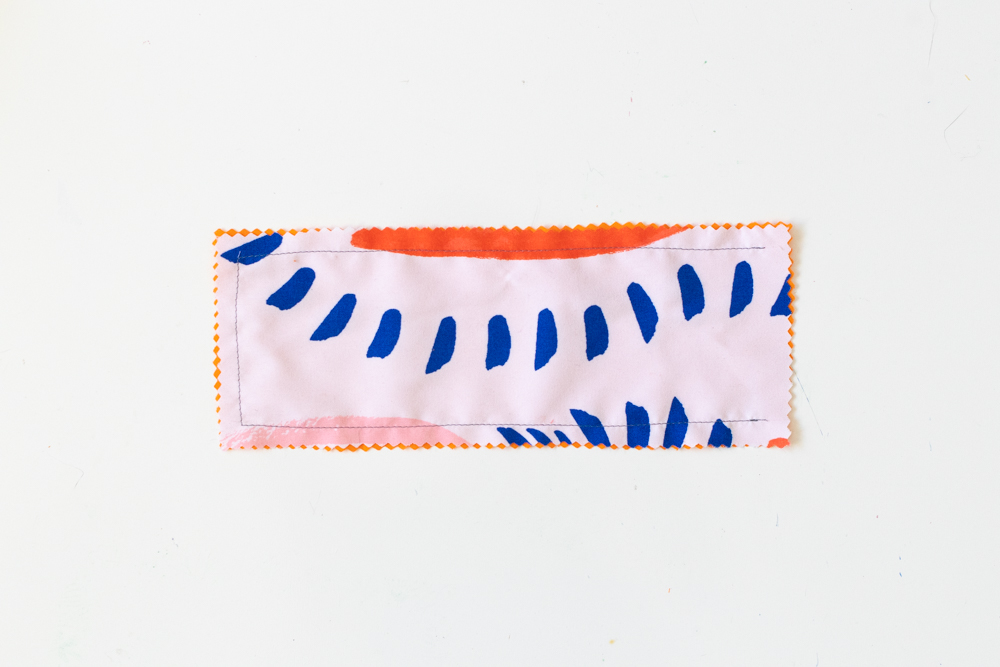 Step 3: Sew along the three sides, leaving about a 1/2 inch seam. Back stitch at each end, and trim loose threads.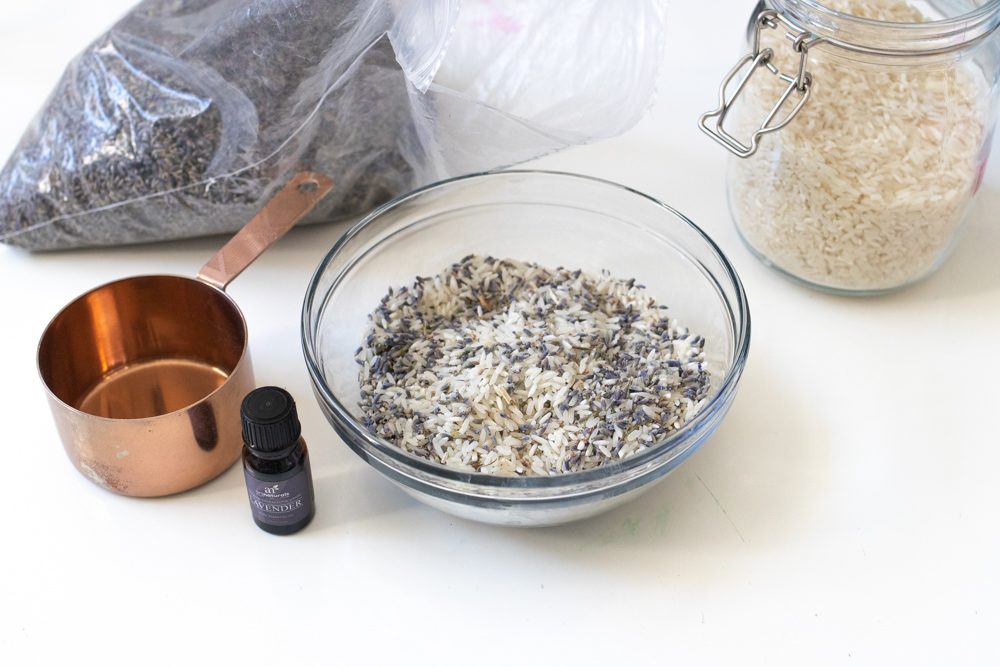 Step 4: In a small bowl, combine the rice and lavender buds. Measurements can be approximate. Add drops of essential oils and mix to combine. Then funnel into the open end of the lavender eye mask.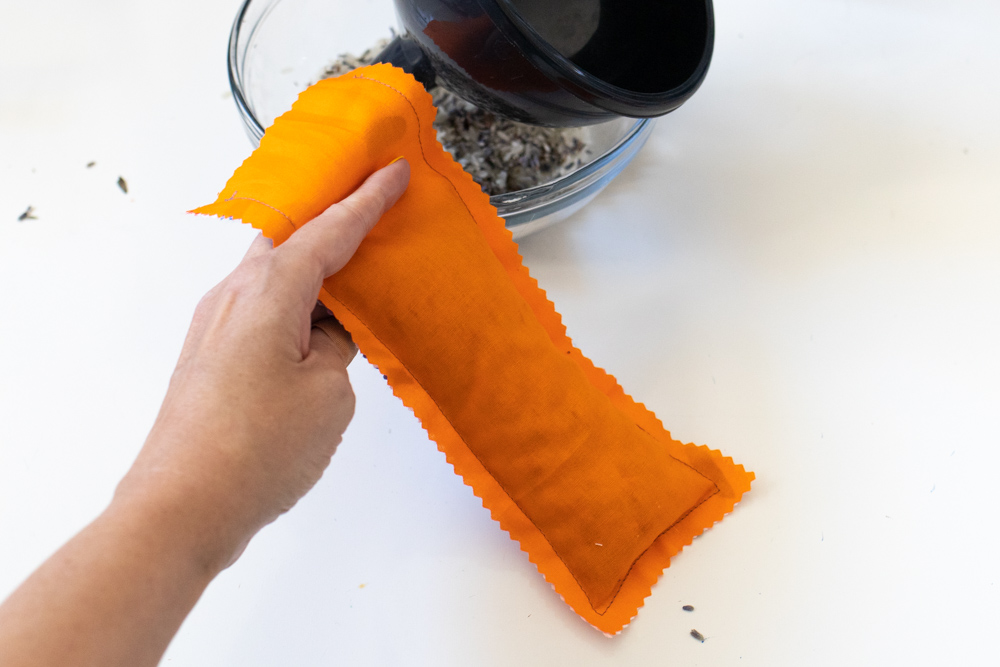 Step 5: Fill until the mask is about 3/4 full. You do not want it to be completely full or it won't lay comfortably on your face. Then sew the open end with the same seam allowance.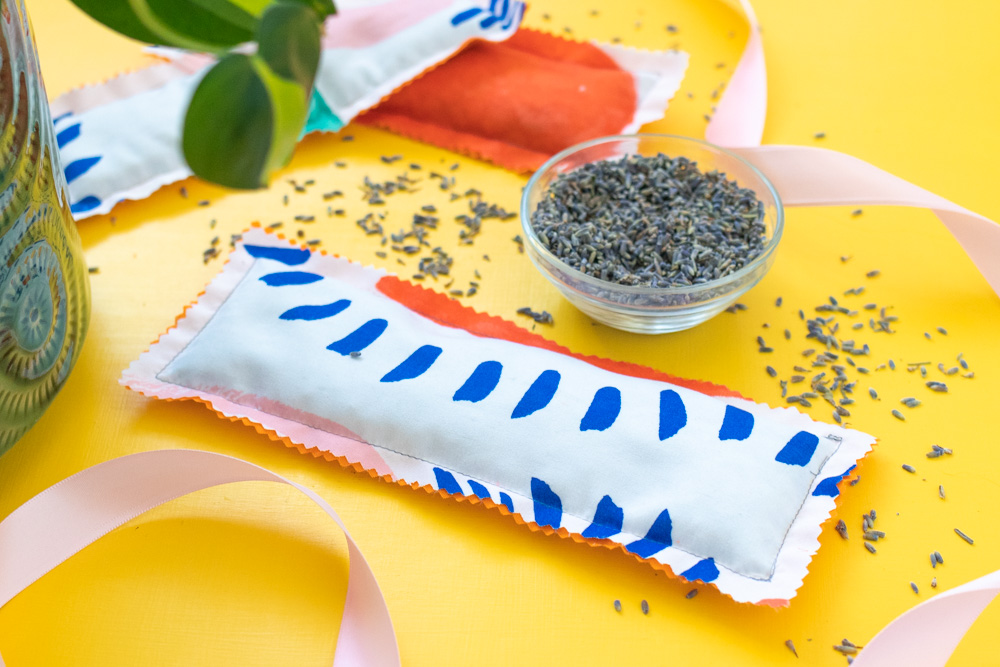 Now your lavender eye mask is ready for relaxing! Heat for a few second until the rice is warm. Then lay it across your eyes will you lay back and listen to some calming music. I hope it helps you manage your anxiety like it helps me! These are stressful times, and every little thing helps!