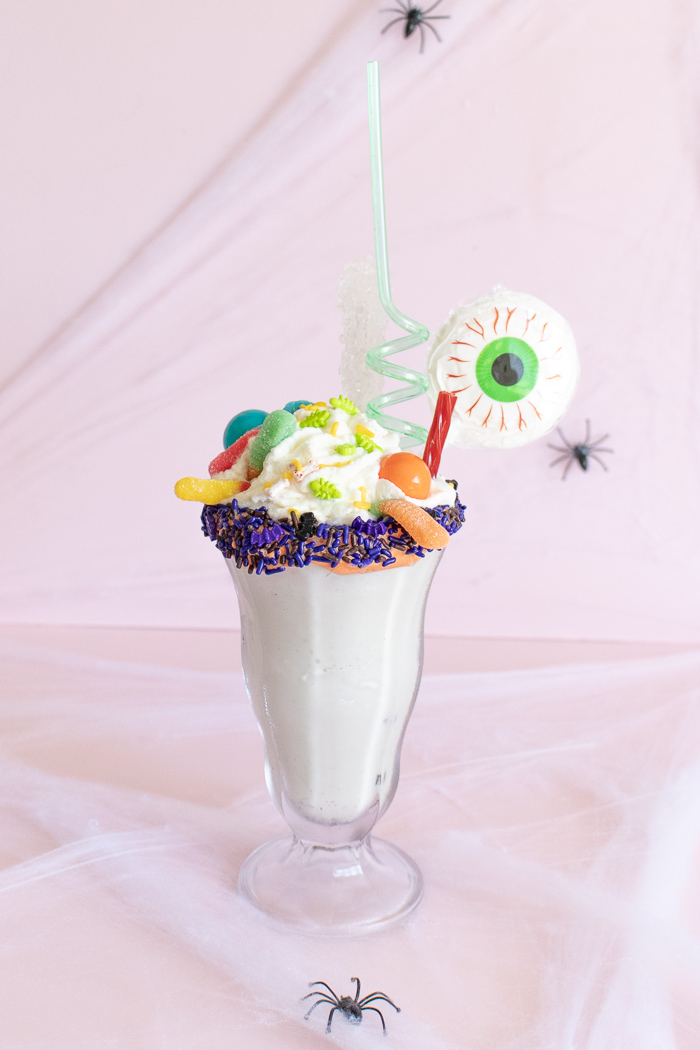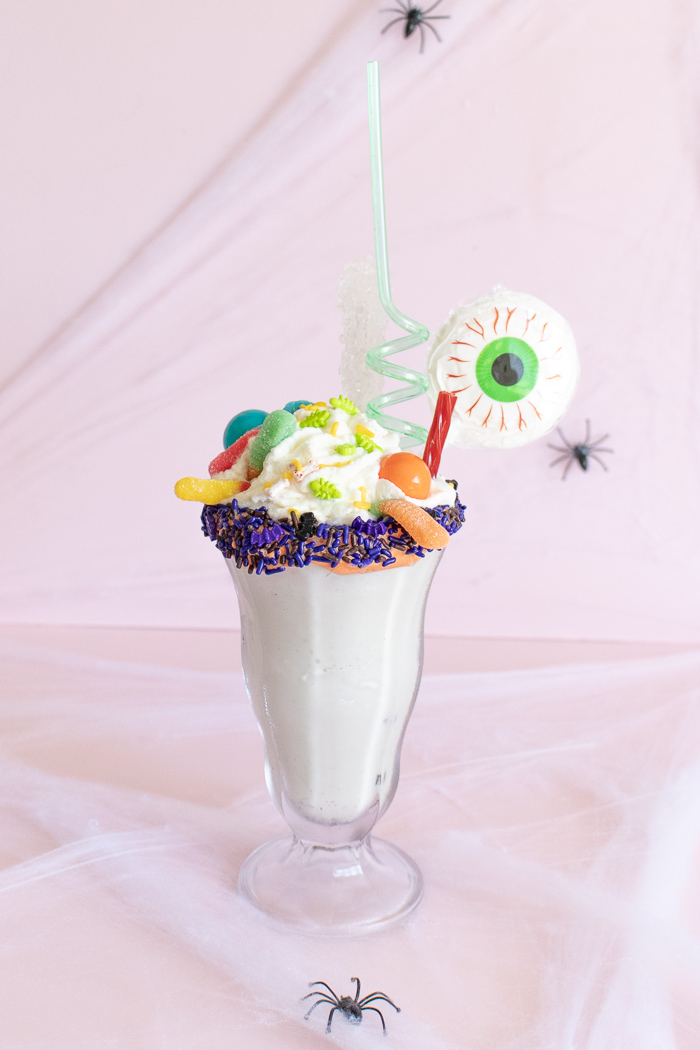 Let's get in the Halloween spirit! Halloween is actually my busiest season here on the blog, and I'm pretty behind, so I'm kicking off the Halloween season with an easy recipe idea…a Halloween freakshake! You're probably wondering, what is a freakshake? Well, it's a freaky milkshake! Much like the ice cream freak cake I shared over the summer, this Halloween freakshake is a tasty milkshake taken over-the-top with crazy toppings. Since Halloween is all about the candy (at least for me, ha!), it seemed like the perfect holiday to make a freakshake with a variety of fun candies, including an eyeball lollipop that completely makes the drink.
Serve Halloween freakshakes for a party or honestly just because. It's a great excuse to top your favorite milkshake flavor with all the candy in your cupboards! Go for fall flavors like pumpkin, or stick with classics like vanilla or chocolate to make a freakshake that's perfect for you.
How to make a freakshake for Halloween:
Step 1: Compile a variety of Halloween candies, like gummy worms, Halloween sprinkles, Twizzler straws and a Halloween lollipop.
Step 2: Melt candy melts or chocolate and dip the rim of a glass into the melted candy to coat. Then roll in colored sprinkles and set aside for candy to harden.
Step 3: Blend your favorite milkshake flavor! Add food coloring to make it even more Halloweeny!
Step 4: Assemble the Halloween freakshake with the milkshake filling and top with whipped cream, Halloween sprinkles, additional candies, lollipops and a fun straw.
Serve immediately and enjoy! Obviously, you'll want to take lots of photos first!
The lollipop was definitely my favorite, but the gummy worms coming out of the whipped cream were a close second. Next time, I think I'll make a pumpkin freakshake…happy Halloween, friends!