/
Funfetti Cake Batter Waffles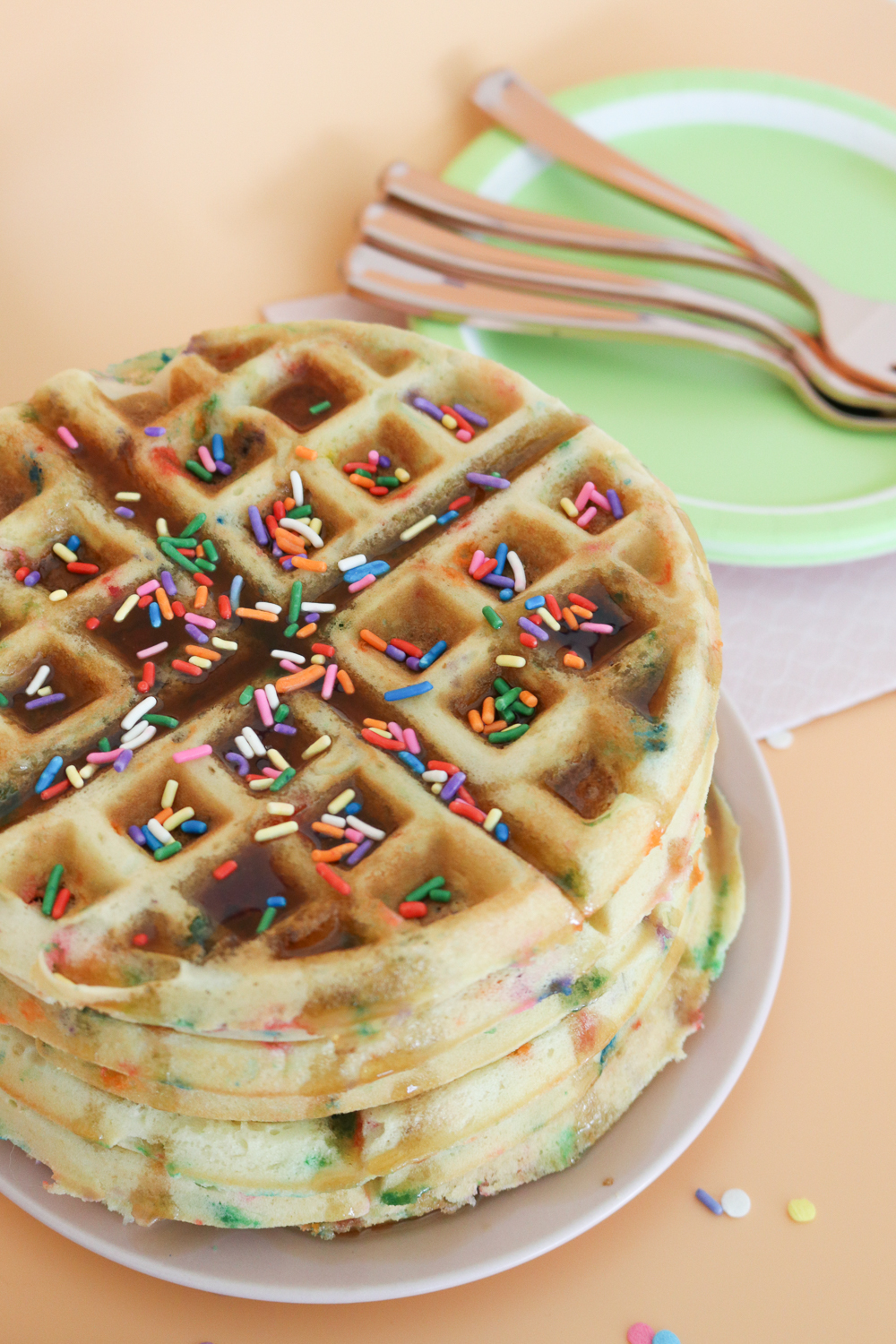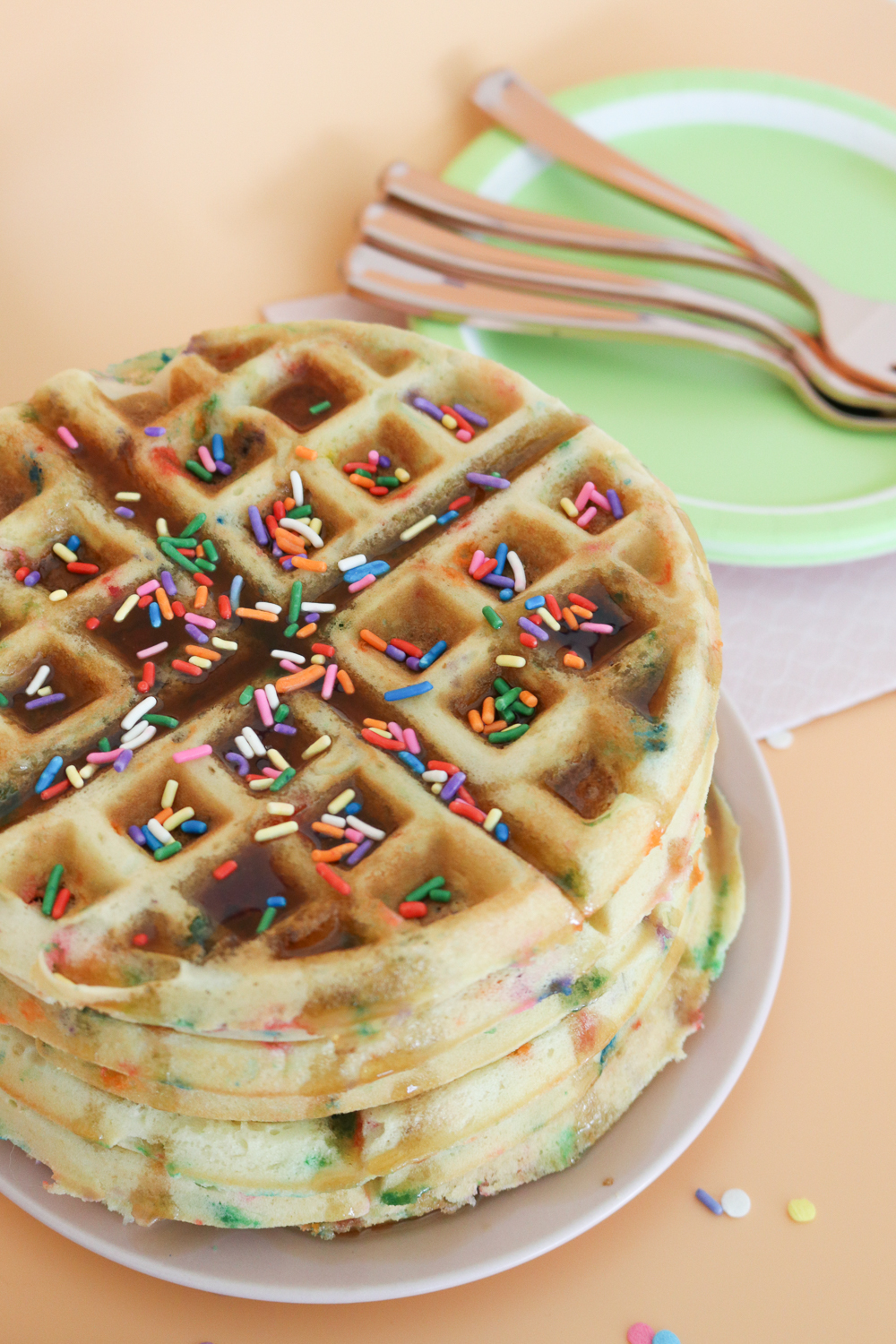 I'm a total breakfast person. I mean, other meals are great too, but I could eat breakfast for every meal and LOVE it, especially when French toast and scrambled eggs are involved. Oh, and a mimosa on the side! This time, I decided to give you all an excuse to eat cake for breakfast (not that you really need one) with this really simple recipe for funfetti cake batter waffles! Yes, your breakfast just got a lot better and a lot more colorful.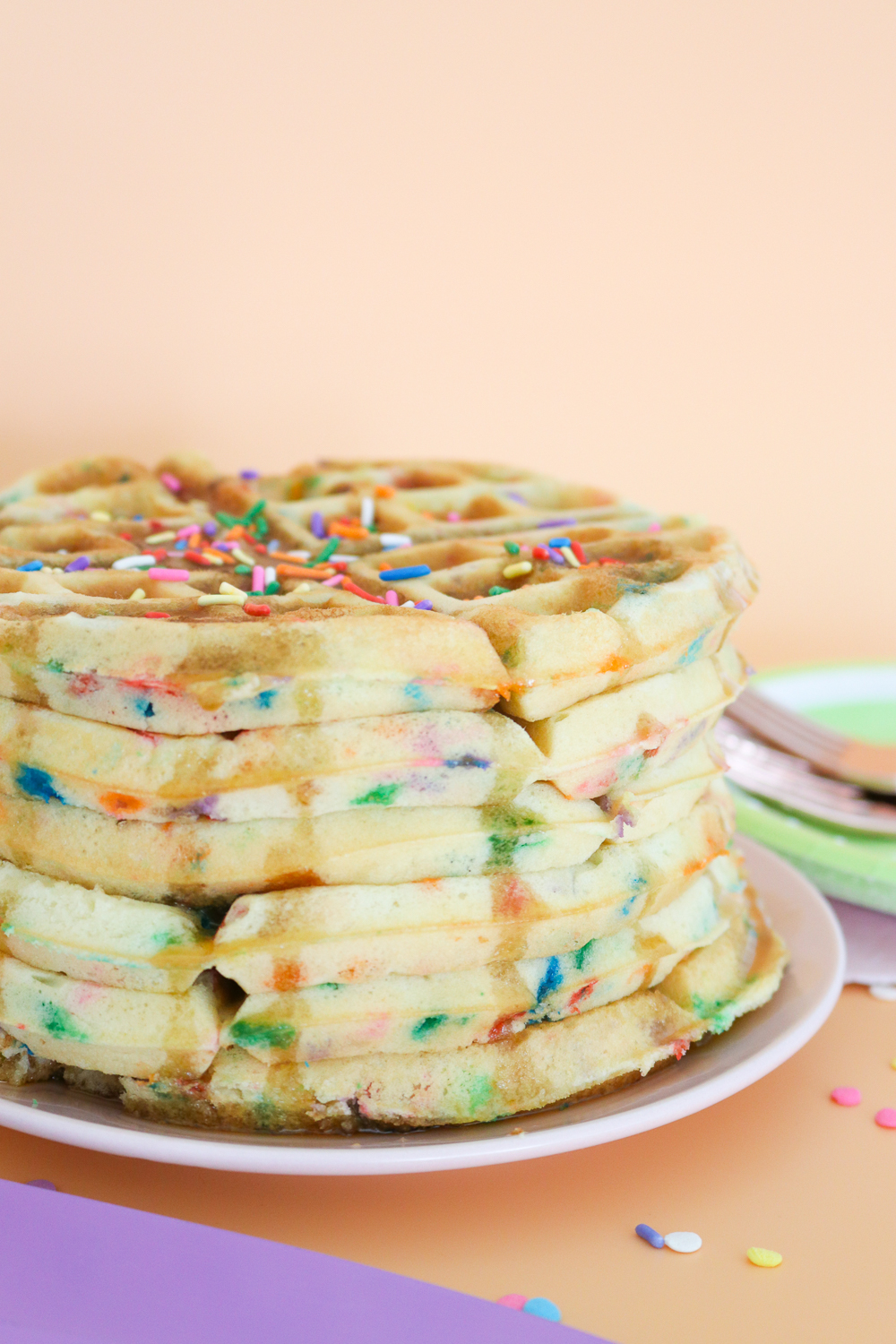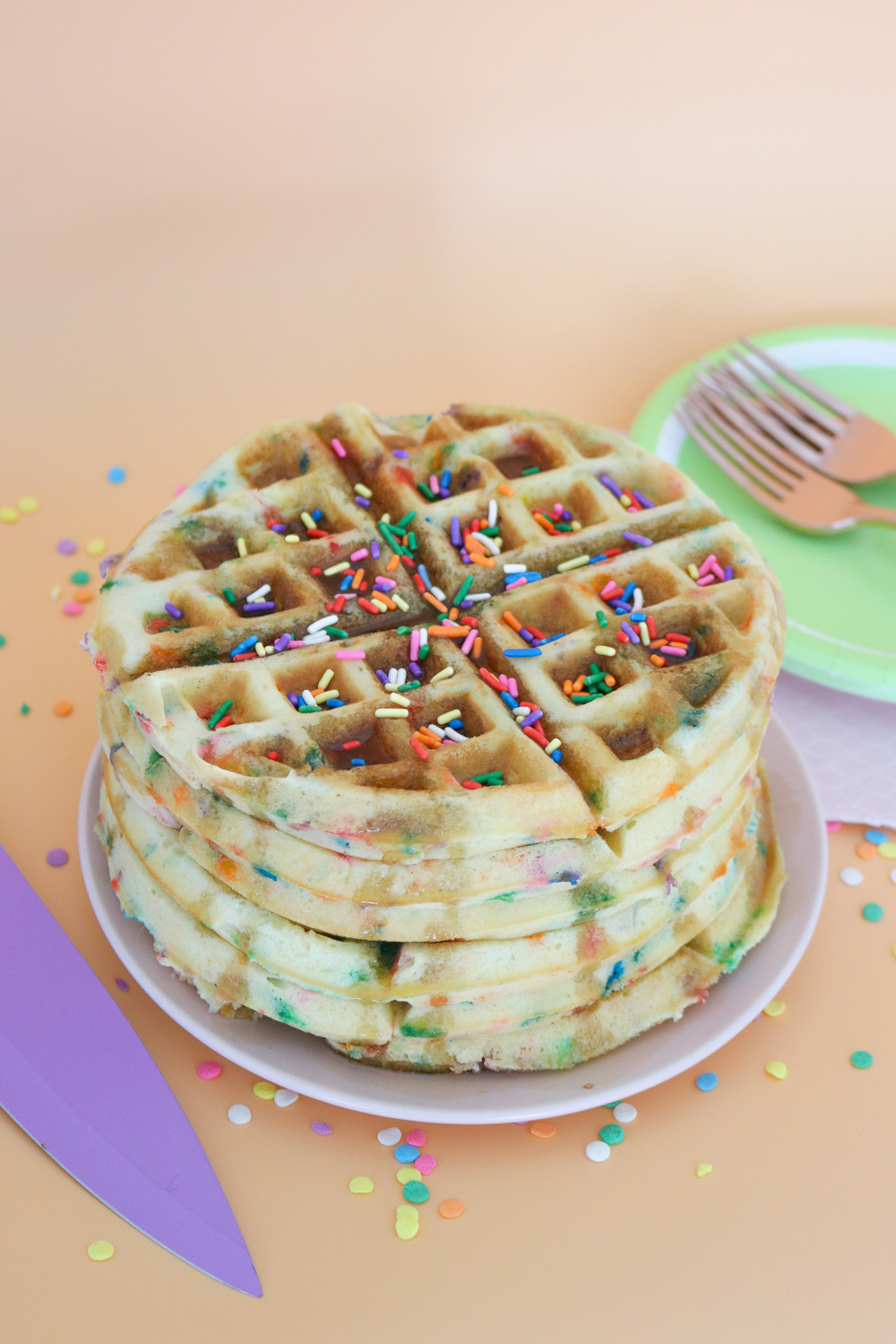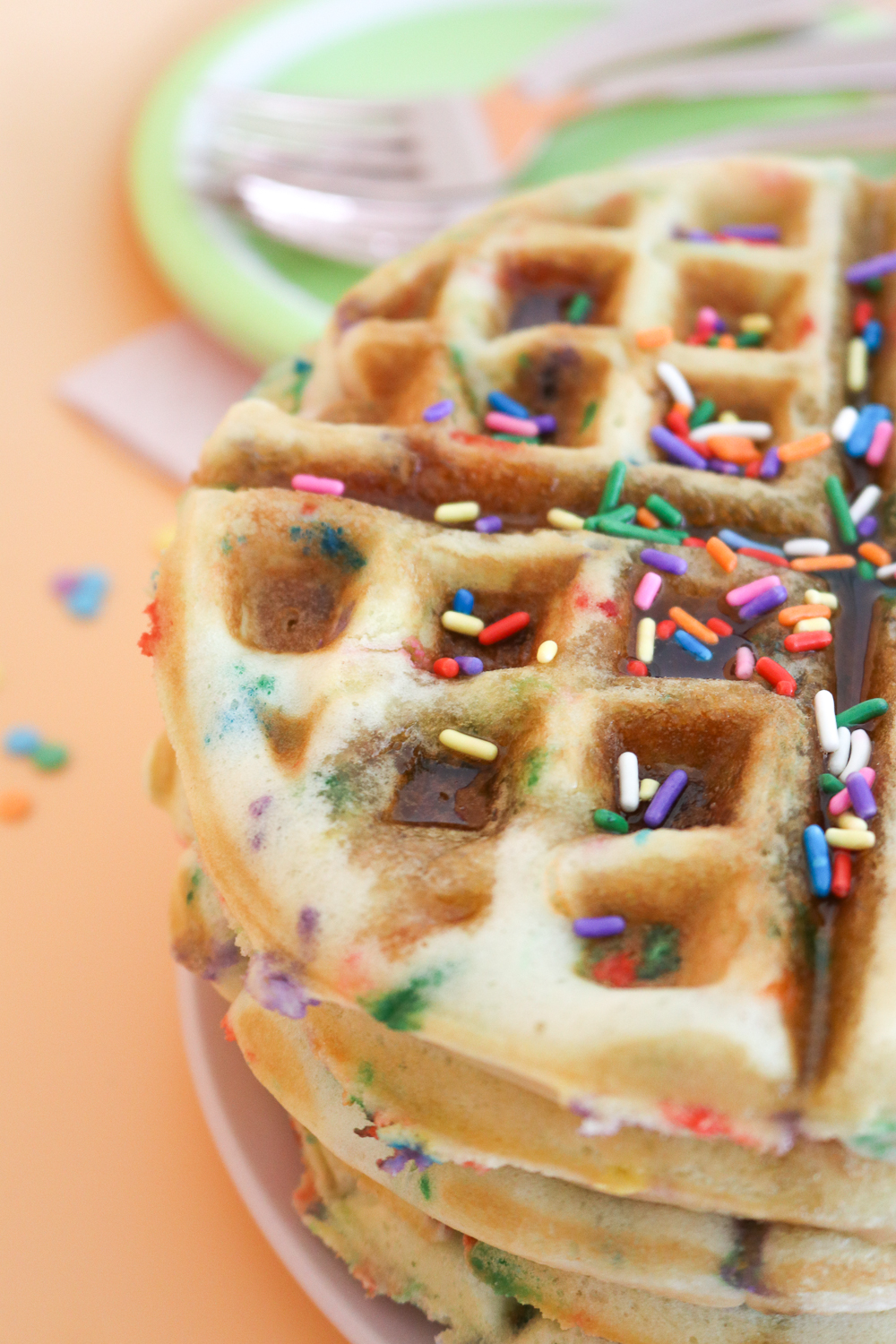 Using your favorite vanilla cake mix and a few other ingredients, you can make cake in your waffle maker! The comes out sweet, soft and fluffy like a cake but still tastes delicious topped with syrup or other toppings, like strawberries or whipped cream. You can also just skip the syrup altogether and eat it with whipped cream or even frosting if you really want that cake flavor to shine through.
Scroll down for the full recipe card! ??
Adding sprinkles just makes these so much more fun, and cake batter waffles stacked on top of each other make the perfect birthday breakfast for your loved ones. Make them simple or make them over-the-top for a delicious weekend treat that will satisfy your sweet tooth for the day. You can basically follow the recipe on a box of cake mix but swap the water for milk to get a more waffle or pancake-like flavor. Either add in your own sprinkles or grab a box of funfetti cake mix. Either way, these are fun to make for any occasion.
For the record, I'm totally an advocate for cake for breakfast!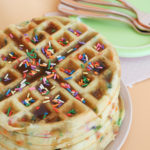 Funfetti Cake Batter Waffles
2017-03-16 12:05:18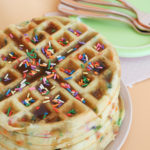 Fluffy waffles made with cake mix and sprinkles to celebrate a special breakfast
Ingredients
1 box white cake mix
3 eggs
1 cup milk or buttermilk
1/2 cup vegetable oil or canola oil
1/2 cup sprinkles
Syrup and whipped cream, optional (for topping)
Instructions
Whisk together all ingredients in a large mixing bowl until smooth
Lightly coat the waffle iron with cooking spray and preheat
Once heated, pour about 1 cup of batter into the waffle iron, close and cook until light browned
Repeat with all the batter until all waffles are thoroughly cooked
Stack and top with syrup, whipped cream, fruit and other toppings as desired
Notes
Can be stored in airtight container and re-heated within two days
Club Crafted https://www.clubcrafted.com/