/
DIY Splatter Paint Socks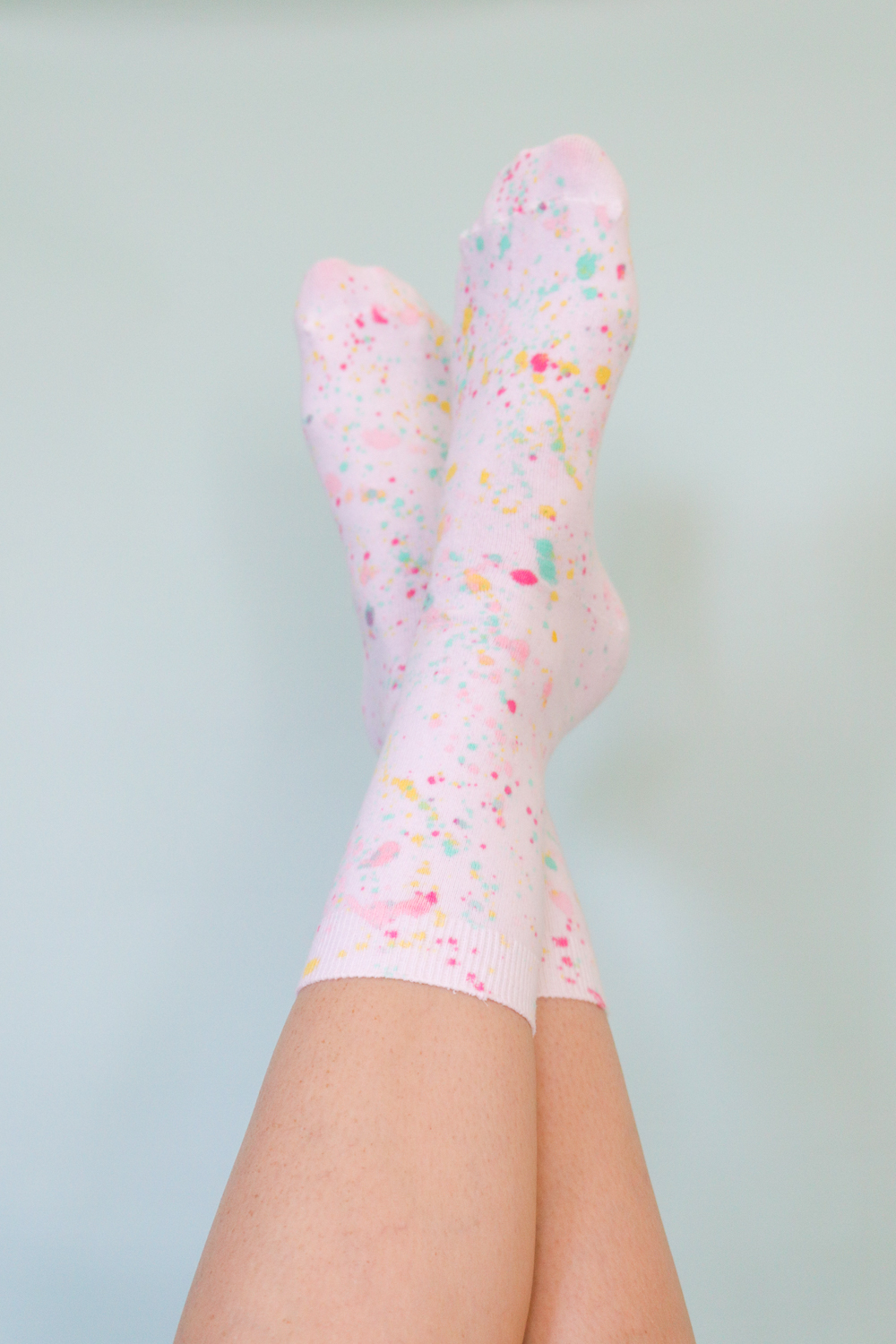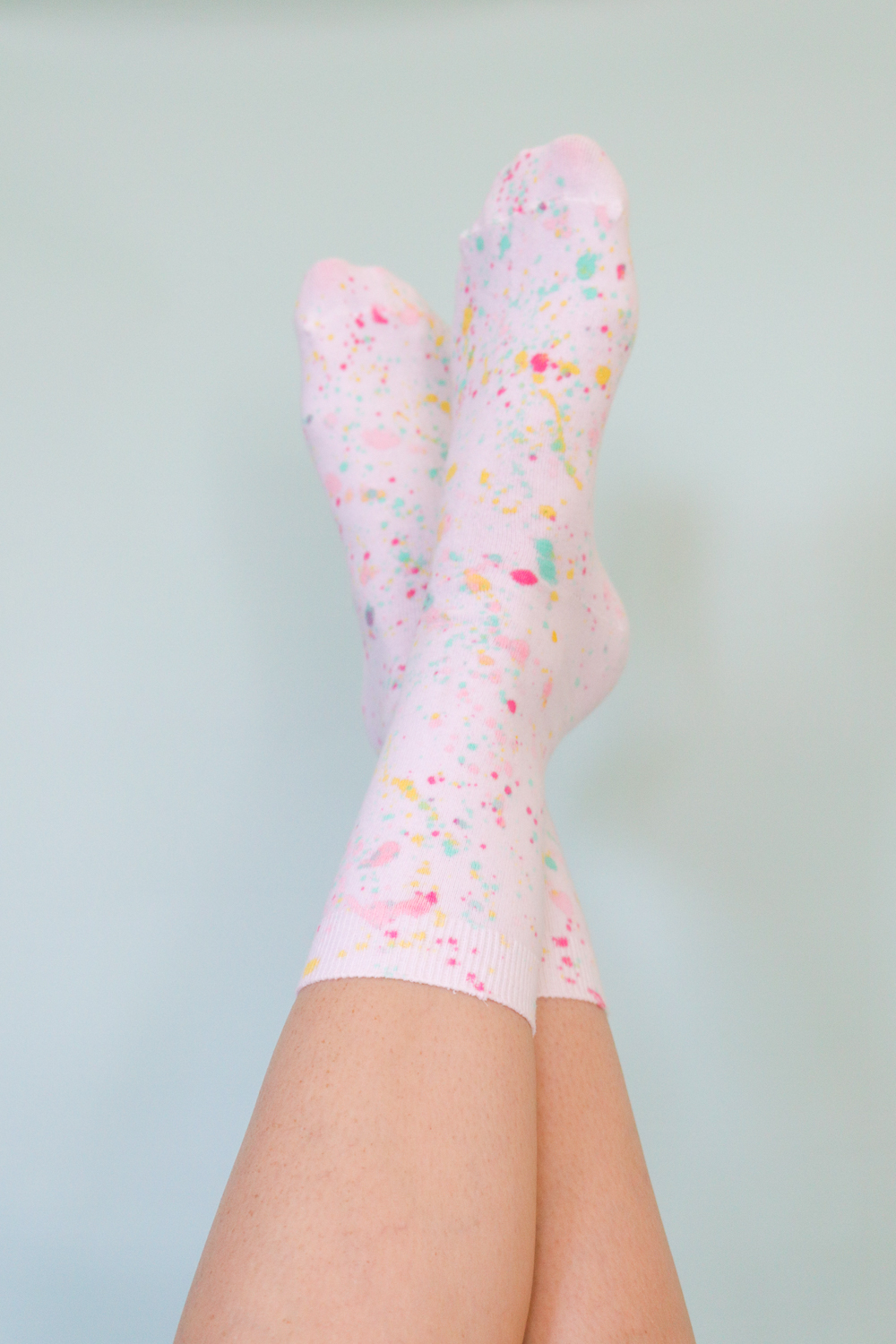 The 90s are back and I honestly don't mind at all. I love the reemergence of holographic backpacks, mom jeans, flair and splatter paint. When I was a kid, my sister (who is much older than me) had a bedroom with splatter painted walls. I thought it was the coolest thing in the world – still do actually – and wanted my room to look the same but my parents refused because of the labor involved and how hard it was to re-texture and repaint her walls afterward. Mom, I still hold a grudge for that…just kidding!
To celebrate my love of splatter paint and the 90s, I made these fun DIY splatter paint socks that are basically the perfect excuse to play with paint and make a mess!
To make these, I simply watered down basic acrylic paint in a few bright colors and used a brush to splatter it in small sections. Did I make a mess? Totally. Was it fun? Definitely. Luckily, the mess stayed on the newspaper I laid down, so no harm done!
By watering the paint down, you won't have a thick paint splatter texture left on the socks, which I think will make them last longer. While some of the color may fade after multiple wears or washes, they should hold up well if taken care of. They're fun to wear around the house (aka slide down the hallway Risky Business style) or add some colorful flair to an outfit.
Supplies:
White socks (thinner is better)
Acrylic paint, 4 various colors
Plastic cups
Paintbrushes
Newspapers or similar (for surface)
Gloves (optional)
Step 1: Add paint to multiple plastic cups and mix in a small amount of water to dilute it. Stir with the paintbrush until completely combined.
Step 2: Lay papers on a safe surface (outside is best) to protect from paint. Place the socks on the paper.
Step 3: Wear gloves if possible. Begin dipping paint brushes in the diluted paint and lightly tap over the socks to splatter it in small section. Repeat with all colors and allow to dry, which will be very quick if working outdoors in sunlight.
Step 4: Once the front has dried completely, flip over the socks and repeat. Allow to dry.
Once they've dried, these socks are ready to wear!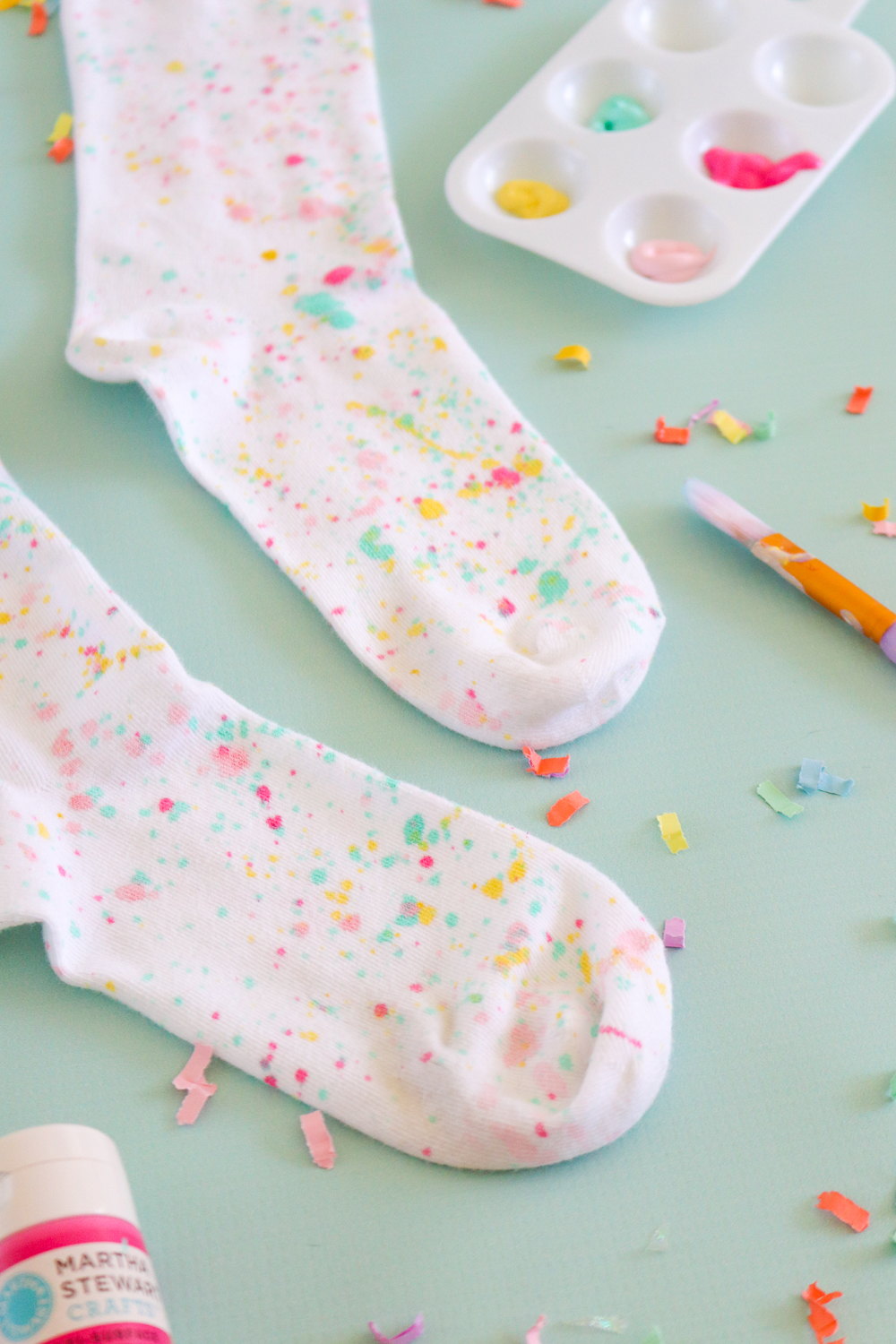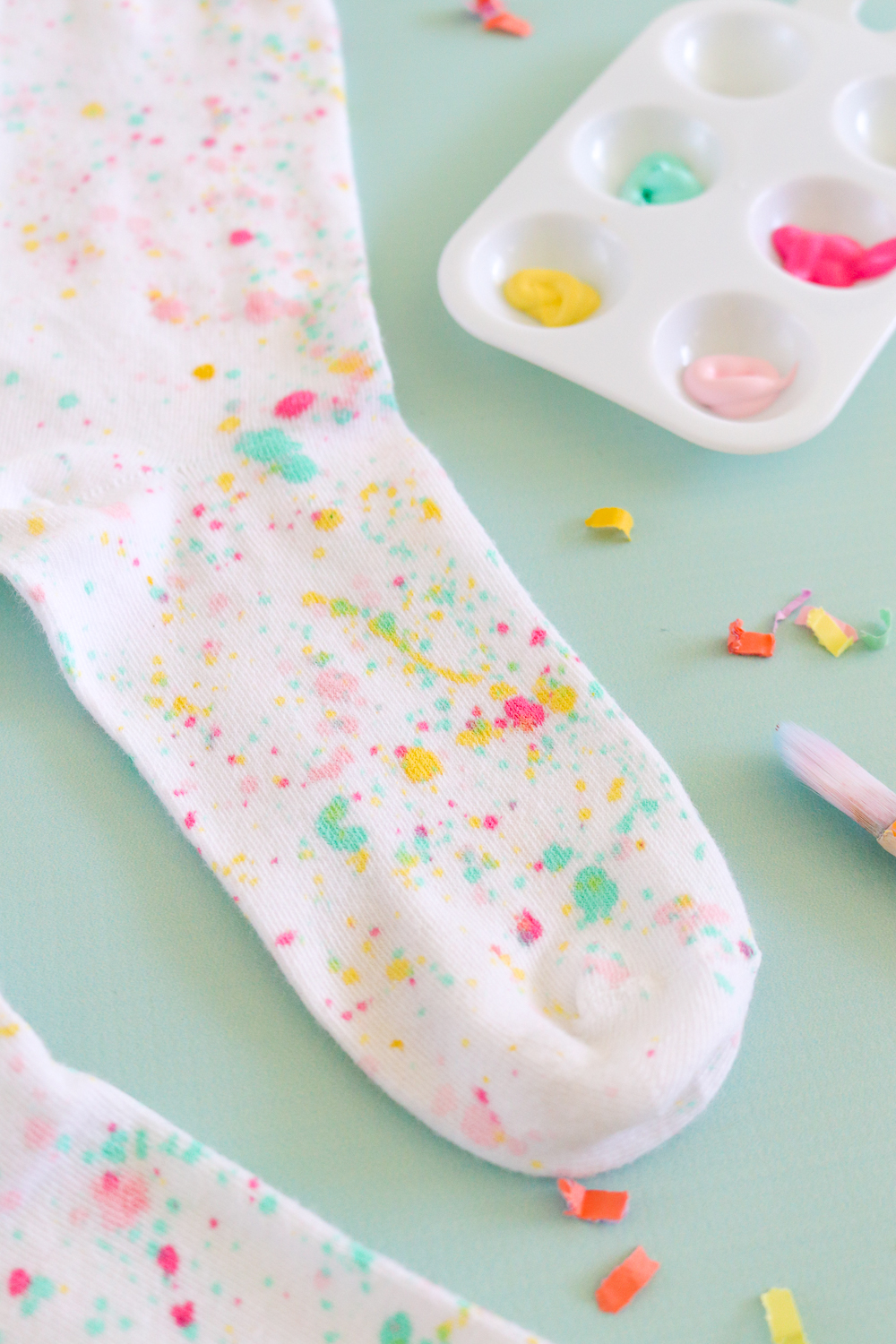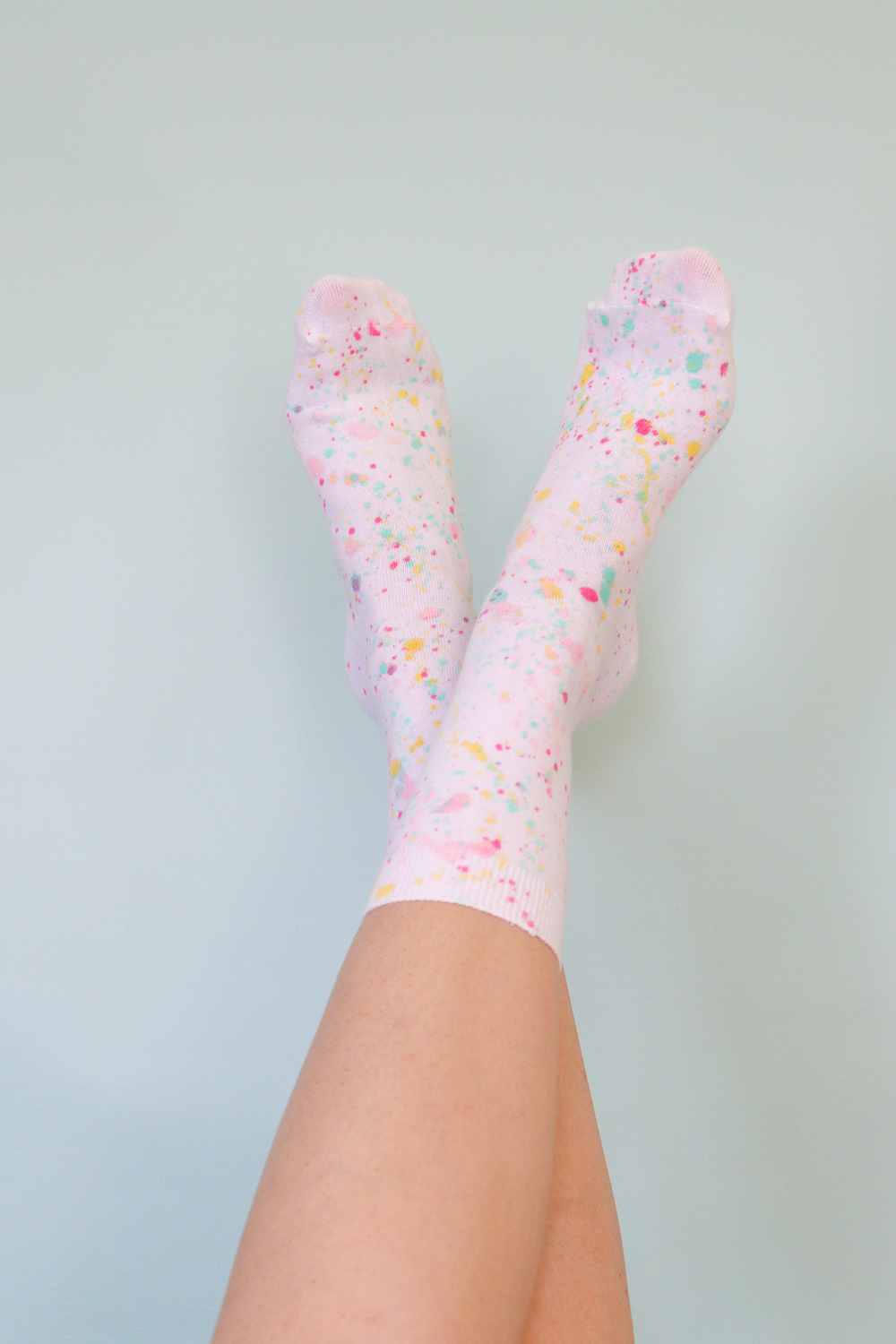 For best results, turn inside out to wash and hang dry. Because the paint is diluted, it doesn't feel thick on the socks, so they're still comfortable to wear and relatively easy to take care of.