/
DIY Rainbow Painted Grid Napkins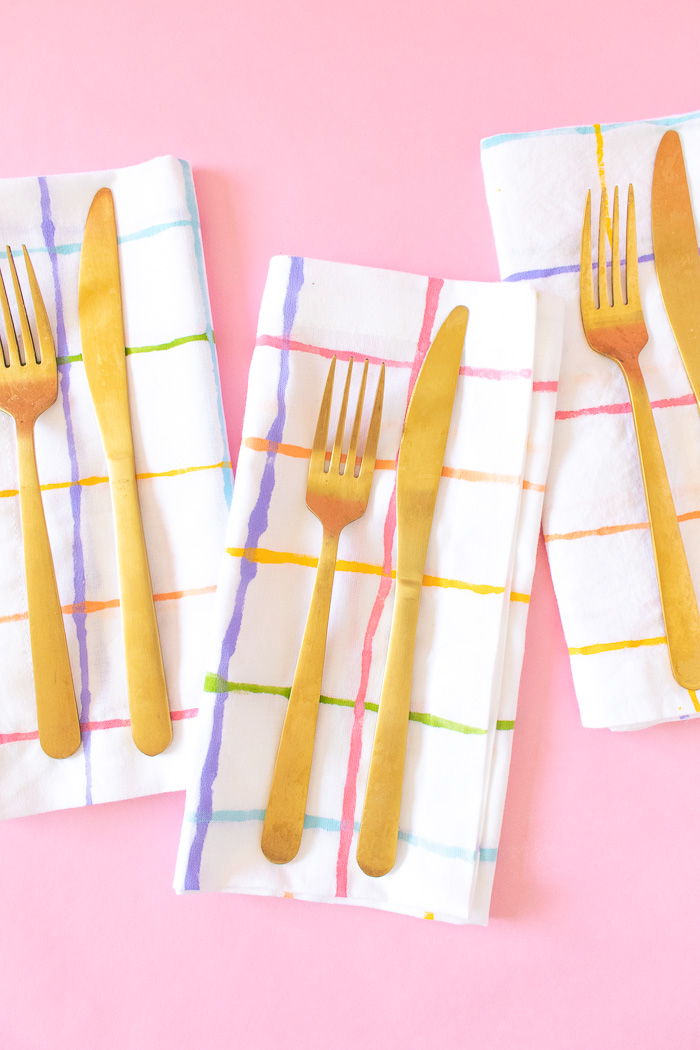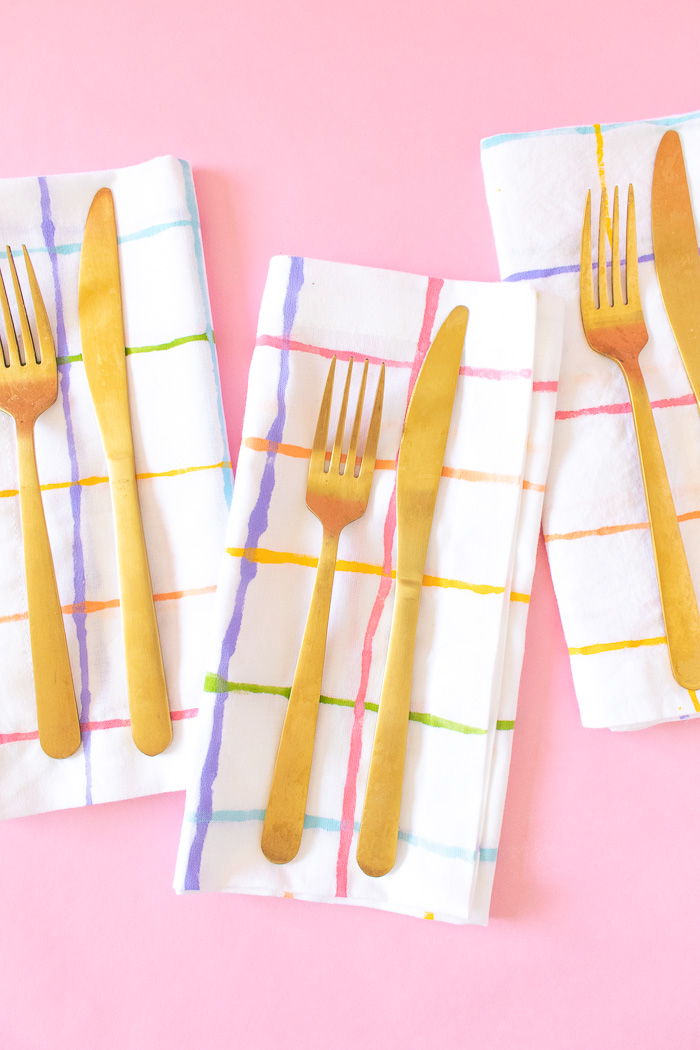 I'm really into grid patterns lately. I have one napkin I've used in a lot of styling with a thin black and white grid pattern, but I wanted something more colorful (obvi). Instead of searching for something that may not exist, I made my own rainbow painted grid napkins that are perfect for enjoying the rest of summer! Of course, I think these bright colors are great year-round, so they'll come in handy for any dinner party or other gathering. Because each line is hand-painted, they're certainly imperfect, which is just the way I like them. Use your favorite shades of the rainbow to make colorful DIY grid napkins that you can enjoy again and again!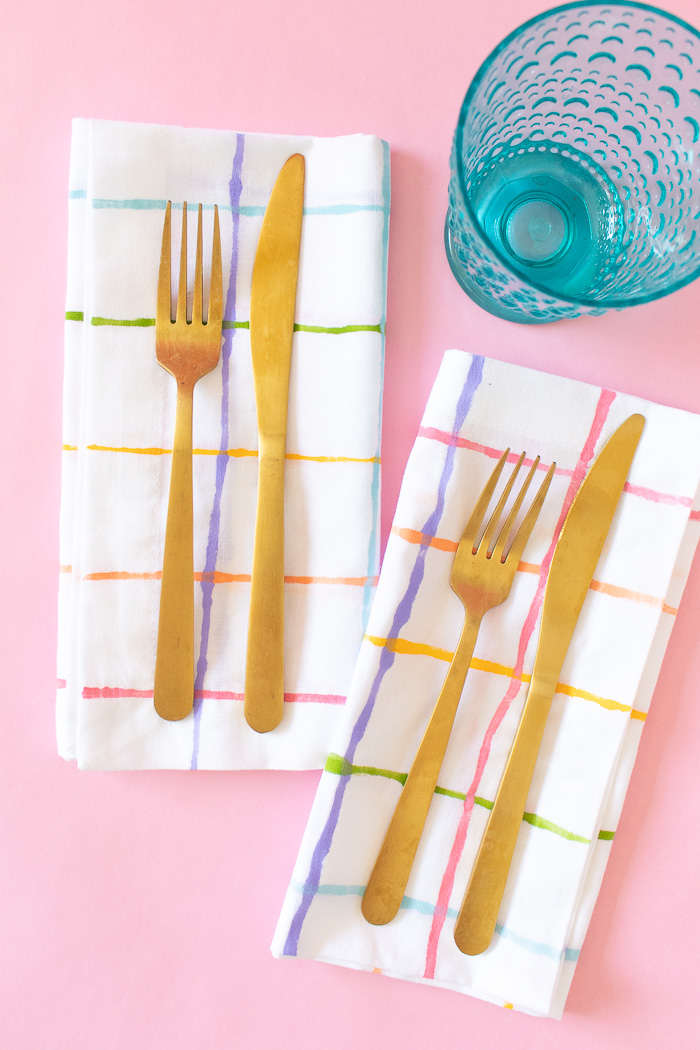 It's been harder and harder to find time to plan out my DIYs lately. Unfortunately, life gets in the way, so it felt good to sit down and just PAINT for a while.
I first tried making this idea with actual tie dye…which definitely didn't work. Dye bleeds, so that idea was quickly scrapped. I'm happy with how these painted grid napkins turned out, and I ultimately like these colors way more than the tie dye I attempted to use. Honestly, it takes a little while to complete, but it's easy enough to watch Netflix and just alternate painting straight lines in bright colors. I think these colors make up my ideal rainbow!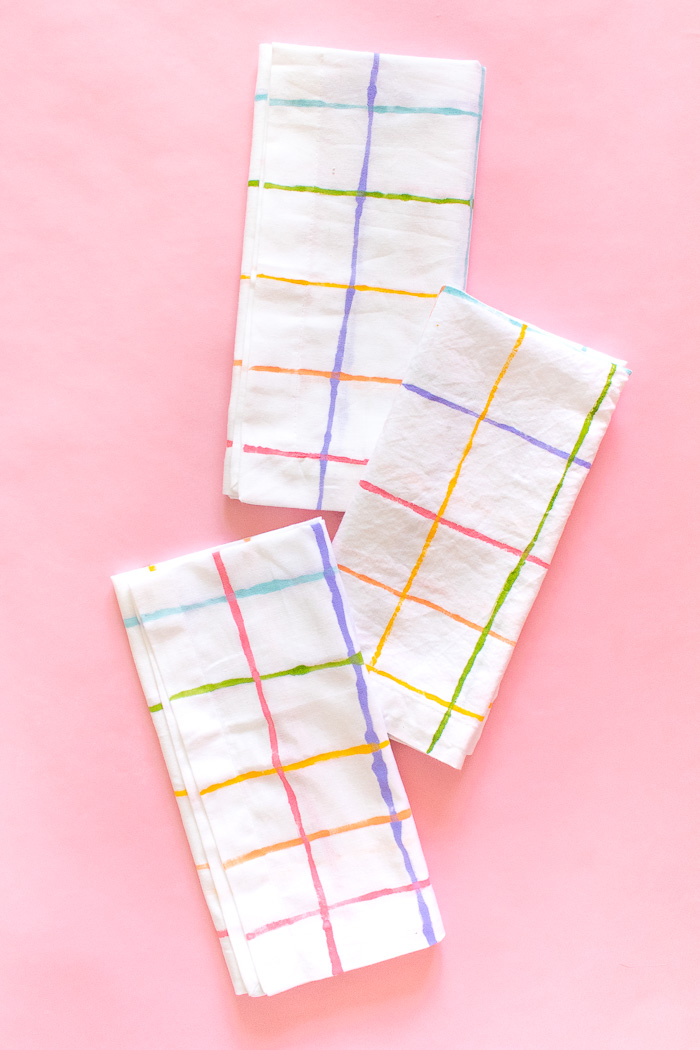 How to Paint Grid Napkins
Time: 30 minutes
Supplies:
Fabric-safe acrylic paint
White cotton napkins, pre-washed
Paint brushes (approx same size)
Mixing cups
Plastic bag, for work surface
Step 1: Iron the napkins to remove creases.
Step 2: Cover your work surface with a plastic bag. Avoid paper because the paint will stick to it. Lay out the napkin on top.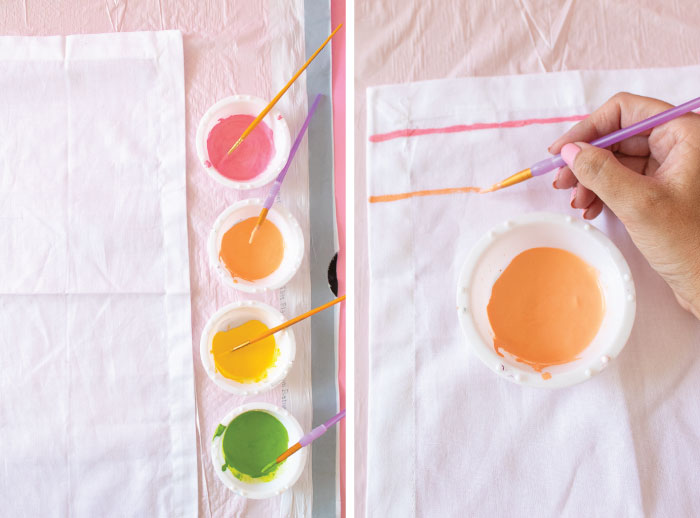 Step 3: Dilute the paint with a few drops of water so that it spreads easily (removing some of the raised texture). Begin painting straight lines across the napkins in a rainbow pattern, keeping lines about 1-1/2 inches apart.
Step 4: Once you have stripes all the way across, switch directions to make the grid. Let dry completely before removing from the plastic because the paint will bleed to the other side.
Note, I recommend starting each napkin off with a different color of your rainbow so that each one doesn't look exactly the same. When folded, you only see part of the grid, so this ensures variation.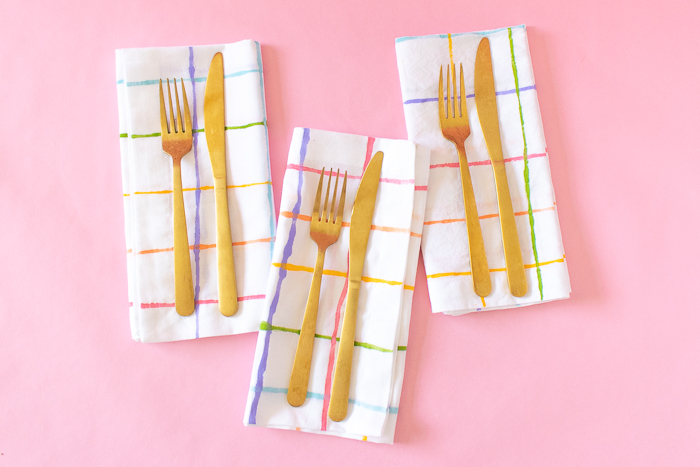 Of course, fabric napkins are meant to be washed, but I recommend hand washing these painted grid napkins just to be on the safe side. Enjoy adding these fun rainbow colored napkins to any occasion you host (I know I will)!