/
DIY Cornstarch Dough Ornaments: 5 Ways [+ a Video!]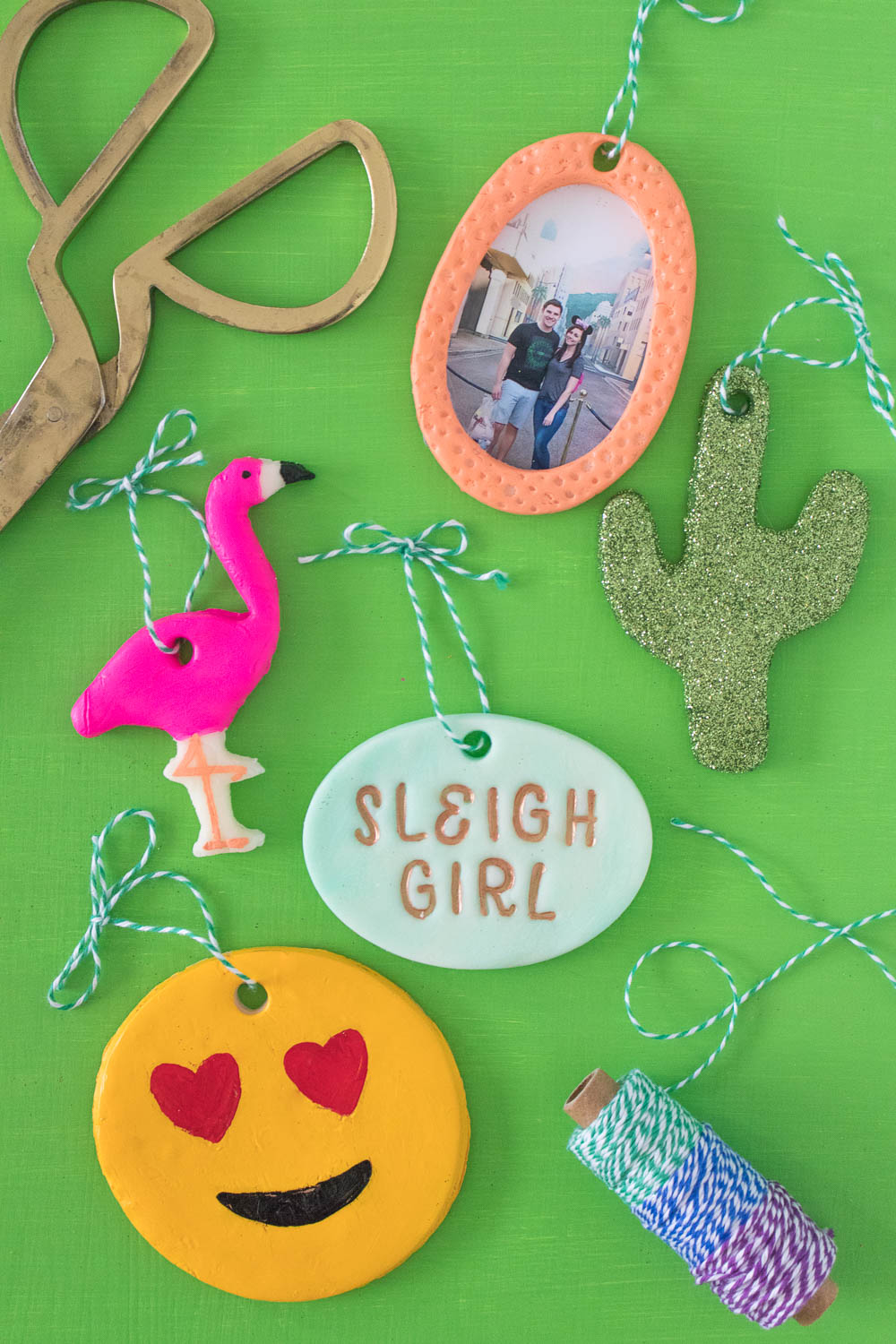 The following post is sponsored by Aleene's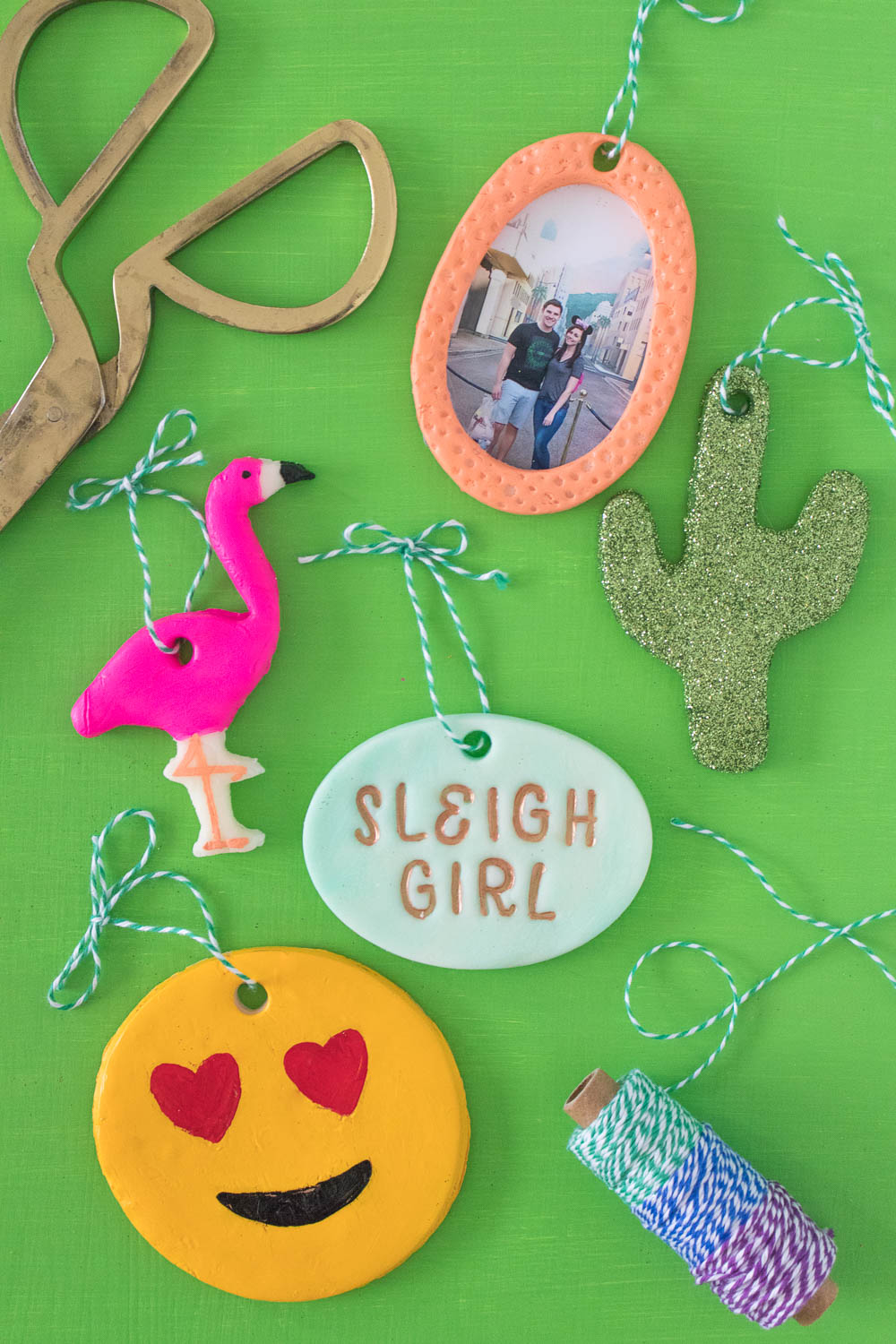 I can't even explain how thrilled I am for Christmastime, so I'm kicking off my holiday posts a little early! I couldn't wait until Thanksgiving to put up my tree this year, so it's fully decorated and I'm already itching for another full-sized tree in the house…if only. When Aleene's asked me to share five ways to make Tacky Glue and cornstarch dough ornaments, I knew they had to be unique!
This simple-to-make dough is easy to make with just two ingredients, and it forms a manipulative dough that feels like clay, so it's perfect for sculpting, cutting, etc. Use a variety of cookie cutters, stamps, paints, etc. to make unique ornaments like this cactus ornament, punny embossed ornament, flamingo ornament, textured frame ornament or emoji ornament to decorate your Christmas tree!
Check out my latest video to see how to make all five ornaments for Christmas!
Supplies:
Aleene's Tacky Glue
Cornstarch
Cookie cutters
Stamps
Straw
String
Paint
Paintbrushes
Step 1: Combine two parts cornstarch and one part Aleene's Tacky Glue (or 1 cup cornstarch with 1/2 cup glue) and mix well for 5+ minutes until a dough forms. If it's too sticky, add more cornstarch, or if it's too dry, add more glue. It should become smooth like a clay.
Step 2: Roll a section of dough with your hands and roll flat with a rolling pin until about 1/4 inch thick.
Step 3: Cut out shapes with cookie cutters, emboss with stamps, paint the dough while wet or tint the dough with paint in a plastic bag to create unique ornaments like these:
Cactus Ornament: Use a cactus cookie cutter to cut the shape out of dough. Paint with green and coat with green glitter.

Punny Embossed Ornament:

Add dough and paint to a plastic bag and mold until dough is marbled. Use small alphabet stamps to press a punny saying into a circle or oval ornament and paint over the words to bolden.

Flamingo Ornament:

Use a flamingo cookie cutter to cut the shape out of dough. Paint with pink, white and black paint.
Photo Frame Ornament: Cut a large oval out of dough, then cut a smaller oval out of the middle to create a frame. Decorate with any of the above techniques. Then glue a photo to the back of the frame shape with Tacky Glue.

Emoji Ornament:

Paint a circle ornament to look like your favorite emoji.
Step 4: Use the straw to cut a hole in the top of the ornament where it will hang.
Step 5: Set dough aside to dry out completely for at least 24 hours.
Step 6: Once dough has hardened, thread string through the holes in the ornaments and tie.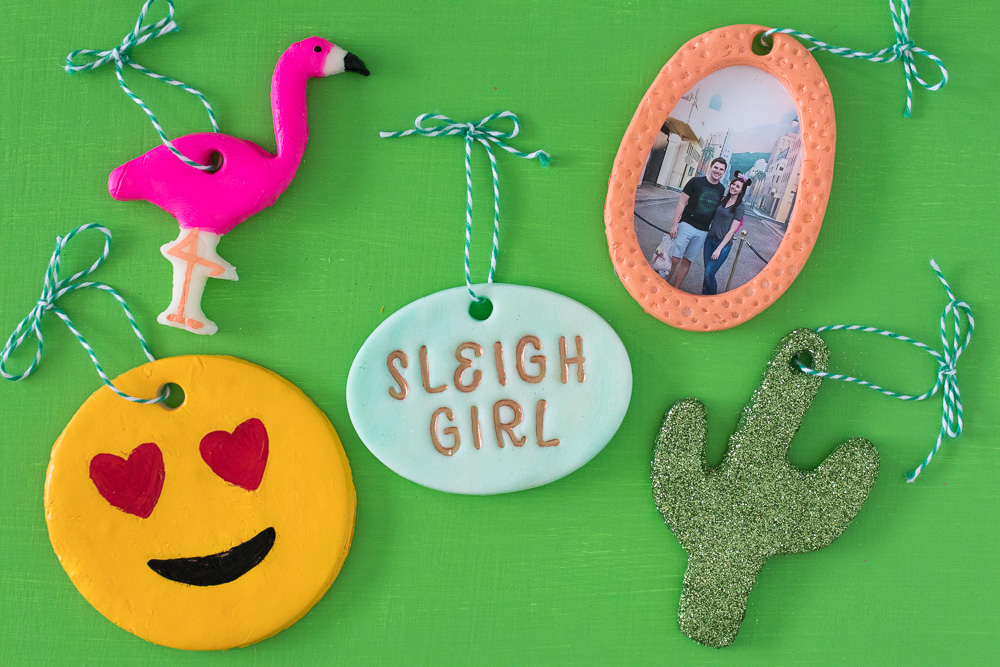 Now, hang on your tree to display for the holidays!
Thank you to Aleene's for generously sponsoring this post. All opinions are my own. Thanks for supporting the brands that support Club Crafted!