/
Rainbow Freak Cake Ice Cream Cake Hack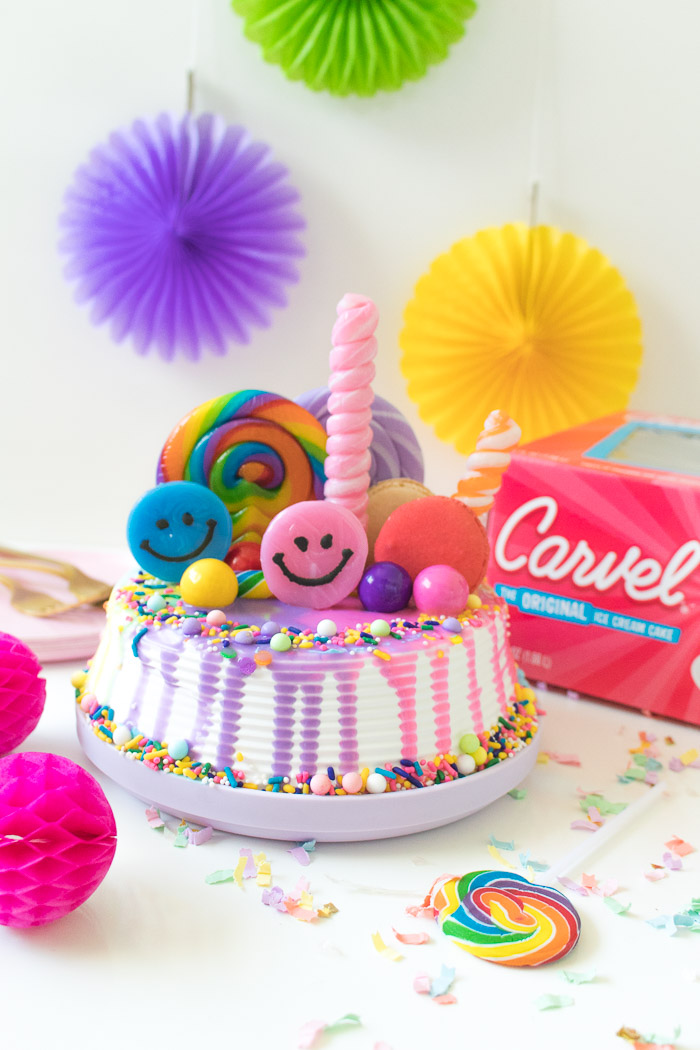 This shop has been compensated by Collective Bias, Inc. and I Love Ice Cream Cakes. All opinions are mine alone.
#IceCreamCakeBreak #CollectiveBias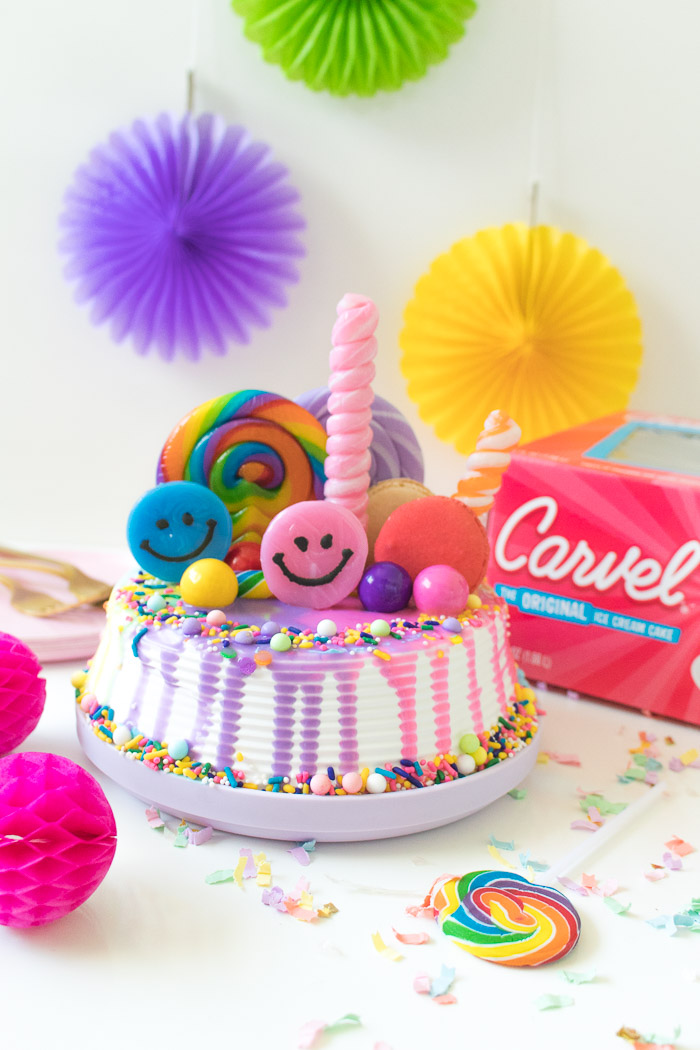 Is there ever a bad time for ice cream? The answer is no. It's always the right time for ice cream.
In today's case, it's actually always the right time for ice cream CAKE, especially during this hot summer. No matter what you're celebrating this week (like a Tuesday), this over-the-top rainbow freak cake ice cream cake will be the highlight of the day. I should probably start with the obvious question…what is a freak cake? Well it's a cake that's all about crazy toppings! I used a round Carvel® Ice Cream Cake by I Love Ice Cream Cakes as the base for this rainbow freak cake, glazed with a rainbow white chocolate drip and a variety of colorful candy toppings. They look almost too pretty to cut into, but since that good 'ol ice cream cake is pre-made for you, it's not much work to turn it into a glorious rainbow freak cake. You'll want one of these ice cream cakes for every occasion from now on!
Whatever your next occasion to celebrate, you can grab a cake by I Love Ice Cream Cakes from the freezer section of many grocery stores. Find a store near you that offers I Love Ice Cream Cakes by clicking here. If you've ever tried to make an ice cream cake from scratch (ugh, been there) you may know that it's a million times easier to leave it to the pros and just swing by the grocery store for a Carvel cake instead.
Plus, July is National Ice Cream Month, so that is one perfect reason to celebrate with an ice cream cake!
(Psst, scroll down for details about the sweepstakes!)
How to Make a Rainbow Freak Cake
Supplies:
10 oz. white chocolate
10 oz. heavy cream
Food coloring, 5-6 colors
Angled spatula
Small heat-safe mixing bowls
Spoons
Rainbow sprinkles
Rainbow or colorful lollipops and other candy or cookies
Remember, the most important thing about decorating an ice cream cake is making sure it stays frozen! Move it back to the freezer as needed to prevent melting.
First, grab your ice cream cake! I picked mine up in the freezer of the bakery section of my local Vons.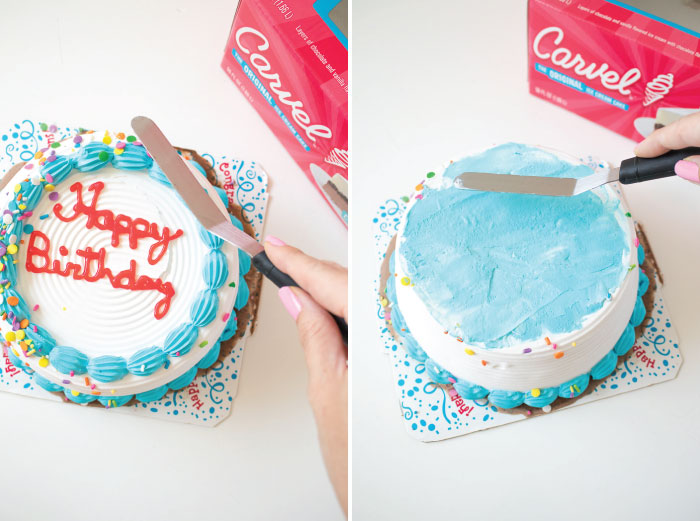 Step 1: Use a spatula to smooth out the top frosting. As pretty as it is, we can't add that signature freak cake drip unless it's flat. Move back to the freezer while you make the ganache.
Step 2: To make the ganache, you'll use equal parts cream and chocolate. Heat the cream in the microwave for about 45 seconds until warm. Mix in white chocolate and heat in 30 second intervals until you can mix them together smoothly. Once the chocolate has completely melted into the cream, pour the ganache into multiple small bowls.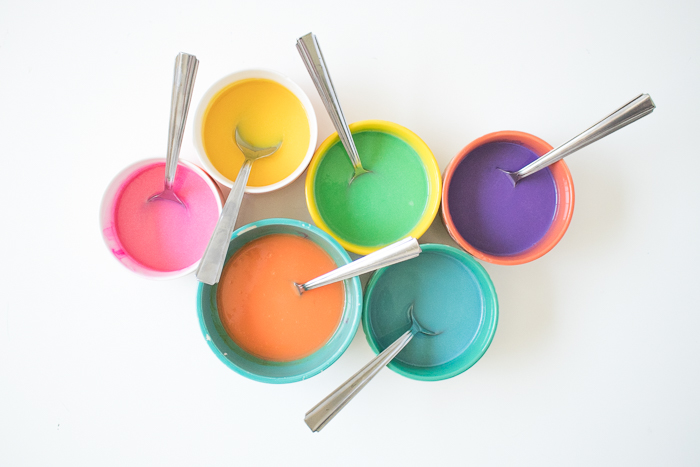 Step 3: In 5-6 bowls, stir food coloring into the ganache so you have a bowl for each color of your rainbow. Allow ganache to cool, which will also allow it to thicken.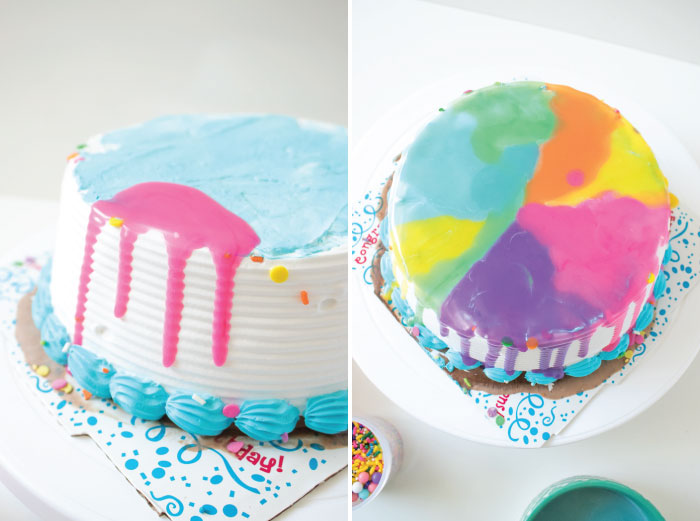 Step 4: Remove the cake from the freezer. Use a spoon to carefully push small amounts ganache over the edge of the cake and create the drip. Alternate colors either randomly or in a rainbow pattern. Then add ganache to the top and allow the colors to blend together like tie dye.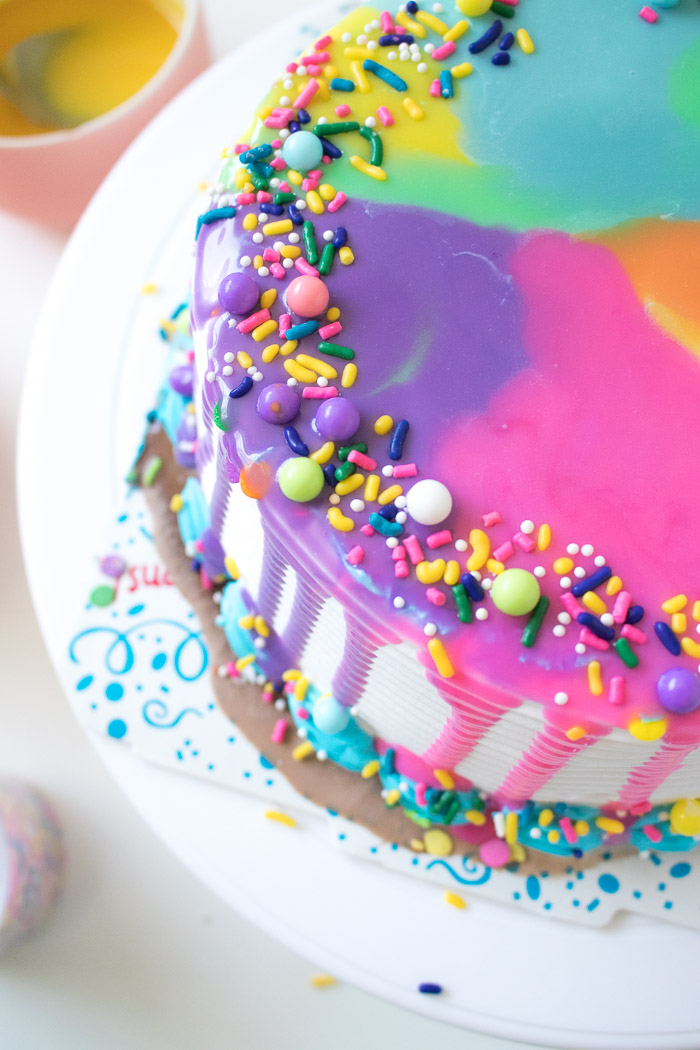 Step 5: Immediately sprinkle the edges with rainbow sprinkles. Move the cake back to the freezer to set.
Step 6: If using lollipops for toppings, cut the sticks so that they will fit entirely into the cake.
Step 7: Once the cake is properly frozen and the ganache has set (it may continue to drip in the freezer), remove it and stick lollipops into the cake. Note the front of the cake and place larger pieces at the back and smaller pieces toward the front. Fill in with other colorful candies, sprinkles or cookies. Due to the size of my serving plate, I also filled in the bottom of the cake with extra sprinkles.
Move the cake to a serving platter or stand if desired and cut immediately to reveal the tasty layers of chocolate and vanilla ice cream with a crunchy center inside! I'm not ashamed to admit I ate WAY too much ice cream cake all by myself.
Did I mentioned my friends over at I Love Ice Cream Cakes are hosting a sweepstakes that awards one lucky winner a $500 gift card for the Ultimate Ice Cream Cake Party?! As a bonus, you can check out the sweepstakes every day in July for chances to win daily prizes and additional entries toward the $500 grand prize!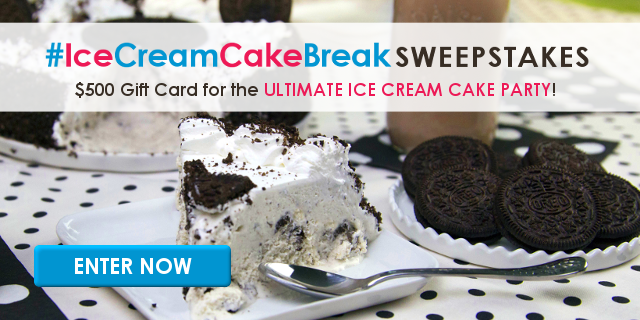 No Purchase Necessary. The #IceCreamCakeBreak #Sweepstakes begins on July 1, 2018 at 12:00:00 AM ET and ends on July 31, 2018 at 11:59:59 PM ET. There are Daily Drawings and a Grand Prize Drawing during the Sweepstakes. Legal residents of the 50 US/DC only 18+. Void where prohibited. By participating, you agree to the Official Rules at http://cbi.as/a20zy.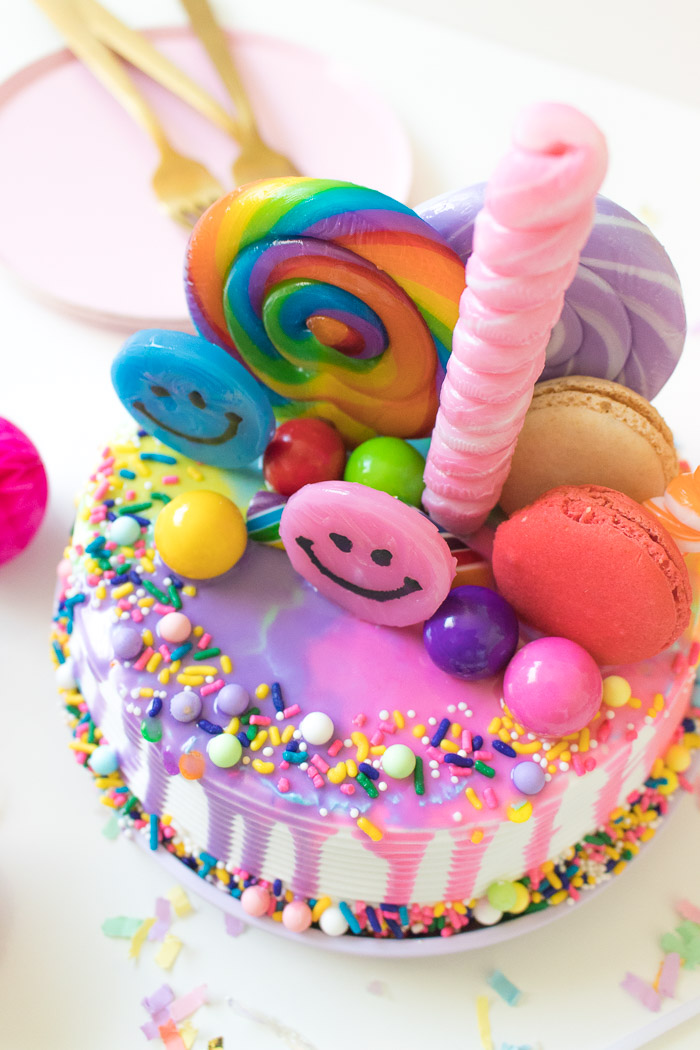 This is the easiest ganache recipe ever with only two equal-part ingredients, so it's easy to whip up and drip over your cake. The rest is just throwing the rainbow kitchen sink all over the cake, ha! Check the candy aisle of your grocery store or a party store for colorful candies to decorate the top, or even leave that pretty tie dye rainbow drip to speak for itself. Add a cake topper or candles for special occasions, and this cake is truly a treat for every type of celebration.
Now excuse my while I eat the other half of this rainbow freak cake waiting for me in the freezer to celebrate the fact that it's not Monday!