/
How we Modernized our Front Door (Just in Time for Christmas!)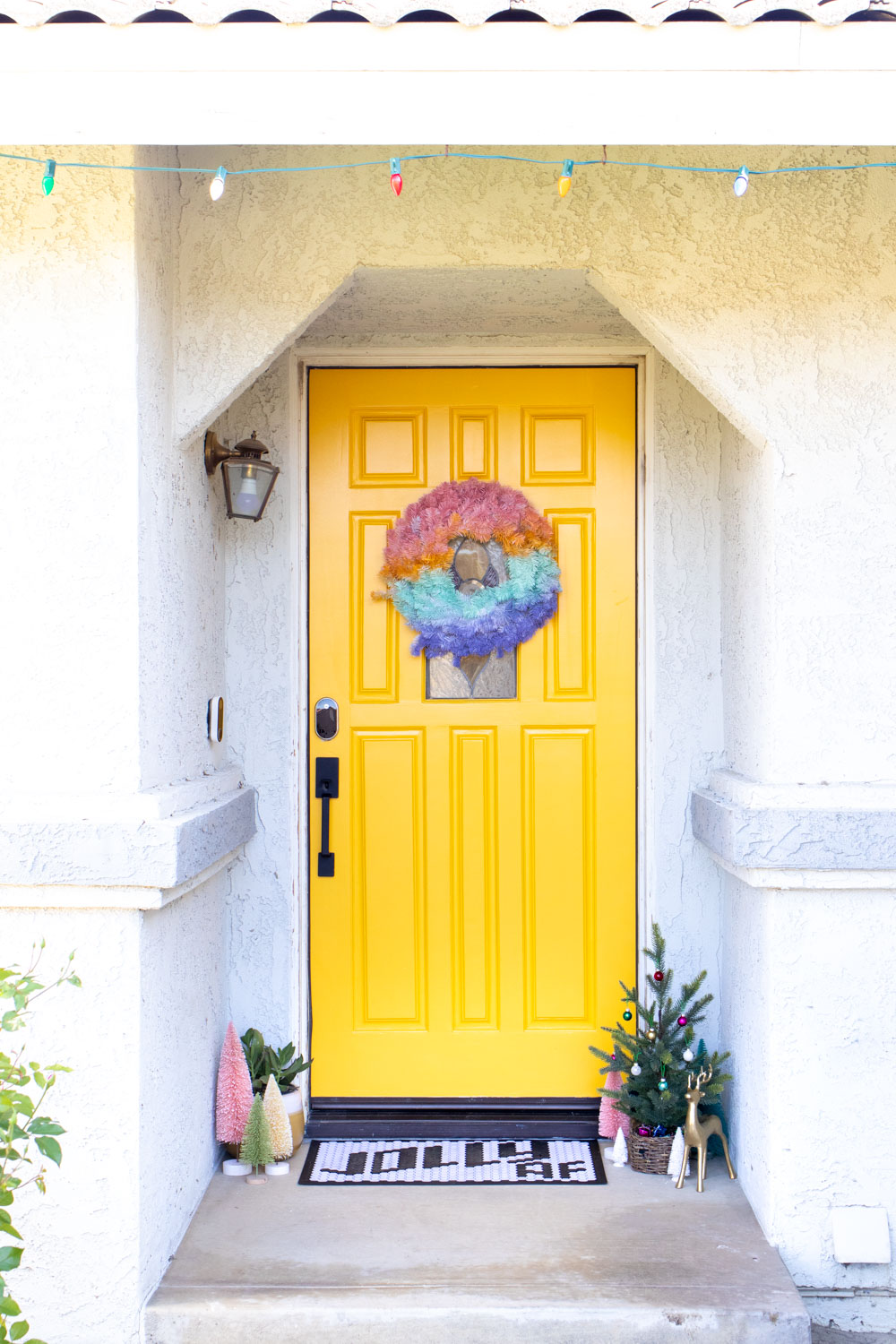 I teased a while back about the new color of our VERY 80s front door…it's YELLOW! Our front door was completely beat up when we first moved in, and it had an ugly privacy screen that was hard to open and close. We wanted to replace the lock immediately (something you should always do when you first move in), so it made refinishing and modernizing our front door a priority. To modernize our front door, we gave it a new, bright paint job, installed a smart lock and replaced the hardware with sleek, modern alternatives. Sure, I would have LOVED a brand new door! But do you have any idea how much a nice, modern front door costs?! Fixing up the indoor and outdoor trim is still on the to-do list. Like I said, this door was SO beat up, and the outside trim will need major TLC to look good. We also are hoping to replace that ultra-80s light fixture very soon! Here's the process we followed to makeover our old front door.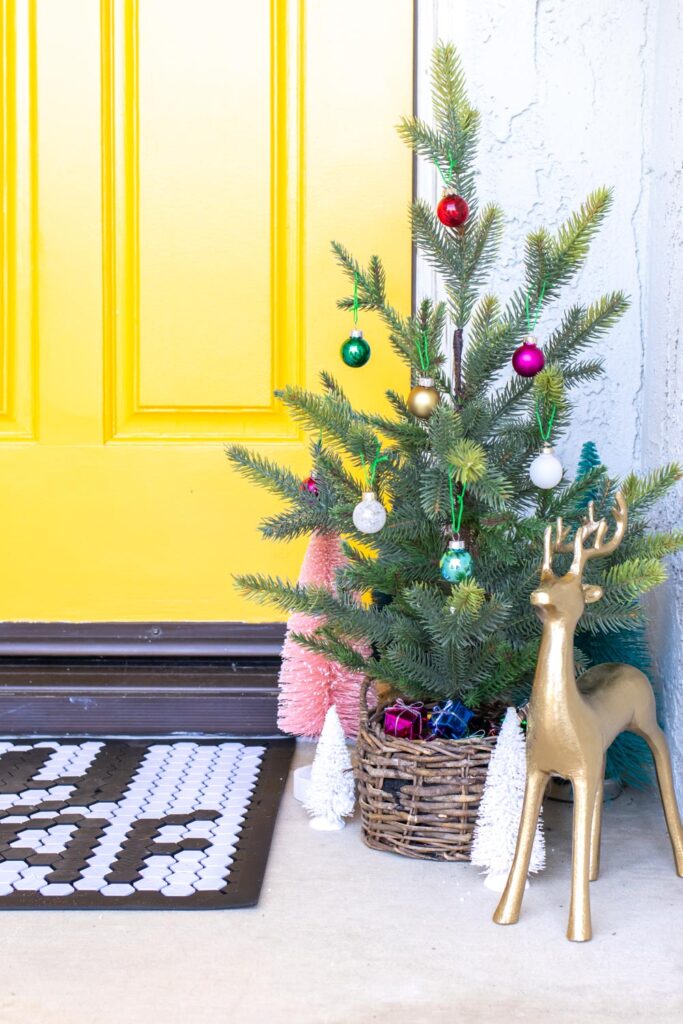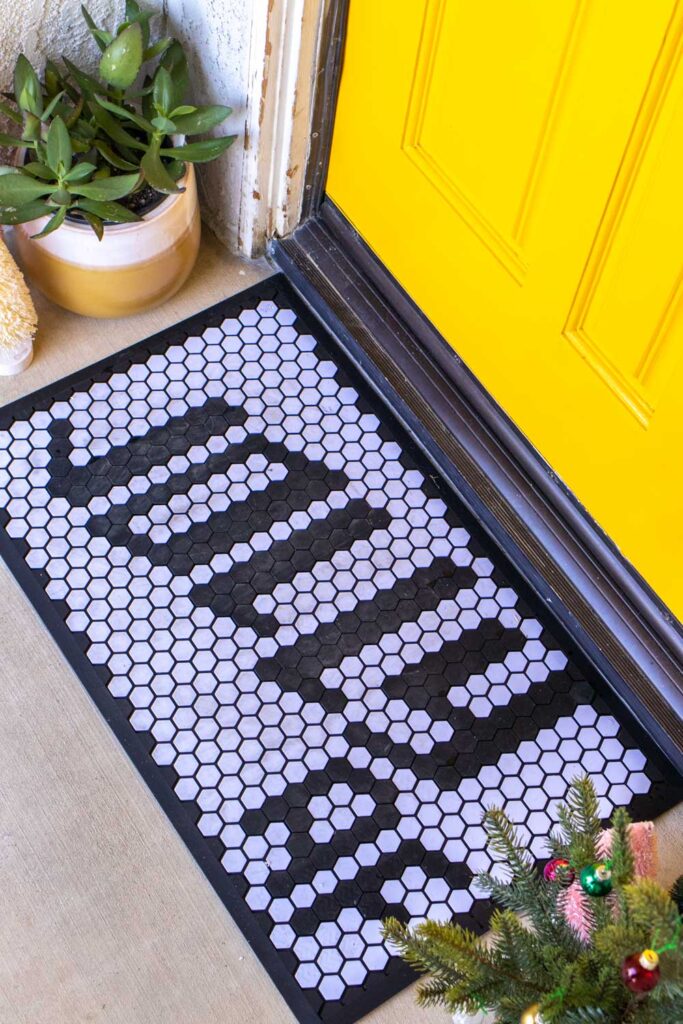 First of all, this dang door was a labor of love for the whole family. Andrew's step dad was tremendously helpful with this and our other home reno projects. He did ALL of the sanding, cleaning and repainting himself, and it came out beautifully. Everyone looked at me confused when I shared the bright yellow I wanted for our door, but by the end, I made everyone a believer, ha! Because the stained glass has hints of brown (yuck!) and a bit of amber, I wanted to bring out that yellow tone with a bright yellow door. Go bold or don't go at all, right?!
Andrew is dedicated to making our house as "smart" as possible, so he started picking out smart locks long before we actually bought the house. Thankfully, our sister-in-law was also available to help with the smart lock. It gave us such a headache! This door was DIYed so horribly over the last 30+ years that nothing would line up properly with new locks and hardware. Now, the lock works perfectly and it's proved very convenient. Ultimately, it was worth every penny!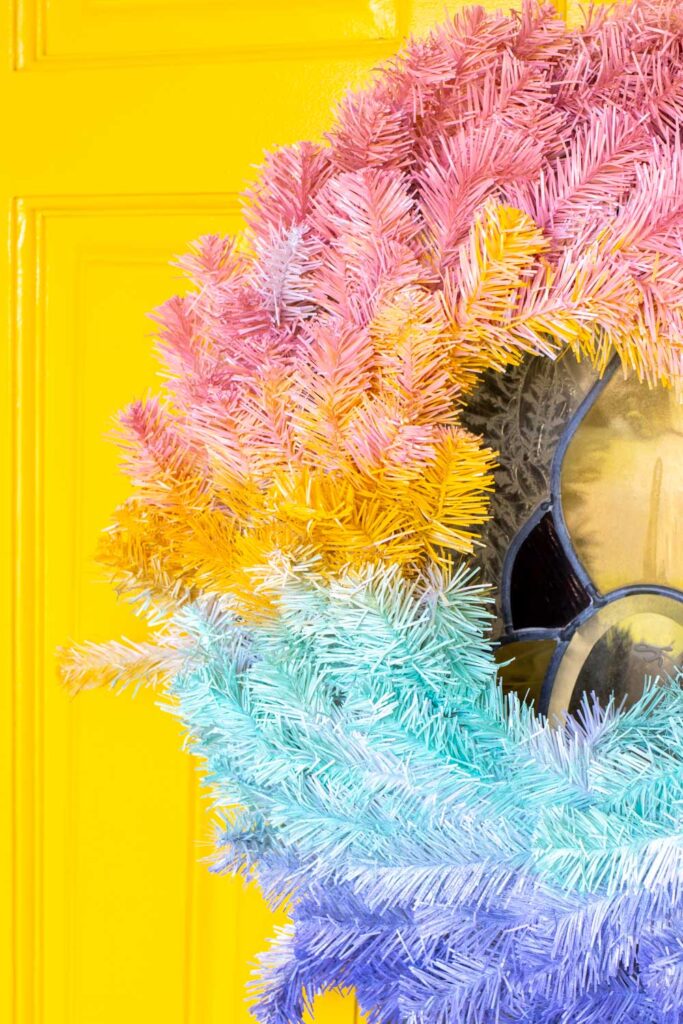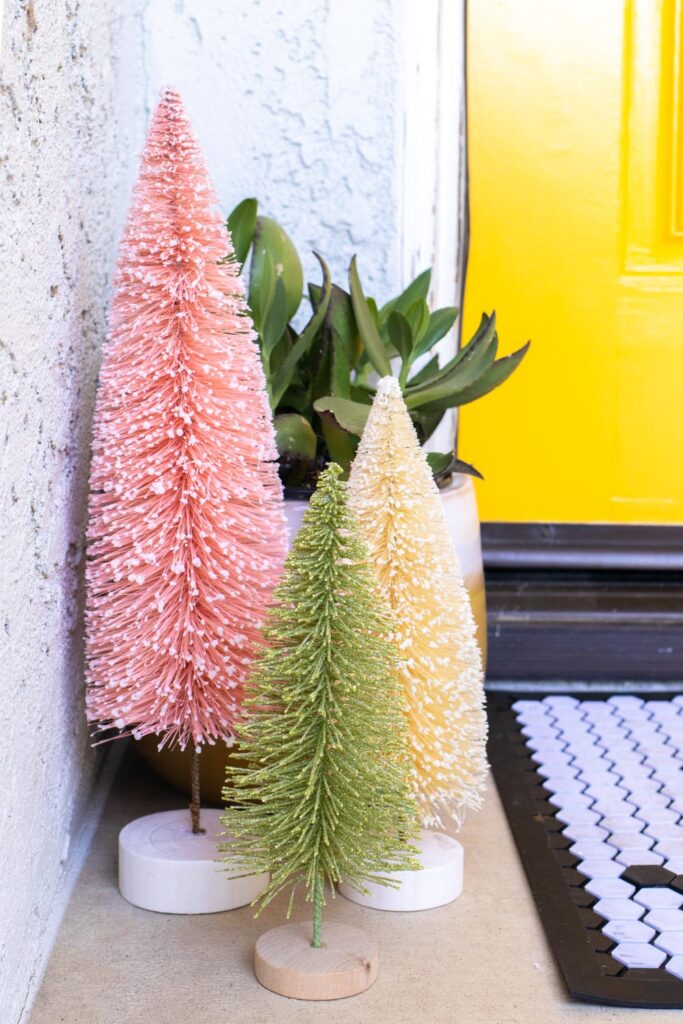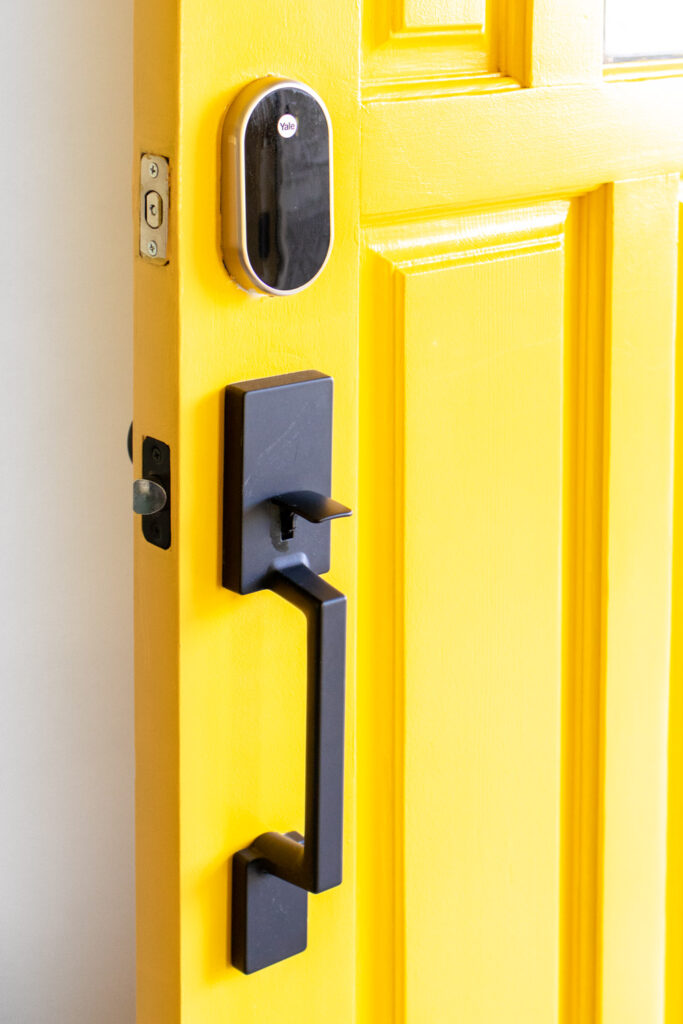 How to Modernize a Front Door of Any House
So, what does it take to modernize your front door too?! Paint and new hardware will make a bigger difference than you can even imagine. It still amazes me that this is the same door we started with. Our hardware is from Harney Hardware, and I absolutely love it. We also swapped the door hardware on our back french doors. Normally, I wouldn't use a lot of black in my home decor, but I'm warming up to it. As I shared in a previous post, our outdoor areas emphasize a black and white theme a lot more, so I thought it made sense to continue that through to the hardware. Plus, despite my love of brass hardware, it would not have matched the yellow. A long black handle definitely gives it a more modern appearance anyway!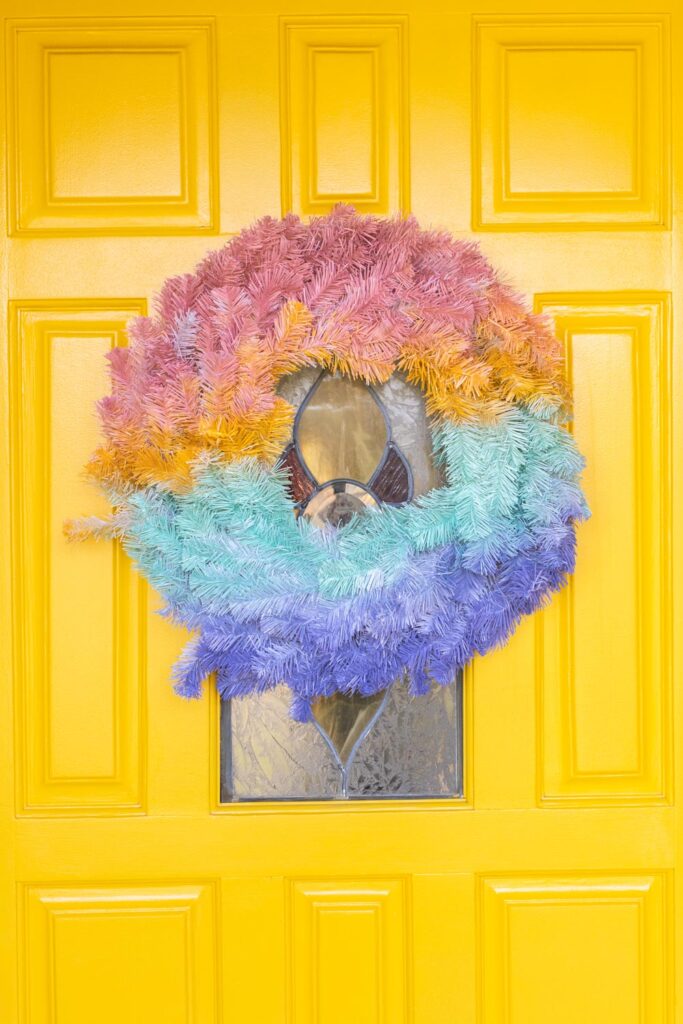 I found that adding other features on your front porch can also take away from things you may dislike about the original door. In our case, that's the stained glass and beat up trim. Now it's slightly obscured with my DIY gradient wreath for the holidays. When it comes to decorating a front door, I love wreaths…but I'm still not in love with adding a wreath over a stained glass window like this. Anyone have other ideas for me?! For Halloween, I had a small pumpkin sign on the wall next to it (taking attention away from the glass) and pumpkins set on the ground. The front porch is very small, so it was important for me not to overdo it…like some of those bottlebrush trees might have to come inside.
Our biggest issue here in the SoCal desert is dust. UGGGH I don't know where it all comes from! I find that it helped to choose items for our front porch that I knew I could easily wipe down to remove the inevitable dust.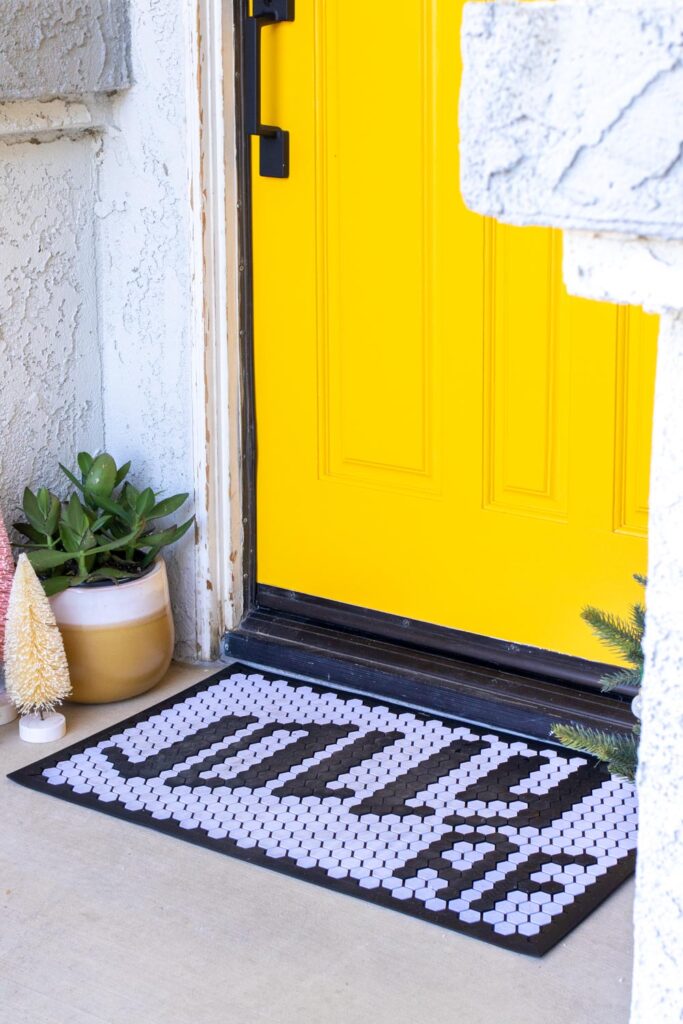 Then I added my new graphic doormat from Letterfolk. I have wanted this mat for SO LONG! It's my favorite purchase recently, and I can't wait to switch it up with the seasons. Right now, I'm ready for Christmas and can't wait to keep the decor going through January. Andrew and I hung our outdoor Christmas lights recently as well, and it makes me feel very nostalgic for the lights my dad hung when I was a kid. It's feeling very magical this season! We'll see what comes next!
Painting your front door isn't particularly difficult, but it is a labor of love. When using a bright color like this, it takes a lot of time and patience to paint each small divot, and this yellow took at least three coats, plus 1-2 coats of primer, to be finished properly. It's absolutely worth the end result though! I can't wait to check back soon with more updates on our front porch (and more). Happy holidays!