/
Fall Cake Stencils with Templates (+ 3 Ways to Use Them!)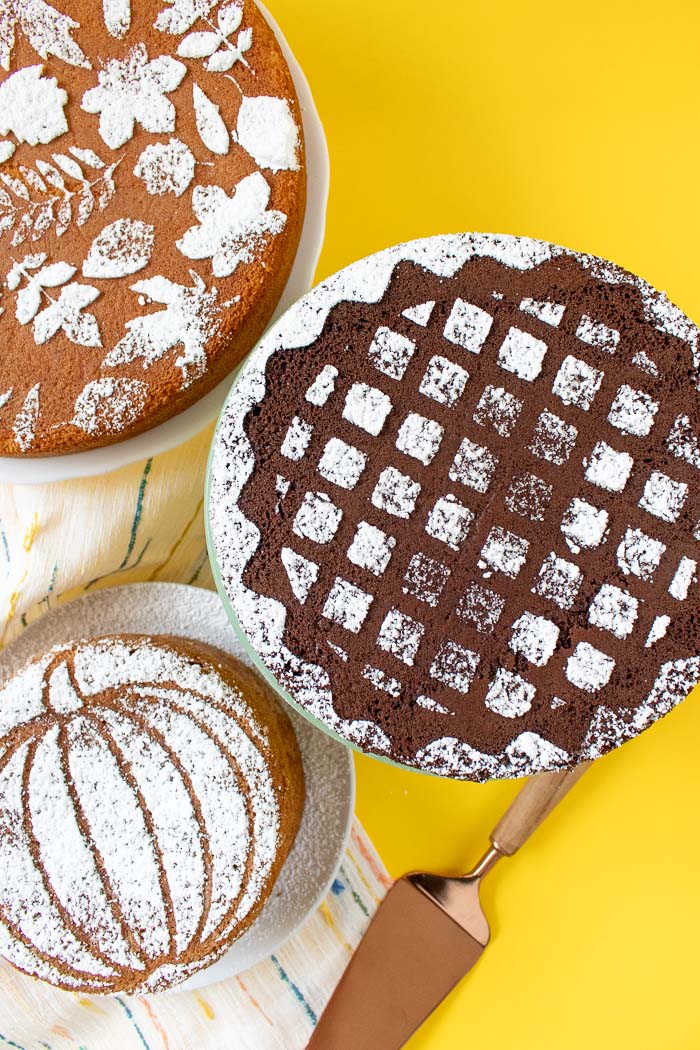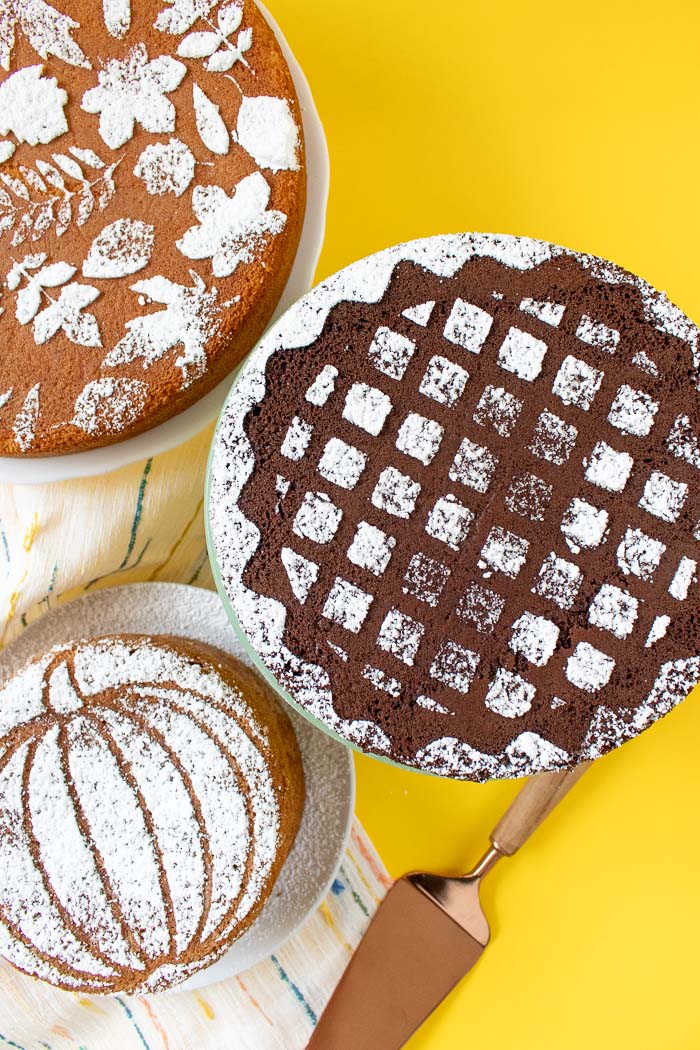 Sometimes, it's just about the cake, not the frosting. Most of the time, I'll admit that I prefer a good ratio of the two together, but some people don't like frosting (aka, weirdos! JK). Luckily, there are multiple ways to decorate a cake, so I'm switching it up with this easy cake decorating idea using fall cake stencils! Simply use the templates below to make THREE fall cake stencils you can adjust to the size of your cake to decorate tops with a generous dusting of powdered sugar. Cake decorating never got easier! My personal favorite cake stencil is the leaves, but all three are perfect for a variety of occasions this season, including fall get-togethers and Thanksgiving. Which pattern is your favorite?
I've been so frantic with work lately, so I'm sorry my posts are not staying on schedule. Fall is actually my busiest season!
I feel like I've had some form of cake in my fridge constantly lately, and I have MORE on the way! I just love the intricate patterns these basic printable stencils can make. Making the leaf patterned one, I was really worried it wouldn't look good, but the powdered sugar catches even the thinnest lines. You have three templates to choose from below – a pumpkin, a PIE and the leaf pattern. Adjust them to your desired size to fit any cake!
How to Use Cake Stencils:
Step 1: Cut them out according to these PNG cake templates: pie cake stencil | leaves cake stencil | pumpkin cake stencil
For best results, upload the files to a Cricut or Silhouette cutting machine and remove the white areas of the images. Adjust to your desired size to cut. However, you can also print the templates and use a craft knife to cut out the negative spaces.
Step 2: Build a layer cake or a single layer of cake and leave it uniced. Place cake on a plate or cake stand.
Step 3: Place the stencil on top and press lightly, especially on the really thin lines. Anything OPEN will be sugared. Using a sifter, add a couple spoonfuls of powdered sugar. Sift a little powdered sugar at a time straight over the top of the stencil, moving around so that it does not build up in one spot.
Step 4: Once satisfied, carefully pick up the stencil (do not tilt) and move over to your sink to dump the sugar buildup. Now your cake is stenciled for fall!
Note, the sugar will seep into the cake over time, so it's best to sugar the cake right before serving. However, I tested re-sugaring the cake on the pumpkin one and it worked just fine, but this was the least intricate stencil.
Serve for any upcoming fall gathering for cakes that will impress! More fall ideas to come!
PS, did my pumpkin pie cake is my favorite fall cake idea!