/
DIY Punny Cactus Notebook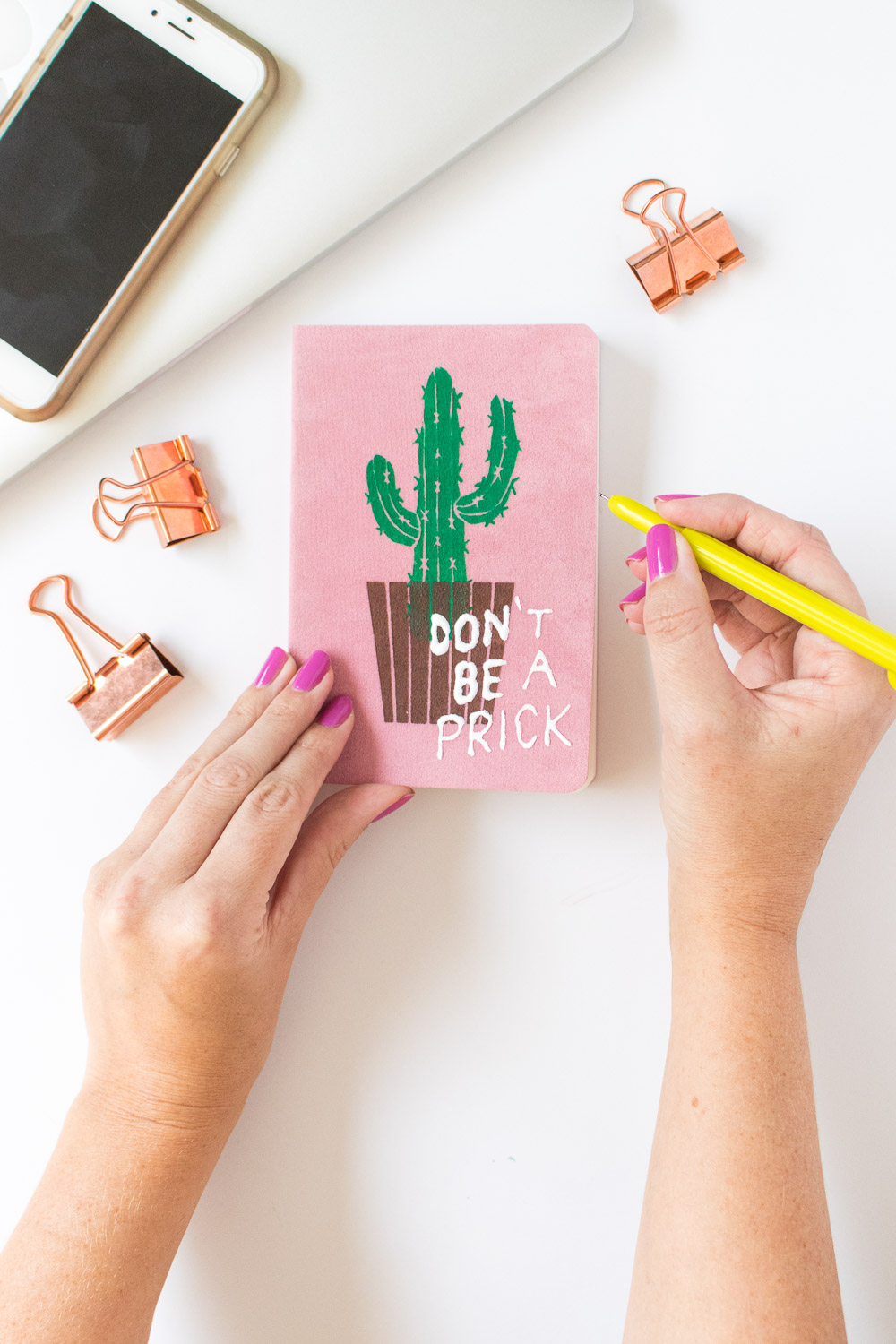 The following post is sponsored by Tulip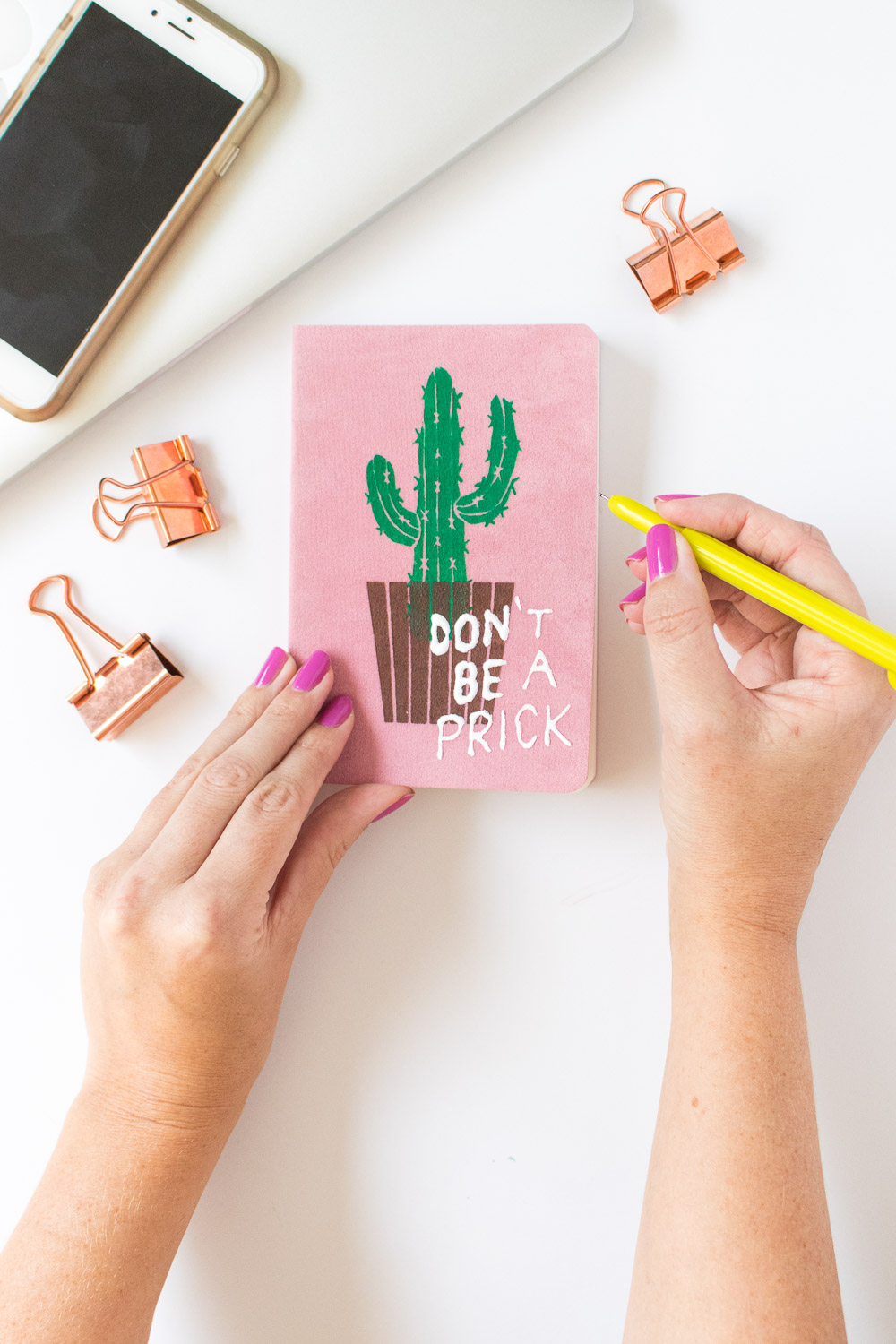 You know I love a good pun! Since I also have a love for office supplies, I was quick to turn one of my favorite cactus puns into a saying on a new notebook. After all, in my line of work, I go through all sorts of random thoughts and to-do lists in my notebooks so I can never, ever have too many. Now this DIY punny cactus notebook is my new favorite to keep track of my weekly to-dos, and best of all, it gives me a little smile every time I pull it out. That's what's really important, right?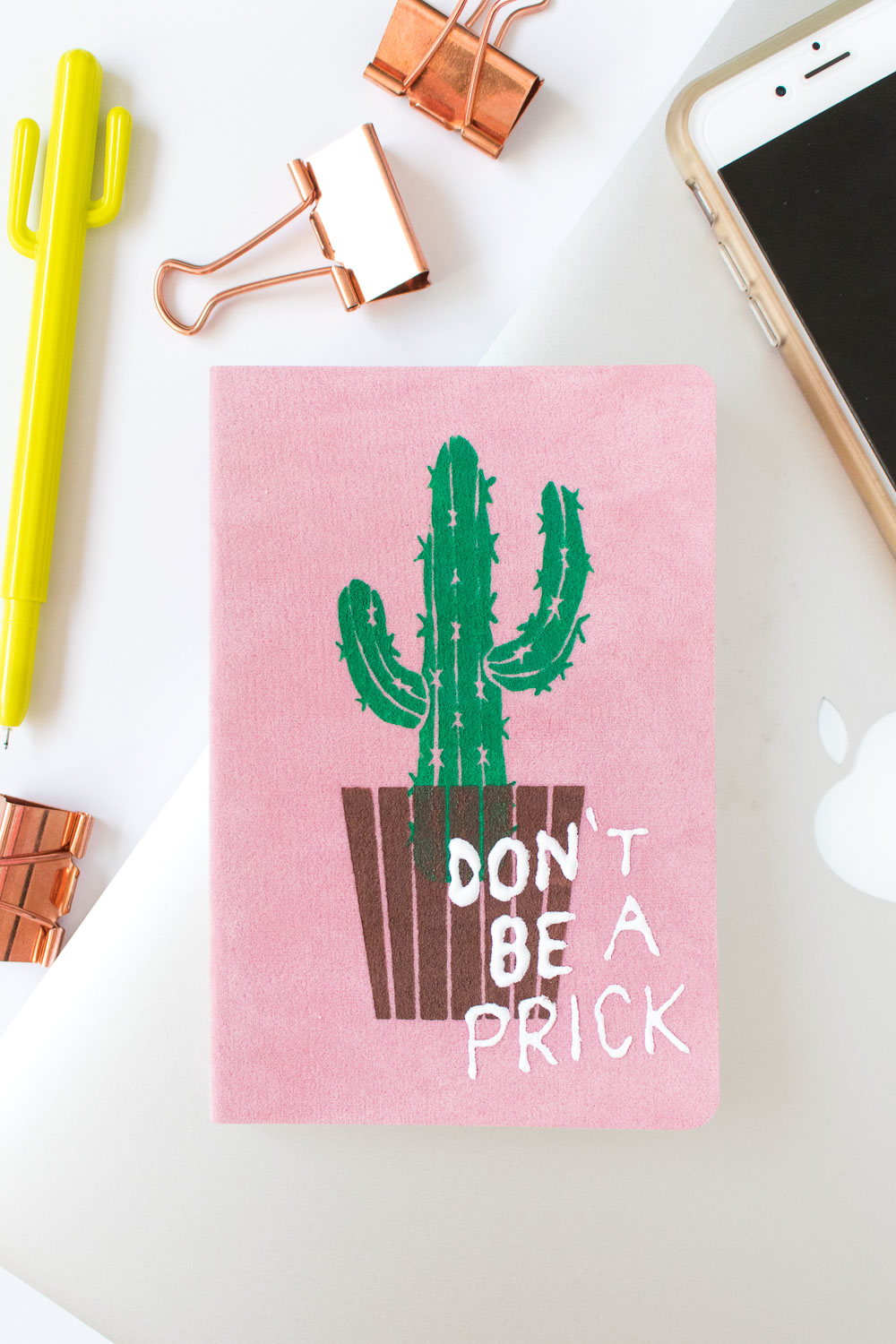 Stencils are such a gift to crafters, and when I stumbled upon this set of sticky cactus stencils, I couldn't resist adding them to my cart. Paired with my Tulip Dimensional Fabric Paints, I knew I'd find a great use for them and I'm thrilled with the result! The best way to paint with stencils is with a sponge brush rather than a traditional paint brush so that the paint doesn't seep where it isn't supposed to. As a bonus, these sticky reusable stencils stick in place, so I find that they're much easier to use.
Then my Tulip paints come in handy for adding the text on top of the cactus design. Because of the precision tip, I can easily write with the paint too! Now, check out my latest video to see how to make your own ??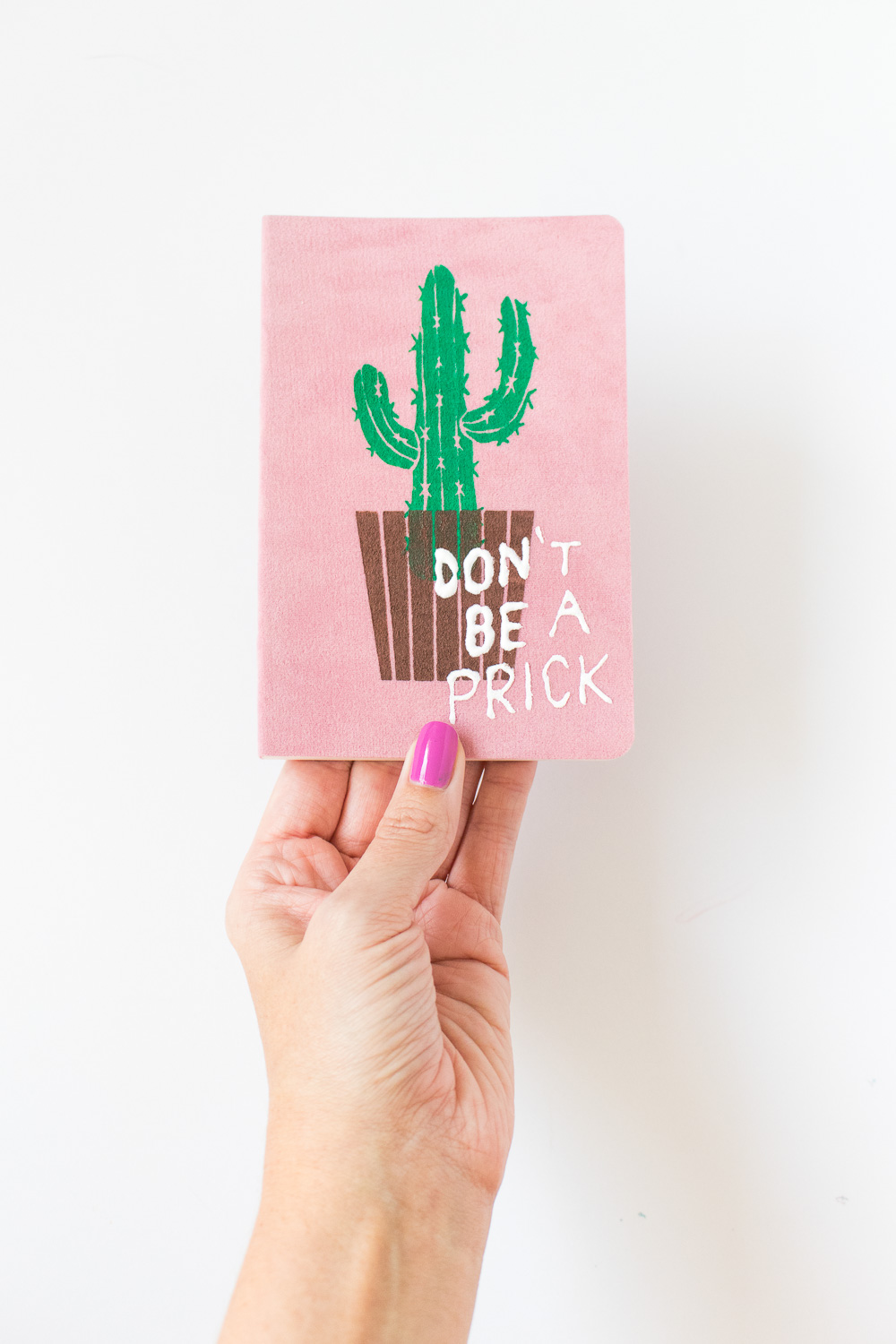 Time: 15 Minutes
Supplies:
Fabric notebook
Cactus and pot stencil
Tulip Dimensional Fabric Paint in brown, green and white (or desired colors)
Foam paintbrush
Step 1: Place the notebook on a flat surface. Press the stencil in the middle and smooth with fingers until stuck (if using a sticky stencil).
Step 2: Dispense green paint into a container and use a foam brush to apply over the stencil, dabbing the paint onto the notebook. Carefully peel away the stencil and let paint dry for several minutes.
Step 3: Place the pot stencil on top and repeat with brown paint, dabbing the paint onto the notebook and peeling away the stencil.
Step 4: With another color (white), draw a punny saying like "Don't be a Prick" over the top of the cactus design. Set aside to dry overnight before using.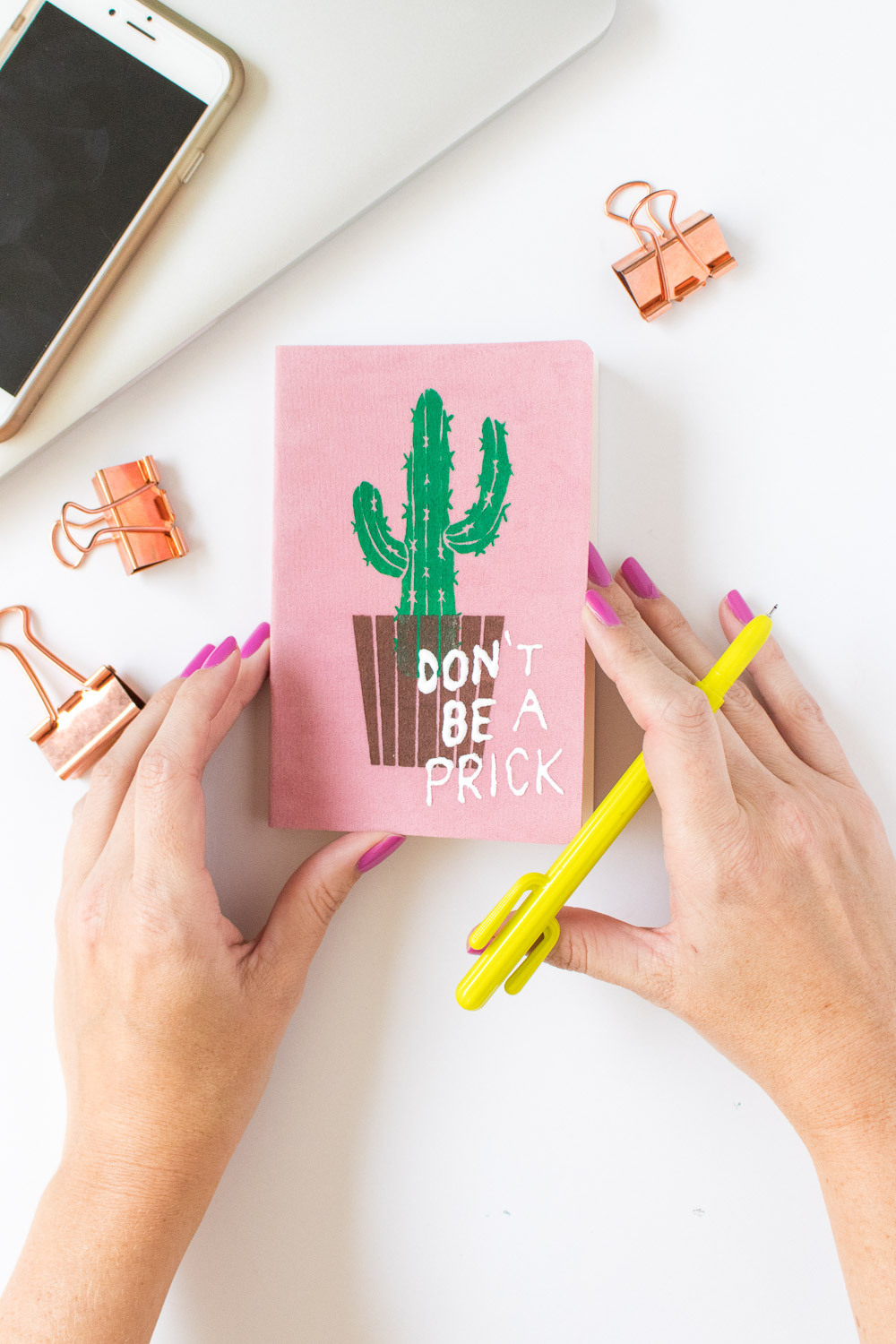 Now I have a place to keep all of the random thoughts that come through my brain throughout the day, ha! You wouldn't even want to see what some of these notes look like…the kind that don't even make sense to me the next day. Happy crafting!
Thank you to Tulip for generously sponsoring this post. All opinions are my own. Thanks for supporting the brands that keep Club Crafted sharing! Please note that this post may contains affiliate links from which I may collect a small profit should you choose to make a purchase. I only link to products I personally use and/or recommend.