/
DIY Fruit Slice Vitamin Cases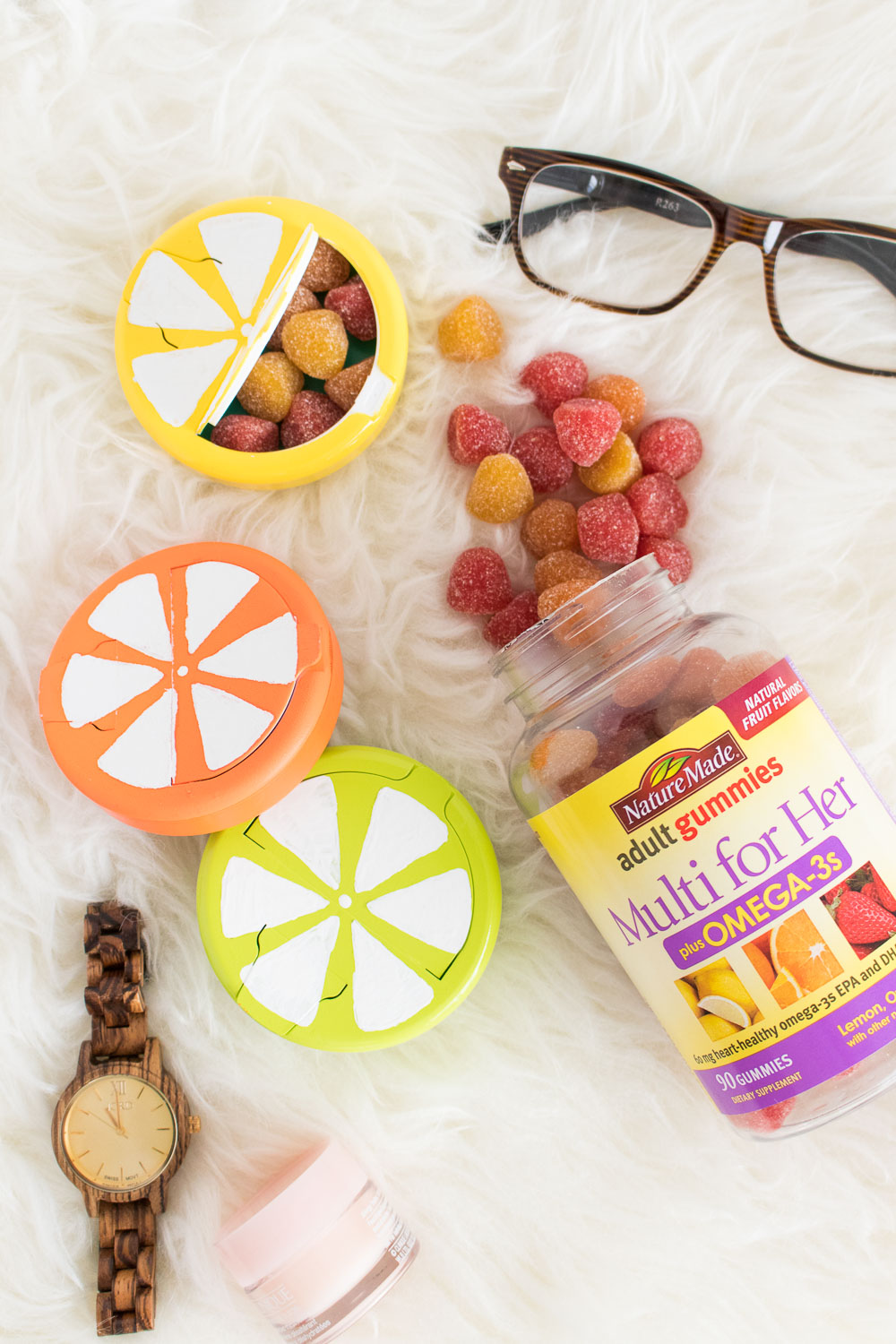 This shop has been compensated by Collective Bias, Inc. and its advertiser. All opinions are mine alone.
#NatureMadeGummies #CollectiveBias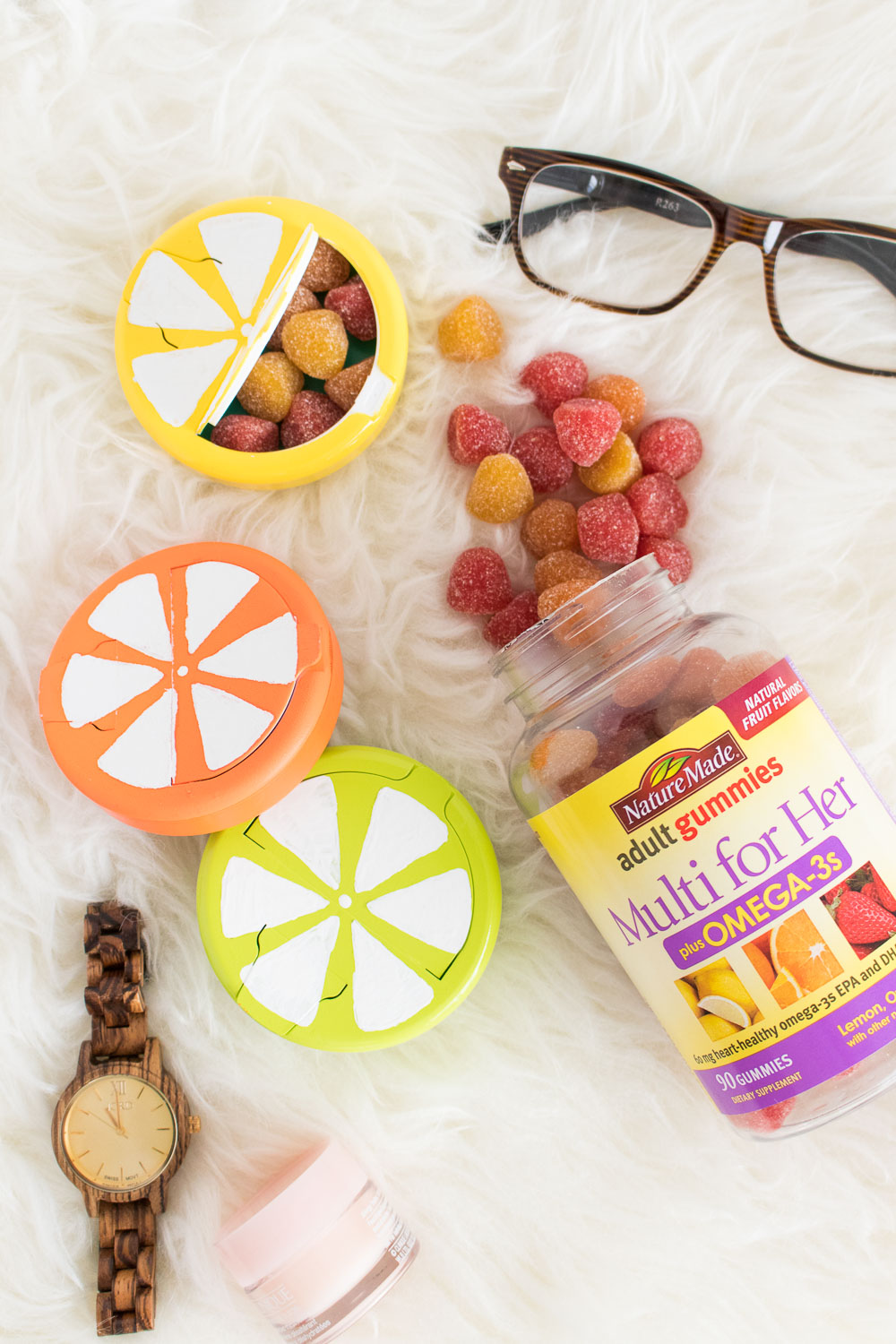 When Andrew and I visited Palm Springs over the weekend as a post-birthday vacation, my suitcase was packed FULL, so I made these fun DIY fruit slice vitamin cases to carry my Nature Made® Gummies with me so I'd remember to take my daily vitamins without having to carry the full bottle on-the-go. I'll gush about the mid-century modern beauty of Palm Springs another day. For now, let's talk about the wonders of gummy vitamins.
You may remember me talking before about how hilariously terrible I am at swallowing pills. Seriously, I buy liquid versions of medicine whenever possible, so these Nature Made® Adult Gummies are a life savor for me, specifically the Multi for Her plus Omega-3s Adult Gummies, which provide an excellent source of vitamins A, C, D3, and E, plus key B vitamins and other important minerals like chromium and zinc. Two a day is all I need to make sure I get the necessary vitamins, so these vitamin cases I made using empty mint containers help me remember to take my vitamins, no matter what I'm up to or where I am for the day.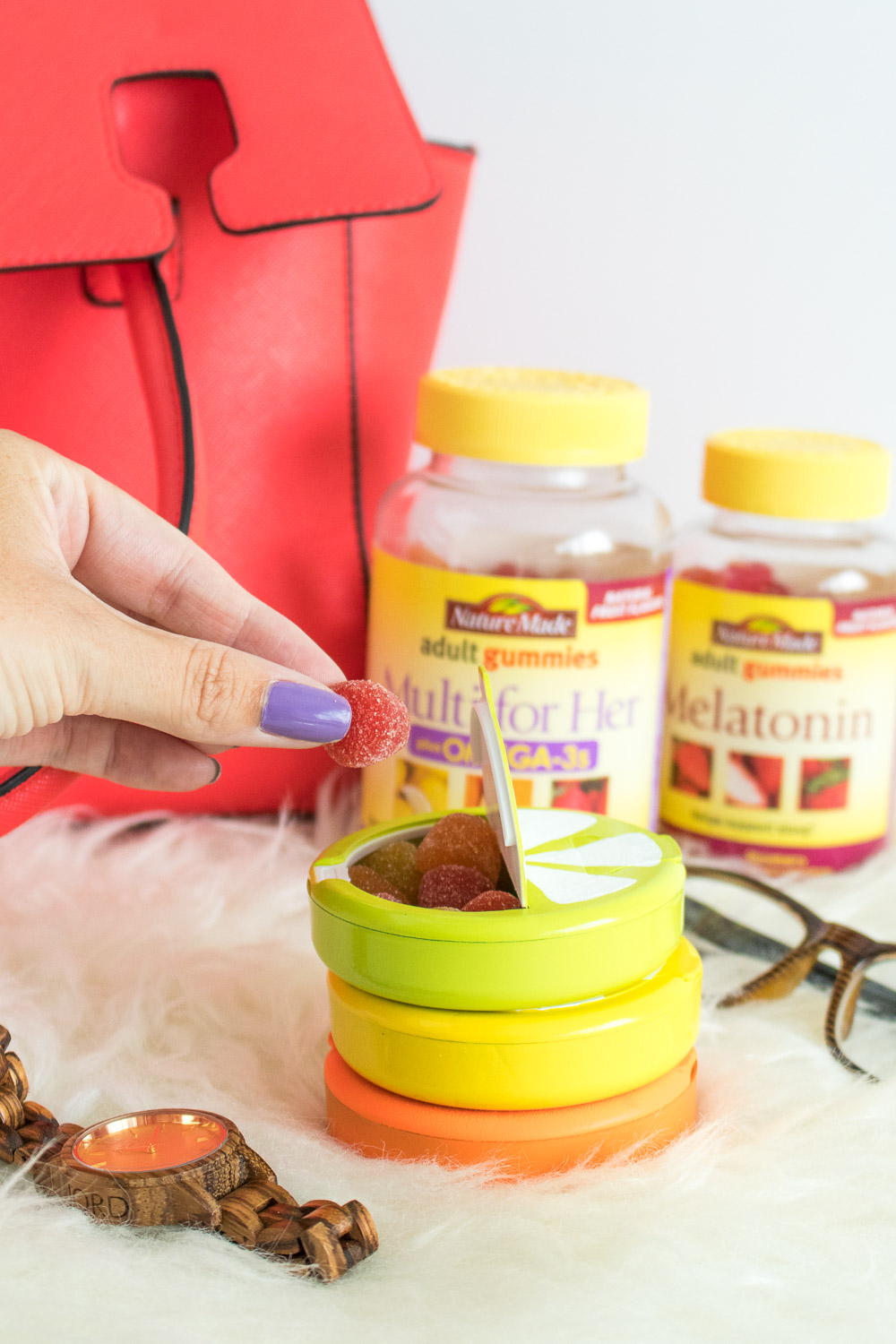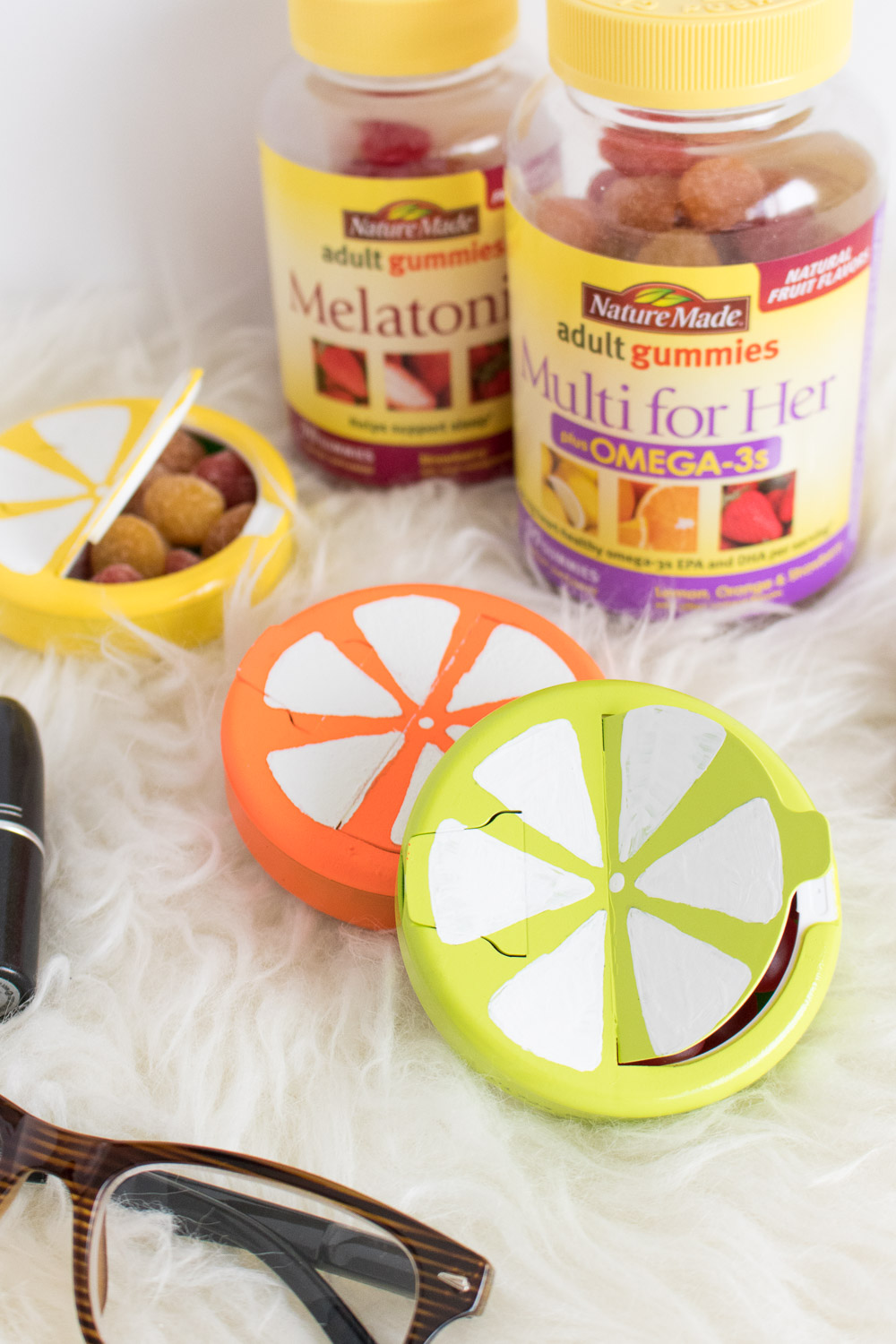 When I realized Nature Made® Adult Gummies were the perfect size for old mint containers, I drew inspiration from their fruity flavors to give the mint containers a citrus slice makeover with a little paint. Just like that, the empty containers were transformed into cute carrying cases that fit perfectly into my purse or overnight bag. This way, my scatter-brained self will be sure to take my vitamins every day! Not only are they great-tasting but they're a convenient way for women to receive the daily nutritional support of a multivitamin, plus 60 mg of heart-healthy EPA and DHA omega-3s from fish oil, per serving.†
I also started taking Nature Made® Melatonin Adult Gummies to help me get a good night's sleep, which helps a lot when the heat keeps me up during the summer months. Andrew and I both take melatonin gummies before bed. Nature Made® is "a gummy you can trust" and I appreciate knowing what's in the vitamins I'm taking.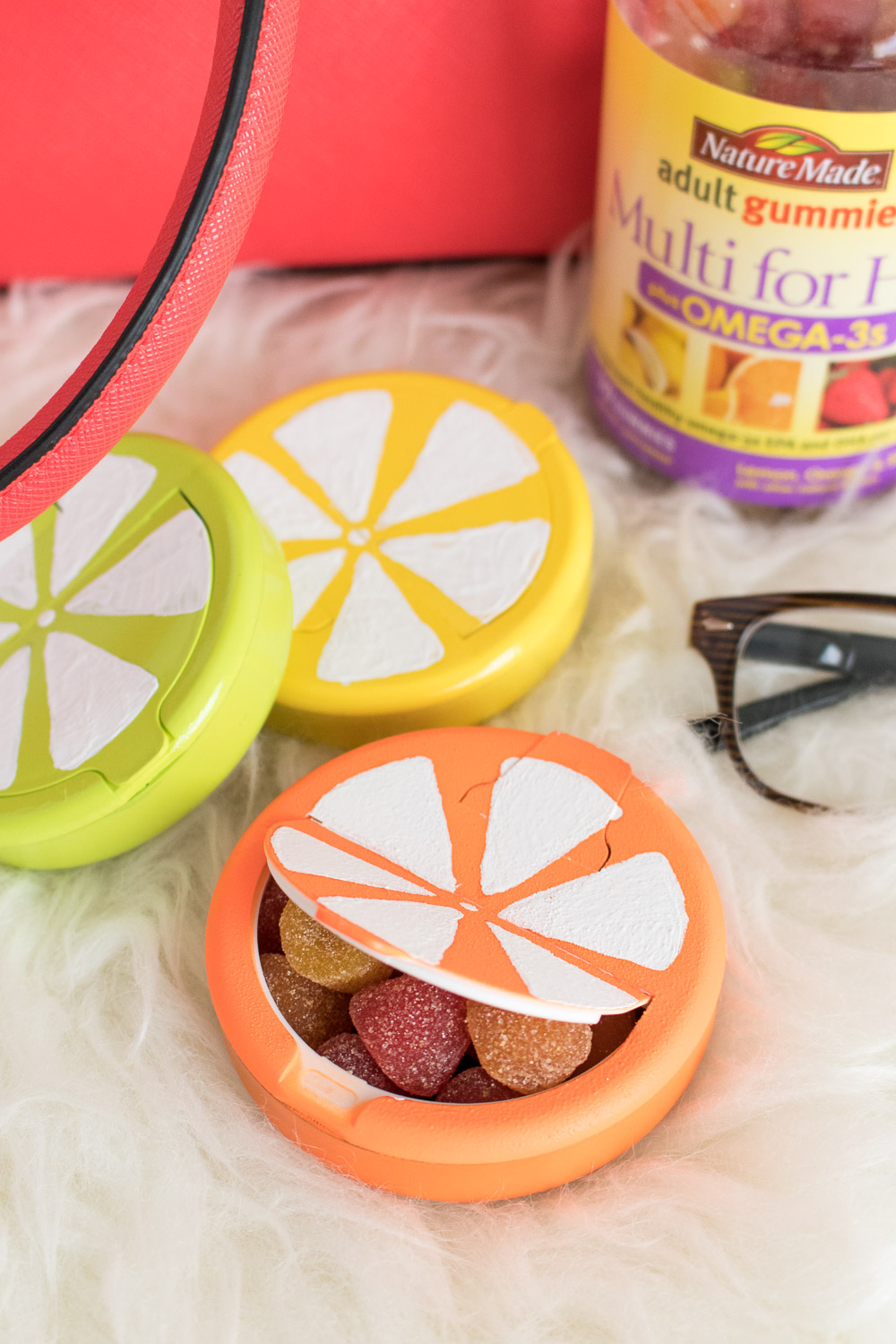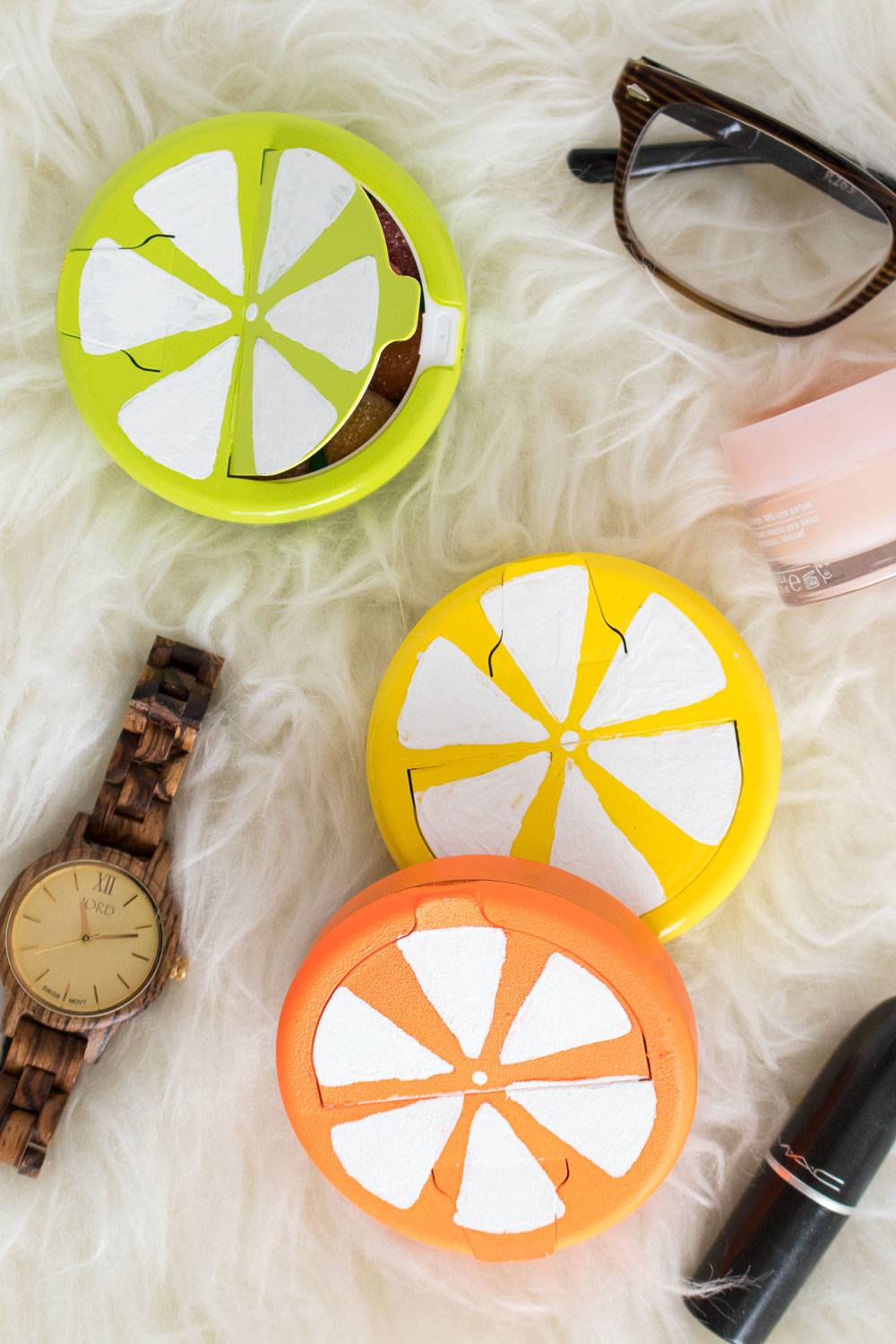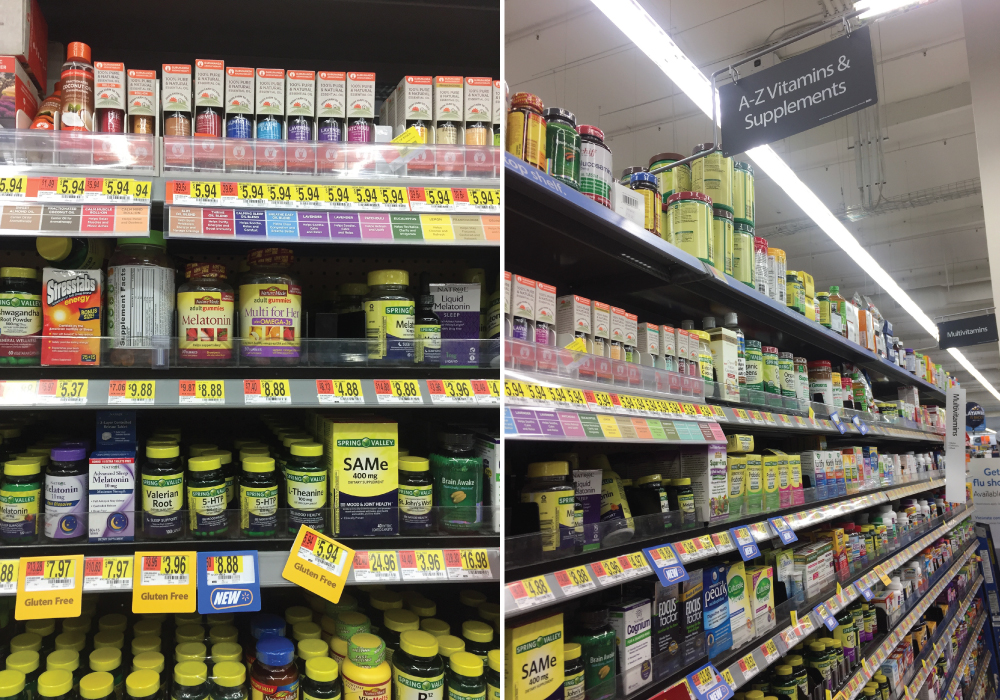 I popped by Walmart for a few of my usual supplies, including bottles of Nature Made® Multi for Her plus Omega-3s Adult Gummies and Melatonin Adult Gummies to pack in my new carrying cases so that I could easily take my daily multivitamins and melatonin gummies with me on-the-go and on weekend trips.
Now, here's how to make your own fruit slice vitamin carrying case using an old mint container! You can see I made cases in yellow, orange and green to represent a lemon, orange and lime.
Time: 30 minutes
Supplies:
Mint container, empty and washed
Spray paint (yellow, orange, green)
White paint
Paint brush
Pencil
Multi for Her plus Omega-3s Adult Gummies or choice of Nature Made® Adult Gummies
Step 1: Remove the labels of mint containers and wash thoroughly.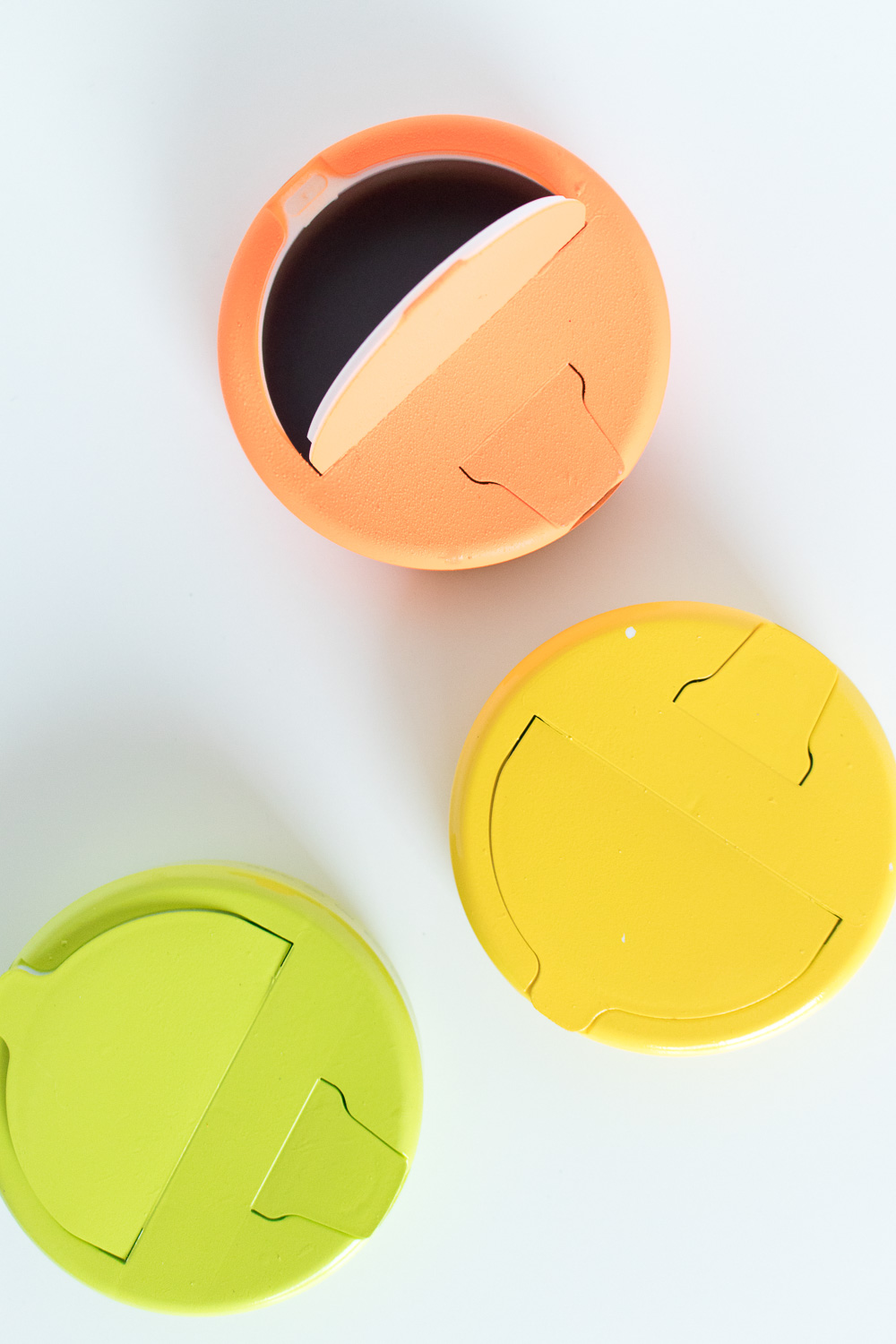 Step 2: Spray paint the containers in a covered, well-ventilated area. After about 30 minutes, spray a second coat of paint until the containers are completely covered.
Step 3: Once the spray painted has completely dried and is not longer tacky, use a pencil to outline six equal-sized triangles with the points facing the middle. If it helps, you can cut one out as a template to trace.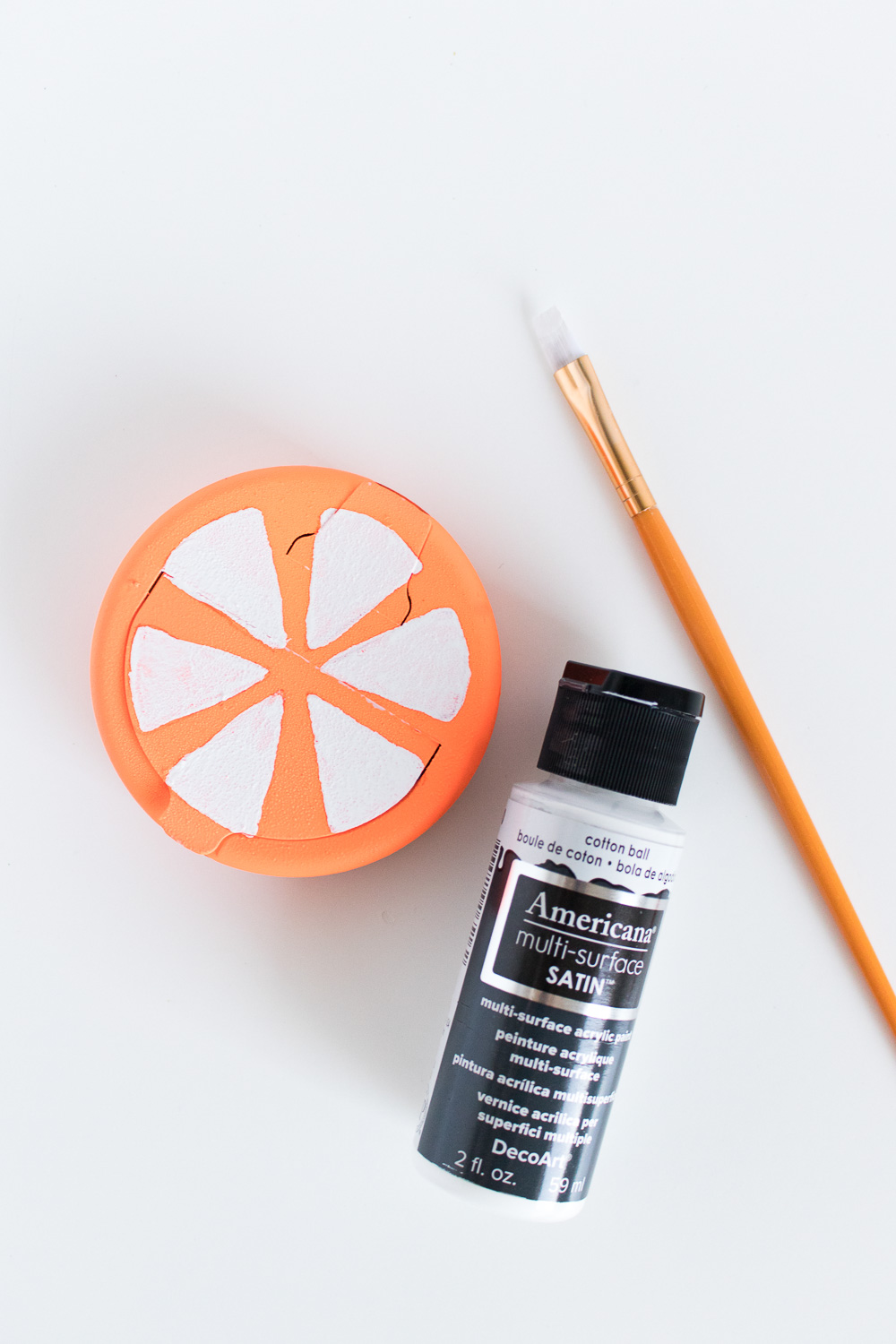 Step 4: Paint over the pencil lines with white paint. Once it begins to dry, paint a second coat. Then dip the other end of a paint brush in white paint and paint a dot in the middle of the container.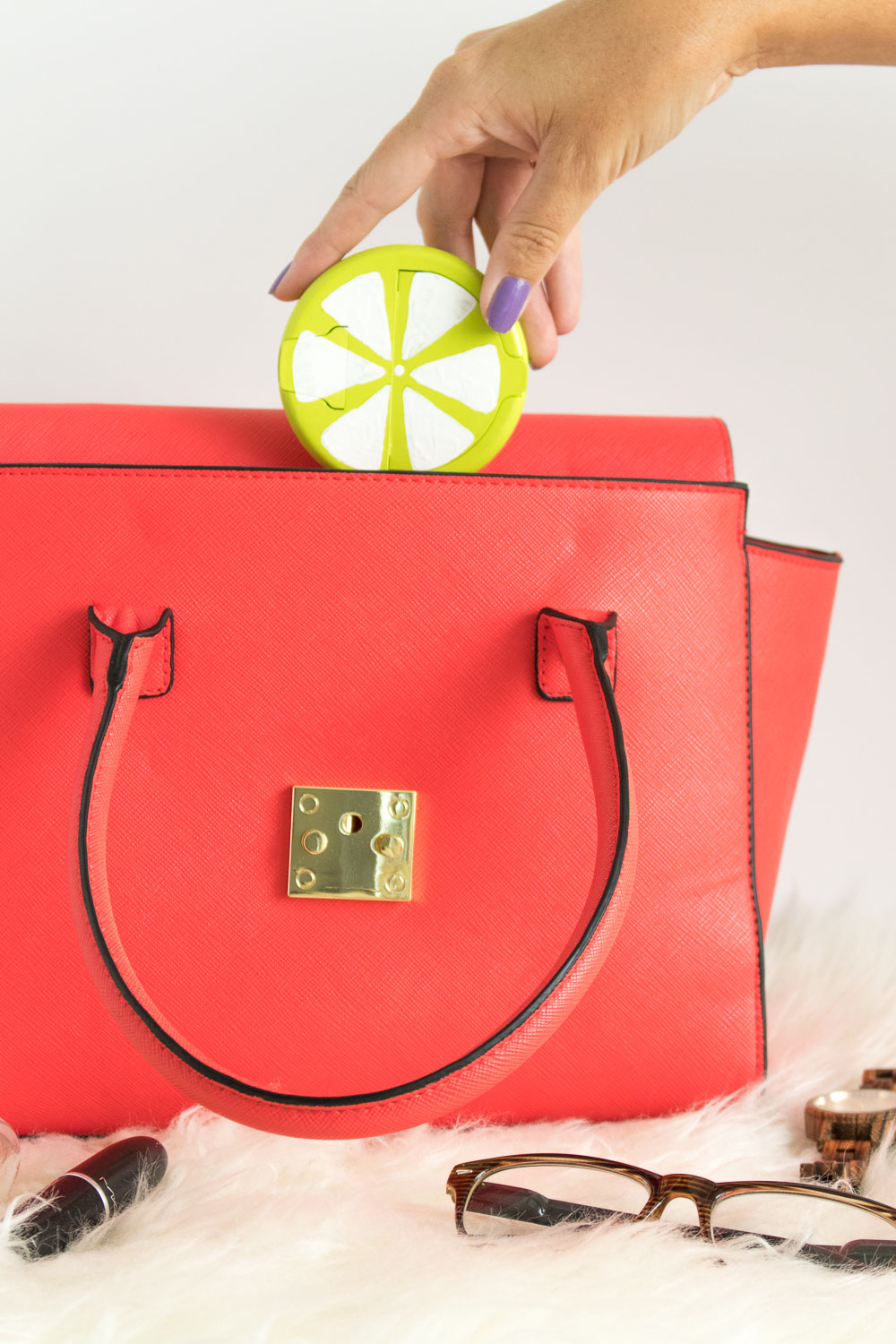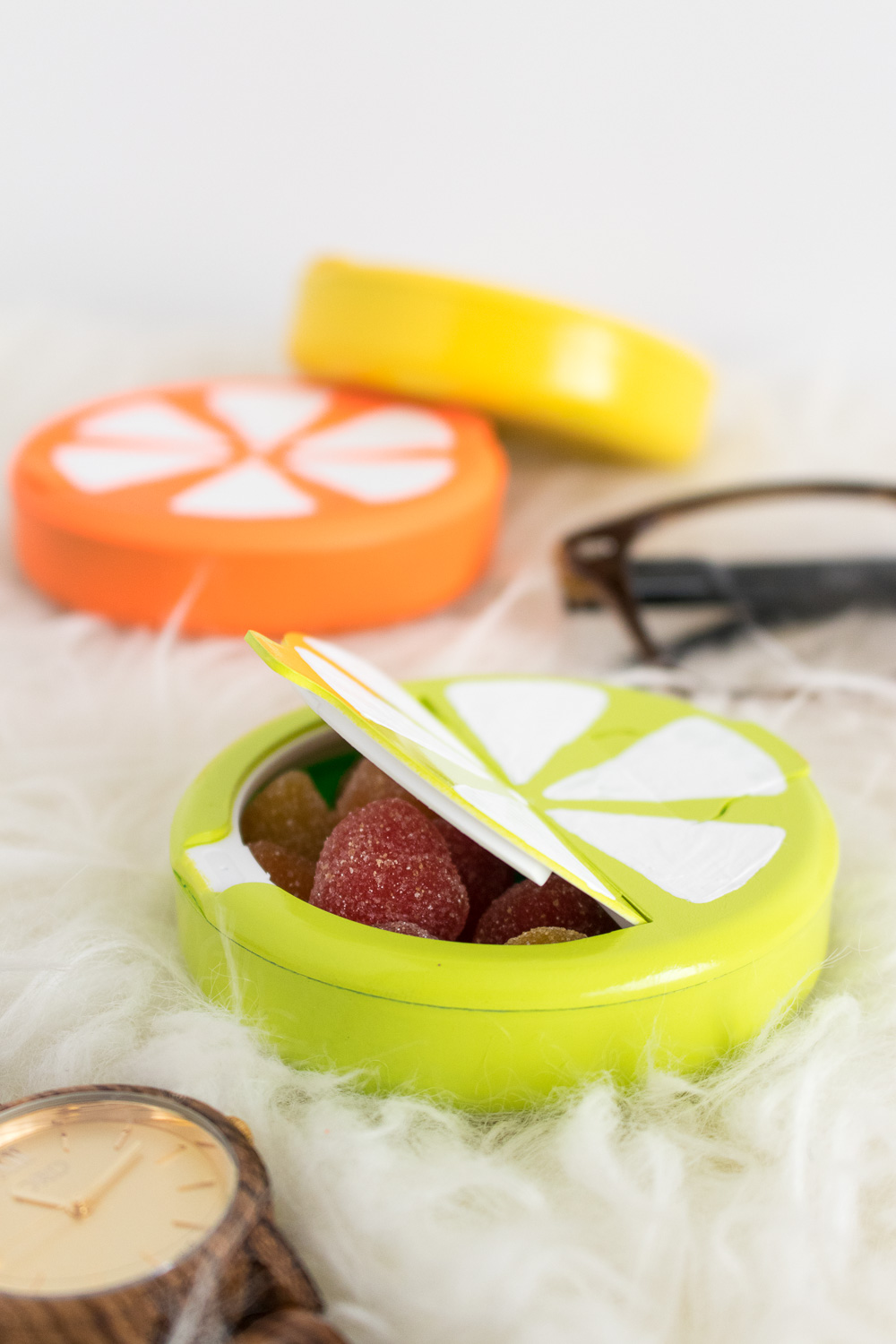 They came out really cute and fit enough gummies to last me through several days, which made them perfect for a long weekend trip or simply storing in my purse so I can eat them even after I've already left the house because, let's face it, I am a pretty forgetful person. Check them out for yourself!
† These statements have not been evaluated by the Food and Drug Administration. These products are not intended to diagnose, treat, cure or prevent any disease.
Please note that this shop has been compensated by Collective Bias, Inc. and its advertiser. All opinions are mine alone. Thank you for supporting the brands that keep Club Crafted posting!