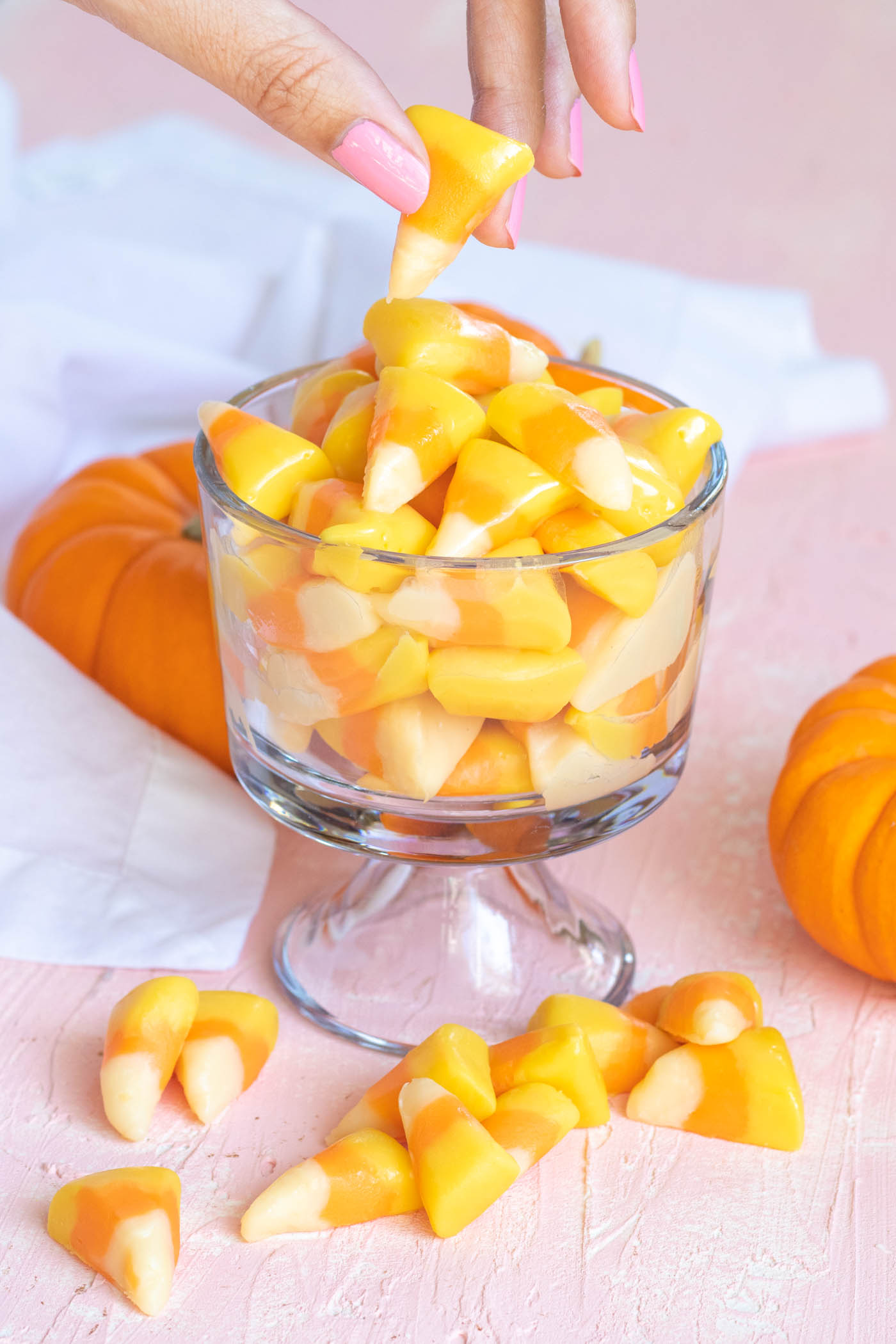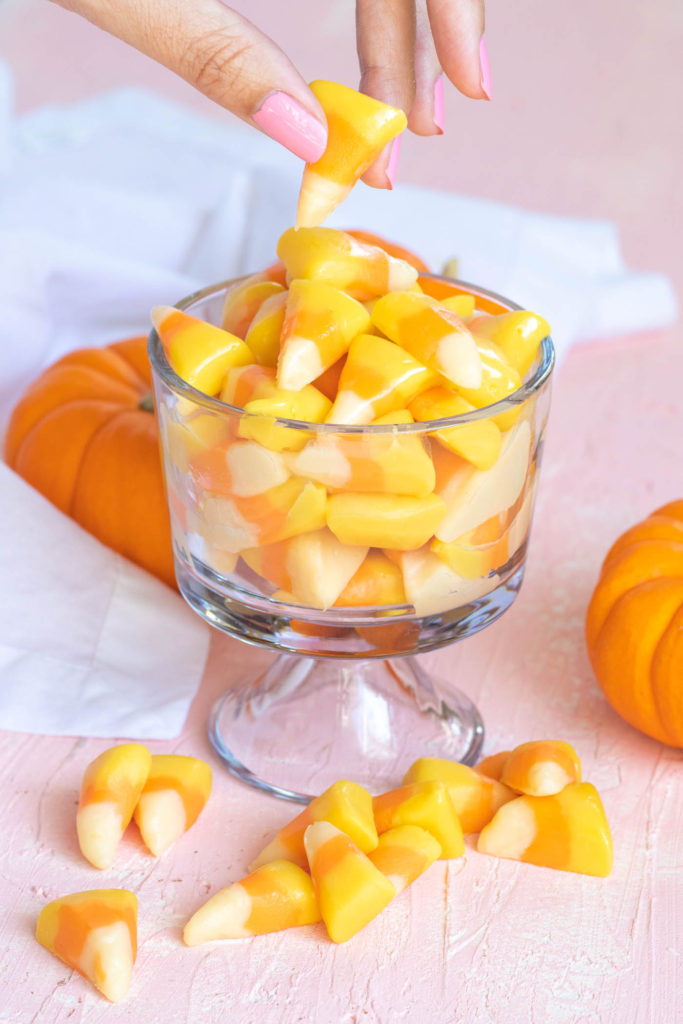 It's officially candy season! Now that it's officially fall, I'm focused on all things pumpkin, candy corn and Halloween, so what could be more FALL than candy corn fudge?! Not only is this fudge made with real honey for a candy corn-like flavor but it's cut to look like candy corn. You know I couldn't make just any ol' fudge after all! Regardless of whether or not you actually like candy corn (I know the subject can be quite contentious) you will enjoy this candy corn fudge as long as you enjoy white chocolate. Make a batch of white chocolate honey fudge for all of your fall parties this season!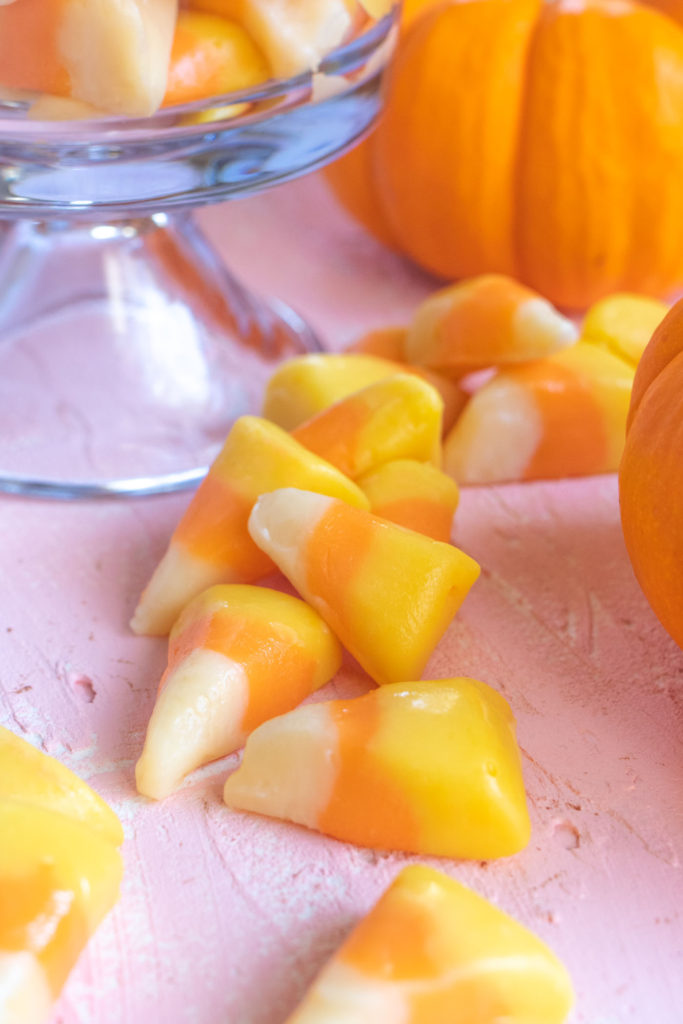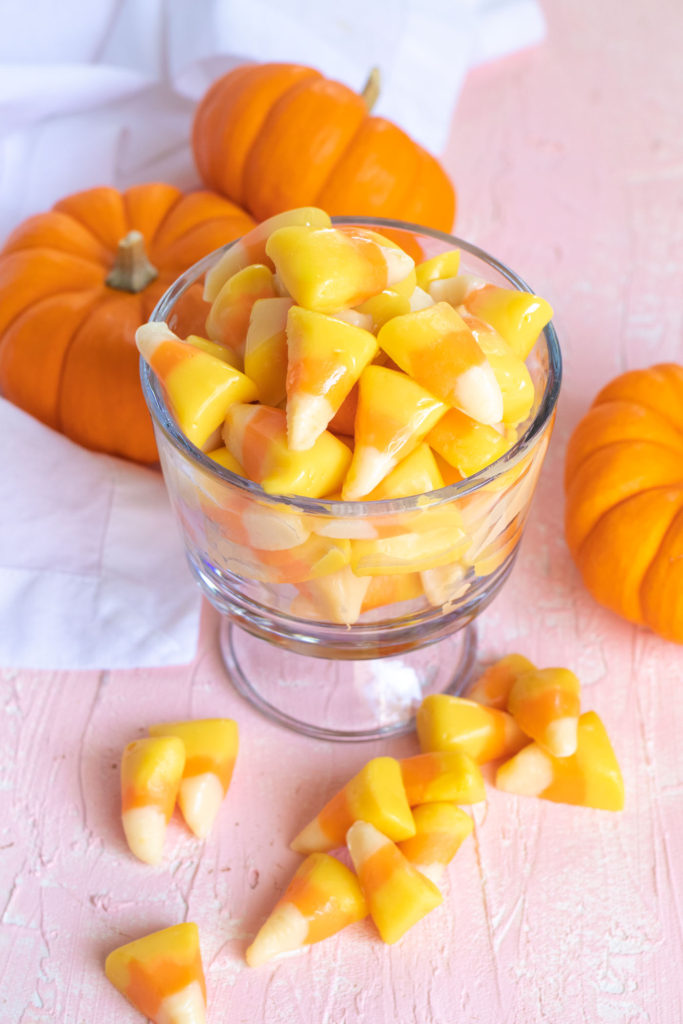 Keep scrolling for the full recipe card! 👇🏼
Are you a candy corn fan? I eat it year-round, but Andrew won't touch it. Admittedly, a little candy corn goes a long way. Luckily (or maybe not to lucky, ha!) this candy corn fudge is much easier to indulge in. Made with only four ingredients, it's the easiest way to make fudge. Although white chocolate can be more difficult to work with, it's still an easy fudge recipe. Just be aware that it makes a relatively soft fudge.
PS, have you tried my cosmic brownie fudge?! Andrew still thinks it's one of the best things I've ever made.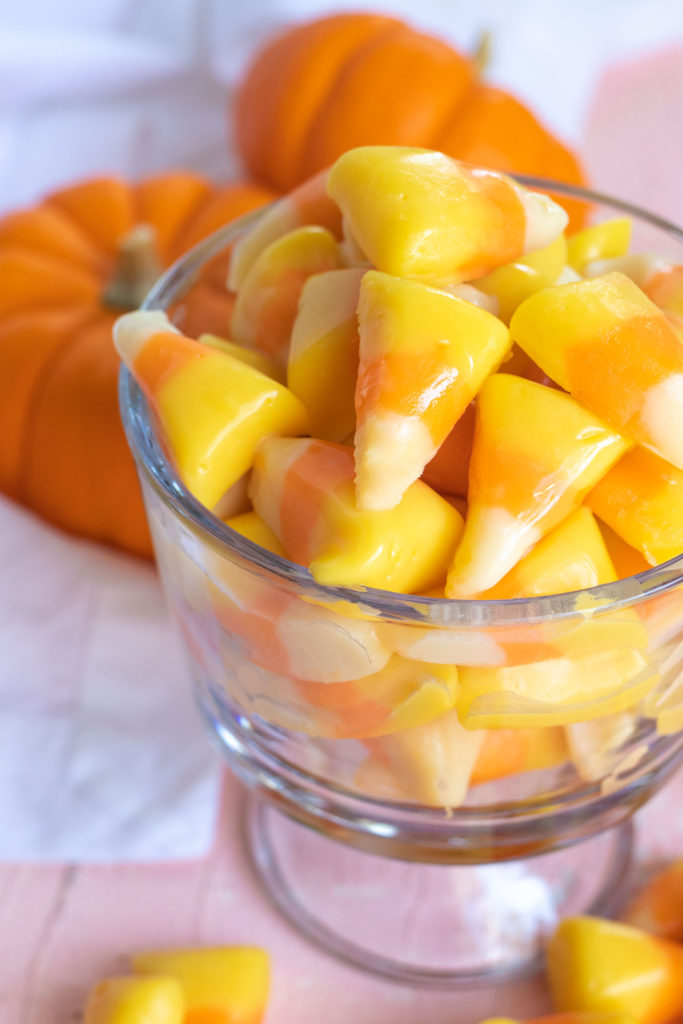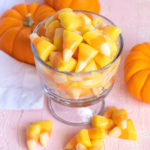 Candy Corn Fudge
2019-09-25 11:29:20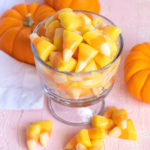 White chocolate and honey-flavored fudge colored and cut to look like classic candy corn
Ingredients
3 cups white chocolate chips (approx 2 bags)
14 oz can sweetened condensed milk
2 tbsp honey
2 tsp vanilla extract
Pinch of salt
Orange and yellow food coloring
Instructions
Line a standard loaf pan with parchment paper and set aside
In a medium sized pot on the stove, heat the sweetened condensed milk over medium heat
Watch the pot closely, and once sizzling around the edges, add the white chocolate and turn heat to low
Stir often with a spatula over low heat until the white chocolate is completely melted
Remove from heat and stir in vanilla and honey
Carefully pour the mixture evenly between 3 bowls
Tint one batch orange, another yellow and leave the third white
First pour the yellow fudge mixture into the prepared loaf pan, tap it on the counter to settle it and refrigerate 10 minutes
Microwave the orange tinted bowl for about 30 seconds to re-melt the fudge. Pour on top of the yellow layer of fudge and refrigerate 10 minutes
Repeat with the white bowl of fudge, laying it on top of the set orange layer
Refrigerate the layered candy corn fudge for at least 3 hours before carefully pulling it out by the parchment
Spray a sharp knife with cooking spray and cut a 1/2-inch thick length of fudge off the loaf. Then cut it into triangles using a zig zag shape to create fudge pieces that resemble candy corn
Refrigerate in an airtight container until ready to serve
Notes
For best results, do not stack the fudge when not in the fridge or it may stick or melt together
Store in an airtight container in the fridge for up to one week
Club Crafted https://www.clubcrafted.com/