/
Cake Slice Rice Krispies Treats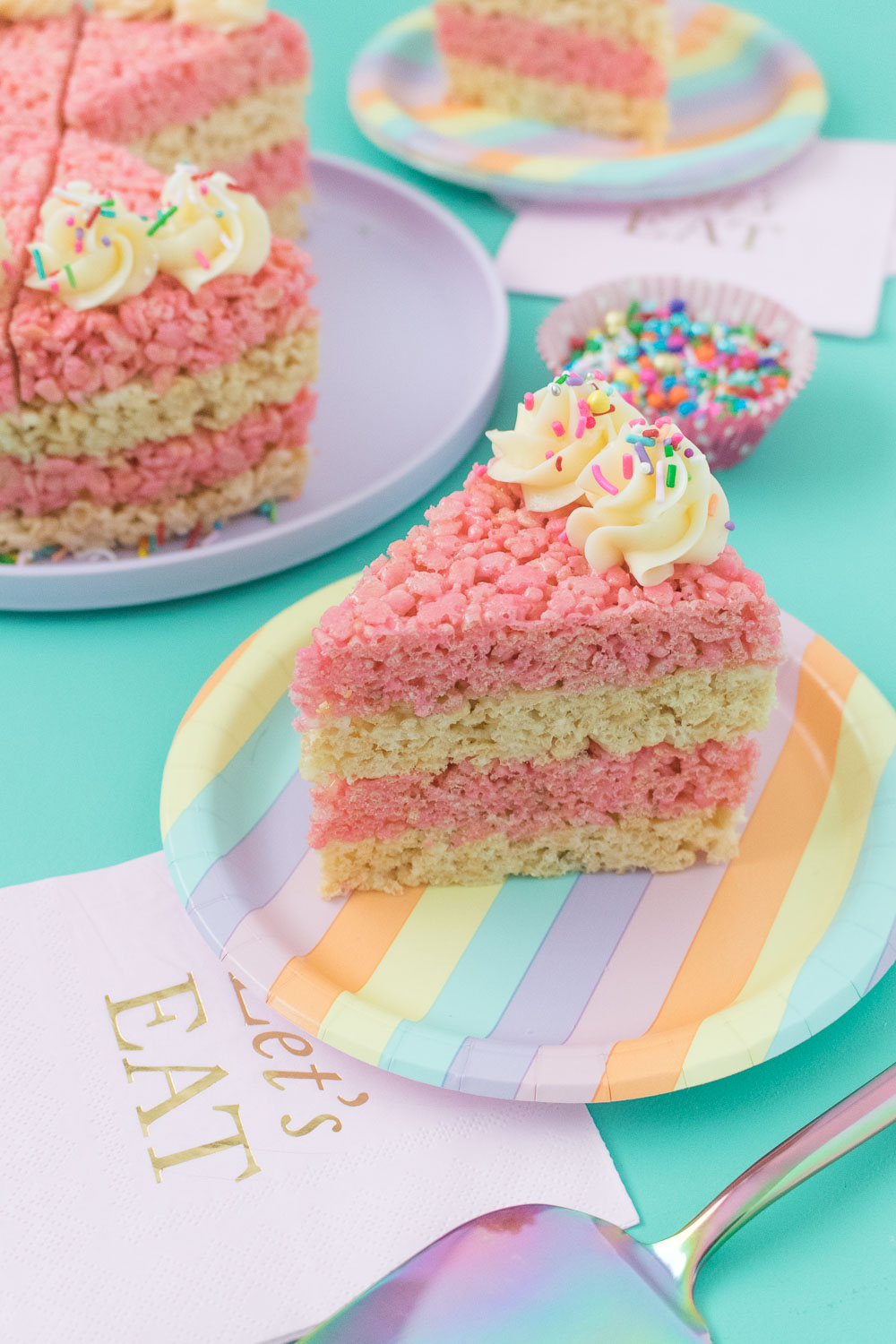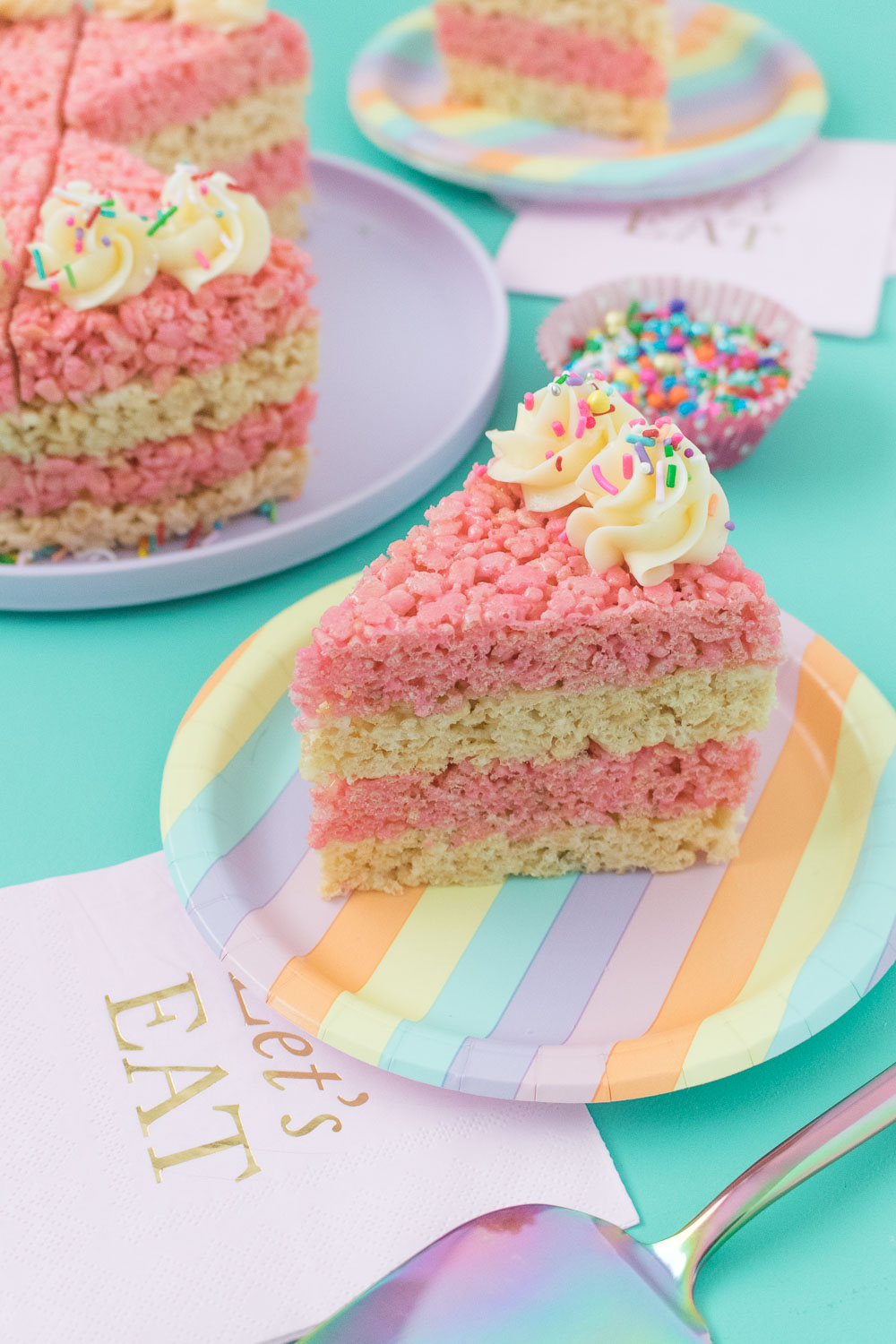 I don't know about you, but I LOVE rice krispies treats! You know what else I love?…cake! Today, I'm combining the two to make cake slice rice krispies treats! I couldn't think of anything more wonderful than a cake made entirely out of rice krispies treats, including layers of pink and white cereal, topped with swirls of vanilla buttercream. Then sprinkles, of course. One slice of this rice krispies cake and you'll be in heaven (and maybe a sugar coma). I think this would be a really fun birthday cake alternative for people who don't like cake or simply a fun way to serve a snack. Rice krispies treats are so easy to make, so this is just a fun way to dress them up a bit differently!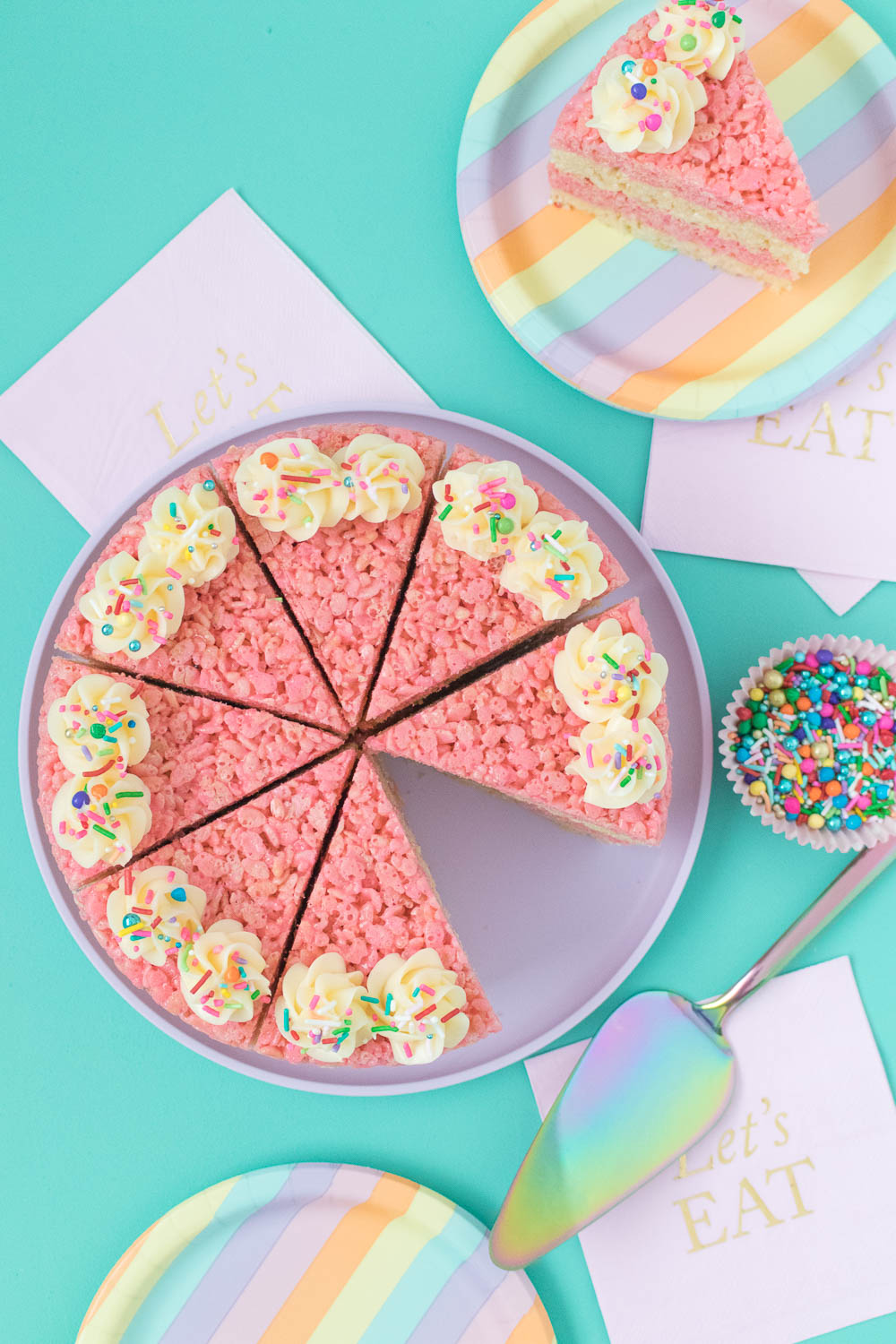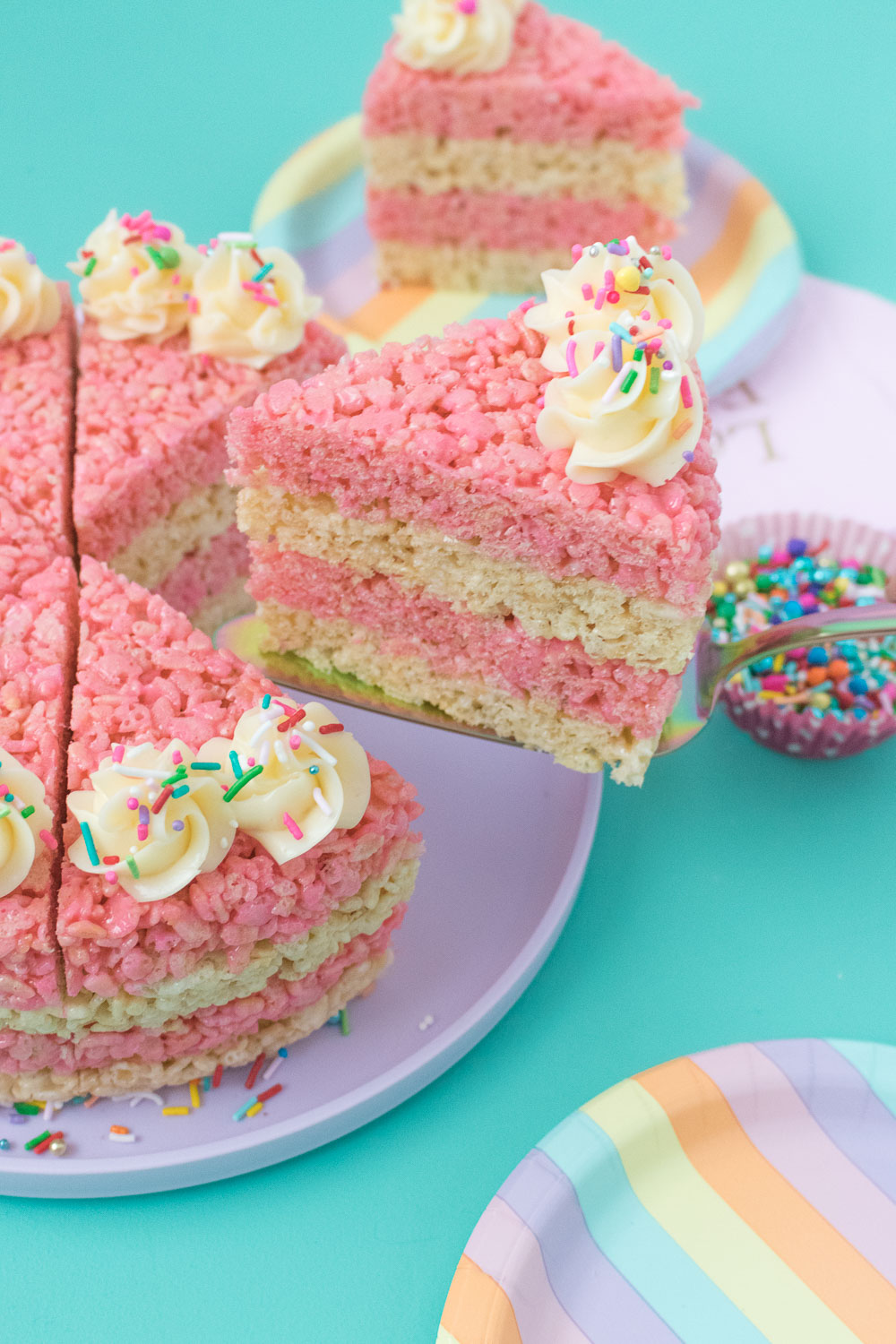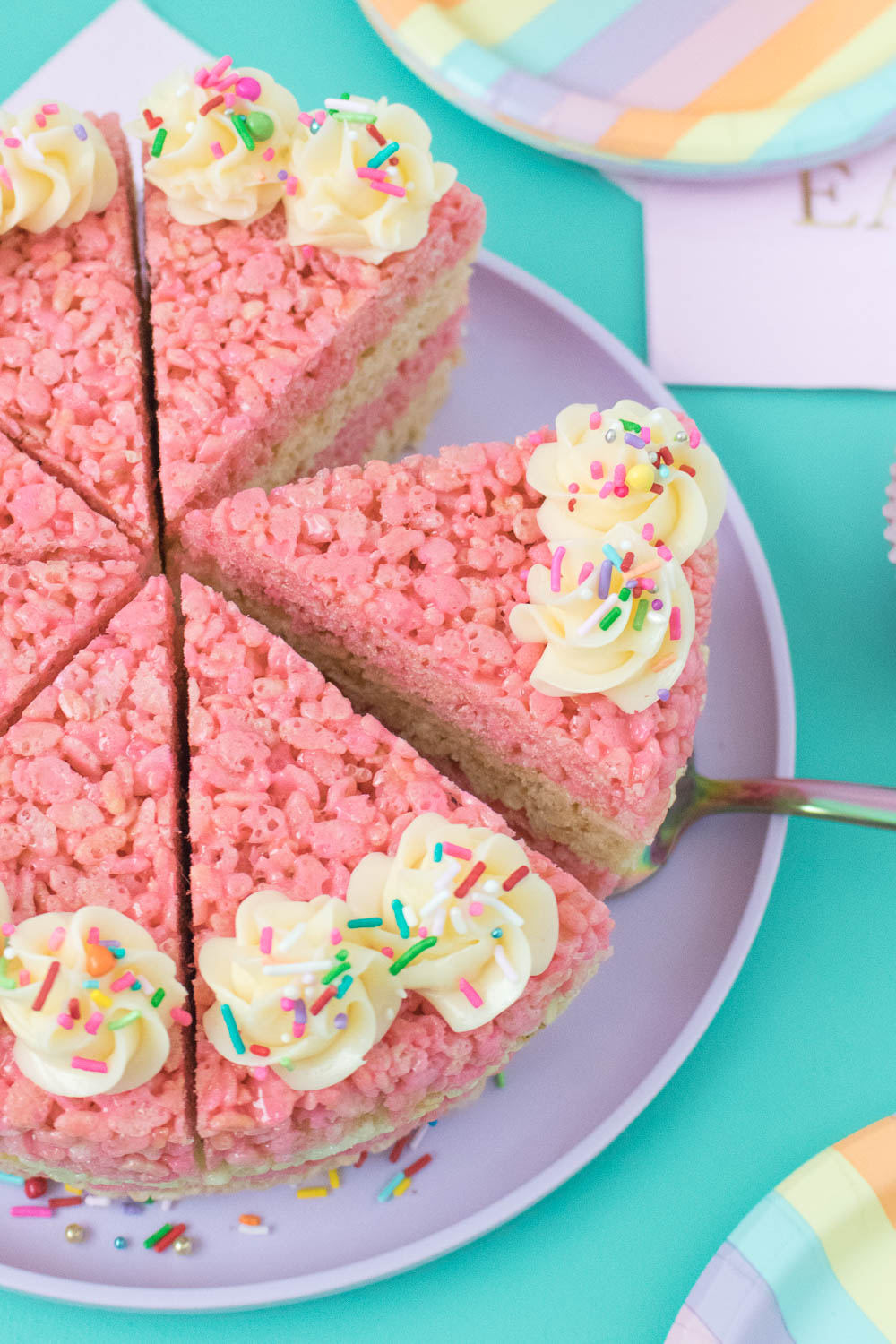 Below you can find my recipe for good 'ol classic rice krispies treats and the tutorial for making them into this pink and white layered rice krispies cake!
My cake slice rice krispies treats were quickly devoured by one of Andrew's classes. Otherwise, I'm sure I wouldn't have eaten them all in two days, ha! Another great thing about rice krispies treats is how long they last compared to other desserts or treats. Pop them in an airtight container or plastic bag and they'll keep very well for over a week.
Of course, you can swap out the colors for whatever you like and dress up the rice krispies cake with more buttercream and toppings – whatever you'd like. I'm sure they'll be delicious and look adorable no matter what!
Keep scrolling for the full recipe card! 👇🏼
PS, like rice krispies treats? You'll love these fruit loops cheesecake bars with a marshmallow treat topping!
Cake Slice Rice Krispies Treats
2018-04-26 10:51:24
Classic rice krispies treat recipe in the form of slices of cake with layers of pink and white rice krispies and topped with spirals of buttercream
Ingredients
1/2 cup butter, divided
10 cups cereal, divided
8 cups mini marshmallows, divided
Pink food coloring
Nonstick spray
Vanilla buttercream
Sprinkles, optional
Instructions
Spray two 8-inch cake pans with nonstick spray and set aside
In a small saucepan over low-med heat, melt half of the butter
In a large bowl, measure out half the cereal and set aside
Once the butter has melted, add half of the marshmallows. Stir often until the marshmallows have melted completely
Drizzle the marshmallow mixture over the cereal. Spray a spatula with nonstick spray and mix until the cereal is completely coated. Distribute between the two prepared cake pans
Coat your hands in nonstick spray and press the cereal into the pan until flat. Set aside to cool completely for about 5-10 minutes before removing from the pans and setting aside
Repeat this process with the remaining ingredients, but add pink food coloring to the marshmallow mixture before combining with the cereal
Press the pink rice krispies mixture into prepared baking pans and let cool
When all of the rice krispies treats have cooled, layer the pink and white layers on top of each other and press together to create the appearance of a layered cake
Top with swirls of vanilla buttercream and sprinkles
Cut into cake slices to serve
Notes
My simple vanilla buttercream recipe: http://www.clubcrafted.com/2016/09/06/make-quote-bubble-cake/
Club Crafted https://www.clubcrafted.com/